Questions 1
Caroline: Nikki, are you quite sure she hasn't been in the army or something? Nikki: Nobody's ever said anything like that. Why do you keep insisting? Caroline: You just don't do that kind of stuff without a lot of training. I mean, I know felines are different, but still... Can't you just ask her? Or your mom? Nikki: I guess I could. All right, I'll ask, if it's that important.
Questions 2
Pepper: What's important? Nikki: Caroline wants to know how aunt Kate did it. Pepper: She was, like, superfast. I've never seen anything like that. Caroline: That's just the point. Not everybody can do that stuff. She must have had practice. Nikki: Could we forget that? I'll find out and tell you later.
Questions 3
Nikki: Pepper, what would your mom say, if she knew what you just did? Pepper: She'd ask if I found anything interesting. I'm not too old for dumpster diving yet. Caroline: That must be a canine thing. I'd never do that. Nikki: Me neither. It's a bit icky. Pepper: No, it isn't. It's interesting. You never know what you're going to find. People throw away the strangest stuff. Nikki: Can you imagine Holly doing something like that? Pepper: She's too old already.
Questions 4
Frankie: Jet, did they ever find out who the bone belonged to? Jet: What? Oh, that... No, not yet. I mean, they found most of the skeleton scattered around the place where Nikki found the bone, and they even got DNA, but no match yet. He's a John Doe for now. Frankie: He? Jet: Yes, that's definite. Male, about 6 foot tall and around 40-60 years old. Been dead for several years. That's it. Frankie: It's so sad. To die and have nobody look for you. Jet: We don't know that. Somebody could be looking for him. It's just hard to figure things out when there's so little to work with, but they will find out sooner or later. Frankie: You think so? Jet: Maria isn't going to let it rest until she knows who he was and what happened to him.
Questions 5
Nikki: Hi mom! Hi Frankie! Did you finish already? Jet: Yes, we're done for the day. You can come in. Frankie: I heard you had an interesting day yesterday. Nikki: Mom told you about that? Jet: I thought it's best that Frankie hears just the facts. Nikki: Aunt Kate was like a ninja or something. Pepper said she was superfast. And she was. Frankie: Can't be easy in her outfit.
Questions 6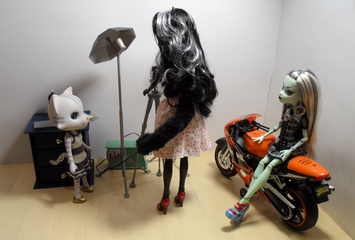 Nikki: Mom, has aunt Kate been in the army? Jet: No, she hasn't. What made you think so? Nikki: Caroline said you can't do stuff like that without a lot of training and she said you can learn it in the army. Jet: I'm sure you can, but there are other places too. Remember when we told you about the Feline Sisters? Nikki: She's one of them. Jet: That's right. They practice the sort of thing you saw her do. It's for physical fitness and also for self-defense. Some of them are so good they participate in competitions. Nikki: Has aunt Kate been to a competition? I bet she could win. Jet: She's not into competing. Nikki: It's because she doesn't like people making a big fuss. Jet: Right again. So, now you can tell your friends all about it, and they can stop speculating. I'm sorry it wasn't anything more exciting, but normal people's lives rarely are.