Who did it 21
Steve: What did John say about the witness deaths? Claudia: They're thinking it's probably a coincidence. The hitman's killer was definitely too sick to do anything, and I doubt he would have wanted any more deaths. I got the impression he felt guilty enough. Steve: Coincidence? I guess it could be. A hit and run, a robbery turned bad, and... what was the third one? Claudia: Not known yet. The body was so badly decomposed that it's really hard to say. It was assumed to be a murder, because of the two other dead witnesses, but it might as well be a natural death. His friends said he hadn't been in very good health before his disappearance. Steve: So, is it really all over now? Claudia: The Feds will be swamped with checking everything for some time, but basically, yes, it's over. No more deaths related to the not-so-dearly departed doctor.
Who did it 22
Steve: I've been thinking... What are the odds of Ava and the killer ending up in the same city? Claudia: Quite high, actually. We have the country's largest community of people from that part of the world. Steve: Really? Well, I guess that explains it. - What did you think of Ava? Claudia: She seemed nice, level-headed, surprisingly normal on the inside, considering... Steve: Yeah. I can't even begin to imagine what her childhood must have been like. Claudia: I'd imagine there to be quite a few little kiddies with hoofprints on their backsides. Steve: That's a good point. Bullying is definitely much easier, if your victim is helpless, and I doubt that she ever was. Claudia: If you're interested in hearing about it, why not just call her and ask her out? Steve: What? No, no, I didn't mean... Claudia: I know you didn't, but you could still call. You know, just to be friendly. But I can see you won't, so I'll call her and ask her for a cup of coffee and a little chat, because I'm curious too. Maybe we'll even let you tag along.
Who did it 23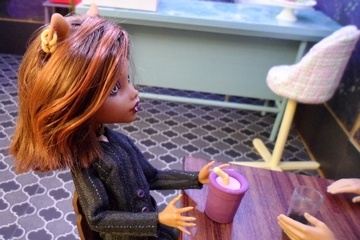 Steve: She said she was in The Biggest Monster. What's it like? I've only seen a couple of ads. Claudia: Bunch of people closed in a house for a few weeks, driving each other crazy. All other methods are acceptable, except physical violence. Each week one gets voted out by the viewers or, preferably, one gives up because they can't stand it anymore or the doctors decide to remove them. Winner is the last one left in the house. Steve: How often does someone get voted out? Claudia: Not often. It's just a backup system in case the inmates aren't quite up to their usual level of nastiness. Steve: Inmates? Claudia: That's what they're called. It's a nuthouse most of the time. Steve: Ava said she got kicked out. Claudia: She was a bit too subtle for most viewers' tastes. Pity, really. In more intelligent company, she could have caused total chaos. Steve: You know, that show sounds totally horrible. Claudia: Of course it is. Why did you think it's called The Biggest Monster?
Who did it 24
Ava: Nice house. You said you live here alone. Isn't this a bit big for one? Twyla: It is. I lived here with grandpa, but he passed away recently, so now it's just me for the moment. - How much did John tell you? Ava: Not much, just that you can fill in some gaps in my story. Well, some big, gaping holes, actually. What did he tell you about me? Twyla: Pretty much the whole story. I had already seen the talkshow, so I knew who you were and some of what had happened, but I didn't realize then how connected we actually are. Ava: Forget the riddles. Let's get straight to the point. How do you come in to the story? Twyla: My grandpa hired the hitman and killed him too. Ava: Oh. Twyla: Oh indeed. Just imagine how I felt hearing it for the first time. Let me tell you how it all happened...
Who did it 25
Ava: So, I didn't get the wrong man after all. Twyla: What do you mean? Ava: I wrote to your grandfather, as part of my research. I was looking for people affected by the doctor's crimes. He wrote back to me and said I had the wrong man. Seems like that was a lie. Twyla: He was probably scared that he wouldn't be able to keep quiet about what he had done. He felt so guilty about it all. Ava: Yes, that's the problem with vigilante justice. It makes normal people do horrible things. I'm not sorry for the victims, but it sounds like it messed up your grandfather's life. - How do you feel now that the whole picture is finally clear? Twyla: Not sure. It's such a horrible mess. I loved grandpa, but he was a murderer.
Who did it 26
Twyla: What do you think about him? Ava: I think he did the right thing, he made those people pay. Although, for his own sake, he should have chosen some other way. - I wish my father was here to see this. Twyla: Is he... dead? Ava: Yes. He couldn't take it, and he shot himself. Twyla: I'm sorry, I shouldn't have asked... Ava: Don't worry. I was too little to understand anything about what had happened. I got adopted to a very nice family who did their best to give me a normal life, or as normal as it can be when you look like I do. - At least father got to see the Doctor die. It just wasn't enough.
Who did it 27
Twyla: I wonder what people are going to say when it all comes out. Ava: They're going to say that the victims got what they deserved, but then they'll be quick to add that of course what the hitman and your grandfather did wasn't really right and things should have been handled in a proper manner in court, but still, the victims deserved it. Twyla: That's an awfully cynical way of looking at it. Ava: No, it's realistic, because that's what's going to happen. And of course newspapers and TV are going to have a field day, so prepare to have an army of reporters on your doorstep. Twyla: They're not going to get to the doorstep. The gate is always locked. The only reason it was open when you arrived is that I was watching the security camera monitors and saw you. Ava: Well, on your gate, then. - You know, there is an easier way to deal with it. Twyla: And what's that? Ava: Exclusive interview. Instead of a swarm, you deal with just one reporter. A really good one. She's already got my story, and she'd do anything to get yours too. Twyla: I guess there's no way of avoiding the media entirely, so just one reporter sounds a lot better.