The Contract 1
Spectra: Why did you want to know about Valhalla specifically?
Schizo: I knew a guy... no, I know somebody who was close to a guy who believed in all that. He could have well been what Samael called a "true believer."
Spectra: And you think he might have gone to Valhalla? How did he die?
Schizo: In a battle. In a modern war, obviously, but a battle is a battle.
Spectra: Yes, I guess it is. - It's a funny thought.
Schizo: What is?
Spectra: Just imagine all those warriors of old suddenly confronted with a guy in camo.
Schizo: It's probably a mutual shock.
Sara: Spectra!
Schizo: Who's that?
The Contract 2
Spectra: Sara! Haven't seen you in a long time.
Sara: Who's your friend?
Schizo: I'm Schizo. It is a pleasure to meet you.
Sara: How do you know that? I might be dangerous for all you know.
Schizo: I guess there is always that possibility, but I consider any friend of Spectra's my friend also.
Sara: Ah, a polite one. That's nice for a change.
Spectra: He's the one I've told you about. You know, the one who knows.
Schizo: What do I know?
Spectra: What we are, me and Sara.
Schizo: Oh, so you're both...
Spectra: Hush! Don't say it out loud. Not in here.
Schizo: Sorry.
Spectra: Maybe we better move aside, so we won't be overheard.
The Contract 3
Honey: Well, this is a surprise.
Trinity: Don't. I came to say I'm sorry. You were right, I was wrong. I overreacted, and I'm sorry about that.
Honey: Apology accepted. - Friends?
Trinity: Friends. And if I ever again let a guy come between us, you are welcome to knock me out. Maybe that'll put some sense into my head.
Honey: Can I have that in writing?
The Contract 4
Spectra: So, Sister Sara, why don't you tell Schizo your story? He already knows mine.
Sara: Don't call me that. I haven't been a nun since I... since I...
Spectra: Passed away? Still can't say that?
Schizo: You were a nun? You don't... I mean...
Sara: I don't look like it. Good thing you don't need to spend the eternity or whatever in the form you were when... well, you know. That would be a hell in itself.
Schizo: It would be interesting to hear more about it. I mean, if you don't mind.
Sara: I don't mind. There aren't that many people with whom you can talk about these things. - I wasn't really that religious or anything, and I definitely didn't plan to become a nun, but it was either that or marry the biggest jerk within 100 miles of my home village. The jerk's family had a lot of money, so my family was delighted about the proposal. I wasn't.
The Contract 5
Schizo: Are we talking about the same kind of time period as with Spectra and Mina?
Spectra: Yes. Women viewed as property and all that crap. I'm sorry, I didn't talk like this back then, it just sort of sticks when you spend time around the living.
Schizo: I use much worse language myself. - So, Sara, what happened then?
Sara: I told my family I was going to become a nun, and that was really the only thing they could not stop me from doing.
Schizo: Was it better than marrying the jerk?
Sara: Well, I avoided having to bear a lot of children for him, and ended up looking after a lot of insufferable brats in an orphanage, but at least you get a break from that occasionally. And it didn't matter in the end. I didn't get that long anyway.
Schizo: How did you...? I mean, what happened? Or shouldn't I ask?
Sara: Epidemic. I don't really know what it was, except that it was unexpectedly deadly. It took a lot of people of all ages.
The Contract 6
Honey: Hi, Vicky! Just the person we need.
Vicky: Oh, why is that?
Trinity: Could you take a look at this and tell us if it's legally valid?
Vicky: What is it?
The Contract 7
Vicky: "Hereby I, Trinity, grant my friend Honey a permission to..." - You can't be serious.
Trinity: Perfectly. Is it valid or not?
Vicky: Well, I can see a huge problem right away. You know how a murder is a murder even if the victim gives permission? The same goes for an assault, if it's bad enough. Although, in your case I think it would go to court only if something went really badly wrong.
Trinity: You mean my mom would sue Honey?
Vicky: But if you really need to have a paper like this, specify it as a boxing match. That would make it perfectly legal. You know how violence stops being violence as soon as you call it sports.
Honey: Why didn't we think of that?
Vicky: Considering Honey's past, I'd add a clause that you're familiar with it and understand the risks. Then get a couple of witnesses to sign it. - Do you think this will ever need to happen?
Trinity: I hope not.
Honey: So, that's sorted. Do you take a payment for your services in liquid form, Vicky?
Vicky: Certainly.
The Contract 8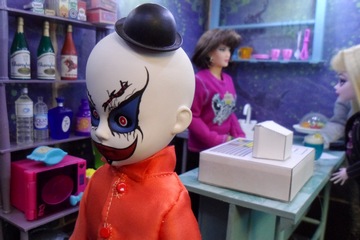 Schizo: You know, it seems curious to me...
Spectra: What?
Schizo: All of you, you two and Mina, seem to be women who tried to do their own thing in a time when it was not allowed.
Sara: So? There has been a lot of women like that at all times.
Spectra: Yeah, it's just been a matter of being smart enough to find the ways of doing your own thing.
Sara: My aunt wasn't. Smart enough, I mean. Too bad temper. They burned her as a witch.
Schizo: I'm sorry.
Sara: It was a long ago. She cursed them as she was dying, and when I... um, got the chance, so to speak, I caused a bit of havoc, so the curse was taken really seriously long after she was gone. - At least she got to go upstairs, thanks to the "wronged against" clause.
Spectra: I think we better not talk about that. Samael is pissed off enough as it is.
The Contract 9
Schizo: So, why the sunglasses? It's not that bright in here, is it?
Sara: No, but people tend to get freaked out by my eyes, so I use these and tell them I have really sensitive eyes.
Schizo: Freaked out?
Sara: Wanna see?
Schizo: Sure. - Oh, I get it now. Although I still think some people are just too sensitive.
Sara: How many have you freaked out?
Schizo: I have no idea what you're talking about.
The Contract 10
Honey: Venus, could you sign this to verify that Trinity here signed it?
Venus: May I read it first? My mom once dated a paralegal, and he always said never to sign anything, no matter how small, without reading it first.
Trinity: Sure.
The Contract 11
Venus: Are you serious? I've never seen anyone make a deal like this, or at least, make it this official.
Trinity: She asked to have it in writing.
Venus: I can sign it. The contents aren't really my business. I do have another question, though.
Trinity: Go ahead.
Venus: Why do you expect her to knock you out? You two look fairly equal to me.
Trinity: Ask Gustav. It's a good story.
Venus: I will. - Honey, I've unpacked the boxes. What do you want me to do next?
Honey: Would you go and check the traps by the dumpster? I know it's not the most pleasant job...
Venus: It's okay, I don't mind. I really cannot understand a garbageman who can't deal with a few rats. I'm sure they come across a lot worse in their work.
Trinity: What are you talking about?
Honey: I'll tell you about it later.
The Contract 12
Gustav: What do my eyes see? My two favorite ladies in the same room. Is this a truce?
Honey: Peace.
Gustav: Even better!
Trinity: As you're here, could you sign this?
Gustav: What is it? Why would I need to sign it?
Trinity: Just to verify that I signed it. And before you ask, it's legal. We asked Vicky for advice.
The Contract 13
Gustav: You have really lost it this time.
Trinity: Hey, she asked to have it in writing.
Gustav: If this ever happens, I want to be there to see it.
Honey: If Venus asks you about our first meeting, try not to embellish the story too much.
Gustav: Why would she ask?
Trinity: She asked me why I expect Honey to knock me out. I told her to ask you.
Gustav: I suppose she thought you two would be equal in a boxing match. I'd think so too, if I didn't know better.
The Contract 14
Honey: All clear?
Venus: Just one this time.
Honey: Good. You can look after the bar now. Trinity and I will be in my office.
The Contract 15
Gustav: Just one what? And what's with all that scrubbing?
Venus: Dead rat. That should answer both questions.
Gustav: It does. Scrub away.
Venus: Gustav, there's something Trinity said...
Gustav: Let me guess, it's about boxing.
Venus: How did you know?
Gustav: I saw that paper too. - You want to know how she's so sure what the result would be.
Venus: Yeah, I mean, to me it seems like it could go either way. - Trinity said it's a good story.
Gustav: It is. It's about how I met Honey for the first time. Want to hear?
Venus: Of course.
Gustav: Let's wait until Steve comes. I'm sure he'll want to hear it too.
The Contract 16
Venus: You know, it seemed to me that Honey and Trinity are good friends.
Gustav: Very good friends.
Venus: So how come I haven't seen Trinity before?
Gustav: They had a bit of an argument, and they're both generally too stubborn to take the first step. I'm just glad it's all over and things are back to normal again.
Venus: What was it about? I guess it was some guy. You know, because of that paper Trinity wrote.
Gustav: I won't comment on that. None of my business. None of yours either.
Venus: Understood. I won't say another word.
Gustav: I knew you're a clever one.
The Contract 17
Gustav: There you are. We've been waiting for you, because you need to hear this too.
Steve: Hear what?
Gustav: A story. A good one.
Steve: Okay.
Gustav: It was when I first came to the city as a rookie detective. I was looking for a boxing club, and some officers recommended me the one where they trained. I went to take a look, and it looked OK, so I decided to try it out. There were mostly guys, but also two women. One of them was Honey and the other one was Trinity, who I had met a couple of days earlier.
Venus: So that's how she knows.
Gustav: Not so fast. The story is just starting. - When they were taking a break, I went over to talk with Trinity. I mean, I was a bit surprised to see her there, officer or not. Long story short, she somehow managed to trick me into going into the boxing ring with Honey. I guess I should have smelled a rat when everybody else stopped what they were doing and gathered around to watch.
Steve: I guess they knew something you didn't.
The Contract 18
Gustav: You could say so. - It started fine. She was technically very good, a lot better than me, and I was getting a good workout, but I was sort of holding back the hardest punches, because, you know, you don't hit women and all. The guys started yelling that they wanted to see a real match, and Honey told me to stop being careful. "Give it your best shot," she said. So I did, but it didn't change much. There's no use hitting hard when the punches miss. I mean, I'm a big guy and used to training with big guys who aren't that much faster than me. She was never where my punches landed. Looking at her with Trinity had fooled me. Of course they wouldn't be going after each other for real when training technique. I guess my thoughts got me a bit distracted, because all of a sudden, BAM! The next thing I know, she's asking me if I'm all right. And that's how I met Honey, the only woman who has ever knocked me off my feet, literally.
The Contract 19
Venus: She really did that?
Gustav: Turns out I wasn't the first one to fall for it. The guys, and Trinity especially, really enjoyed tricking unsuspecting new guys into the ring with her, and Honey went along with it.
Steve: So what was the deal?
Gustav: The deal? I guess that when boxing is just a hobby for you, getting into the ring with an olympic level boxer of any size is not the brightest of ideas.
Venus: Olympics? Really? I had no idea.
Gustav: She doesn't talk about it. She loved boxing, but the publicity was too much, so she prefers keeping low profile nowadays. You know, different name, different hair. Her hair used to be even wilder than yours, Venus. Not many recognize her nowadays.
Steve: Different name?
Gustav: She wasn't married when she was competing.
Venus: She's married?
Gustav: Widow. Another thing she doesn't talk about, so you shouldn't either.
The Contract 20
Steve: And Trinity? How good is she?
Gustav: Well, in a boxing match strictly by the rules, she wouldn't be able to beat me, purely due to my size advantage.
Steve: What about a no rules match?
Gustav: I wouldn't be stupid enough to agree to that. She knows every dirty trick in the book, and I suspect she's invented some herself.
Steve: What is it with her?
Gustav: Claudia told me you think Trinity is scary. Keep thinking that way and you'll get along with her just fine.