Lucy
Lucy 1
Lucy: Hello, Schizo! Schizo: Do I know you? I'm sure I would remember... Lucy: You don't know me, but I know you. I've heard about you. Schizo: Oh! So, who are you? Lucy: Mmmm... let's say... Lucy. Yes, today I'm Lucy. Schizo: Today? Do you have other names on other days? Lucy: Sure. Sometimes I'm Natasha, sometimes Elsie, and other times whatever else I feel like using. Schizo: Why would you change your name so often? Lucy: I get bored. When you've lived long enough, that tends to happen. You should know. Schizo: You don't look that old. Is there something I should know? Are you... something else?
Lucy 2
Lucy: That's what I love about people like you. You're over the incredulousness and jump to the right conclusions so fast. Schizo: People like me? Lucy: People who know how the system works. A little birdie told me that a certain ghost lady has been telling you all sorts of things. Schizo: Spectra? You know her? Lucy: I know about her. We tend to be aware of people who have not moved on. Schizo: This is getting really interesting. You're not a ghost, and I've met Freya, so you're not a reaper either, because I wouldn't see you. Who are you?
Lucy 3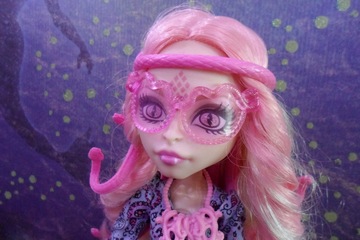 Lucy: Sorry about not making that clear from the start. I just like a little foreplay. Would it help, if I told you that I like the name Lucy, because it's a shortened form of the name I prefer. It's so much nicer to be a lightbringer than some of the other names I've been given. Schizo: You... you're... Lucy: Exactly. Delighted to make your acquaintance. Schizo: I thought... Spectra said... Lucy: Something about me being there only for the ones who are potentially mine? And you've never believed in me. The short answer to the question is that the system is based on blind belief, and you know. Knowing sort of puts you outside the system, but I can't tell you any more of that. The reapers are a grim bunch and don't like anybody giving out too much information.
Lucy 4
Schizo: So you're not after me? Why are you here? Lucy: It's a rare opportunity to talk with someone in this world with whom I can be myself. Well, not totally, this isn't how I normally look, this is just to fit in. Schizo: Yeah, about that... I thought you would be a guy. Spectra said "he." Lucy: You should know that angels have no gender, and I was once one of them. It's not our fault that you chose to develop languages that have an obsession about assigning genders. By the way, the boss has no gender either, or maybe all genders at once, in case you were wondering. Schizo: Boss? Lucy: Yahweh. Still my boss, even after kicking me out of the main office for daring to point out that we're just middle management. After being told by the people who created you that you're unique, it can be a big blow to hear that you're just one of 3,000 or so, and not even the oldest one.
Lucy 5
Schizo: Didn't you get that creation bit backwards? Lucy: Not at all. If it was the other way round, I'm sure the big bosses would have limited the number of gods to keep things more manageable, but you people just kept on inventing new gods. Schizo: Who are the big bosses? Lucy: Sorry, not at liberty to tell. They're even more grim than the reapers. And anyway, I doubt there is a way to explain them that you would understand. Schizo: So, let me get this straight. The reapers are above you in the hierarchy? Lucy: In a way. They pick up, judge and sort, I just receive the shipments. It's a good idea to have an impartial judge before handing the matters to the correct afterlife organization. You know, avoiding conflict of interest and such. Schizo: But you're still allowed to roam here and suggest to people all sorts of things they should do? Hardly impartial, I'd say. Lucy: You're thinking of all that "the devil made me do it" stuff. Sorry to burst your bubble, but I didn't. You people are extremely capable of inventing all by yourselves all sorts of horrible things to do to each other. I don't interfere, I just deal with the consequences on my part. - Seriously, with the current numbers of new entrants, I sometimes find myself hoping that more people would start being nice to others or convert to some other religion, so their final destination would be somewhere else.
Lucy 6
Schizo: You know, I thought some religions had specific gods who did that judging part. Lucy: There were a very long time ago, but not anymore. Most of those faiths are gone, so those gods were promoted to reapers. Schizo: That must be the weirdest organization reform I've ever heard of. Lucy: Being an obsolete god is no fun. Once they have come into existence, they won't disappear when the faith dies, so they need something to do. It's pretty straight forward as the reapers share a collective consciousness, so they stick to standards automatically... Oops, that may have been a bit too much information. Schizo: Not at all. It's all very interesting. Lucy: I'm sure it is, but did I already say they're a grim bunch?
Lucy 7
Lucy: I need to go now, but before I leave I want to prepare you for what's coming. Schizo: What's that? Lucy: I'm not the only one who likes to have someone to talk to. Don't be surprised, if you meet some others who aren't of this world. Schizo: Hey, I'm all for it. My life is getting more interesting by the minute. - Um, should I be wary of someone? I mean, if they just want to talk, there should be no danger, right? Lucy: Some may look a bit intimidating, but you're not in any danger. One of the benefits of being outside the system. You're in noone's jurisdiction now. They couldn't hurt you even if they wanted to.
Lucy 8
Gabriel: Hi, Schizo! Am I interrupting something? Lucy: Not at all, Harold. I was just leaving. Gabriel: Excuse me, my name is Gabriel, not Harold. Lucy: Really? I was under the impression that you are Harold. Oh well, whatever you say. No time to argue about that. - I'm sure we'll meet again, Schizo. Schizo: I'm looking forward to that. Lucy: By the way, you can continue calling me Lucy. Makes things a bit less confusing.
Lucy 9
Gabriel: Who was she? Did you tell her my real name? You know I don't like that. Schizo: Her name is Lucy, and no, I did not tell her. Why would I? I hardly even remember your real name anymore, and care even less. Gabriel: Then how did she know? I've never seen her before. Schizo: She knows a lot of stuff you wouldn't expect her to know. She's special in that way. Gabriel: Special? Are you talking about mediums and other weirdos? I know about that goth chick. Schizo: Mina? I guess you could say so, although Lucy is on a totally different level.
Lucy 10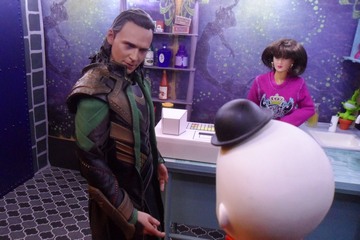 Gabriel: Weirdo or not, she's totally hot. Schizo: In more ways than one, but I wouldn't even try anything. Gabriel: Yeah, way out of your league. Schizo: Again, in more ways than one. Gabriel: So you wouldn't mind, if I... Schizo: No, but I would advise against it. She's way out of your league as well. But I know you won't believe me, so just remember that she's basically a walking lie detector. I'm not sure how she feels about people telling as much lies as you do as she deals with them on a daily basis, but I'd be careful. Gabriel: You're being a total weirdo yourself today.
Lucy 11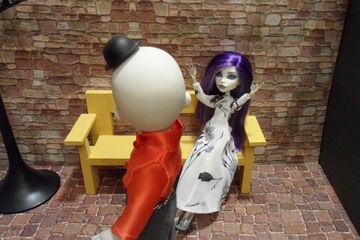 Spectra: Hi, Schizo! - Hey! Right here! Don't say you can't see me! Schizo: What? Oh, hi Spectra! Sorry, I didn't notice you. Spectra: What's wrong? You look worried. Has something happened? Schizo: I'm fine. I just met the most interesting person today. I mean it, it was a once in a lifetime meeting, really, although it probably wasn't the last time. Spectra: Intriguing. Who was she? Schizo: Why do you assume it was a woman? - Well, she did look like one. Spectra: Just look? But wasn't? Even more intriguing. Schizo: Remember what you said, "he's there only for the ones who are potentially his?" Turns out he isn't a he, not a she either. Angels, even former ones, have no gender.
Lucy 12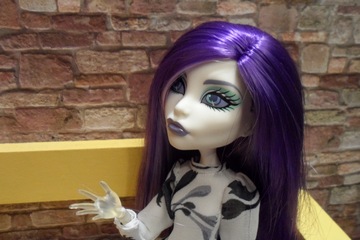 Spectra: Are you serious? Are you trying to tell me you met...? Schizo: Apparently I'm now outside the system, so I can expect to meet all sorts of interesting people. Spectra: That's something I wasn't aware of. So, what was she like? She, he, whatever. Schizo: Very normal, if you don't count the fact that she was telling me about the collective consciousness of the reapers and obsolete gods who get promoted to reapers once their followers are gone. Spectra: Collective consciousness...? That's new. Schizo: She wasn't supposed to tell me that, it just slipped. Apparently, the reapers aren't fond of people spilling the beans, or at least too many of them. Spectra: Slipped, huh? You really believe that? I'm sure someone like that doesn't let anything slip by accident. Schizo: Maybe. It doesn't really matter. What is said is said, no matter the reasons. - By the way, she knew about you and what you've been telling me. Spectra: That's the downside of this existence. It's almost impossible to hold secrets from them, they just sort of leak out.
Lucy 13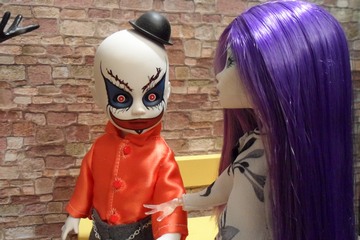 Spectra: So, where are you heading to? Schizo: To the studio. Need to do some preparing for tonight's show. Wanna come? Spectra: Thanks, but maybe some other time. Sara and I have plans. She always has the best ideas. Schizo: Oh, is it a secret or may I ask...? Spectra: No secret. There are these teenagers who play with some devil worshipping stuff. We're going to have some fun. Schizo: Nothing too cruel, I hope. Spectra: Nah, just something to make them forget about that sort of silliness for some time. - You know, Sara always says she never wanted to be a nun, but there's still some of that stuff left in her or she wouldn't do these things. Schizo: Nothing wrong with guiding some kiddies to the right path, even if done with somewhat unconventional means.
Lucy 14
A little later: Freya: Hello, Schizo! Schizo: Freya, how did you get... in? That was a stupid question. Freya: If a maximum security prison cannot stop me from visiting one of their residents in the middle of the night, what chances does a glorified warehouse like this have? Schizo: Prison? I thought you do natural death. Freya: 93-year-old guy serving a life sentence dies peacefully in his sleep. I'd call that natural, despite the unnatural surroundings. And it was peaceful, the most peaceful dream he had had in 40 years or so. Don't you think everybody deserves a break once in a while? Especially considering where he was heading to. Schizo: I guess so. - I didn't expect to see you again so soon.
Lucy 15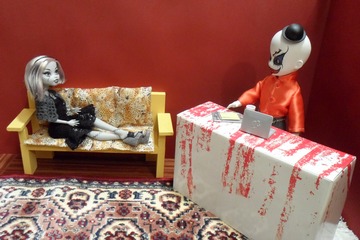 Freya: This is a totally unscheduled visit. Samael asked me to talk to you. It's so much easier when you don't need to use an intermediary. Schizo: Yeah, the last "conversation" through Spectra was a bit complicated. - So, what do you, or rather Samael, want to talk about? Freya: Your new friend. Goes by the name of Lucy, I heard. Schizo: News seem to travel lightning fast. Am I in trouble? Just for meeting her? Freya: Samael said the afterlife is none of your business. Schizo: Hey, Lucy came to me, not the other way round. If people want to talk to me, I listen to them, especially if it's interesting, and she certainly was. Freya: There are certain subjects that would be better left alone. Schizo: Don't you think the damage is already done? Freya: That's what Lucy would say, if I went to talk to her. She's always using that as an excuse, "I didn't start this, he already knew, so what's the problem with some small talk?"
Lucy 16
Schizo: Is that how the collective consciousness thing works? You know things that happened before your time, because other reapers know them? Freya: See? That's exactly what I'm talking about! I guess next you want to know who's above us. Schizo: Lucy said I wouldn't understand. Freya: At least she's got some sense. - Look, you need to let it be. Just live your life on this side and leave the other side alone. And don't even think about telling anybody else... Schizo: Are you crazy? People already think I'm a weirdo. If I started telling stories about you people and meeting the devil, they'd lock me into a lunatic asylum and I'd never get out as long as I live. Freya: Yes, there is that. Not a bad idea, actually. Schizo: No need to get rude.
Lucy 17
Freya: Would you let it go, if I told you what will happen to you? You asked Samael, but he didn't tell. Now he says we can let you know, if that is what it will take. Schizo: Okay, I can do that. I mean, I won't actively ask questions, but if someone wants to talk to me, I'm not going to stop them. Freya: Good enough. And you won't tell Spectra or anyone else what I'm going to tell you now. It's between you and me. Schizo: And Samael. Freya: And Samael. - So, when you die, you will get to choose from certain options, which are all geared towards you either forgetting entirely what you've learned about us or it just not mattering anymore. Schizo: What does that mean in practice? Freya: Be erased, reincarnate with a clean slate, or become a reaper. Schizo: Wow! I didn't expect the last one. Freya: And to make sure you will keep your promise, I will tell you one more thing about that choice: Your reaper, that is me, will have a veto power over it. Schizo: So you can make the choice for me, if you feel like it? Freya: Exactly. It will have to be approved by other reapers, but that's really just a formality.
Lucy 18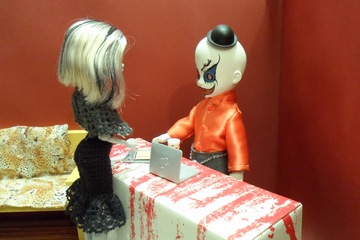 Schizo: I know I'm not supposed to ask any more questions, but may I ask one last one? Freya: You may ask. I may or may not answer. Schizo: Do you still remember what you were like before you... passed on? Freya: Really? That's what you want to know? Schizo: No offense, but I just want to know, if your nature and looks used to be more compatible. Freya: Hahaha! Okay, I can answer that. I still remember something, but not much, and soon even that little will be gone. Schizo: I suppose it's best that way. Freya: You won't miss something you cannot even remember, so yes, it is best that way. Also, we are impartial judges, too many feelings wouldn't be good, especially if you come across someone you used to know. Schizo: I guess that's one risk the other reapers don't have anymore. Although, surely they have thought of everything and there are some sort of bias clauses... Sorry, I didn't mean to do that. No more questions.