A Ghost Story
This story is a compilation of parts of the Sixth Scale Stories and is meant as a reference for the ghost girls Mina and Spectra.
There's a first time for everything
Mina: Spaghetti and meatballs with champagne. That's original. Schizo: I always strive to be original. Mina: So, what's this important thing you want to talk about? Let's sort that out first. Schizo: Well... I'm not really used to this... You see, I haven't done this before. The thing is, you are absolutely perfect. Your eyes are beautiful and you've got perfect complexion... Mina: I sense there's a "but" coming. Are you trying to tell me that you prefer girls who are alive? Schizo: Um... well, yes. I'm sorry about that... Mina: Don't worry, I knew it would come to that. It always does. It's been nice and I hope we can still be friends. - So, are we going to eat or not? Schizo: Oh, yes, of course. No need to let minor details ruin a good dinner.
New acquaintances
Mina: It's nice to meet you. Spectra: You're not upset that I came here? Mina: Of course not. I've been the only one of our kind here for a long time. It's nice to have company. - So, what did you do? Spectra: Do? I got murdered, that's what I did! Mina: Oh, I'm sorry. I thought it was your own fault. That's how it was for me. Who was it? Spectra: A man I was supposed to marry, but refused to. He had strange ideas on honor. Mina: One of those, huh? Where is he now? Spectra: Downstairs, I should think. He's been dead a long time, but before that, he spent years in the nut house. You see, I visited him regularly and that drove him over the edge. Mina: What's regularly? Spectra: Once a month for 5 years. Of course I didn't stop when he was locked up, so it ended up being 35 years. Mina: If he's dead, what are you doing here? Spectra: What? Oh, you mean... I didn't want to leave. It's actually quite fun to be forever young. Of course, every once in a while, that guy with a scythe comes along and asks "Ready to move on?" He's such a grim one. I guess one day I'll say yes, but not for a long time.
Mina's story
Spectra: So, what did you do? You said it was your own fault. Or shouldn't I ask? Mina: Oh, I don't mind. You know, people these days have no idea how easy they have it. All these pills and other stuff. Back in the day, it was either marry any jerk who will have you before anything shows or get rid of it in some risky and illegal way. Spectra: You mean...? Mina: Yes. The first two I managed to get rid of, but the third bugger killed me on his way out. Well, he didn't live long enough to have offspring of his own. I appeared to him one dark night on a mountain path and the silly boy fell into a ravine. Spectra: I... uh, I'm not quite sure what to say. You're talking about your own... Mina: I know, I know. I could never figure out what's supposed to be so wonderful about them. Spectra: If that's what happened, shouldn't you be...? Mina: Downstairs? I don't know how this exactly works, but I stayed and had my revenge and I guess somebody made an error somewhere. Shoddy bookkeeping, probably. Anyway, I'm in no hurry to move on, considering what that would mean. Spectra: Yes, I can certainly understand that. Mina: You know the best part of my current existence? I can have fun without any worries. It's absolutely fantastic!
Meeting Spectra
Schizo: How can you wear that? Aren't you supposed to wear what you were wearing when... it happened? Spectra: What a horrible idea! That stuff went out of fashion before your grandma was born! Fortunately, it doesn't work that way. Schizo: So how does it work? Spectra: Ever heard the term "physical manifestation?" When I take a physical form, I can wear whatever I like. Especially now that everyone who once knew me is dead. Schizo: What do you mean? Spectra: People who knew me saw me as they remembered me. I guess that's why my so-called fiancee went crazy. All he could remember was the blood. You really shouldn't kill people, if you can't deal with the guilt. Schizo: And now that they're all dead, you can choose what you want to look like? Spectra: Isn't it great? It would be such a drag to spend forever all covered in blood.
Barbara 1
Barbara: WHO OWNS THE JAG PARKED IN FRONT OF THE EMERGENCY EXIT!? THE TOW TRUCK IS ON ITS WAY! Schizo: Run, Forrest, run!
The Grim Reaper 1
Spectra: You know, you really don't need to visit me. I'm not going anywhere for a long time, so save yourself the bother. Don't call me, I'll call you. Grim Reaper: Hey, I can visit whoever I like, whenever I like. Besides, even I get tired looking at all the butchered bodies day after day. It's nice to talk with somebody with all parts intact once in a while. Spectra: You're exaggerating. A lot of people die with their body intact. Grim Reaper: Sure, but I'm in the homicide division. The amount of blood I've seen in my work would fill an ocean. Spectra: Homicide division? Grim Reaper: Surely you didn't think there was just one of me? I'm good, but not that good. Oh no, there's an entire company, Afterlife Inc. Spectra: And you have different divisions dealing with different kinds of death? Grim Reaper: Sure. There are divisions for traffic, suicide, diseases, old age — that's for the ones with bad nerves who can't deal with anything more drastic — homicide, accidents, and so on. Spectra: Hold on! How can that work? There are deaths that can fall into several categories, like killing yourself on purpose in the traffic. Grim Reaper: There's nothing a flip of a coin cannot solve.
The Grim Reaper 2
Spectra: I've never seen anyone else but you. Grim Reaper: That's because your case was assigned to me. You're not supposed to see any of the others, unless your case gets reassigned. Spectra: Has it ever happened that somebody, who should have moved on, has been left here? As a result of a bookkeeping error or something like that? Grim Reaper: Sure, although it's not usually an error, just forgetfulness, accidental or on purpose. For example, there was this little old lady who the guy in red shoes and his followers considered a saint, but many others thought she had built her fame around other people's suffering. Nobody wanted to touch her with a 10-foot pole. Finally we had to draw straws.
(He's referring to the Pope and Mother Teresa.)
The Grim Reaper 3
Spectra: Why? What does it matter what she was like? You're just a... transport company. Grim Reaper: But when there is uncertainty of the delivery address, it's sometimes easier just to forget it. The really bad guys are not a problem, it's just a simple pickup job, but the borderline cases always give me a headache. Spectra: I had no idea it was that difficult. Grim Reaper: Of course you didn't. But no worries, we rarely get complaints. They enjoy their prolonged stay too much to do that. You should know.
The Grim Reaper 4
Schizo: Have you finished your conversation with your imaginary friend? Shall we go? Spectra: What do you mean imaginary friend? Grim Reaper: He can't see me. Spectra: But that guy getting out of the door just now, he saw you. Grim Reaper: Of course he did. He's mine, just not today. - Well, it's always nice to talk with you, but I've got work to do just around the corner. See you again in a few years.
The Grim Reaper 5
Spectra: You really didn't see him? Schizo: No, but I guess he wasn't imaginary after all. I noticed that guy you mentioned. He did see something and he was scared to death. Spectra: He had a reason to be. He saw his death, although it wasn't after him today. Schizo: You're getting really spooky. I like it.
Waltzing
Spectra: I guess you weren't lying when you said you're not good at this. Schizo: I wasn't lying. I never got past the stage of "shuffling your feet awkwardly." Spectra: It's all right. At least you agreed to try. But I'm sure you could do a bit better. After all, you're the one who's supposed to be alive.
More dancing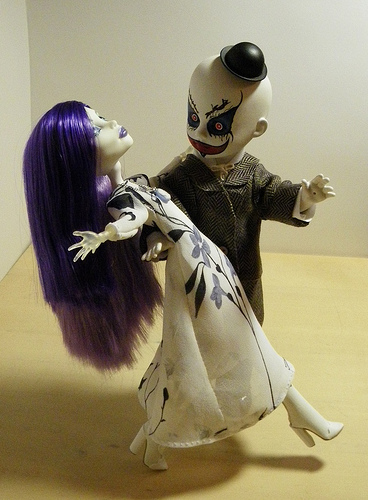 Spectra: That's more like it! - Like the dress? It's the one I was wearing when... you know. Schizo: It's very nice, but I thought... I mean, weren't the dresses at that time...? Spectra: Prim and proper? Unbelievably dull? Schizo: No, I meant... uh, a bit less transparent? Spectra: Oh! Yes, they were and so was this, but this isn't the real one. Schizo: Not the real one? Do you mean it's a copy? Spectra: Not exactly. I guess you could say it's a ghost of a dress. The original was in a real mess, so it would never do. Schizo: I didn't know you could have a ghost of an inanimate object. Spectra: You can have a ghost of anything you like. Well, not you, but I can.
New Year
Spectra: So, where are all the props? Schizo: Somebody was "too tired" to set up anything. Again. Spectra: Well, at least there's the fridge. Schizo: Good thing that somebody was also too tired to put it away. What will you have? Booze or ice cream? Spectra: Both. Lots of it. Schizo: I like you more every day.
Identity
Greta: Still doing the private eye stuff, Mina? I've never understood how you can do it without any paperwork. Mina: I only work for clients who don't want a paper trail. They don't want proof that would hold in a court of law. They just want to KNOW. Spectra: I bet the people you investigate can't figure out how they were discovered. Mina: You wouldn't believe how paranoid some of them are, but of course, they can't do anything about me as they won't even see me. I just love my job. Greta: Doesn't it ever bother you? You know, the kind of people you work for... Mina: I watch, I listen, I report, and I take the cash. What happens afterwards is none of my business. Although, very often it becomes everybody else's business as it's on the front pages of all the newspapers. Like, there was this mob boss... but maybe it's better not to talk about it. Spectra: I couldn't do it. I mean, I know some of them probably deserve it, but still... Mina: You've never told us what you do. It's gotten so hard to do anything without an identity. Spectra: I've got an identity. It's a borrowed one, but works just as well. Greta: Borrowed with or without the approval of the owner? Spectra: She knows all about it. We made a deal. Mina: Really? How did you manage that? Spectra: There are always old ladies with lots of money and an interest in spiritism. She was delighted to meet a real ghost. She's also an invalid and doesn't have much fun, so she gives me money and the use of her name and I visit her regularly and tell her what I've been doing with them. I never do anything illegal and if there's anything a bit dubious, she can always say "Look at me, I'm old and I've been in a wheelchair for 25 years. Do you really think I'm able to do something like that?" Works every time. Greta: Sounds like a great arrangement. Spectra: It is. And I've been teaching her that out-of-body stuff. She's not very good at it, but even a few minutes at a time makes her really happy. Still, I think the greatest part for her is that she got to know what will come after, although she won't get to stay. She has no grudges and she's the sweetest old lady I've ever seen, so she'll go upstairs straight away. Mina: And then you'll find another rich old lady? Spectra: Sure. There are plenty of them. The trick is to make them understand that they can't talk to others about me. That'll get them committed and then they can't give me any more money. People who expect to inherit a fortune can be really protective of their future money.
The not so grim reaper 10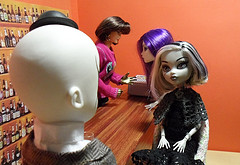 Schizo: I can see you. Who are you? A hallucination? Freya: Of course not. I thought you knew about us, Samael said so. Schizo: Samael? The scythe dude? The one I couldn't see? But I can see you, so you're... Frey: That's right. You're one of mine. Schizo: I see. Are you here to pick me up? Is that it? Did I finally have one too many? Freya: Not at all. You're my eternity project as one of the guys put it. Schizo: Eternity project? Freya: One of the really long lived ones. But you know that, don't you? We're each assigned one of you, because dealing with more would be frustrating. I just wanted to introduce myself and remind you that nobody's immortal. Schizo: Duly noted. Freya: Besides, I wanted to see the one nobody wanted to take on. Did you know that you weren't assigned to anybody before I came along? That's why you never saw any of us. Schizo: I think one could take that as an insult.
The not so grim reaper 11
Spectra: So you found your own imaginary friend? Schizo: How do you know that? Spectra: Honey told me. She's worried about you. I told her you're just fine. Schizo: I hope you didn't explain what it was all about. Spectra: Of course not. I just told her that an occasional hallucination is normal, considering how much you drink, and that a good night's sleep will put you back on track. - Well, what was she like? Honey said you mentioned a lady. Schizo: Very young and pretty, wearing old-fashioned clothes, nice, but a bit impertinent. Spectra: Impertinent? What does that mean? Schizo: She said I wasn't assigned to anybody before her, because nobody had wanted to take me on, and that's why I haven't seen any of them before. Spectra: Hahaha! Schizo: It's not funny. Spectra: Oh yes, it is. I wish I could meet her, I think I'd like her.