Bunny Suicides 1
Unfortunately for the bunny, it isn't very sunny here at this time of the year.
Bunny Suicides 2
No luck here either. Wrong kind of corkscrew.
Bunny Suicides 3
Emma: You really shouldn't read those books. They're bad for you. Bobo: Come and play with us. Look, we've got carrots!
Bunny Suicides 4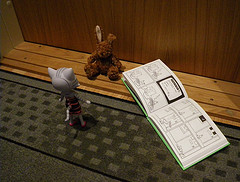 Nikki: You know, they don't deliver packages that big. You just get the notification and need to pick it from the post office.
Bunny Suicides 5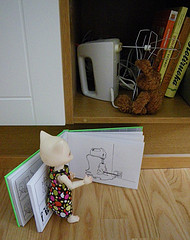 Emma: You're really getting too morbid. Fortunately that thing is much too big for you.
Bunny Suicides 6
Nikki: That's our friend's car. Keep your paws off! Emma: We've been talking about your problem and we think it's time to stop this nonsense. We'd like you to meet a friend of Nikki's mom. Nikki: This is Bunny. She's a psychotherapist.