Confrontation 25
Ruby: So, what is it? Zeke: Ruby, I was wondering... Would you come to dinner with me? I mean, you can when you don't have your friend with you, right? Or is your father as strict as hers? Ruby: He was, but he's dead now. Zeke: I'm sorry. Ruby: I'm not. - Dinner sounds lovely. When? Zeke: Whenever you're free. You pick the time.
Confrontation 26
Ruby: Kitty, when you came to tell me Zeke is here, you looked a bit strange. Do you know him? Is there something I should know about him? Kitty: The answer is yes, to both questions. I can explain the first one. I met Zeke a very long time ago. He did me and Chase a huge favor and we were friends as long as he stayed in the city. Then he left and we never heard of him. Until now. Ruby: And the second question? Kitty: I cannot tell you what it is. He will tell you in time.
Confrontation 27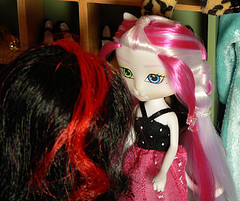 Ruby: So, what was the favor? Kitty: I can't tell you about that either, not without his permission. Ruby: You are being very strange today. Who is he? What is going on? Kitty: He's all right. You've got nothing to worry. Ruby: I wonder... Kitty: He will tell you everything you need to know. That's not for me to do.
Confrontation 28
Kitty: Riddick, I met Zeke. Riddick: What was he like? Kitty: He's an old friend. He's been away for a long time, but now he's back. You don't need to worry. Ruby will be perfectly safe with him. In fact, if she needed to be any safer, you would have to lock her into a bank vault. Riddick: Really? Hmm... I'd like to meet him. Kitty: I'm sure you will meet him sooner or later. In the meantime, there's something you should know about him.
Confrontation 29
Riddick: You look worried. I thought everything was all right. Kitty: Between those two, yes. It's you I'm worried about. You need to promise me something. Riddick: What's that? Kitty: Don't try to scare him. You won't succeed and the results could be unpleasant. For you, I mean. Riddick: Are you serious? Kitty: Yes. And another thing: It doesn't show, so don't be fooled by his appearance. He's half-breed, like me, just not feline.
Confrontation 30
Kitty: Oh, Mary... We were just talking about Zeke. Mary: Do you know him? Kitty: Yes, he's an old friend and a very nice young man. Mary: Yes... but there was something... I can't say what, but he seemed different somehow. Kitty: You know, maybe you really should become a detective. You're the first one I know who has been able to spot anything without him letting you know. Mary: So, what is it? Kitty: I can't tell. You should ask him. But don't be too disappointed, if he won't tell either.
Confrontation 31
Some time and a few dates later: Kitty: Hi, Zeke. Are you waiting for Ruby? Zeke: Yes. Kitty: Have you told her? Zeke: Yes. Actually, I did more than that, I showed her. Kitty: How did she take it? I can see she didn't dump you there and then, but otherwise? Zeke: That was a bit odd. She seemed amused. That has never happened before. Kitty: Yes, that was the other possibility. Although, I thought she would run.
Confrontation 32
Kitty: I just met Zeke. You are going to introduce him to Riddick, aren't you? Ruby: I guess so. I'm not quite sure... Kitty: Ruby, if they are going to have a go at it, they will do it, no matter when they meet. Wouldn't it be better to get it over with? You don't need to worry. Do you really think a guy like Zeke would get scared of Riddick? - Oh yes, I know about him. How do you feel about it, knowing what he is? Ruby: Well, it was a surprise, of course, but he said it doesn't change anything. And he is really wonderful.
Confrontation 33
Ruby: Hi, Zeke. I'm sorry, but it's going to take a bit longer than I expected. I'll show you where you can have a cup of coffee while you're waiting. Zeke: I can wait here, it's no problem. Ruby: I know, but I wouldn't want you to run into Riddick. Zeke: What is it about that guy? He can't be that bad. You told me he's been taking care of you. Why are you so scared? Ruby: Please. Just do what I ask, will you? Zeke: All right, if it makes you happy.
Confrontation 34
Ruby: I'll try not to be too long, but you never know with Kermit. Zeke: Don't worry so much. We're in no hurry. - Are you quite sure it's all right for me to be here on my own? After all, this is the private area. Ruby: If someone asks, just tell them you're waiting for me.
Confrontation 35
Zeke: Well, hello there. Where did you come from? You must be Toby. Ruby has told me about you. Where's your master? Riddick: Right here.
Confrontation 36
Zeke: So, you're Riddick. You are much like I imagined you to be. - I'm Zeke. Riddick: You are nothing like I imagined based on what Kitty told me. Zeke: What did she tell you? Riddick: That things could get unpleasant, if I was too rude to you. Zeke: She shouldn't have said that. I've already done enough fighting to last a lifetime and I'd rather not do it anymore.
Confrontation 37
Riddick: You don't look like a fighter. And I really can't understand why Toby looks nervous. He isn't scared of anybody. Zeke: He recognizes me for what I am. Life is so much easier when you understand your place in the order of things. Riddick: You are a strange one. And I really don't believe you could get that unpleasant. Zeke: Don't. I can see where this is going and I don't like it at all.
Confrontation 38
Riddick: I knew it wasn't true. I just wonder why Kitty would say something like that. Zeke: I guess now I know why Ruby has been so anxious. Do you have any idea what you're doing to her? She cares for you, but she also wants to be with me and you're making it really hard for her. Riddick: I just want what's best for her. Zeke: And do you think you know what that is? Riddick: Better than you do. - You know, if you really are a fighter, how about it? I'd like to see. Zeke: You'd like to see? I guess it was inevitable. Just remember you asked for it.
Confrontation 39
Zeke: Do you really want to see how unpleasant it can get?
Confrontation 40
Mary: Noooo! You leave my dad alone! Riddick: Mary! No! Zeke: Whoa! Calm down, little girl. It's me, Zeke. I'm not going to hurt him.
Confrontation 41
Mary: Zeke? Zeke: Yes. It's me. Your dad just wanted to see me in my other form, that's all. Riddick: Mary, it's all right. No one is going to hurt anyone. And anyway, it would be my fault, if that happened. Mary: I don't understand. Zeke: You don't need to. All you need to know is that everything is all right.
Confrontation 42
Ruby: Zeke! Riddick! What's going on? Zeke: I'm sorry. I shouldn't have done this. Riddick: You should have told me. Zeke: Would you have believed? Riddick: I guess not. Ruby, I'm sorry. It was my fault.
Confrontation 43
Zeke: You know, I really hate this. Do you have any idea how expensive this can get? Ruby, where can I get some clothes, so I can change back? Ruby: I'll ask Kitty to find something in the wardrobe. You can wait in my room. Zeke: Someone could see me on the way there. Ruby: There are always all sorts of weird people around here. No one will pay any attention. Although, if Kermit sees you, he may want to hire you. Let's go.
Confrontation 44
Orlock: Riddick? Riddick: Max? Were you there all the time? Orlock: Yes. - I've never seen anything like that. Riddick: You and me both. Orlock: You know, he could have beaten you. Badly. Although, he didn't act anything like he was supposed to. He isn't like they normally are. Mary: So, he was going to hurt you? Riddick: No, he wasn't. Well, maybe he would have, if I had tried to hurt him, but I'm not stupid.
Confrontation 45
Riddick: So, Max, you know about them? Tell me. Orlock: I'm sure you know the basic stuff as well as I do. What I'm wondering is how he could change just like that. I didn't think it was possible. Also, he controlled himself after changing, which is even more strange. Usually they get all homicidal at that stage. Riddick: Kitty said he's a half-breed like her, only not feline. Orlock: I've never heard of anyone like that. Mary: Mother told stories about them, but I thought they were just stories. I didn't think she believed in them herself.
Confrontation 46
Mary: Why did you say it was your fault? Riddick: Because it was. I was picking a fight and he showed me it would be a very bad idea. Mary: Why would you pick a fight with him? Is it because he's Ruby's boyfriend? Riddick: Mary... What I did was wrong and I'd rather not talk about it right now. Mary: All right. But you said you have changed. I thought that meant you wouldn't do something like that anymore. Riddick: I have changed. I guess the old me just isn't as deeply buried as I thought he would be. I promise to try harder.
Confrontation 47
Riddick: I suppose you knew I would do it. Why didn't you stop me? All you had to do was tell me. Kitty: I tried to tell, but you didn't listen. Maybe I thought you deserved a little shock for that. I hope you understand now that Ruby will be fine with Zeke. Let her go. Riddick: Maybe you're right. I just don't want to see her get hurt. Kitty: You do realize that what you're doing is hurting her as well, don't you? You need to let her make her own mistakes. Although I bet Zeke won't turn out to be a mistake.
Confrontation 48
Riddick: How the hell did he do it? Max said he has never seen or heard of anything like that. Kitty: I don't know. I just know he can. And I've seen him fight. Riddick: I'm sure you found it entertaining. Kitty: Yes, very. He was practically invincible then and he was just a kid. I'm sure he's even better now. Let's face it, you wouldn't stand a chance. But you know that, don't you? Riddick: Could we drop this subject? Kitty: Is it that bad? Surely you have always known that one day you would meet someone who's better than you. It happens to everyone. And it won't make any difference to me. I married you for quite different reasons.