Zeke 21
Ruby: Zeke, you're here already. Oh, hi Schizo. Kermit is in his office and he wants to see you. It's upstairs, first door on the left. Schizo: Thanks. I'll go there right away. - It was nice seeing you again, Mr. We... I mean, Zeke. Zeke: Yes, very nice indeed.
Zeke 22
Ruby: Zeke, do you know Schizo? He said "again." Have you met him before? Zeke: Yes. He's a rude little fellow. He makes full use of the fact that he's so small you can't beat him up. Orlock: You shouldn't let that stop you. Ruby: Max! He's your friend. Orlock: Yes, he is, but that doesn't change the fact that he could do with a proper beating now and then. Ruby: I wish everybody wouldn't be so violent. Zeke: Ruby, I'm not going to beat up anybody.
Zeke 23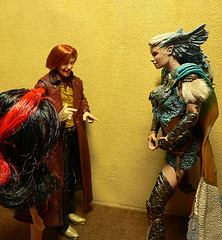 Val: Ruby, who is your friend? Ruby: Val, this is Zeke. Zeke, this is Val, one of the guest performers. Zeke: Pleased to meet you, ma'am. Val: What...? Yes, well, it was nice meeting you too. I need to go now.
Zeke 24
Ruby: Do you realize what you just did? "Ma'am," tee hee. Serves her right. Zeke: I was just being polite. Ruby: I bet that made her feel like a hundred years old. Hahaha! Zeke: She probably is. Ruby: What? Zeke: Don't you know? I thought... you being friends with Adel and everything... Ruby: What are you trying to say? Zeke: That Val and Adel are not your kind and that their lifespan is very different from ours.
Zeke 25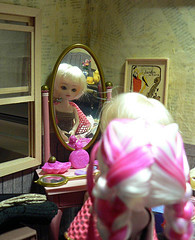 Kitty: Ruby told me you know about Zeke. Max shouldn't have told you. Adel: Don't be too hard on him. I gave him no choice. Kitty: I thought so. Anyway, as you already know about him, Zeke thought we should invite you as well. Riddick and I are having a little party tomorrow at our house. Adel: Any special reason? Kitty: Zeke thought it would be best to discuss the matter. What he does. No, what he is. Adel: In that case, I will most certainly come. I have always wanted to get to know one of them. Kitty: You do understand you cannot tell anyone else? Adel: Sure. Besides, most people would label you as a loony, if you told them his kind exists.
Zeke 26
Adel: Kitty... Kitty: What is it? Adel: Is Val here? Ruby said she would be. Kitty: Yes, I saw her when I was coming to see you. She was going to the dressing room. Why are you asking? Adel: Is there any way to avoid meeting her? The last time we met... well, it ended badly. Kitty: With her, that seems to be the rule. I'm sorry, but the only way would be to stay in your room all night and you can't do that.
Zeke 27
Mary: Eeek! Schizo: I'm sorry, I didn't mean to startle you. I was looking for Ruby. Mary: She went out with Zeke. Who are you? Schizo: I'm Schizo. Usually I'm just Max's friend, but tonight I'm also a guest performer. I saw you earlier and Max told me you're Riddick's daughter. He didn't tell me your name, though. Mary: I'm Mary. So, what do you do? I mean, when you perform. Schizo: Mostly standup comedy, but I can also sing, dance, and do magic tricks.
Zeke 28
Mary: What kind of tricks? Schizo: You know, the standard stuff with rabbits and pigeons, only I use toads and bats. Mary: Cool. Are you going to do something like that tonight? Schizo: No, unfortunately not. I had a discussion with Kermit and he said I have to leave the animal tricks out. Something to do with there being quite enough animals in the premises already.
Zeke 29
Adel: Hello, Val. Val: Adel. Don't tell me you're working here. I've had quite enough nasty surprises today. Adel: I work here. I must say I wonder Kermit's lack of standards, allowing you to perform. Val: Don't try that. You know I'm good at what I do. But I guess that's exactly what's eating you, isn't it?
Zeke 30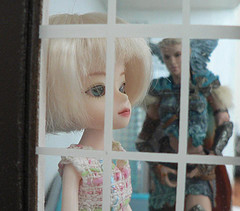 Adel: So, how is he? Or is it already past tense? Val: You know how it goes. He got old. Adel: And you dumped him. - I heard you got dumped, too. I mean Riddick. What I wonder is why he ever was interested in the first place. Val: What do you know about it? Adel: Ruby has been telling me about what's been going on. Val: I should have guessed. You're just the type to be friends with that little brat. Adel: You always had such a charming personality.
Zeke 31
Adel: I'll give you free advice concerning Ruby. If you see a red-haired, bearded fellow in a long coat and golden boots, keep your opinions on Ruby to yourself while he's on the hearing range, which is, by the way, considerably longer than usual. Val: Ooh, I'm getting all scared now. - I already met him and he seemed harmless. Adel: There's more to him than meets the eye. He's dangerous, even to you. Val: And why exactly are you telling this to me? Adel: I don't know. Maybe because I suspect you can't resist the temptation to try something and I'd love to see the results of that.
Zeke 32
Next day: Kitty: So, what was so important you couldn't talk about it on the phone? I am a bit busy, you know. We're expecting guests. Bunsen: Well, I heard about your marriage from Anika and I was wondering... Kitty: I told you I wouldn't take any interference. Besides, Riddick and I have decided that we don't want to have children, at least not yet. So, I'm sorry, but I'm not going to be your guinea pig. Bunsen: That sounds so rude. I and my colleagues are just interested in all new information we can gain about the subject. Kitty: Yes, well, you need to go and gain it somewhere else.
Zeke 33
Kitty: Could we forget about me and Riddick? There's something I'd like to ask. Bunsen: Sure. What do you want to know? Kitty: Do you have any experience on lycanthropes? Bunsen: What!? Surely you don't believe... Kitty: Oh, you're one of those. Sorry I asked. Bunsen: No, no, I'm sorry. Please tell me what you want to know. Kitty: Assuming there's a guy who's father was a lycanthrope and mother a normal human, what would happen if that guy had children with a normal human? Would the kids still be lycanthropes?
Zeke 34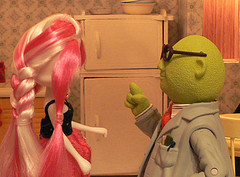 Bunsen: That is a very hypothetical question, considering there is no reliable evidence that lycanthropes even exist. Kitty: Forget hypothetical. I know they exist. Just tell me, how far down the line does it go? Bunsen: I would have to study the matter. Maybe ask a colleague of mine who's specialized in rare species. Yes, I think I'll ask him. He will probably find the question most intriguing. - You said you know they exist. How do you know? Kitty: I've met one, of course.
Zeke 35
Bunsen: Yes, well, anyone can say anything... Kitty: He didn't say, I saw him change. Bunsen: You really have the strangest acquaintances. I suppose next you're going to say you've met vampires. Kitty: Haven't you? Would you like to? If you wait until our guests arrive, you can meet one. He's not quite the regular type, but still the real thing. Bunsen: Um... I think I need to go now. I'll get back to you when I have discussed with my colleague.
Zeke 36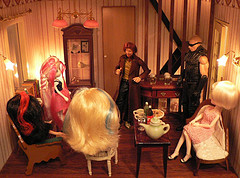 Kitty: Everybody's here now. Zeke, what do you think? Should we tell the story? Zeke: Sure, why not? You all know about me anyway, so there's no point trying to hide anything. Kitty: It happened a long time ago. Chase and I were on our way home late at night when we ran into some very scary people. I'm sure you all know we never were exactly helpless, but there were just too many of them. As we were trying to figure out how to escape the situation, we heard someone behind us saying: "Isn't that a bit unfair, the bunch of you against two little girls? How about we balance the scales a little?"
Zeke 37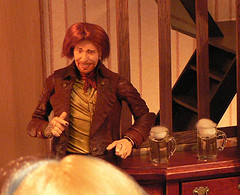 Zeke: I was still a teenager at the time, but I knew that once they saw what was happening, they would run. Kitty: They took one look at him, started laughing and headed towards him. He was so laid back and fearless that I saw immediately he knew something they didn't. Zeke: At that time, I had already learned to control the changing. It sometimes happened accidentally when I got too angry, but it never failed to happen when I wanted to do it. Kitty: So, he changed. You should have seen the look on their faces. They panicked.
Zeke 38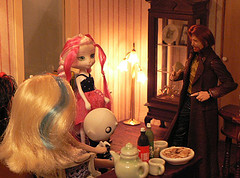 Zeke: I marked some of them, so they would remember me for the rest of their lives. I didn't want to do too much damage, because it would have drawn too much attention. Kitty: They ran. It was so funny. Then Zeke came to us and asked if we were all right. We invited him home with us and sneaked in through the back door, so grandma wouldn't notice anything. Then we got him some clothes, so he could change back to human form. Zeke: Yes, that's the embarrassing part. Often there's time to take off the clothes before changing, but in emergencies...
Zeke 39
Orlock: I'm not an expert on these things, but I know something. I have never heard of anyone changing at will. How do you manage to do that? Zeke: Forget full moon and other superstitions. It doesn't work that way, if you don't believe in it. Of course, if you strongly believe that you can only change at full moon, that is the only time you can do it, but it's only because it's in your head. I learned that from my grandmother. She said it was all about strong will and control. Mother hated her for telling me that, but then again, she never wanted me to be like my father. Kitty: Well, are you? Zeke: No, I'm already much better than he ever was.
Zeke 40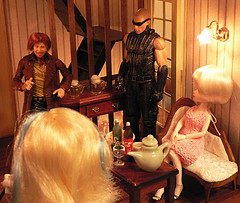 Orlock: What did you mean by "other superstitions"? Zeke: Well, you can forget about the transformation after being bitten. It doesn't happen. You can transform, but it is a complicated process. However, it has caused a lot of problems, so it just isn't done, even though our numbers are falling. Adel: What kind of problems? Zeke: Becoming one of us later in life could make you unbalanced. And it's those unbalanced ones who gave us the reputation of being homicidal lunatics.