Angel 1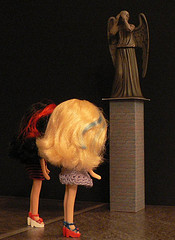 Mary: Ruby, have you noticed that statue? Ruby: What about it? It's nothing remarkable, just an ordinary angel statue. Mary: I could swear its hands were in different position yesterday. Ruby: You're imagining things. Stone statues don't move. Mary: I know that. But it was different yesterday.
Angel 2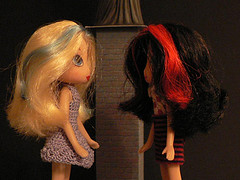 Ruby: That's not possible. Mary: I'm sure it was. I know, I'll get a camera and take a picture of it. Then we'll come back tomorrow and see if it's the same or not. Ruby: If that's what it takes to put your mind to rest. Do you have a camera? Mary: Yes, I've got one at home. Let's go and get it.
Angel 3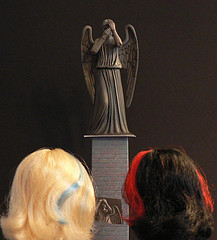 Next day: Mary: I printed out the picture I took yesterday. Ruby: Let's see it. Hey, is it really...? Mary: I told you it's different.
Angel 4
Ruby: That's spooky. How can a stone statue change like that in one night? Mary: I don't know. Let's take another picture now and then we can try to figure out who to ask about it. Ruby: Who won't think we're nuts? I mean, even with the pictures, it's still... Mary: Riddick. Maybe he won't believe us right away, but I'm sure he'll come and see for himself.
Angel 5
Riddick: So you're seriously saying that these two pictures show the same statue on different days? You didn't alter the pictures in any way? Mary: We didn't. And the statue was different the day before the first picture as well. Ruby: It's kind of scary. Things like that aren't supposed to happen. Riddick: Do you swear you're not trying to trick me? Mary: We swear. It's not a trick. Ruby: It really happened.
Angel 6
Riddick: All right, I'll go and see for myself. Can I keep these? Mary: Sure. I can print new copies for myself. Ruby: What do you think it is? How can it change? Riddick: I can't say anything yet, not with this little information. But I'll see what I can find out.
Angel 7
Next day: Riddick: Kitty, do you know anything about that angel statue on the square near the theater? Kitty: Statue? I don't remember it, but I don't look at statues anyway. What about it? Riddick: Take a look at these photos. Mary took them on two consecutive days. Ruby was with her and they both swear they didn't alter the photos. Kitty: That's impossible! Riddick: Yes, it is. And yet... I went there last night and first thing this morning. It had changed.
Angel 8
Kitty: You know, that is really spooky. Riddick: I was wondering... How long has that statue been there? Why was it put there and by whom? How do we find out? Kitty: We need someone who knows about that sort of things. Hmm... who would know? I know, we'll start with grandma. I don't think she'll know, but she'll be able to tell who to ask. Riddick: Would you...? Kitty: Sure. Should I show her the photos or just ask about the statue? Riddick: Let's keep the photos a secret for now. Tell her that Mary was curious about the statue.
Angel 9
And so: Anika: Statue? I don't remember a statue, but I so rarely go to that part of the city. Kitty: Do you know anyone we could ask? Mary seems to be interested in it. Anika: There was some guy... I think he has taken pictures of all the statues in the city. They made some sort of a guide book. Kitty: What's his name? Anika: It was just a letter, I think... I think it was Mr. M or something like that. Kitty: Really? That's great, I know him. I had no idea he was interested in that sort of thing.
Angel 10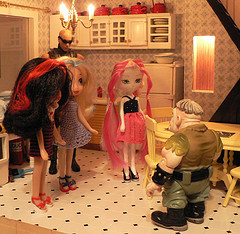 Next day: Kitty: Thanks for coming, Mr. M. This is Mary, Riddick's daughter, and this is Ruby, she works at the theater. Mr. M: Nice to meet you. I hear you're interested in statues. Mary: Actually, in one particular statue. You see, it's acting strange. Mr. M: Acting? What do you mean? Kitty: Maybe you better look at the photos. You'll see for yourself.
Angel 11
Mr. M: I see. And you're saying you didn't alter these photos in any way? Ruby: That's right. I didn't even believe it when Mary said the statue was different, but when we went back to it with the first picture, it was quite clear. Mr. M: Where exactly is this statue? Mary: On the square near the theater. There's a sort of a pillar and the statue is on top of it. Mr. M: That's quite impossible. There's always been a gryphon there. Riddick: This was there yesterday. I went there and saw it myself.
Angel 12
Mr. M: That's very strange. Kitty: Grandma said you have photographed all the statues in the city. Do you remember seeing this one? Mr. M: Can't say for sure. It looks familiar, but angel statues are very much alike. Especially as many of the ones in this city were made by the same man. - You know, I think I'd like to go and see this one.
Angel 13
Mr. M: This is most interesting. I can assure you that this statue has not been here for long, although it does look like it has been here for ages. Mary: How could the statue be switched without anyone noticing anything? It doesn't exactly look like a gryphon. It's got wings, but that's about all similarity there is. Mr. M: Good question. The explanation may be quite simple. Most people don't pay attention to their surroundings more than they need to in order to survive the traffic. If anyone did pay any attention to the switch, they probably thought they just remembered wrong.
Angel 14
Ruby: Mary, you said to me that its hands were different the day before I was with you. When did you first notice the statue? Mary: A few days before that. I haven't been here that long, so I guess I just assumed that I hadn't noticed it before. Kitty: That is very unlikely, considering how perceptive you are. Riddick: So, we all agree that it is strange, but what do we do about it? Mary: We need to find out how it can change like that. It's not natural.
Angel 15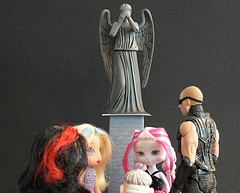 Kitty: How do we find out? Riddick: What about Doctor Bunsen? He's a scientist. Do you think he could help? Kitty: I'm sure he would find this very interesting. Rare species, indeed. Mary: Do you think it's alive? Ruby: Maybe we should leave. Riddick: Don't worry. I'm sure there's a rational explanation for everything. But we can go now, if it makes you feel better.
Angel 16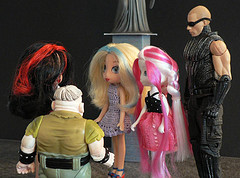 Ruby: I'm not coming near that thing again. Mary: Don't you think it's exciting? It's spooky, of course, but at the same time, it's the most exciting thing I've ever seen. Mr. M: I think Ruby has a point. We don't know what it is, so it would be better for you two to stay away from it. Riddick: I agree.
Angel 17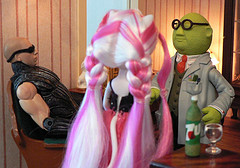 Later: Bunsen: Are you seriously suggesting that it's alive? Kitty: Do you have some other explanation? I would be very relieved to hear it, because this thing is really freaking me out. I'm trying to stay calm in front of Mary, but I'm not sure if I'm succeeding. Riddick: I have never seen anything like it. It's a stone statue. It just cannot move, but it does.
Angel 18
Bunsen: All right. Neither of you is what I would call the hysterical type, and you've got the photos too. I'll tell you what I'm going to do. I'll borrow some equipment from the lab and put 24-hour video surveillance on that statue for a couple of days. Then we'll see what's what. Kitty: You better make sure it won't notice. Bunsen: You really think it's alive and conscious? I guess we can't count that possibility out. I'll try not to attract any attention.
Angel 19
That night: Kitty: Are you sure this isn't just their idea of a joke? Riddick: Do you mean Mary and Ruby? It can't be. I've seen it for myself and there's no way they could have altered the statue. Kitty: I guess so. But if it turns out to be a joke, there'll be hell to pay. Although, a joke might be better than the alternative.
Angel 20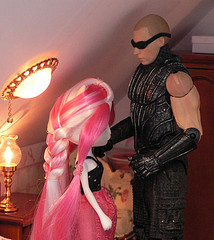 Riddick: Would you tell me what's wrong? I've never seen you scared before. You've been worried sometimes, but not scared. So, why now? Kitty: I can't stand any supernatural stuff. It freaks me out. Riddick: Freaks me out too, but there's more to it than that. Tell me. Kitty: It's about stories grandma used to tell us a long time ago. About statues that came to life. You know, every legend starts somewhere.