Angel 41
Riddick: Mary? Mary: I went there. I had to see it. Riddick: Didn't we tell you to stay away from there after dark? Kitty: Riddick, I don't think there's any point getting angry about that. She's here now. Nothing happened. Riddick: But anything could have happened.
Angel 42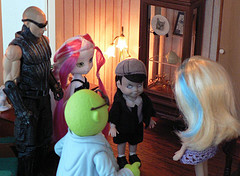 Damien: Could we get back to the actual issue? Mary, what happened? Mary: It talked to me. Riddick: It can talk as well? Mary: Yes. Or maybe I was just hallucinating. That's what it said. Anyway, it said it had work to do and after that it's going to go away. Things will be back to normal, just as if it was never there. Kitty: Nothing's ever going to be normal again.
Angel 43
Bunsen: I would never have believed that I get to witness something like this. I have no explanation to any of it. Does anyone have any idea what's going to happen next? Damien: Murder. Riddick: You're quite sure about that? Damien: Oh yes. As I have said, these things aren't sent to settle small grievances. Someone is going to be removed from the big picture. Permanently. Mary: The big picture. That's what it said too. I asked it, if it was going to do something bad and it said something about me not seeing the big picture. Kitty: I don't believe this.
Angel 44
Riddick: And we just wait and see? Damien: Can't see what else we could do. It should be all over the papers tomorrow. They are not very subtle. They don't make people to disappear without a trace.
Angel 45
Late that night: Kitty: Riddick, would you do something for me? Riddick: Sure. What is it? Kitty: That angel statue on top of the wardrobe. Take it out. I don't want to see it ever again. Riddick: Are you worried that it might come alive at night and get all homicidal? Kitty: Don't. This is no joke. Take it out. Now. Riddick: All right. I didn't mean... I'm sorry.
Angel 46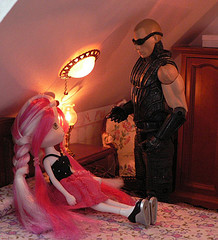 A little later: Riddick: It's gone now. - Feel any better? Kitty: A little. I know you think I'm acting strange... Riddick: You don't need to explain anything. The whole business with that statue is creepy. I'm feeling... I don't know... Like you said, like I've stepped into the twilight zone. Kitty: How does it feel? Not being able to do anything? You're used to solving problems, but you can't solve, or prevent, this one. Riddick: I hate it.
Angel 47
Next morning: Damien: I'm sorry for barging in like this... Is Mary at home? Kitty: She's gone to school already. Riddick: Somehow I would have thought that's were you're supposed to be as well. Damien: Theoretically, yes, but this is too good. Have you seen today's newspapers? Kitty: Not yet. Has something happened? Damien: I guess you could say so. Take a look at this.
Angel 48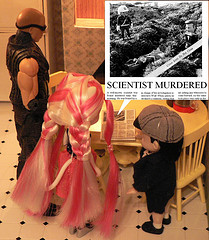 Riddick: What makes you think this is what it came for? Damien: A hunch. The case fits the profile. Politicians and scientists, major changes or breakthroughs. No witnesses. Right time of the day too.
Angel 49
Kitty: Does this mean it's gone for good now? Damien: Gone, yes. For good, I don't know. - It's really a pity that they disappear so suddenly after they have done what they came to do. It makes investigation so difficult. Kitty: Don't you think it's a good thing that they go away? I wouldn't want something like that roaming the streets. Who knows what it would do. I know they have a purpose, but what if one of them decided to do some freelancing just for the fun of it? Riddick: That is a good point.
Angel 50
Riddick: So, Damien, what are you going to do now? Damien: I'll go and see Dr. Bunsen. He promised to show me the tapes. I hope I can get some new information from those. Kitty: And then? Damien: Then I start looking for the next one. And I will find one sooner or later. Riddick: What's in it for you? Why do you do it? Damien: I want to find out where they come from and who's sending them. I wish I had been with Mary when she met it. I'd love to talk with one of them. Well, maybe some day.
Angel 51
A little later: Kitty: I hope Mary isn't going to see him again. Riddick: Why not? He seems all right. A bit obsessed maybe, but who wouldn't be intrigued by something like that? Kitty: Me. I'm glad it's gone and I don't want to see him either. He will always remind me of this business. Besides, he's actually looking for them. What if they decide to come looking for him? Riddick: I didn't think about that. Yes, I think you're right. It would be better for Mary to stay away from him.