Bea 21
Faith: I have to go now. Call me, if there's anything you need to know. I have tried to cover everything, but there's always something that gets overlooked. Kitty: I will, but I'm sure we'll be fine.
Bea 22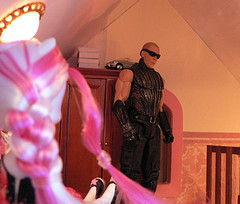 Late that night: Kitty: What are you thinking? Riddick: She's scared of me. I don't know what to do about that. Kitty: Just give her some time. You need to remember that we are complete strangers to her. Although Mary seems to have befriended her quickly. Riddick: At least that's a relief. Mary was worried about what would happen if Bea was really horrible. Kitty: Where are you going? Riddick: I just want to check that everything is all right.
Bea 23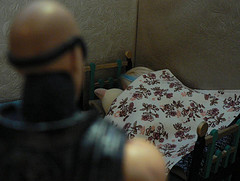 Bea 24
Kitty: You really are fussing. Well, is everything all right? Riddick: Yes, everything is fine. Kitty: You look happy. Riddick: I guess it's because I am.
Bea 25
Next day: Kitty: Did you like the school? Bea: It was okay. Kitty: Did you get any new friends? Bea: No. Kitty: Don't worry, I'm sure you will.
Bea 26
Kitty: Do you like to read? Bea: Yes. Kitty: You can read those books, if you want. Although, you will probably find some of them a bit boring. Which one would you like to read? Bea: Moby Dick. Kitty: Really? At your age, all I did with it was killing cockroaches. You're certainly more intelligent than I was.
Bea 27
Kitty: You can take the book into your room. Just be careful with it. Bea: I will.
Bea 28
Mary: Kitty, I hope you don't mind. Ruby wants to meet Bea and as you said we can't take Bea to the theater... Kitty: It's all right. I'm sure she won't be scared of Ruby. Ruby: I can't imagine how anyone could be scared of me. Kitty: Her life has been turned upside down in a very short time. I'm sure you understand what that's like. - Ruby, there's something I want you to promise. Don't talk about what Zeke is when Bea is around. You see, for Bea, lycanthropes and elves and such are just make believe. We want it to stay that way as long as possible.
Bea 29
Ruby: All right, no problem. But I'm sure you know you can't keep those things from her forever. Kitty: Not forever, just long enough for her to settle down and feel safe and comfortable with us. Ruby: I guess that means Max can't meet her. Kitty: I guess so. You could explain the pale color by saying he's allergic to sunlight, but the teeth wouldn't be that easy to explain. Mary: Maybe we could say he's half-beaver. Kitty: Mary, this is serious. - Half-beaver... hehehe... Don't say that to Max. He'd be terribly offended.
Bea 30
Mary: Bea, this is my friend Ruby. Ruby, this is Bea. Ruby: Hi Bea. Mary: Ruby lives at the theater, so we can't go to her place, but she wanted to meet you. Ruby: Why can't you come to the theater? It's not dangerous or anything. Mary: Too many freaks. Bea: What are freaks? Ruby: So, you can speak after all. I was wondering a bit about that.
Bea 31
Ruby: Mary means our other friends. They aren't like you or me. They are other kinds of people. Bea: What kind? Ruby: Well, my boss is a frog, then there are a couple of penguins, a pig, and all other sorts of different people. Bea: I'd like to meet a penguin. Do they speak? Mary: Yes, they definitely do. Sometimes a bit too much. Bea: It would be fun to meet them.
Bea 32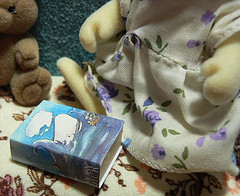 Mary: What's that you're reading? Bea: Moby Dick. Mary: That's Kitty's book, isn't it? Bea: Yes. She said I could bring it here. Mary: I didn't think you took it without permission. I just thought... well, it's sort of a grown-up book, isn't it? Shouldn't you be reading something... Bea: No. I like this.
Bea 33
Ruby: Mary, now that Kitty's at home, you'll probably want to come straight home from school on most days, but you are still going to come to the theater sometimes, aren't you? I'd miss you, if you didn't. Mary: Of course I'll come. I take Bea to school in the morning, but as her schoolday is shorter than mine, Kitty goes and gets her home in the afternoon. So, I can come and see you.
Bea 34
Next day: Kitty: Bea, we're going to have a guest today. My grandmother is coming to see us. She would very much like to meet you. How do you feel about that? Bea: Do I have to? Kitty: No, you don't have to. However, she's a nice old lady and there's no reason to be scared of her. I'd just like you to say hello to her, so she can see what you look like. Then you can go to your room, if you don't want to talk with her. Bea: Okay.
Bea 35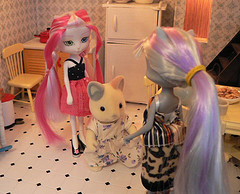 A little later: Kitty: Hi grandma. This is Bea. Bea, this is my grandmother. Her name is Anika. Anika: Hello Bea. Bea: Hello. Anika: You can call me grandma, if you want. Kitty: Bea, would you like to stay here with us for a little while? I'm sure grandma would like that. Bea: No. Kitty: All right. You can go to your room.
Bea 36
Anika: She doesn't talk much. Kitty: What did you expect? Alone in the middle of a bunch of strangers all of a sudden? At least she is speaking, which in my opinion shows that she's doing remarkably well. Anika: I guess you're right. Your mother wanted to come too, but as you said only one person at a time, I told her to wait. I can see you were right. Kitty: I'm sure it'll get better once she has settled in with us.
Bea 37
Anika: How is it going between Riddick and her? Kitty: She's scared of him. I guess there isn't much we can do about that, except hope it will pass as she gets to know him. Anika: I hope you appreciate everything he's done for you. Kitty: What? Are you saying you have changed your mind about him? Anika: I am entitled to adjust my opinion according to the changed situation. First, it was the statue business, and now this... I must say I have misjudged him.
Bea 38
Kitty: Wait! What about the statue? Anika: Didn't you know? He came to me, asking about those stories. Where they originated from, whether there was any truth in them, and what could be done about it all. Of course the story he told was total nonsense, but I could see he was worried about you. He wouldn't have come to see me otherwise. Kitty: I had no idea. Anika: I can see he really loves you. I didn't believe it before.
Bea 39
Wendy: Riddick, there's something we need to discuss. Riddick: Sure. What's up? Wendy: This is a bit delicate. Would you come to Kermit's office? I think that's the only place in here where we can be sure nobody's listening. Riddick: Sounds serious.
Bea 40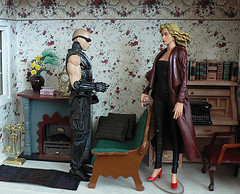 Wendy: I was there when the report was made and I asked to be given this case, because I want to keep it as quiet as I can, for Mary's sake. Riddick: Mary? Has she done something? Wendy: No, not her. You see, a woman came to the station telling all sorts of things about her ex-boyfriend and Mary. The problem is that this boyfriend seems to be considerably older than Mary. Riddick: I told Mary it was a bad joke. - Wendy, that guy is Henry and he's our friend. What happened was this...