Wannabe 1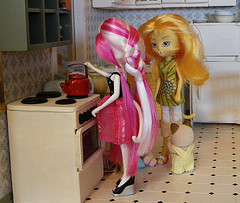 Toffee: Are you sure it's wise? Kitty: I can't think of just myself. Rosie has the right to get to know him. Toffee: If you say so. What does Riddick think? Kitty: He agrees. I guess it's got a lot to do with him not knowing his own family. He wants Rosie to have everything, even a grandpa. Toffee: Let's just hope your father isn't going to let her down. It wouldn't be the first time. Kitty: I know, but I've got to let him try.
Wannabe 2
Kitty: Rosie seems to like him, so he can't be all bad. Toffee: What about Mary and Bea? Kitty: Mary isn't interested. All she needs is her dad. Bea is thrilled by the idea of getting a grandpa as she's never really had one. Toffee: And what does your father think about her? Kitty: The more grandchildren, the better. Don't forget that fostering and adoption are quite normal for them.
Wannabe 3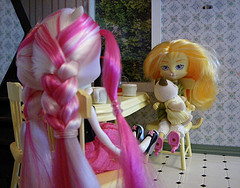 Toffee: I guess you have a point there. Well, for the girls' sake, I hope everything goes well, although it will mean more arranging with schedules. Kitty: What do you mean? Toffee: I am not coming here when he's around. No need for the kids to see that. Kitty: You think it would end up in an argument? Toffee: Of course it would. You better keep your grandma away from him too. Kitty: I know that. They met already and the temperature immediately dropped several degrees.
Wannabe 4
Bea: Grandma Toffee! Are you babysitting? Is Kitty going somewhere? Toffee: No, not Kitty, you are. That is, if you want to. One of Maurice's clients gave him four tickets to circus. I came to ask if you and Mary would like to come with us. Afterwards, Maurice will take us all to a restaurant for dinner. What do you say? Bea: I've never been to circus. What's it like? Mary: It's fun. You'll see soon for yourself. Of course we'll come. Bea: What about Rosie? Kitty: I think she's a bit too young. You just go and have fun, Rosie and I will be fine.
Wannabe 5
Schizo: Something's been bothering you. Is it about your uncle? Anything I can do? Ruby: It's not just that. I've been thinking... maybe it's time I told you everything. Schizo: If that's what you want. What does "everything" mean? Ruby: Mother, how she died, what dad did, all that. Schizo: All right, but only if you really want to. Ruby: I do. I guess it all starts with mother and Jack...
Wannabe 6
Some time later: Schizo: You certainly had a rough start. But you should be proud of yourself. Ruby: Proud? Why? Schizo: People go all sorts of crazy over stuff like that, but you're still yourself. You're all right, or if not yet, you will be. - Ruby, about what you just told... Are you quite sure he really was your dad? I mean, if your mom got pregnant while having an affair with Jack... Ruby: Quite sure. After mom died, I found a paper that said so. She had had a test done and Jack isn't my father.
Wannabe 7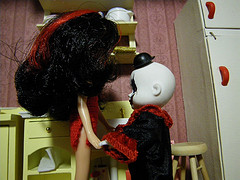 Ruby: Do you still want to be with me? Now that you know about dad? Schizo: Be with you? I want to marry you! Oops, I wasn't going to do it quite like that... Ruby: Was that a proposal? Schizo: It just got out. Ruby, I wasn't going to ask you yet, because I know it's too soon... Ruby: Yes, I think it is, but you do mean it, don't you? Schizo: Of course. You're the best thing that's ever happened to me. Ruby: What about Celia? Schizo: She was wonderful too, but I won't start comparing you two. It wouldn't be fair to either of you.
Wannabe 8
Kitty: Mary and Bea went out with grandma Toffee, and daddy won't be home in several hours. What do you think we should do? Would you like to go out too? Rosie: Out! Kitty: Yes, out. I could call Catsy. If she's at home, we could go and visit her. You like Catsy, don't you? Rosie: Bell. Kitty: What? Oh, doorbell. Yes, I think we're getting visitors. Let's go and see who it is.
Wannabe 9
Kitty: Yes? How can I help you? Ursula: I'm Ursula, James' mother. Are you Kitty? Can I come in? Kitty: I don't see any reason why you should, but all right, just for a little while. We were just going out. Ursula: I'm sorry, if this a bad time. I'll try to be brief.
Wannabe 10
Ursula: ...and I thought maybe you could talk with him about it. Kitty: If Riddick doesn't want you to see Mary, you better forget it. Ursula: I thought a feline wouldn't let her husband make all decisions. Kitty: There's no need to be rude. She's his daughter and anyway, I agree with him. Your family has caused Mary quite enough grief. Besides, I really don't understand what you're hoping to achieve. Ursula: I was thinking... if people got to see how nice she is, maybe they would understand that James isn't bad, just led astray by these other women... Kitty: You must be out of your mind.
Wannabe 11
Ursula: Well, if that's the way you take it... I'm meeting a journalist later today. He'll write an article clearing things up and I'm not going to leave anything out... Kitty: You just talk to the journalist and see if he's willing to write anything about Mary. You might be surprised. Ursula: What do you mean? Kitty: Just ask him. That should be enlightening. Now I think you should go, Rosie doesn't like you, and to be honest, neither do I.
Wannabe 12
Schizo: You don't need to answer now. Just promise me you'll think about it. Ruby: I will. - You know, there's something I've been meaning to ask you. Schizo: Go ahead. You can ask me anything. Ruby: Have you ever thought about having children? Schizo: Oh. Ruby: You said "anything." Schizo: I did, I just wasn't expecting that. Are you saying you want them? Ruby: I'm not sure, but I'd like to know what you think.
Wannabe 13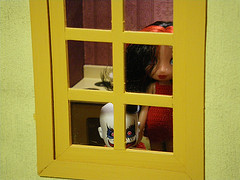 Schizo: To tell you the truth, I haven't thought about it that much. Nobody has ever expressed the wish of having little Schizos running around. I guess I'm not against the idea, but if you don't want any children, I can live with that too. Ruby: Are you sure? Schizo: No, but we've got a lot of ground to cover before we get to that, so let's keep all options open. You're young, so there's no hurry. - It looks like your charming neighbor is coming for a visit. Could have chosen some other time.
Wannabe 14
Ruby: Albert, what is it? Albert: I'm sure it's nothing, but I thought maybe I should warn you anyway. You know, in case the guy was a burglar or something. Ruby: What guy? Albert: Last night, I saw this weird little fellow snooping around the neighborhood. He had some sort of a uniform, but it wasn't a service uniform. More like a doorman or something. Ruby: I know who it is. He isn't a burglar, but he's bad news anyway. Thanks for letting me know.
Wannabe 15
Albert: Will you be all right? Schizo: I'll take care of that. Ruby: Albert, if you happen to see him again, would you do me a favor? Albert: What kind of a favor? Ruby: Could you go and talk to him? Tell him about my special friend and how dangerous it could be roaming around here after dark. Albert: Sure, but don't count on him believing it. Schizo: He might, and at least he can't say he wasn't warned.
Wannabe 16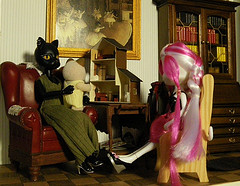 Later that day: Catsy: I've met her. First I thought I would hate her, but it was all a long time ago and she lost him too. Kitty: And you're still going to give him another chance? Catsy: I can't help it. I've always loved him, and he says he's always loved me. I can't throw all that away just because he was too weak then to go against his family's will. Kitty: I'm not sure I can understand that, but I hope it'll work out for you both. Catsy: So, how about you? Still just thinking or have you started looking for a new house? Kitty: We'll start looking soon. What I've been thinking is...
Wannabe 17
Catsy: What does Bea think about sharing a room with Rosie? Kitty: She's fine with it. It's Mary who needs the privacy. Catsy: So, what are you going to do with your current house once you've bought a new one? Kitty: We'll keep it and try to find a tenant. Catsy: I was hoping you'd say that. You don't need to look any further. That is, if you're willing to let me rent it. Kitty: Really? What about this place? Catsy: This is a temporary solution until I find something better. Your house is just wonderful. Maybe a bit big for one, but I can afford to pay the going rent.
Wannabe 18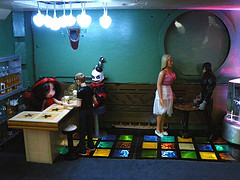 Frank: ...and you're saying it was all Pamela's fault? Ursula: Of course it was. She broke my marriage and I'm sure she enticed James to do what he did. He's a good boy, but easily led astray by women like her. And he had such a nice girlfriend, but that was ruined as well. Frank: Yes, well, I think I know all I need to know about his girlfriend. Ursula: Oh, you do? Frank: Yes. We'll leave her out of this. Ursula: Why? Because she's a minor? I don't think there's any rule like that.
Wannabe 19
Frank: No, not that kind of a rule. We just don't write about that family. The only exception is if one of them agrees to an interview like Chase did. Ursula: Kitty said you wouldn't. What is it? She's not that intimidating, is she? Or is it her grandmother's lawyers you're scared of? Frank: Lawyers one can always deal with, but Miss Kitty... I guess I shouldn't call her Miss Kitty now that she's married... Anyway, the last gossip columnist who wrote about her is still in a mental institution. Nobody knows what exactly happened, but the word is he still gets weeping fits, if he sees even pictures of kittens, let alone live ones.
Wannabe 20
Ursula: I can't believe this. I never knew journalists can be such wimps. Frank: There's a lot to write about even without them, and not writing about them keeps you fit to write about everything else. - I guess you know about the husband? Nothing's ever been proven, but there's another one you don't want to cross. Ursula: I find that much easier to believe. You only need to take one look to understand that much. Frank: You know, you should forget that family. To be honest, I wouldn't let my son date his daughter, no matter how sweet she is.