Callie 1
Callie: Hi, I'm Callie. You've been looking for me. Well, actually, you've been looking for my mother... Why are you staring at me? Riddick: Sorry... It's just that you look... First that other one and now you... Callie: Never mind. What do you want? Riddick: How did you know I was looking for your mother? Callie: That former neighbor who said "no, I haven't seen them in a long time and I have no idea where they went" wasn't quite honest. He called me after you had left.
Callie 2
Riddick: I thought he might, that's why I left my name and number. I guess you figured out I'm not a threat or you wouldn't be here. Callie: I know who you are, I just can't figure out what you want. Riddick: Where's your mother? Callie: Died a few months ago. Now, do I get an explanation? Riddick: I'm sorry about your mother. - I'm not sure how much I should tell you. You see, it's a family matter and there's someone else who will be able to explain better...
Callie 3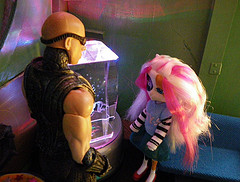 Callie: Ma said someone might come looking one day. What does she want? Riddick: My wife? To meet you. Then my part in this business is over and it's up to you two. Callie: Sounds harmless enough. All right, I'll meet her. Riddick: Thanks. Callie: May I ask something? Who is it that I remind you of? You don't seem like someone easily at a loss for words. Riddick: It's Kitty. You'll see for yourself.
Callie 4
Orlock: Kitty... Oh, I'm sorry. I thought you were someone else. Riddick: Max, this is Callie. She's... a friend of the family. Callie, this is Max, another friend of the family. Orlock: You really look a lot like Kitty. Callie: I'm starting to get curious. Riddick: Like I said, you'll see for yourself. I'll call Kitty and let her know you're here. Max, would you keep Callie company in the meantime? Orlock: Certainly.
Callie 5
Kitty: Mary, I need to go out and neither grandma nor mother is answering the phone. I don't know what to do. I can't take Rosie with me. Mary: I'm old enough to look after her. Or don't you trust me? Kitty: Of course I trust you, I just don't want to make you take the responsibility. If something happens... Mary: Nothing will happen. And I do know how to get help in an emergency. If you need to go, you can go. We'll be fine. Kitty: All right. I'll be back as soon as I can.
Callie 6
Bea: Did Kitty leave us all alone? Why didn't grandma Toffee or grandma Anika come to stay with us? Mary: They weren't at home. Is there a problem? I'm here with you. Bea: But you're not an adult. Mary: Bea, are you scared? There's no reason to be. Kitty will be back soon. Rosie, tell Bea that we'll be fine. Rosie: Fine! Mary: There you go. Even Rosie agrees with me, so stop worrying.
Callie 7
Bea: Where did Kitty go? Mary: She went to see dad. He called and she got really excited. I think it was good news. I'm sure she'll tell us when she gets back. Bea, there's nothing to worry about. We're perfectly safe here. Bea: I wish Toby was here. Mary: I thought you didn't like him. We can't get him here, but I think we could get someone else. Let me just make a phone call.
Callie 8
Carl: Max, who's your friend? Orlock: This is Callie. Callie, this is Carl, a friend of a friend, sort of. Carl: Well, it is certainly a pleasure to meet you, Callie. Are you part of Riddick's family? Or maybe I should say Kitty's family, after all, he's not a feline. I think I can see a certain resemblance, although I thought there were only the four of them. Callie: Careful now. If you stick your nose into my business, I may end up taking it out of your face. Carl: All right, all right, I'm going. No need to get violent.
Callie 9
Orlock: He doesn't mean any harm. He's just inconsiderate. Callie: I can't stand little people. Too many with a feline fetish. I take it he's not a close friend? Orlock: No. My friend used to date his brother and that's the only reason we know each other. Callie: I knew it would be something like that. You're not the kind to be friends with the likes of him. But Riddick is your friend. What can you tell me about him? Orlock: I thought you knew him. He said you're a friend of the family. Callie: It's not that simple. I met him for the first time today. It's a complicated situation... Orlock: It's all right. It's none of my business anyway. And I prefer my nose intact.
Callie 10
Ruby: Who's that with Max? She looks a lot like Kitty, if you pay no attention to the spots. Riddick: Her name is Callie and that's all you need to know about her. Ruby: Is she Max's girlfriend? How come I haven't seen her before? Riddick: Because she's not. They just met and Max is keeping her company, because I asked him to. Ruby: They seem to get along well. I've been hoping that Max would find somebody. Riddick: His love life is not your problem. I know you mean well, but I think that's something you should stay out of. He can take care of himself.
Callie 11
A little later: Riddick: Who's with the girls? Kitty: Mary is looking after them. Riddick: Mary? Are you saying you left them alone? What about Toffee or Anika? Kitty: Didn't answer the phone. Don't worry, Mary said she can manage. Riddick: Of course she would say that. She's much too young... Kitty: She's almost an adult and we must start giving her some responsibility, especially as she wanted it herself. A couple of hours is a good start. So, where is Callie? Oh dear. Is that her?
Callie 12
Kitty: Max, I'm sorry to interrupt, but I'm here to see your friend. You're Callie, aren't you? I'm Kitty. Callie: Oh my. I suppose there's no question we're related. No wonder your husband stared at me. Orlock: Related? But you said... Kitty: Max, it's complicated. Don't say anything to anybody. Orlock: Of course not. I guess you'll want to talk with Callie alone, so I'll go now. - I hope we'll meet again, Callie. Callie: So do I.
Callie 13
Callie: He's a nice fellow. Kitty: Yes, he is. You know, I wasn't quite expecting... Callie: Neither was I. Kitty: How much did Riddick tell you? Callie: That your mother is my mother's half-sister. That's about it. What was it he left out? Kitty: Grandma. Callie: Oh. Her. Still alive?
Callie 14
Kitty: Very much so. Actually, she's the reason I wanted to find you. I only heard about you a short time ago. Wait a second, did you know about grandma? Callie: Ma never told me who she is, but she did tell all sorts of other things. You know, the pillar of feline community, abandoning a half-breed child to marry a rich guy with a pedigree. I guess I could have found out who she is, if I had cared enough. Kitty: She knew? How? Callie: The orphanage. She broke into the office and stole the papers. She was always doing that, destroying the paper trail. She didn't want to be found.
Callie 15
Mary: Thanks for coming. I wasn't sure it was all right... Henry: You know you can call me any time. I wasn't doing anything in particular, so stop worrying. It's always nice to see you and Bea. And of course Rosie too. Bea: Henry! Henry: Hello Bea. I heard you needed some company. Feeling safe now? Bea: Yes. Will you tell us a story? Henry: Sure, but don't tell me you want to hear about the saber-toothed cats again. Bea: Rosie hasn't heard it.
Callie 16
Henry: I'm not sure Rosie understands that much yet. Do you, Rosie? Rosie: Cats! Henry: I guess I'm outnumbered. Mary: Just face it, you're never going to get rid of that story. Henry: It's all right. Actually, I think it's a good thing that kids want to hear it as it is mostly real history. You need to know where you came from. Mary: I never will. Both mom and dad must have had parents, but... you know.
Callie 17
Henry: I know, but it's not all about family history. Sometimes it's enough to know the history of your own kind. Bea: Are you going to tell the story or not? Mary: Bea, that was rude. Henry doesn't need to tell any stories, but he's nice enough to do so. The least you can do is wait until he's ready to do it. Bea: I'm sorry, Henry. Will you still tell us the story, please? Henry: Apology accepted. And of course I will.
Callie 18
Frank: Did I just see what I think I saw or am I suffering from a very strange version of double vision? Ruby: The other one was Kitty's friend. Her name is Callie. They do look a lot alike, don't they? Frank: Yes, a lot. I wonder... Orlock: Ruby!
Callie 19
Orlock: I suppose you know that guy is a journalist. Don't talk to him about Kitty or her family. Ruby: But he was just wondering about Callie. Orlock: Especially not about Callie. Ruby: I didn't think... I hope I didn't say anything I shouldn't have. Orlock: Just be careful in the future. I'll take care of this.
Callie 20
Orlock: Schizo told me you're a journalist. Frank: That's right. I'm Frank. I don't think we have met. Orlock: I'm Max. We'll find out soon, whether you can call me that or Mr. Orlock. Ruby said you were wondering about Kitty's friend. Just a friendly advice: Don't. Frank: You too? She certainly has a lot of people taking care of her privacy. Orlock: That's what friends are for.