Riddick and Kitty 17
Kitty: There's something I'd like to get straight. You said earlier that I'm not that type. That sounded like an accusation. You had no right, especially considering Val and Peggy and who knows how many other women. If you want someone without a past, I suggest you look for someone a lot younger, someone like Ruby. Riddick: She's just a child. I'm old enough to be her father. Kitty: I see you're starting to get the point.
Riddick and Kitty 18
Ruby: Who were those ladies who visited you earlier? Kitty: My mother and grandmother. Please don't call them ladies, they don't deserve it. Ruby: What's wrong? Don't you like them? Kitty: Ours is the very definition of dysfunctional family. You don't want to know.
Riddick and Kitty 19
Ruby: I wish I had a mother or even grandmother. But there's only Hagrid now. Kitty: Where's your mother? I've been wondering about that, but I didn't want to bring up the subject, in case there's something... Ruby: She's been dead for a long time. That's when it all started. Dad wasn't cut out to be a single parent. Kitty: Are you still making excuses for him? - I'm sorry, I shouldn't have said that.
Riddick and Kitty 20
Orlock: Ruby, there's something I want to ask you. - Do you like me? Ruby: Of course. You're very nice and I think you are a good friend. Orlock: Oh. Ruby: You sound disappointed. What's wrong? I thought you wanted to be my friend. Orlock: Yes, of course. I was just thinking... maybe... Ruby: I see... I'm sorry.
Riddick and Kitty 21
Riddick: What's the matter? I'm not angry at you, if that's what you think. Orlock: No, it's not that. - I spoke with Ruby. I'm too small and ugly to be anything else but a friend. Riddick: She would never say something like that and I'm sure she doesn't think that way either. Orlock: She didn't say it, but it's the truth. I know. Riddick: When you're done feeling sorry for yourself, you could consider that she's had very hard time. Don't push it or she won't be your friend anymore.
Riddick and Kitty 22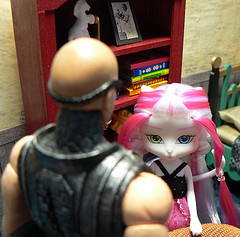 Kitty: ...so there isn't anyone left except Hagrid. Kind of makes our problems seem insignificant, don't you think? Riddick: There's us now. Kitty: You're right. And she's not that afraid of you anymore. If you're not careful, you're going to end up being adopted. Riddick: What do you mean?
Riddick and Kitty 23
Kitty: I mean she needs a father and if her own isn't up to the job, she'll pick someone else. Could you handle that? I have some difficulties seeing you as a father figure. No offense. Riddick: Are you serious? Kitty: More than ever. Is it your turn to panic now?
Riddick and Kitty 24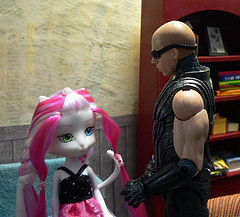 Kitty: Don't worry, it wouldn't be that difficult. She's young and sweet and innocent and only needs someone big and strong to protect her. Just the way things are in your world. Riddick: You're mocking me. Kitty: Don't take it so seriously. You know I don't mean it. But you could try to broaden your views a little. Life is not that simple.
Riddick and Kitty 25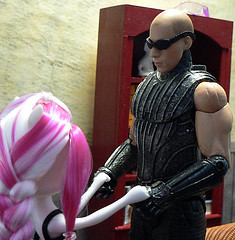 Riddick: There is something that is simple. Kitty: Really? What is it? Riddick: I love you. I may not always understand you, but I love you. Will you give me a chance? Or did I already screw everything up too badly? Kitty: I think we've both done our bit on that, so maybe we're even. And of course I will give you a chance. Several, if necessary. But I think you knew that already.
Riddick and Kitty 26
Ruby: Kitty, I... What's going on? Did you two finally come to your senses? Riddick: What are you talking about? Ruby: Don't try that tone of voice, I can see you're happy. That's nice.
Riddick and Kitty 27
Kitty: Oh, darling, I think the secret is out. What do we do now? Riddick: How about we ask Ruby to tell the penguins, so we won't need to tell anyone ourselves. Kitty: Hehe, I knew you had a sense of humor. Where have you been hiding it?