The Past: Ruby 13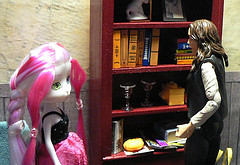 Faith: So, that was the latest boyfriend? Bit too much muscles to my taste, but certainly cuter than Marv. Looks like trouble, though. Kitty: You haven't changed. Don't worry, there's no trouble. Now, tell me what you have been doing all this time.
The Past: Ruby 14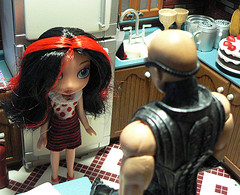 Ruby: Did you meet Faith? Riddick: Yes, briefly. I think they have a lot of catching up to do, so I didn't want to interfere. Ruby: She thought we had met. Who is she? I haven't seen her before. Riddick: Why are you so worried? Do you think she could mean trouble? I can ask her about that, if you want. I'll meet her again later. Ruby: Could you? Thanks. I've got to go now, Kermit is waiting.
The Past: Ruby 15
Kitty: Riddick, will you keep Faith company for a little while? I won't be long, there's just something I need to do right away. Riddick: Sure, no problem. Faith: I'm sorry, I don't want to be a burden. Riddick: You're not. In fact, I wanted to talk with you.
The Past: Ruby 16
Riddick: Ruby said you thought you had met her before. What was that about? Faith: Oh, no, I haven't met her. I realized that I saw her picture in a missing person poster, but Kitty said everything is fine now. Riddick: Ruby will certainly be relieved. She's still a bit jumpy. Faith: Why? I only know she was missing. Did she run away? Riddick: Yes.
The Past: Ruby 17
Faith: What was it? Argument with her parents or something worse? Riddick: Why do you want to know? Faith: Sorry, I do that all the time. It's the job, you see. I help victims of domestic violence. Kitty always says I take it too seriously and I should keep private life and work separate, but I can't.
The Past: Ruby 18
Riddick: It was beating. Her father. Faith: I see. How is she? Did it go on for a long time? Riddick: She hasn't really talked that much about it. I guess she only told us what she considered absolutely necessary. We only realized how bad it was after the doctor had seen her. - Do you think you could get her to talk more about it? I think she should talk to someone. Faith: I can try, but it's a matter of trust and there's no guarantee that she will trust me, no matter how professional I am.
The Past: Ruby 19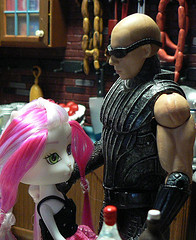 Kitty: Where's Faith? Did she run away from you already? What did you do? Riddick: She's talking with Ruby, or at least trying. Kitty: My old friend comes back after a long time and the first thing you do is make her work. Riddick: I didn't make her. I asked her. Nicely. Kitty: Oh, nicely? Well, that explains it. You can be so nice, when you want to. - Don't worry, I know her, she can't say no to something like that. Especially when it's someone like Ruby.
The Past: Ruby 20
Faith: And what about Riddick? He seems to care for you a great deal. Ruby: He's been great, but if I told him everything, he would get mad. Not at me, I don't mean that. He would go and do something to dad and get himself into trouble. I know it. He's not entirely nice. Faith: You're not responsible for him any more than you were responsible for what your father did, but I can understand how you feel.
The Past: Ruby 21
Ruby: How do you know so much about it? Faith: I've been through it myself. With my husband. Ruby: You? But you help others with these problems. How could you end up the same way? Faith: It was the other way round. After I got away from him, I started to help others do the same.
The Past: Ruby 22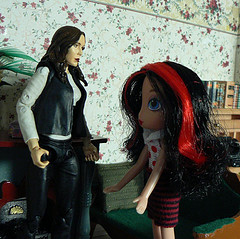 Ruby: Before we go, there's one thing... Would you do something for me? Faith: If it's something I can do. Tell me and we'll see. Ruby: Could you explain the situation to Riddick? I could talk to him, if I knew that he's not going to do anything. Faith: That may be a bit difficult. I'm not sure I can get through to him, but I can try.
The Past: Ruby 23
Kitty: There you are. Did you two have a nice talk? Ruby: Yeah, sort of. Faith: Kitty, I'd like to talk alone with Riddick. It won't take long. Kitty: All right. Come to my room when you're finished.
The Past: Ruby 24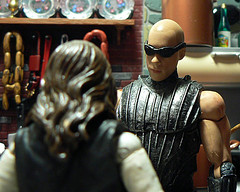 Faith: She can't talk to you, because she's afraid that you would get yourself into trouble and then it would be her fault. Riddick: That's ridiculous. Faith: No, it isn't. It is in a certain way very logical. The question is: Can you promise her to just listen and not do anything unless she specifically asks? Riddick: It won't be easy, but if that's what it takes, I promise.
The Past: Ruby 25
Kitty: Did you get everything sorted? Faith: No, but I think those two are going to get it sorted now that the ground rules are clear. There is one thing, though. Kitty: What's that? Faith: I hope you are aware of the risk you're taking, letting them be so close. I can see he thinks Ruby is just a child, but she isn't.
The Past: Ruby 26
Kitty: Are you saying she's going to steal him from me? I don't think so. She knows what he could do and she doesn't like it. She likes the nice part of him, but she hates violence and she knows he's capable of it. Faith: Don't you have a problem with the violence? - That was a stupid question, wasn't it? I guess we've been apart for too long.
The Past: Ruby 27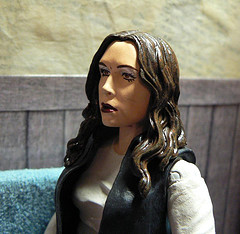 Faith: How's the family? Still as charming as ever? I didn't really feel like chatting with your mother. Kitty: Chase finally got what she deserved and mother and grandma still think she's as pure as the driven snow. Faith: I think I read about her in the papers. It certainly took a long time. Poor Marv. Kitty: What do you mean? He's out, she's in, everything is as it should be. Marv even has a new girlfriend, the sort that will not be messing with his head. She's quite too straight-forward for that.
The Past: Ruby 28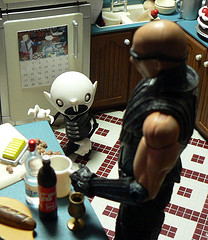 Orlock: Who was that brunette? Riddick: Faith. She's Kitty's friend. Orlock: Why was she talking to Ruby? They talked for a long time. Riddick: Were you eavesdropping again? Orlock: No, they went into Kermit's office and closed the door. I mean... Riddick: Don't worry. I know you can't help it. Just try to keep your mouth shut.
The Past: Ruby 29
Orlock: Why isn't anyone telling me what's wrong with Ruby? You know, Kitty knows and I think Wendy and Kermit know as well, but once again, it's none of my business. Riddick: She's got problems. It's better that you don't know, because that way she can forget about all that when she's with you. She needs that. Orlock: So it makes her feel better? Is that what you're trying to say? Then it's all right.
The Past: Ruby 30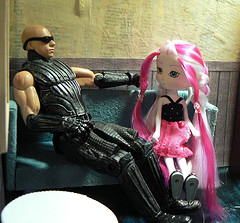 Riddick: Have you known Faith long? Kitty: Very long. I think we were 15 when we first met. She has always been a bit more serious, but she understands me. Riddick: She seems to understand a lot of people. She got Ruby to agree to talk to me. Although I had to promise not to do anything, just listen. Kitty: Do you think you can do that? There's no way of knowing what she's going to tell you.
The Past: Ruby 31
Kitty: Have you noticed that Max seems to have a crush on Ruby? Riddick: Yes. Unfortunately she doesn't feel the same. Kitty: How do you know? Riddick: He asked her. Then he felt really sorry for himself, but I think he got over that already.
The Past: Ruby 32
Ruby: Oh, I'm sorry. I didn't mean to disturb you. Kitty: It's all right. Mother, this is my friend Ruby. Ruby, this is my mother, Toffee. Ruby: Pleased to meet you. I haven't met any of Kitty's relatives before. Toffee: I'm not surprised. She usually doesn't introduce any of her friends to us, if she can avoid it. Kitty: Don't start that again. Ruby: Um, maybe I should leave you two alone.