Portal Knights stories
Nikki 1
Max: Rupert, what I'm going to show you is not something normally shown to people who are not wizards, so keep that in mind. Rupert: I won't talk about it with anyone. Max: Tagus... Tagus: I know, not a word to Cyrill and Fenimore. I'm just glad I finally get to see it. I hope one day I'll be able to go too. Max: When you're ready. You still have a lot more to learn before that, but at least you get to see now how it works. Rupert: So, why are we in the basement? I thought you'd need an open space. Max: This works everywhere, and I want to be sure nobody else can see this.
Nikki 2
Max: Everything is ready now. This is the tesseract. Doesn't look much, just an old cube, like our recent guest called it. However, as you know, looks can be deceiving. Tagus: Where are you going? Max: Sorry, I can't tell you that. See you in a few days. I hope.
Nikki 3
Rupert: She's... gone. Just like that. Tagus: I've heard about it, but I didn't know it was like that. Rupert: What do you think she meant with "I hope?" Tagus: Those places aren't really safe. Rupert: I hope she'll be all right. Tagus: This wasn't the first time she used one of those. She knows what she's doing. - Rupert, are you and Max...? Rupert: It's complicated. Tagus: I bet it is. At least you haven't run away. Rupert: What do you mean? Tagus: You wouldn't believe how many girls run as soon as they hear what I do. Rupert: Seriously? I would have thought that being a wizard makes you a chick magnet. Tagus: Wrong sort of chicks. I mean, what do you think Max thinks about guys who are after her just because of Maximilian's money? Rupert: Good point.
Nikki 4
Nikki: Hi grandma! I'm back! Janine: Just in time for dinner. How's the job? Nikki: The usual. But I heard there was something unusual going on here while I was away. Janine: Word travels fast. It was nothing too bad, just an intruder. Max and Tagus took care of that, and a detective came to pick him up. Nikki: A detective? Is that what he said he was? Janine: What do you mean? He said he was detective Shelton. Nikki: Okay, I suppose he was a detective then. - I met him. He came to meet my boss and he told me about what happened when he heard who I am.
Nikki 5
Janine: Could you take that off? It makes you look like a robber. Nikki: Oh, sorry. It was a bit dusty out there. And even dustier where I came from. Janine: The dinner will be ready soon. Would you go and get the others? Nikki: Sure. I guess Rupert is in the library, he's always there. What about the others? Is Max at home? Janice: The other guys are probably in Tagus' laboratory. Max will be away for a few days. Nikki: Okay, I'm on my way.
Nikki 6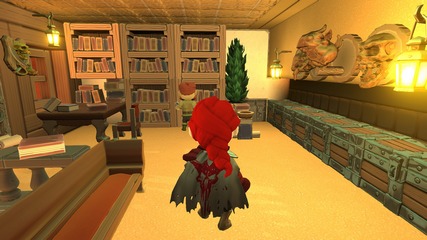 Nikki: Rupert! How's the research going? Rupert: Slowly. These books are so fascinating that I end up reading a lot more than I really need to. Nikki: I can think of things a lot worse than that. Rupert: I'm sure you can. And I'm not complaining. Max said I can stay as long as I need to. Nikki: Having a librarian for free isn't a bad deal. Rupert: You know she doesn't... Nikki: It was a joke. - The dinner will be ready in a few minutes. Grandma asked me to tell you. Rupert: Thank you, I'll be there in a minute. I promise.
Nikki 7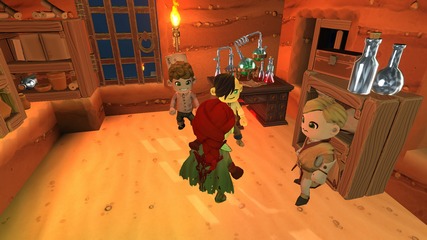 Nikki: Hi guys! What are you up to? Tagus: Nikki, you're back! Where were you this time? Nikki: Here and there. You know I can't really talk about the details. Tagus: Sorry. It's just... being stuck here... Fenimore: Nothing ever happens here. Or if it does, of course I sleep through it all. Nikki: You're talking about the intruder. I heard about it. A strange story. Whatever would anybody hope to steal from here? Cyrill: That's what I said. The only really valuable asset here is Max, and I don't think anyone would send just one guy to kidnap her. Tagus: I'd like to see them try. Nikki: I wouldn't. - Anyway, the dinner is ready. Grandma sent me to get you. Fenimore: Great! This place may be boring, but your grandma's the best cook ever.
Nikki 8
Rupert: So, did you do anything interesting this time? Nikki: Hey, I don't destroy stuff all the time! - Although... Cyrill: What? What did you do? I bet it's a good story. Nikki: Well, I sort of... accidentally drained a pond. Rupert: Accidentally? Tagus: I want to hear this. I bet it has something to do with that new mining drill you got.
Nikki 9
Nikki: That drill is a great tool! I was at the foot of a cliff and had to do some tunneling to go up. I've never made such a fast progress before. I hadn't been there before, so how was I supposed to know there would be a pond? I just drilled upwards and suddenly, there was all this water. Tagus: And after a while, there was none, I suppose. What do you think the residents near the pond thought about your stunt? Nikki: It wasn't a stunt! It was an accident!