Schizo Show: It's a crazy world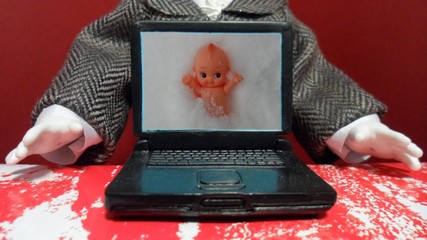 Schizo: I have heard that people are posting very irresponsible videos in YouTube. Doesn't anyone think of the poor, impressionable children, who get bad influences from stuff like that? Just look at this one! - Hehe! I hope you didn't take that seriously. Videos about irresponsible stunts are the best the site has to offer. Natural selection in action! Weed the criminally stupid from the gene pool! I'm all for it!
Schizo Show: Movie reviews 1
Schizo: I have the privilege of welcoming our latest arrival, Una Verse. She has just arrived, but already promised to help me with some movie reviews. Welcome, Una! Una: Thank you. It's nice to be here. And it was very interesting to watch the sci-fi movies you asked me to review. I had no idea... Schizo: I thought you might find them intriguing. Shall we start? You can take the first one. Una: All right. The first movie is The Monolith Monsters. Although the movie isn't particularly good, the premise is imaginative: growing and multiplying rocks that just keep on going. It shows that an invader doesn't need to be intelligent to be a threat. Schizo: That's a good point. I must say that there was one question that kept bugging me: The only way to eliminate those monoliths permanently would be to remove each and every piece of them, but what then? Una: Yes, that would be a problem. Of course it's all purely fictional, but it is still an interesting hypothetical question. I have no knowledge of anything like that existing anywhere in the universe, but if there was something like that, where on Earth could you put it? I mean, literally, where on Earth? There wouldn't be a safe storage anywhere.
Schizo Show: Movie reviews 2
Una: The second movie is The Day the Sky Exploded. I know that going to space is serious business for you people, but I still expected more cheers when it succeeded. Also, I'd really like to know how the people at the control center can see on their screen a shot from outside the rocket as it flies in space (at 21:40) when the only camera should be inside the rocket. Well, at least things pick up a little around halfway through and people get a bit livelier. I guess an impending doom by asteroids does that to you. And by the way, if you're using a looping soundtrack, you should at least make sure there isn't a woman crying "My baby!" in it. The result makes you wonder how the woman manages to lose her baby again and again. - Schizo, I think the last one is up to you.
Schizo: Thank you. The last movie is Silent Running. People sure weren't too optimistic about the future in 1970's. In this movie, space ships are holding the last remaining forests of Earth as Earth has become overpopulated and an ecological disaster... Oh, wait, did I suggest that people might have had a too bleak view of the future? Strike that. We are getting overpopulated and polluted. Back to the movie. The three colleagues of Freeman, the guy tending the forests, are really obnoxious and deserve what they get, but I really feel bad about the drones. I wonder if a drone could go crazy of loneliness, all alone out in the space. Freeman sure was well on his way to that.
Schizo Show: The producer
Schizo: Today, I'd like to introduce to you our producer. She has promised to answer some questions concerning the show. Welcome to this side of the camera. Producer: Thank you for inviting me. Schizo: Did I have a choice? - So, my first question is about these allegations that I am your alter ego... Producer: You are. Schizo: What? Producer: I said you are. I can make you say anything I'm too polite to say myself and then I can defend myself by saying that you said it, not me. Schizo: That's... that's evil. Producer: Sure it is. You'd do it yourself, if you were me, wouldn't you? Schizo: Yes... Hey! You made me say that! Producer: Did I? Schizo: I think this interview is over.
Schizo Show: Schizo and Mini-Schizo
Schizo: As you can see, I am no longer the only interviewer in the show. I have been joined by mini-me and he will be doing all the work outside the studio as he travels lightly due to his size. We regret the lack of new episodes in the past few months, but I am sure we will be getting more done from now on as there are two of us. Mini-me, do you have anything to add? Mini-Schizo: Not at this point. I'm still a bit rattled by my journey here in a foil bag and box. It is a very undignified way to travel. Schizo: I'm sure you will get over it before our next episode.
Schizo Show: Mini-Schizo ventures outdoors
Schizo: To help mini-me recover from his claustrophobic journey here, we sent him to the great wide open for a small field trip. Here is his report on that. Mini-Schizo: Whose idea was this? I'm not really an outdoors guy as you can probably guess from the clothes. And the cloudberries are still raw. Just look at this one! Schizo: It can't be that bad. Mini-Schizo: Really? You try being a horse-fly bait for a few hours. You'll see how much fun it is. Schizo: Don't be a wuss. Just make a fire and roast those buggers. Mini-Schizo: Easy for you to say. You're sitting in a cozy little studio, while I'm suffering from a heat stroke here. Schizo: That guy is going to be trouble, mark my words. He's done nothing but complain ever since he got here.
Schizo Show: Another trip outdoors
Mini-Schizo: All right, let's face it, this is a filler. Somebody got their foot hurt and hasn't been out much lately, and the big guy was too lazy to do anything by himself. So what's their answer to the problem? Send me to the forest, of course. I told them I'm not an outdoors guy, but nobody cares. And there's no point being in the forest in the first place as all the woolly milk-caps are dry and full of maggots. By the way, that thing behind me is not a woolly milk-cap. I have no idea what it is, but I suspect it ran away from some fairy tale illustration.
Schizo Show: Movie review with Catty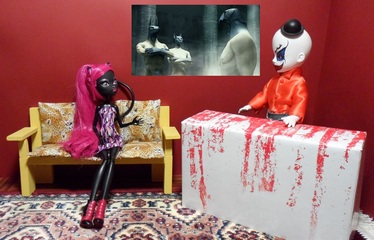 Schizo: I have made fun of so many movies that I thought maybe it's time to introduce a good one. Not necessary a best seller, but a movie I like very much. After all, isn't that the subjective definition of a good movie? And to help me with this one, I have Catty in the studio with me. Welcome, Catty. Catty: Thank you. I really couldn't resist the invitation after you told me what the movie was. Schizo: Yes, I can see why you would find it interesting. Let me start with a brief introduction and then we can discuss it more. - The movie is Immortal. It probably isn't to everybody's taste, but if you love sci-fi that differs from the usual alien invasions and space battles, you might find this one interesting. It combines graphics and real human actors nicely, it's based on a comic by Enki Bilal, and it's even directed by the maestro himself, so no distorting of the creator's vision by some idiot, who just wants everybody to like him. Catty? Catty: It certainly was different. There's just something, je ne sais quoi, about floating pyramids, ancient Egyptian gods come alive, and 1950's style flying cars. Not to mention the fact that the Egyptian gods did not speak English. Well, except the one who talked to that guy, but I mean that when they talked to each other, they used their own language. Schizo: Yes, that was certainly refreshing, but of course, Enki Bilal is European, so it shouldn't be a surprise. Catty: And the actors were quite good. Also, I never realized how pretty you can be with chalk white skin and blue hair. Although I still liked Bast better. Too bad she had such a small part in this. Schizo: I bet you'd love to play a part like that in a movie. Catty: Certainly, although I would have to be the star. Unfortunately, they don't make good movies like that.
Schizo Show: Movie reviews
Schizo: My young friends have been bugging me about doing movie reviews with them, but I so rarely watch anything suitable for minors. Take for example tonight's movies. I had some trouble even finding an adult who would watch and review them with me, but fortunately Spectra agreed to help me. Spectra: It's a pleasure. I was especially interested in the first movie on your list, Farmhouse. Schizo: I thought you would be. How did you like it? Spectra: It would have been just a long series of irrational violence and horror, if it wasn't for the ending. The ending isn't anything really new, especially if you're a Twilight Zone fan, but it is still somewhat surprising. I would warn anybody watching the movie that when you see a cheese grater, turn down the volume or your neighbors will call the cops. Schizo: Oh yes, that was a nice touch, although it could be a bit too much for some viewers. I'd like to add that after you've watched the movie, check the comments for clueless people who didn't get it. One of the reasons I liked the movie is that it's not all spelled out for you. You need to pay attention to the flashbacks and do some deducing (although not that much) to figure it out. Spectra: Also, it would be a good idea to pay attention to the doctor.
Schizo: Next on the list is Triangle, which is not actually a horror movie, although there is quite enough violence in it as well. Spectra: Yes, that one is hard to categorize, but that's just the start of the trouble. Schizo: Mind-boggling, wasn't it? Spectra: Certainly. The main character is a whiny bitch - excuse my language - and the others aren't much better, but trying to figure out what's going on will keep you interested. Schizo: So, how many times did you watch it? Spectra: Several times, but I'm still not quite sure how the logic works. You? Schizo: The same. I think I sprained my brain. Spectra: You know, I just realized that as different as these two movies are, there is actually a common theme. Schizo: I think you might be right.
Schizo: Last, but not least, on our list is Contracted, which was uploaded under another name. It is one of the many attempts at a story about a contagious disease that turns people into something awful. How would you describe it? Spectra: It's an absolutely gross movie, but also fairly interesting, if you get past the stupidity of the main character and her two female friends and of course the gross out factor. Schizo: Gross out factor is right. I mean, I have tried all sorts of things, but that guy right at the beginning... That was absolutely disgusting. Spectra: So, you do have limits to what you will do. Other than leaving minors alone, I mean. Schizo: We're not talking about that here. - Would you recommend the movie to others? Spectra: Sure. Although, if you have nightmares where bits of your body inexplicably fall off, this movie may not be for you. Schizo: Who has nightmares like that? Spectra: It happens occasionally to some people.
Schizo Show: Before the show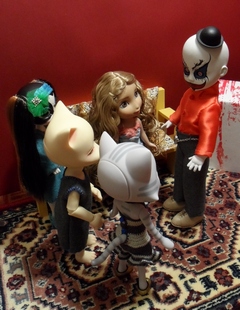 Nikki: Uncle Schizo! Schizo: Hey, what are you all doing here? The show starts in a few minutes. Caroline: We're here to do movie reviews Nikki: That's right. You said you don't watch movies that are suitable for us, so we picked some movies ourselves. Schizo: Is that so? Who let you in? Emma: Your producer. She said our idea was brilliant, so she arranged everything. Nikki: She said it needs to be a surprise and that it's going to be a bit different from your regular reviews. Caroline: Yeah, like, we'll be reviewing movies for normal people. Schizo: I think I should be offended by that, but what's the point? You're here, so let's do some reviews. - Who's the silent one? Nikki: She's Pepper. Schizo: Nice to meet you, Pepper. I think we'll need an extra chair. You won't all fit on the couch.
Schizo Show: Minor edition 1
Schizo: Welcome to the show once again. This time I'm getting some help from my young friends, Caroline, Emma, Pepper and Nikki. They will present their own movie reviews for us. Welcome to the show, girls. Let's hope I have seen the movies you have picked. Nikki: Does it matter if you haven't? Schizo: Well, I won't be able to comment something I haven't seen, but all that means is that I will need to rely on your reviews.
Schizo Show: Minor edition 2
Schizo: So, what's the first movie? Caroline: It's my pick, a sci-fi movie called Skyline. Schizo: Isn't that for a bit older audience? Nikki: We're not too young. Emma: Especially for something as stupid as that was. Pepper: I first thought it was scary, but then I got so mad at them that I wasn't scared anymore. Schizo: So you didn't like it? Caroline: They didn't even know the basics of what to do in an emergency. Emma: Yeah, things were blowing up all around the city and they didn't even realize that they probably wouldn't have running water or electricity for long. Pepper: Even I know that the first thing in an emergency that could cut off water is to fill the bathtub or pots and pans with as much water as possible. Nikki: And they really thought it would be safer up in the penthouse of a really tall building, when the aliens are coming from the sky. Caroline: Also, I wouldn't have gone into an elevator. It was obvious that the power could be cut off at any moment. Haven't these people heard of stairs? Schizo: Can't disagree with you on any of that. Although, the scenario in the movie is quite desperate and desperation can prevent you from thinking clearly. Caroline: It was bad screenwriting that prevented them from thinking clearly. Pepper: Dad said it is statistically improbable that they would all be so stupid. At least one of them should have known better. Nikki: Uncle Schizo, what would you have done? Was there any place they could have gone? Schizo: Underground. Preferably a subway system, but sewers work too. All girls together: Eeeeww!!! Schizo: There's nothing "eww" about staying alive. You do what you have to do, no matter how disgusting it may be. - How about the ending? I'd hazard a guess that you didn't like that either. Caroline: What ending? Nikki: It was so stupid. Even if you're planning to do a sequel, you still need a proper ending. Pepper: And you don't end a movie just when things could get interesting. Emma: I think they had no idea how to end the story properly, so they just stopped when the money ran out. Schizo: And I think you might be even more cynical than I am.
Schizo Show: Minor edition 3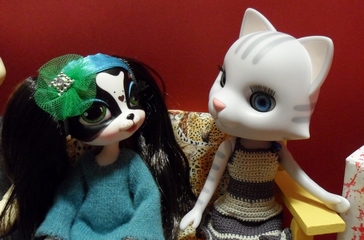 Schizo: Let's see if the next one is any better. What is it? Pepper: I chose it. It's called Idaho Transfer. It's a time travel movie. Schizo: I thought these were supposed to be movies for normal people. Caroline: Are you saying this isn't? Schizo: Well, it is a weird one, but then again, the director is the same guy who was in The Trip. Emma: I haven't seen that one, but I liked this movie. Time travel is fun, although the special effects for it were made really cheap. Nikki: If only we could do it for real, but I wouldn't want to go to a future like in this movie. Pepper: It was boring. The future, I mean, not the movie. Caroline: Except when she gets far enough into the future. I guess she found her purpose in life. Schizo: That's not a very nice thing to say. Caroline: Come on, she was a stupid bi... baby. You just can't say it, because we're children. Schizo: I guess you're right. - So, you weren't bothered by the cheap effects and minimalist surroundings? Pepper: Why would I? It's an interesting story, you don't need expensive special effects for that. Nikki: It was a bit sad, with all people gone. Schizo: That's 1970s for you. The doomsday prophets may have been fewer, but they were even gloomier than today.
Schizo Show: Minor edition 4
Schizo: So, who's next? Emma: I chose a movie called Lo. Schizo: I don't think I've seen that one. Is it spelled L-O-W? Caroline: No, it's just L-O. It's the name of the demon in the movie. Schizo: Demon? Have you been watching horror movies? Nikki: It's not a real horror movie, it's a love story. Pepper: That's right, the guy summons a demon, because he wants to find the woman he loves. Schizo: Nothing good has ever come of that. - Was the demon scary? Caroline: The guy certainly seemed to get scared when it appeared. That's so stupid. In movies where people go looking for something supernatural, like a demon or ghost or whatever, they always get scared when they find it. Emma: I wouldn't go looking for something too scary in the first place. Nikki: I think the demon was really ugly and rude. Pepper: And it used bad words. Mom doesn't like it when I watch movies where people do that, but dad says it's okay as long as there are not too many swear words, and of course I mustn't use any of them myself. Caroline: It wasn't that bad. Just a few f-words. Emma: I thought the description of what they do in hell was gross. Nikki: But the music numbers were silly and fun. Pepper: And so was the demon in a nazi uniform. Except that thing he did with his eyes was really icky. Schizo: I think I will have to watch this movie.
Schizo Show: Minor edition 5
Schizo: I think there's one movie left. You did pick one each, I assume. Nikki: Of course. Mine is called The Ultimate Gift. Schizo: Now there's a suitable movie for youngsters. Caroline: The stupid uploader had marked it as a sci-fi movie and that's the only reason Nikki came across it. Emma: And it was so interesting that we had to see what happens. Pepper: It was a bit sad, but at the same time a happy story. Schizo: I know what you mean. How did you like it? Caroline: The guy was a spoiled brat. Pepper: His girlfriend was even worse. Emma: It's a good thing he found better company after he started doing the things his grandpa wanted him to do. Nikki: I have always wished we had a big family, but if it's like that, I don't think I'd like it. Schizo: It's not always like that, but it can be. Those people just had always had too much money. Caroline: One of the best parts was the last scene with his first girlfriend. Pepper: We actually cheered. Nikki: Yeah, he wasn't a total jerk after all. Schizo: What about the little girl? Pepper: That's the sad part. Caroline: She was probably the most sensible person in the whole story. If you don't count the grandpa, I mean.
Schizo Show: Minor edition 6
Schizo: Well, I must say I wasn't expecting quite the kind of movies you had chosen. Caroline: You thought we'd be talking about children's movies. Schizo: Obviously. I wasn't aware that your parents let you watch movies intended for adults. Pepper: Dad and I watch those together after he has first checked that it's not too bad. He then explains the parts I don't understand. It's much more fun that way. Emma: At first mom wasn't too happy about me watching Lo, but I told her it wasn't a horror movie. Nikki: My mom was more worried about Skyline, but I said I know it's just make believe and that stuff doesn't happen for real. Schizo: What about you, Caroline? What did you mother say? Caroline: Ellen? Nothing, I didn't tell her what movies we had picked. Schizo: Well, now she knows. Caroline: Doesn't matter, I've already watched the movies. Schizo: I think that's all we have time for in this show. I want to thank my young guests for their interesting reviews and I hope nobody gets into trouble after the show.
Schizo Show: The Robot Girl 1
Schizo: We have a very special guest today. Welcome Robecca. It was great that you agreed to come to the show. Robecca: I thought it's time to set some things straight. Schizo: Yes, I think so too. It's just... are you sure you can speak about it publicly? With the court case going on? Robecca: Everybody else has been talking about it in all possible places. Why should I keep quiet? Schizo: Why indeed? This is your chance to say anything you want people to know about the issue. Robecca: Thank you. I'd like to start by saying that I really, really don't like being called Robot Girl. I am still me, the same person I always was. The fact that a large part of my body is artificial doesn't change that. Are people with artificial legs or arms called robots? Of course not. Schizo: That's a good point. I guess it's a question of where do you draw the line. Robecca: It's very simple. A robot has artificial intelligence. Mine is all biological and original. There's nothing artificial about my brain or central nervous system. Schizo: About the practical side of it, how did it all happen? I mean, no other doctor has done anything even remotely like what your doctor was able to do. Robecca: Victor is a genius and I'm his best work so far. Mother had to sign a waiver before the operation, of course, because it's still all experimental, but the only other option was that I would have died, so it was just a formality.
Schizo Show: The Robot Girl 2
Schizo: I'm sure there must have been all sorts of other experiments before that. Do you know about them and are you allowed to talk about the issue? Robecca: Actually, I brought a little surprise with me. This is Barkthalameow, but I just call them Barmy. Schizo: Well, that seems to be a fairly accurate name. Would you explain what exactly he/she/it is? Robecca: The correct pronoun is "them" and they are one third cat, one third dog and one third machine. Schizo: That sounds... impossible. I'm sure PETA isn't too happy about this. Robecca: Without Victor, they would both be dead. He saved them. Of course he did it to further his studies, but you cannot deny the fact that he saved their lives. Schizo: So is the machine part there for some, um, compatibility issues? Robecca: I don't understand all the details, but one function of the machine is to handle leg coordination, so they can actually walk. Schizo: Yes, I see that can be a problem with two creatures who cannot conciously cooperate in that issue. For the sake of all the animal cruelty issues that are going to be raised, would you tell me what their life is like now? Robecca: I got to know them at the clinic and when I left, Victor let me take them with me, so they now live with me as my pets. They are really normal house pets, except they get free medical care and regular checkups for the rest of their lives, which should be a lot longer and healthier than with normal pets, because of the machine part.