Page 3
Early next morning
Damien: "What have you done? How many times do I have to say it? NOT INSIDE THE HOUSE!!" Eggzorcist: "I found her snooping around. I took care of the problem. It's not my fault. She should have minded her own business." Damien: "Well, there's only one thing we can do now. We have to get rid of the body before the housekeeper comes. Let's put it to the trunk."
Poor Ms. Pinky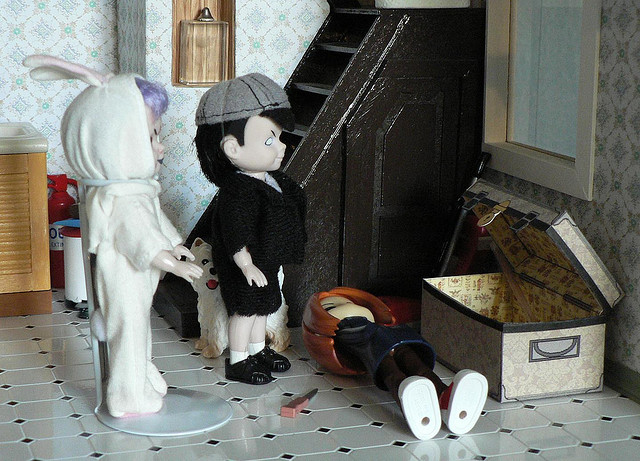 Damien: "It won't fit in like that, we need to make it fit. Haven't you got anything bigger than the knife?" Eggzorcist: "It's not my fault the housekeeper keeps hiding all sharp things all the time." Damien: "Okay, okay. I think I know just the tool for the job."
Into the trunk
Damien: "The head won't fit in. I'll put it in a bag, and take that to the garden first. And we don't have the time to clean up all this mess. I'll go and get something that will explain it."
Scapegoat
Damien: "That should do it. Good thing that cat is always leaving these in the garden. The housekeeper won't like it, but mom's not going to let her punish the cat."
Sit tight
Damien: "Now you sit there and don't let anyone open that trunk, you hear me. If anyone asks, you're just tired and need to sit down for a bit. Say you're fascinated by what the cat dragged in."
Good kitty
Mrs. Hatter: "Oh my, I think we may not need Fluffy very long, the way the cats are growing. What a good kitty you are." Housekeeper: "Hmmph."
A little later - enter the gardener
Sneezy: "Hello, madam. Master Damien called and said there's some work to do, but I can't find him in the garden. Do you know what needs to be done or is he coming back soon?" Mrs. Hatter: "I think he should be in the garden. Did you look into the shed?" Sneezy: "I'll go and do that. Oh, by the way, this is Merv. I took him along as I understood there would be quite a lot of work." Merv: "Pleased to meet you, madam."
Back to get the trunk
Sneezy: "Sorry to bother you again, but Master Damien wanted me to remove this trunk. He said it's taking too much space in here, so we're moving it to the shed... Miss, would you mind getting up, so I can move the trunk?" Eggzorcist: "You're sure he wanted you to get this trunk?... Okay. Let me help you with it." (Thinking: "And make sure you won't open it. We don't need another (busy) body right now.")
Ms. Bratz comes for a visit
Mrs. Hatter: "You were so quiet yesterday, so I thought maybe we need to talk, just the two of us." Bratz: "Well, you see... I met this guy, he's sort of interesting, you know, the strong and quiet type. He's just moved here. He's a widow, been for a few years now. I really think this could be it, but there's one problem and I'm not sure, if I can deal with that." Mrs. Hatter: "But surely it can't be that bad, can it?" Bratz: "Oh, yes, it is. He's so much shorter than me!"
New pet?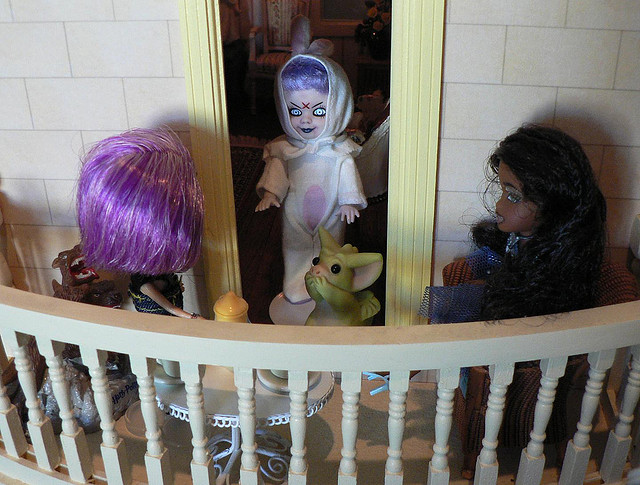 Eggzorcist: "Look, I found a new pet." Bratz: "Oh, how cute!" Mrs. Hatter: "Well, at least it's still alive." Eggzorcist: "Can I keep him? Please?" Mrs. Hatter: "Do you have any idea, what that would do to the fire insurance premiums? No, you go and take him where you found him and let him go. Unharmed." Eggzorcist: "But I want a pet of my own." Mrs. Hatter: "Very well, you can have a cat or a dog, even a bird, but no dragons. Go on now, we are discussing important matters here."