Page 2
Worried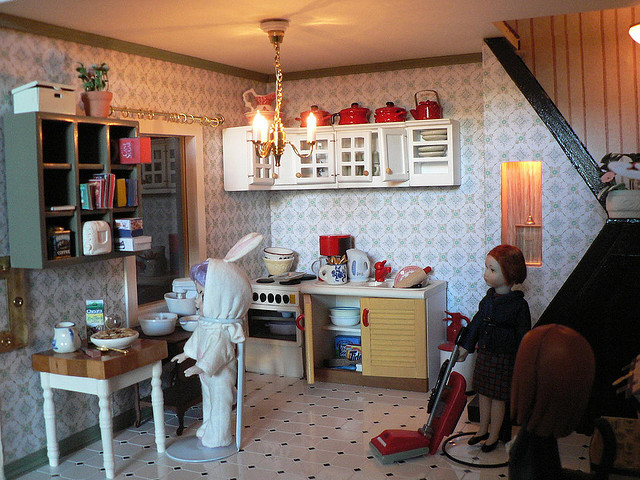 The housekeeper wonders whether she should notify Mrs. Hatter as she had no time to hide the knives before Eggzorcist came in.
Decisions, decisions
Breakfast or the knife... knife or breakfast...
Visiting neighbor
Meanwhile, a neighbor, Ms. Pinky, who had brought in one of Mrs. Hatter's cats just before Eggzorcist came, was looking at Eggzorcist in disbelief. She was thinking fast, "I thought that one was locked up for good. Someone's gotta do something about this." Aloud, she said, "I found one of Mrs. Hatter's cats in my backyard and decided to bring it back myself. I must go now, bye."
Hysteria
Mrs. Hatter: "What's the matter? You're making such a racket we can't talk upstairs." Housekeeper: "Eggzorcist... she took the knife... she went out." Mrs. Hatter: "Is that all? You should be happy she went outside to use it. Now be quiet and don't bother me anymore." Housekeeper: "Yes, madam." (Muttering to herself, "As soon as I find another job, I'm out of here. Bunch of loonies, that's what they are, all of them.")
Everything's well again
Mrs. Hatter: "Sorry about that. She's a good housekeeper, but a bit high-strung... So, Kelly, when do we get to see your fiancee, Tommy? You've talked about him so much that it would be nice to finally meet him." Kelly: "Well, he could come with me next time, if he's not working. I'll find out and let you know."
Nightmare
Kelly: "Oh, I must tell you about the most awful dream I had last night. There was this huge white rabbit, and I was like 'WTF? Bunnies should be cute. And I'm supposed to follow THAT!?' It was horrible."
Another nightmare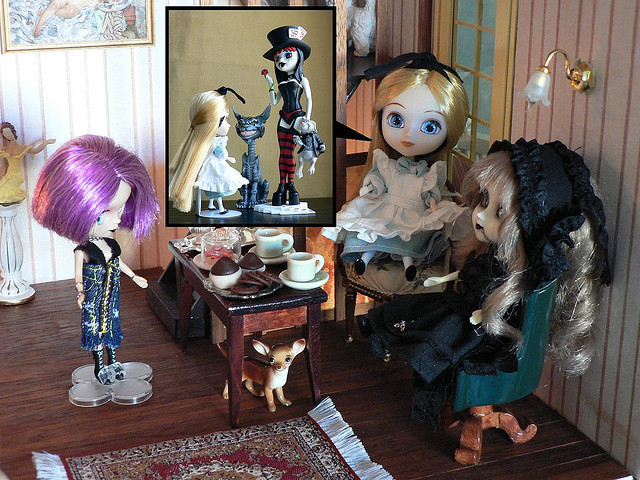 Alice: "How strange. I had a nightmare too, although in mine it was the Cheshire Cat. Most horrible looking creature it was. Then there was this girl, who said she was me, only badder. She said she was my alter... alter... something, and that her name was Malice." Mrs. Hatter: "Well, now. It was all just a dream. There are no real monsters."
Yet another dream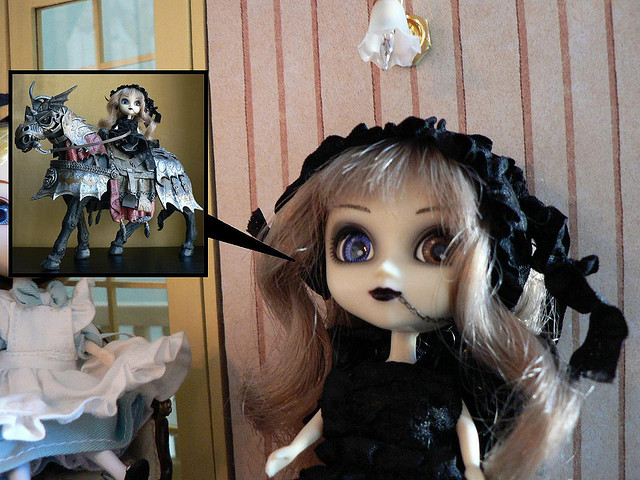 Noir: "It's a pity, really... I mean, that it was just a dream... although I wouldn't mind a monster or two. Anyway, I had such a wonderful dream. There was the best horse I have ever seen and it was all so exciting."
Much later that day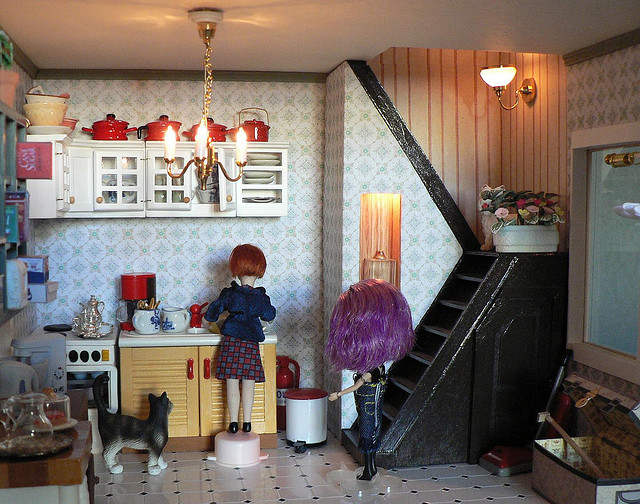 After the guests had gone, it was time to clean up and wash the dishes.
Mrs. Hatter: "The living room seems to be clear now. When you have finished with washing the dishes, you can go. It's getting late. You can do the rest in the morning." Housekeeper: "Yes, madam."
Look what Eggzorcist dragged in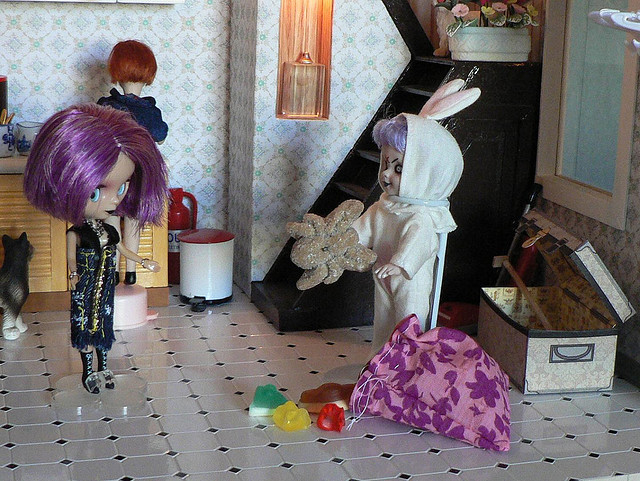 Eggzorcist: "Look what I found. Isn't it neat? There were a lot more, but I couldn't carry them all, so I just took the heads." Mrs. Hatter: "Yes, dear, very interesting. Now, why don't you put the knife away and take those... things... outside. Remember, not inside the house."