Page 5
The party
Mrs. Hatter (to Kelly): "Oh, so your Tommy and the detective are one and the same person? Are you quite sure you're up to becoming a policeman's wife?" Noir (to Kain): "You're a pathologist? Fascinating." Alice (to Jason): "You don't talk much, do you?"
Even Mr. Hatter joins in
Kain: "So, Mr. Hatter, what made you come down to join us? Your wife said we probably wouldn't see you at all." Mr. Hatter: "People were running in the bathroom every 5 minutes, there was no peace upstairs, so I thought I might as well come down here." Mrs. Hatter (to Ms. Bratz): "I think we need to talk. Let's go upstairs. Now that he came down we can use the office instead of the bathroom." Ms. Bratz: "Sure, if it's important."
So what is it?
Ms. Bratz: "Very interesting decor." Mrs. Hatter: "There's no need to be polite. It's hideous, but it's what he wants." Ms. Bratz: "So, what did you want to talk about?" Mrs. Hatter:"The other day, when we talked about dreams, I said there are no real monsters. That isn't exactly true. Now that I've met Jason, I must tell you something..."
Mr. Pennywise
Mrs. Hatter: "Somehow Jason reminds me of my first husband, Mr. Pennywise. I'm not sure what it is, but there is something similar. Mr. Pennywise was so charming and funny. He really made me laugh. But then he lost his job in the circus, got depressed because of the money worries and decided that bank robbery was the way to go. He killed 15 people before the police caught him. All I'm saying is, be careful not to do anything you might regret later. I know I was too young when I married Mr. Pennywise and it cost me dearly. Interspecies marriages rarely work, I know that now."
Jason
Mr. Hatter: "Jason, isn't it? You've been very quiet. Probably best, women don't want us to speak, they just want you to listen and nod or shake your head occasionally and grunt when asked something, and then they'll take that as the answer they wanted to hear. Saves a lot of trouble, if you ask me."
Pe(s)ts
Meanwhile, in the kitchen, the housekeeper isn't exactly happy about having all of the pets in the kitchen as the living room is full of guests.
Housekeeper: "Get out of my way, you've had you food already. I'm not going to feed you any more... Damien, I'll need to go and take this tray up. Will you make sure the pets leave the food alone?"
Go!
One dog going up, one housekeeper coming down.
Accident
Who would have guessed she had such a poor balance?
What happened?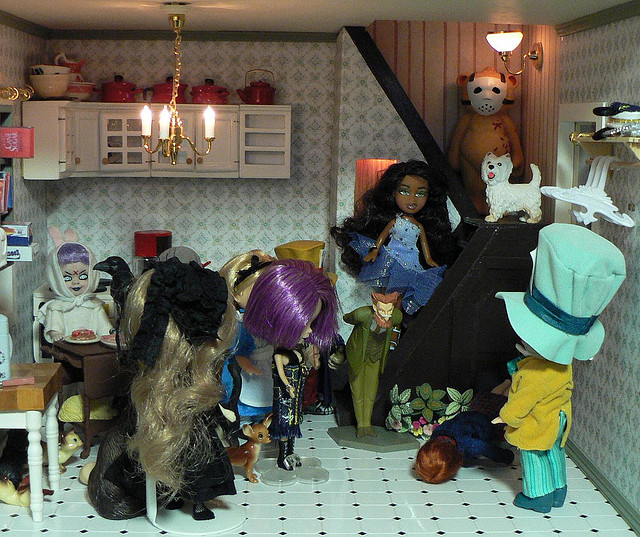 Mr. Hatter: "Why did I need to come down here for this? It's not as if she was the first housekeeper we've lost." Mrs. Hatter: "I said we need to install railing there, but no, you said no one's that clumsy and it's perfectly safe..." Tommy: "Well, as me and doctor Kain are here already, I think we can handle this. Doctor?"
Dead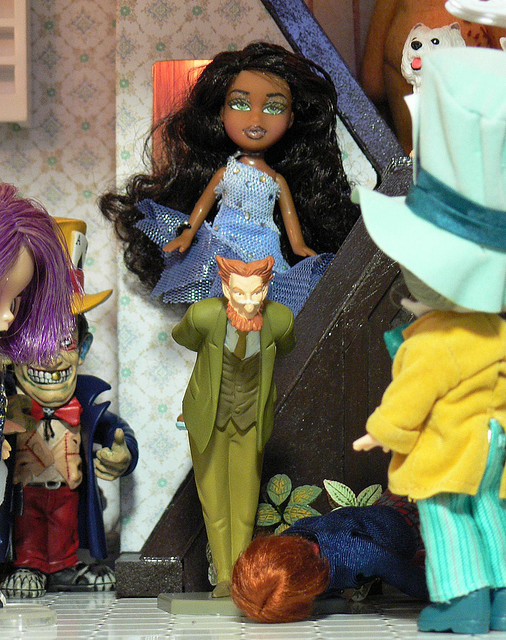 Kain: "Dead as a dodo. Have her taken away. I'll let you know more after the post mortem."