Page 6
After the guests have gone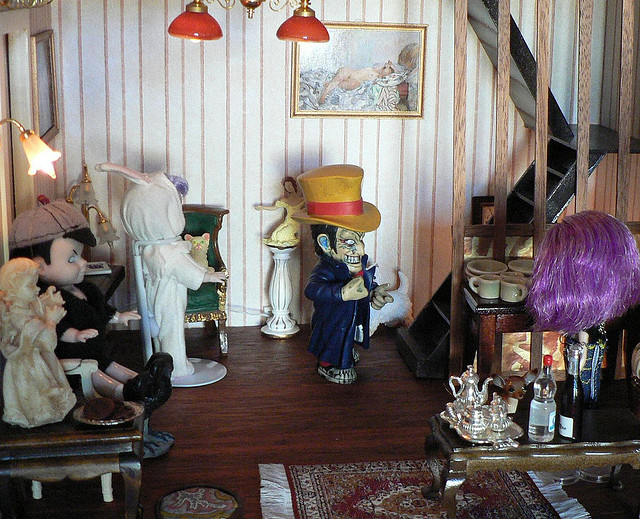 Mrs. Hatter: "Where are we going to find a new housekeeper?" Mr. Hatter: "I'm going upstairs. Don't disturb me unless it's something really important." Damien: "It was that damn dog. He's always in the stairs." Eggzorcist: "I can take care of it." Mrs. Hatter: "Now you leave that dog alone. He's done nothing wrong."
Next morning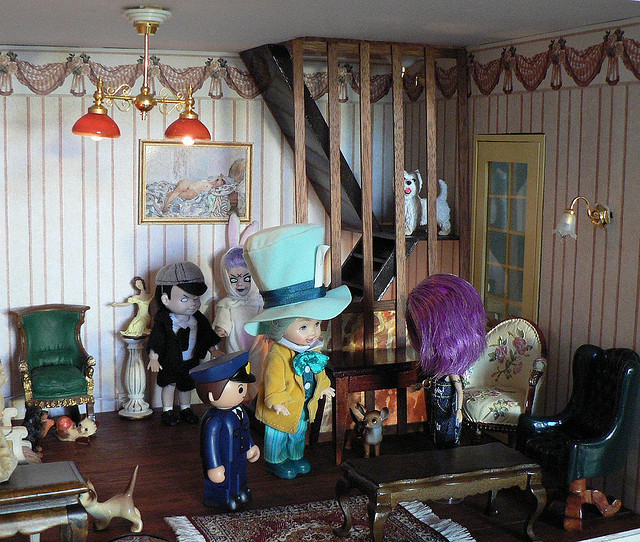 Tommy: "Hello, Mrs. Hatter. This is officer Smith. He's assisting me in the investigation." Officer: "Nice to meet you, madam."
Eggzorcist and Damien enter from the stairs. Eggzorcist (whispering to Damien): "That guy is so short. I didn't know that midgets can become police officers nowadays."
Investigation
Tommy: "...so you saw the housekeeper trip on that dog and fall down the stairs?" Eggzorcist and Damien: "Yes, that's right." Tommy: "Very well. There will of course be some formalities, but it should be quite straight-forward. This seems to be a clear case of accidental death."
Life must go on
Mrs. Hatter is interviewing a prospective new housekeeper. Hilda: "...as I explained, I have certain... I wouldn't say disabilities - maybe disadvantages - but I always find a way to solve any problems they may cause." Mrs. Hatter: "I need someone right away, so I'm ready to let you try, and we'll see how it goes. Maybe we should go to the kitchen, and I'll introduce you to the children." Hilda: "I'd like to meet them on my own, if it's OK."
New housekeeper
Eggzorcist (whispering to Damien): "Look, another midget - and this one is one-eyed. What's going on here?" Hilda: "Hello. I'm your new housekeeper, starting from tomorrow." Damien: "Really? Mom sure was fast finding a replacement." Hilda: "Now, there are some things we need to discuss. I have heard about you two and I'll put this simply. You cause me any problems, and I'll make you regret you ever saw me. Got it? And don't think that I couldn't do it, just because I'm shorter than you. I can and I will, if I must."
Hilda
The next morning Hilda started work. There were some minor problems, but as she had said, she always found a way to handle the situation.
More shopping
Mrs. Hatter: "Now what is this then?" Damien: "We're taking it upstairs. Dad got it..." Mrs. Hatter: "From an online auction. And it was cheap." Damien: "Yes, how did you guess? Oh, by the way, there's also a statue. It's in the kitchen. If you don't want it, we'll take it upstairs."
Guns
Mrs. Hatter: "I really don't understand. We don't have anything that valuable. Why do we need a safe?" Mr. Hatter: "For the guns. These are genuine antique, really nice." Mrs. Hatter: "Guns!? Are you mad?"
Hands off
Mrs. Hatter: "I guess you know about the safe and the guns?" Eggzorcist: "Yes, Damien told me. And he said to keep my hands off, so you don't need to tell me that. Anyway, I found something a lot cooler in the back garden. Wanna see?" Mrs. Hatter: "As long as it's not dead."
More guns
Mrs. Hatter: "This is getting much too far!" Eggzorcist: "I was digging in the back garden and found this in the bushes, buried under a pile of rocks. It was in a metal box, wrapped in oil cloth, and it's not rusty at all. What a shame there were no ammo, so we can't try to see if it works." Mrs. Hatter: "It must be Pennywise's. He knew I prefer more silent methods, so he never brought any firearms in the house."