Page 2
It went really bad
Schizo: "She hanged herself. Some depression with a fancy name, I can never remember. Anyway, Jack was only two years old at the time... Dad got hold of some of the crime scene photos. Don't know why he put them here, though. Not your normal family album stuff, I'd say."
Second wife
Schizo: "Our mother was very different. She was a model. I have never understood what she saw in dad. Now don't get me wrong, dad's great, but she could have had any one of those handsome model guys she worked with or some rich guy, but she chose dad. Maybe she shouldn't have, the way things turned out." Eggzorcist: "Wolf hasn't talked about her. Where is she?" Schizo: "Lethal overdose. Dad was lucky to find her a few weeks before that, otherwise it would have been even more difficult to find you."
Jack
Schizo: "This is Jack and his wife and their daughter. The wife left them both and ran away with some hippie. She said Jack was crazy and that she had never wanted a baby. I guess she realized too late that she was pregnant and there was nothing that could be done about it. Lily is a nice kid, it's a shame her mother was like that, but it seems to be the fate of the men in our family to pick the worst ones." Damien: "Great!" Eggzorcist: "What do you mean she was like that?" Schizo: "She's dead. Got murdered a few months after she left."
Veronica
Damien: "Wow, who's that?" Schizo: "Aunt Veronica. She was mom's sister. Not a model, a bit too curvy for that as you can see. I think you could call her an exotic dancer." Damien: "Stripper, you mean." Schizo: "Not quite. She had this dance number which included a snake. We still have the snake, Hannibal. And before you ask, she's dead - hit and run."
Black sheep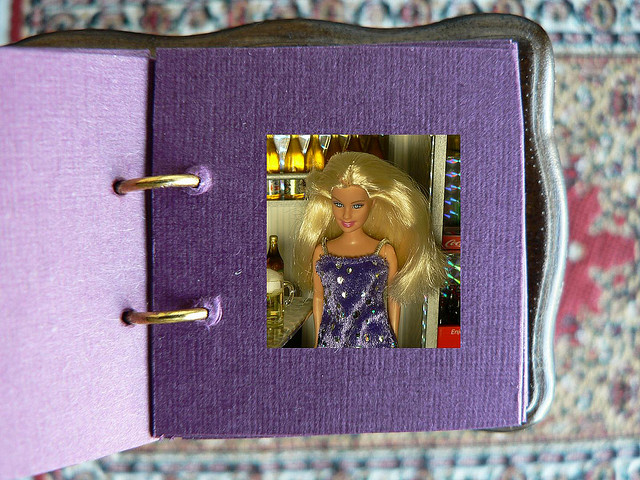 Eggzorcist: "Who's this then?" Schizo: "Aunt Barbara, dad's sister, the black sheep of the family. She got caught. Too impatient, should have stayed married at least a couple of years."
Freaking out
Damien: "That was interesting. I had no idea." Eggzorcist: "I don't feel very well right now. I think I need another pill. A whisky would be a good idea too." Damien (to Schizo): "You know, you're not such a bad guy after all. Do you have any idea how much it takes to freak out Eggzorcist? I mean, if you're not counting midgets." Schizo: "I really wish you wouldn't use that word."
New family
Damien: "So, we now suddenly have not just a new father, but two brothers, aunt and niece plus a bunch of dead relatives. Please tell me that was all, I can't handle any more new relatives - living ones, I mean." Schizo: "That's all we know of. There may be some very distant relatives, but if there are, none of them have ever bothered to contact us."
How did it go?
Mrs. Hatter: "So, did you like your brother? Did you have fun?" Damien: "He was certainly very... informative." Mrs. Hatter: "Where's Eggzorcist?" Damien: "Hiding in the bathroom, I think. Schizo managed to freak her out properly." Mrs. Hatter: "Really? He must be quite a remarkable young man." Damien: "I wouldn't say quite so, but he seems OK. He asked us to go for a visit, to see their place."
Return visit
Schizo: "We are a little short of space, so I thought we could sit here on the patio. We have two bedrooms inside. Dad and Jack share one room, me and Lily the other. Then there's the garage, but that's for Jack's bikes. Kitchen and bathroom are in the basement of the main building and we share those with our landlord's service staff."
Hannibal
Damien: "What the f..." Schizo: "That's Hannibal. I guess he's hungry. He usually does that when he is. Don't worry, he's a constrictor." Damien: "Cute."