Page 3
Feeding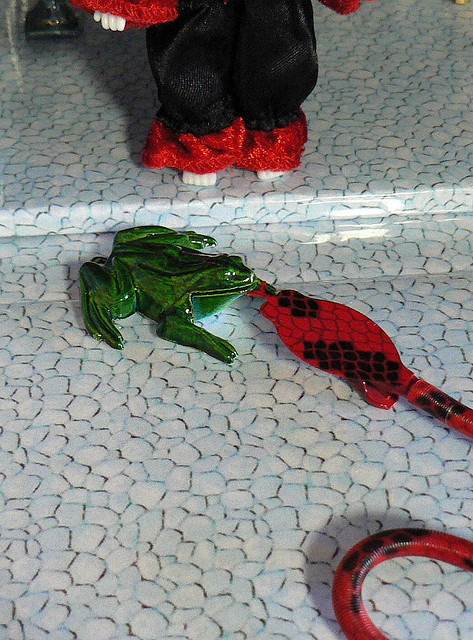 "Here you go. Now leave the guests alone."
Jack
Schizo: "Jack! Come and say hello." Jack: "So these are the two missing lambs? Dad shouldn't have gone through all the trouble." Damien: "Well hello to you too."
Lily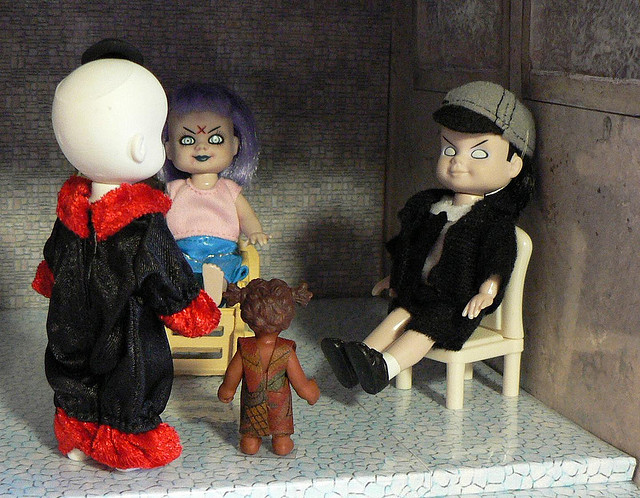 Schizo: "Maybe we should see whether the younger generation is any better. Lily!" Lily: "Yes?" Schizo: "Lily, this here is your uncle Damien and this is your aunt Eggzorcist." Lily: "Good day, it is a great pleasure to make your acquaintance." Eggzorcist: "What century is this kid living in?" Lily: "Tee hee, I've been reading Jane Austen." Eggzorcist: "You shouldn't, that stuff rots your brain."
Get inside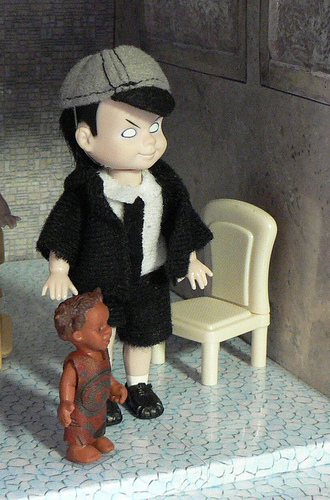 Schizo: "Damien, dad's inside and he wants to have a word with you. Would you mind? And take Lily inside, it's time for her afternoon nap." Damien: "Do I have a choice? Come on, kid."
How about the women
Eggzorcist: "Schizo, the other day, when you told us about the family... I noticed that all the women are dead. Accident, suicide, overdose, murder..." Schizo: "Oh, you don't need to worry about that. They were outsiders, married into the family. You and Lily are different. And of course aunt Barbara - she's not dead, just in prison." Eggzorcist: "Somehow I was hoping something along the lines of 'just coincidences' or 'bad luck'."
Discussion
Wolf: "I'm glad you came for a visit. It's really nice to have the whole family here." Damien: "Don't read too much into it. Jack didn't seem to be thrilled and I must say the feeling is mutual." Wolf: "I'm sure in time we can get along just fine. It just requires some adjusting to the new situation." Damien: "Whatever."
Claude
Schizo: "Hi Claude, dad's busy right now, but it probably won't take too long." Claude: "OK, I'll wait." Schizo: "Eggzorcist, this is Claude. He works for dad sometimes. Claude, this is my sister Eggzorcist." Claude: "Nice to meet you finally. I spent quite a lot of time trying to track you. A special favor for your father." Eggzorcist: "He's not my father."
Work
Schizo: "That was quick, Damien. Claude, you can go in now." Damien: "There wasn't much to say. How about we change the subject. What do you do for living?" Schizo: "A little of this, a little of that. I've never been in one place for long. Either people I work with are deadly boring or they start talking behind my back and things get bad quickly. I've worked in a slaughterhouse, morgue, graveyard, mortuary and beauty parlor... and that's just the last couple of years." Damien: "Quite an interesting CV." Schizo: "I guess that's one way to put it. The beauty parlor was a mistake, though. What a nightmare!"
Curiosity
Eggzorcist: "Could you tell me something about that guy, Claude?" Schizo: "What do you want to know?" Eggzorcist: "Why all the bandages?" Schizo: "He has some sort of a skin condition - don't worry, it's not contageous. He says it looks really bad and that's why he prefers the bandages. It makes his work more difficult, but with all this internet stuff it's a bit easier when nobody needs to know what he looks like. And anyway, dad says Claude is the best investigator he has ever met." Eggzorcist: "Midget with a skin condition... what next?" Schizo: "What did I say about that word?"
Unexpected encounter
Schizo: "Oh hello, Ms. Pink. Is something wrong?" Ms. Pink: "Nothing too serious, yet. I just wanted to warn you that Mr. Crane is in very bad mood and if you haven't paid this month's rent yet, you should do it quickly." Schizo: "Okay, thanks for the warning."