Page 4
Too bad
Damien: "Wasn't that...?" Eggzorcist: "Ms. Pink, our dead neighbor's sister. Quite right. I wonder what she's doing here." Schizo: "That was our landlord's new housekeeper. He seems to prefer them young and pretty. I wonder if he knows she's got a girlfriend." Eggzorcist (to Damien): "And here I was thinking it's just a simple case of 'she is way too pretty for you', hahaha." Schizo: "Am I missing something here?"
Meanwhile, inside
Wolf: "When they leave, I want you to follow them. Get inside the house and just look and listen. I want to know what's going on in there." Claude: "Certainly, but it's going to cost you. Tracking them for you was a favor, but close surveillance is expensive." Wolf: "I don't care about the cost, just do it."
Home again
Damien: "I am NOT!" Eggzorcist: "Yes, you are. Don't waste your time though. Even if she was interested in men, she'd still be too pretty for you. And then there's the other thing." Damien: "Which was entirely your fault. Shut up and leave me alone."
The invisible man
Claude's 'skin condition' turned out to be of a very rare sort indeed.
Close the door
Hilda: "Please close the door behind you." Eggzorcist: "Sure. Funny, I thought I closed it already."
Love in the air
Mrs. Hatter: "What's with Damien? He ran upstairs without a word." Eggzorcist: "We saw Ms. Pink and I think Damien's in love." Mrs. Hatter: "Oh dear, I hope not. Just think about the consequences." Eggzorcist: "Don't worry, we found out something that should curb his interest."
Cats
Mrs. Hatter: "What's wrong with the cats?" Eggzorcist: "They're just crazy."
Failure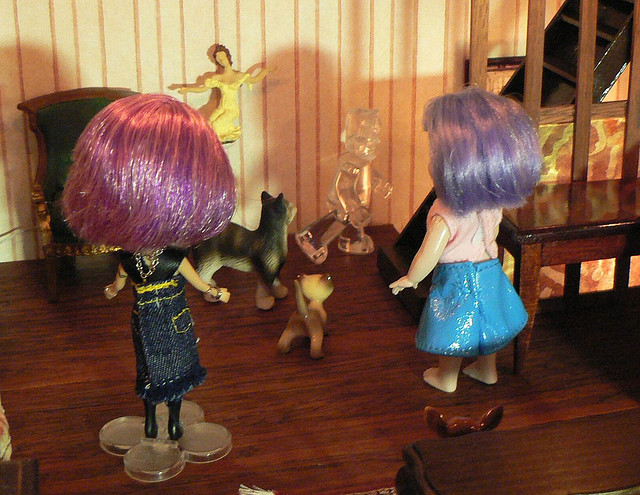 Claude (thinking): "He should have told me they've got cats. It never works with them. Damn!"
Who's therei
Hilda: "Is someone there? ... I wonder what that was. I didn't see it, but I certainly felt it. Could it be that I've finally been lucky enough to find a house with real ghosts? Just imagine the chances of that happening."
Next day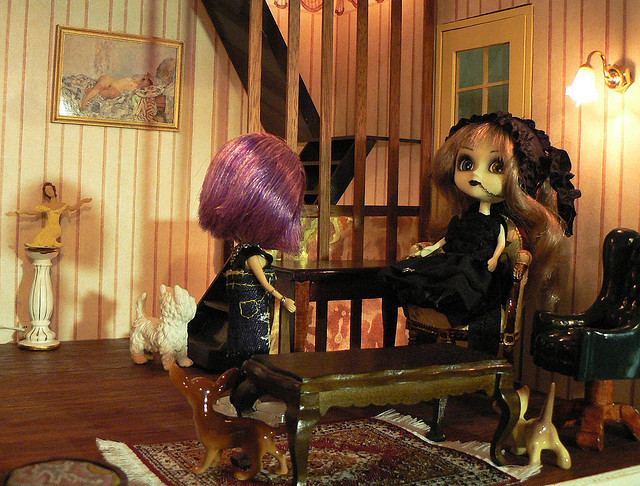 Mrs. Hatter: "My sister's coming for a visit and I thought that we could have a little party." Noir: "What fun, I love parties." Mrs. Hatter: "I'm going to invite Wolf and Schizo as they are now part of the family, sort of. Should I invite Kain?" Noir: "We're not dating anymore, if that's what you are wondering. We both thought that it wasn't really a very good idea after all. We're still friends, though, so it's up to you. He's been a bit down about what happened to Tommy, so maybe it would be a good idea."