Bobo 1
Nikki: So this is it? She's in there? Laura: That's right. Remember, she has come a long way and you need to be nice to her. Emma: We will, or at least we'll try. Laura: This is such an undignified way to travel, as if you were luggage or something. Icebat: At least it was by air, just imagine how long ground travel would have taken. Schizo: We all went through the same. I'm sure she'll be fine as soon as we get her out of there. Laura: About that... Schizo and Icebat, would you mind? I'm not sure it's a good idea for her to see you two right after she gets out. Schizo: It's always the same. All right. Come on, Icebat! - We'll be in the kitchen. I think there's still some booze left.
Bobo 2
Clawdeen: What's going on? What's all this stuff? Nikki: We've got a new friend, but we need to get her out of the box first. Clawdeen: Really? Let me help. Is it another cat? Emma: She's not a cat, but Laura says we need to be nice to her anyway. Laura: She's a mouse. The cutest one you've ever seen, if the photos are anything to go by. Clawdeen: Well, let's get her out, so we can see for ourselves.
Bobo 3
Nikki: They wrapped her in plastic? That's animal cruelty! Laura: Calm down. It's just the usual precaution. I'm sure she's fine. Bobo: Who's there? I can't see anything! Get this stuff away from me! Laura: We're doing our best. We'll get you out in no time.
Bobo 4
Bobo: Thanks. I feel much better now. - I'm Bobo. Who are you? Emma: I'm Emma and this is Nikki. The big ones are Laura and Clawdeen. Bobo: Nobody told me there would be cats. Laura: No need to worry. The girls are very nice. Aren't you? Nikki: Emma already told you we'll try.
Bobo 5
Laura: You can't go around naked. You need clothes. Clawdeen, any ideas? Clawdeen: I think Kelly's clothes might fit. I'll go and get them and we'll see. Nikki: Why don't you have any clothes? Bobo: This is how we come. I was a bit worried about the cold. They said it's freezing here, but it's quite warm. Emma: Of course it's warm indoors. We've got very good heating and it keeps the freezing cold outside. We rarely go outside. Actually, most of us never do.
Bobo 6
Clawdeen: I told Kelly about our problem and she gave these two dresses. Which one would you like to try on? Bobo: The one with flowers.
Bobo 7
Clawdeen: At least it fits. How do you like it? Bobo: I'd prefer something more colorful, but this certainly beats going around naked. Clawdeen: And then to the next question. What would you like us to call you? Bobo: What do you mean? Laura: We can call you Bobo, if you like, but you can also change your name to anything you wish. Some of us kept our original names, some altered the spelling a bit, and some chose an entirely different name. It's up to you. Bobo: Oh, I didn't know that. I'll have to think about it. I'll let you know, if I decide to change my name.
Bobo 8
Laura: So we'll call you Bobo for now. Are you ready for the party? Bobo: What party? Nikki: You weren't here for Christmas, so we're arranging a second Christmas party. Emma: We got you presents and there's a lot of food. Bobo: You didn't need to do that. Nikki: Uncle Schizo says it would be criminal to waste a good excuse to extend the Christmas celebrations. Bobo: Who's Uncle Schizo? Laura: You'll meet him and Icebat in a moment.
Bobo 9
Laura: Guys, this is Bobo. Bobo, this is Schizo. Don't worry about the way he looks. It's just a part of his profession. He's a performer, you see. And his friend is Icebat. Schizo: Nice to meet you. I saw the box, but then I was told to leave while the girls were getting you out of there. Bobo: Good thing too. I had no clothes on. It would have been so embarrassing. Icebat: Hi! I'm glad to meet someone closer to my size. The others are all so tall. Bobo: Are you saying I'm short? Well, I guess I am. Schizo: Where are Nikki and Emma? Laura: They will be here in a minute.
Bobo 10
Icebat: Here are your presents. Bobo: All these for me? You're so nice. I don't know what to say. Nikki: Go on, open them! I want to see what the others got you.
Bobo 11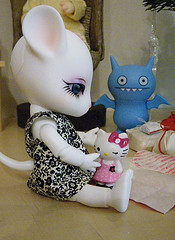 Nikki: That's from me. I hope you like dolls. Icebat: Of course you had to get her a cat doll. Nikki: What's wrong with that? Bobo: I think it's really pretty. Thank you.
Bobo 12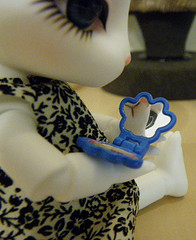 Bobo: Ooh! Makeup! I love makeup! Emma: It's the same brand that Nikki's mom uses. She's a fashion photographer, so she knows all the best brands. Icebat: More cat stuff. Bobo: You can't say that. Makeup is just makeup, no matter how it's packaged. Besides, there's nothing particularly feline about the paw shape. It's very stylish and suits everybody. Emma: Except perhaps Icebats. Icebat: We don't use makeup!
Bobo 13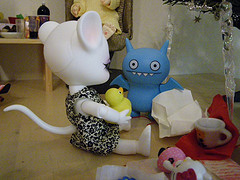 Bobo: Thank you for the mug, Laura. That bear picture is so cute. Laura: I saw it in the store window and I thought it was the cutest thing ever. Nikki: And is that one from Icebat? Icebat: Yes. I wasn't sure what to get, but then I remembered what grandma always said: If in doubt, get a rubber ducky. Everybody loves rubber duckies. Bobo: Your grandma was right. I love it.
Bobo 14
Schizo: I didn't know what your favorite is, so I got you some of mine. Of course, I'm not a mouse, so our tastes may be a bit different. Bobo: Mmmmm. It smells delicious. Just what I need after all that traveling. Icebat: I think that's our cue. Let's eat! I'm starving! Nikki: After everything you ate yesterday? Icebat: That was yesterday. Anyway, I need to keep in shape. Emma: You're not in shape, you're fat. Laura: Emma, that wasn't nice. Icebat: I'm not fat. I'm round and round is a shape.
Bobo 15
Laura: All right, let's eat! Schizo: The drinks in the back are just for us adults. You kids can have cola or juice. Bobo: The table is too high. Laura: Don't worry, we'll fix that right away.
Bobo 16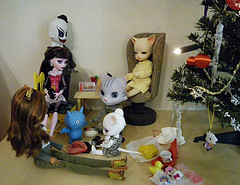 Clawdeen: I'm sorry I'm late. I didn't know that you were coming, Bobo, so I hadn't got a present for you. I hope you like the chocolates. Bobo: I love chocolate. And this is the best party ever. Laura: So, Nikki, what's this I hear about you wanting "just a little" drink? Nikki: What drink? You know I only drink cola. I'm not old enough to have that stuff you're drinking. Clawdeen: I hope you'll keep that in mind. Jet will ground you until you're 21, if she finds you drinking anything you shouldn't.
Jet 1
Laura: Later we'll get more help taking down the decorations, but we can start already. We'll put everything in the pram, so it'll be easy to take them to the storage. Bobo, I know you want to help, but you probably can't reach that many of the decorations. Try to get the low hanging ones, but be careful with the icicles, they are as tall as you.
Jet 2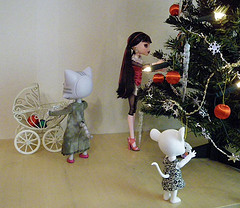 Nikki: So, who's coming to help us? Laura: Your mom for one. She's taller than me, so she can reach higher. Nikki: Who else? Laura: Frank and Harvey will come to take down the lights and then they'll take the tree away. Nikki: You mean they're finally going to meet? Great!
Jet 3
Bobo: Who are Frank and Harvey? Nikki: They're my mom's friends. Bobo: Are they cats too? Nikki: No, they are like Laura. Laura: Actually, not quite, but close. You'll see when they get here.
Jet 4
Jet: Hi, Laura. I see you're already half through. Laura: We removed everything we could reach. Bobo: Help, it's a giant cat! Laura: Calm down, Bobo. It's Nikki's mom, Jet. Everything is all right. Jet: I'm sorry, I didn't mean to scare your friend. Nikki, is this the one you told me about? Nikki: Yes. She wasn't that scared of me and Emma. I guess it's because you're so tall.
Jet 5
Jet: That's the last one. The guys will take down the lights. Nikki: Mom. Mom! Jet: What is it? Nikki: Let me do the introductions! Please! Jet: Sure, why not? You know them both. Nikki: This will be so good. Jet: I see. Well, at least they both have a sense of humor.
Jet 6
Jet: Bobo? Bobo: What? Jet: If you feel better hiding there, it's all right with me, but there is really no reason. I'm not sure, if this helps any, but I'd like to make it clear that I eat exclusively fish. Bobo: Why? Jet: I've got no intention of clogging my arteries. Fish is so much healthier than meat.
Jet 7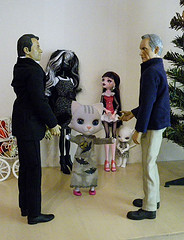 A little later: Nikki: Let me introduce you. Mr. White, meet Mr. Black. Mr. Black, meet Mr. White. Tee hee. Frank: No need to be so formal. I'm Frank. Harvey: I'm Harvey. - So, Nikki, how long had you been planning for that? Laura: You knew she was going to do that. Jet: I didn't know, but I thought she might. It had crossed my mind too.
Jet 8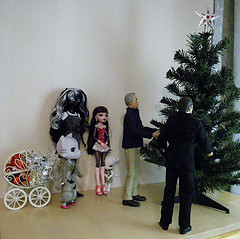 Frank: Okay, lights are down. Let's take the tree out. Harvey: Nikki, when we turn the tree horizontal, remove that star from the top. Nikki: Sure. I thought you'd be tall enough to take it down when the tree is standing. Frank: I guess we could, but it would be unnecessary work. Much easier this way. Harvey: Okay, everybody make sure you're out of the way. We're starting now.
Jet 9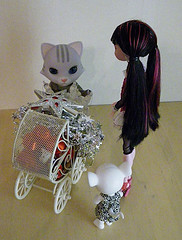 Laura: All done. Let's take these to the storage. Nikki: Any more stuff and the pram would have been too small. Laura: Well, everything fit in this time. We'll worry about next year when it comes. Bobo: What do you mean this time? Why wouldn't they fit in the pram next year? Laura: Because we add decorations every year, if we happen to find something nice.