Annie 1
Lana: Annie, why can't you wear something nice? Annie: There's nothing wrong with my clothes. They're clean and very comfortable. Lana: You know what I mean. Annie: Yeah, dresses. When are you going to understand that I'm not you? Lana: But you've got the looks for becoming a model or actress, or both. Annie: I don't want to. I'm going to be a doctor. Lana: *Sigh* I guess that's your father's idea. Annie: No, it isn't. It's my idea, but he promised to arrange the money somehow. I know you won't be giving me any.
Annie 2
Lana: All right, let's hear it. What kind of a doctor? Annie: I was thinking about surgery, but you can't know if you're up to it until you're far in your studies, so I've got a couple of other options too. I was thinking about emergency medicine or pathology. Lana: Oh dear. Well, let's hope you're good enough to become a surgeon. Plastic surgery is very profitable business. Annie: I am not going to have anything to do with rich and vain women who can't accept that they're getting old. If I become a surgeon, it is to save lives, not to make money.
Annie 3
Lana: If I was your father, instead of your mother, I'd have strong doubts whether you're mine in the first place. Annie: Who knows, maybe they switched babies at the hospital, and some really intelligent couple now has a bimbo daughter who wants to be a celebrity at any cost. Lana: Are you calling your father and me stupid? Annie: No, not dad. After all, he never married you.
Annie 4
A little later: Annie: Are you a model? You look awfully young. Eva: I wouldn't be a model, if I looked old. You? Annie: No. Eva: I didn't mean to offend. I just thought... well, you look like you could be and you're here... Annie: I'm here to see Jet. She's a friend. Eva: She's great. I wish she was my friend too.
Annie 5
Annie: So, how does it feel to be a clothes hanger? Eva: What? Oh, I see, yes, I suppose you could look at it like that. It's all right. It's a job, and it'll pay for my studies. Annie: Studies? Eva: Sure. I'm going to study physics, but we don't have that kind of money, so when I got discovered, it was like winning in the lottery. Annie: Physics?
Annie 6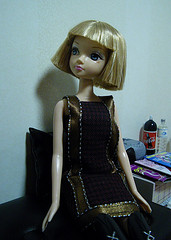 Eva: You sound surprised. Did you think this job is the best I can imagine? It's just a stepping stone. Although, if I become a super model, I might reconsider. Annie: You could become a super model physicist. I'm sure there aren't any yet. Eva: I need to go now, it's my turn next. By the way, I'm Eva. What's your name? Annie: Annie.
Annie 7
Later: Jet: Sorry you had to wait for so long. We were running a bit late today. Annie: That last girl... Eva. She said she's going to study physics. Jet: I know. Isn't it wonderful? She's got the looks and brains too. She'll go far. It won't be easy, though. Annie: Why not? Jet: Once you get to be known for your looks, people will always remember that. Transforming into something else isn't easy. It took me a long time to get behind the camera. Annie: Were you a model too? I had no idea. Jet: Not a model, child actress. Nothing you have seen. A soap opera long forgotten. Annie: I'd like to see what you were like then. Jet: Maybe one day, when I've had one drink too many. I have tapes somewhere. Annie: But you don't drink. Jet: I forgot. Your bad luck then. Somehow I always relate being drunk with watching that crap. Can't take it sober.
Annie 8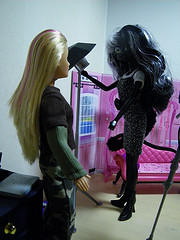 Jet: Enough about that. What did you really want to talk about? Annie: Jet, are you and dad going to get married? I know it's between you two, but it is my business too, at least a little. Jet: We haven't talked about anything like that. There's no need to worry. Annie: Worry? Oh no, I'm not worrying. What I mean is... well, if you want to marry dad, it's all right with me. Jet: Are you sure? I thought you hate what I do. Annie: You mean fashion business? I don't like it, but at least you're behind the camera. Jet: And what about what I am? Annie: Should it matter? You've got Nikki, so I suppose you wouldn't... Jet: No, I wouldn't. The only way I'm having more children is if I marry a feline. Annie: Why? Jet: It's very hard being a half-breed.
Annie 9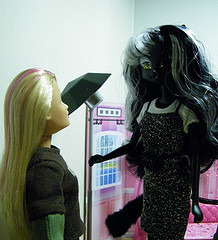 Annie: If you marry dad, can I move in with you? Jet: What would your mother say to that? Annie: She probably wouldn't even notice. Jet: Why do you hate her so much? Annie: She wants me to be like her. I don't get it. I could never become as big a star as she is or be as beautiful and elegant. Why does she want me to try? Jet: That kind of life makes her happy. Maybe she thinks it would make you happy too. Annie: I hate it. I don't want people following me around, asking stupid questions and shoving camera to my face. You get no privacy at all. Jet: Is that what your childhood was like? I understand now why you don't like our business. Annie: You're so much more sensible than mom. Jet: That's because you're not my responsibility. If you want the truth, ask Nikki.
Annie 10
Jet: Annie, what you said about not being as beautiful as your mother... Annie: What about it? Jet: Is that why you dress like that? Annie: Like what? Jet: Like a boy. You are pretty, and dresses would look very nice on you. Have you ever tried? Would you like to? All the others have gone already, so nobody will disturb us. You could try on some of the dresses we photographed today, and I could take some photos. Just for you, I wouldn't show them to anybody else. Especially not to your mother. Annie: Really?
Annie 11
Frank: You're working late. Annie: Dad! What are you doing here? Jet: Annie, I didn't know he was coming. Frank: What's the problem? If you want to take photos of Annie, it's fine by me. I know she doesn't want to become a model, so I assume they are for the family album. Annie: I'll go and change. Jet: All right. I'm sure we got enough good photos.
Annie 12
Frank: So what is the problem? Jet: Nobody was supposed to know. I managed to talk her into trying some dresses, just so she could see how she looks like in them. Frank: And why was nobody supposed to know? Ah, Lana. Trouble? Jet: She's pressuring Annie, and Annie's fighting back by dressing the way she does. What's the matter with Lana? Most mothers would be delighted to have a daughter intelligent enough to go to a medical school. I know I would be more than happy, if Nikki turned out that way. Frank: Lana sees the world a bit differently. Jet: She certainly does. Why doesn't Annie live with you? It would be better for her, I think. Frank: Lana didn't even want to consider it when I moved out. I've been thinking that maybe when Annie is 18...
Annie 13
Jet: She asked me today if we're going to get married and if she could move in with us if we do. Frank: What?! Jet: Don't tell her I told you. I just want you to understand how serious this is. You know, she is old enough to have a say on the matter. Frank: I guess I'll have to talk with Lana.
Annie 14
Some time later: Lana: And why would I agree to this? Frank: I was just thinking... you know she's been a bit difficult lately. Maybe if she lived with me, you two would get along better. Lana: Hmmm, you've got a point there. What if she starts making more trouble, if we show her that it's the way to get what she wants? Frank: She's not like that. She's simply unhappy. I'm not blaming you of anything, teenagers are like that. If the move would make her feel better, don't you think we should give it a try?
Annie 15
Lana: What's Jet going to say about it? Frank: Nothing. She and Annie get along all right. Annie talks to her about things. Lana: Why is it that children always talk to others, but not to their parents? Frank: Jet says it's quite normal. She says Nikki talks with Schizo about things she doesn't want to talk with her. Lana: Schizo? That man is not suitable company for minors. Frank: He can behave very appropriately when he chooses.
Annie 16
Lana: You and Jet are getting very close. Should I be expecting a wedding invitation in the not so distant future? Or am I not going to be invited? Frank: Lana... Lana: Don't worry, I'm going to be very civil about it all. Jet is surprisingly level-headed for a feline, and she has done a good job with Nikki. By the way, how do you get along with Nikki? You must realize that if she gets difficult, things might get complicated. Frank: We're fine. She still makes bad jokes about my last name, but that's a small price to pay.
Annie 17
Frank: To get back to the actual issue... Lana: All right, I guess you may be right for once. We'll try, but if things won't get any better, she'll move back in with me. Frank: It's a deal.