Photoshoot 1
Bobo: May I? Eva: Sure, there's plenty of room, but are you sure you're in the right place? Bobo: I'm not a model, if that's what you mean. I'm just here for test shots. I might get into an advertisement. But you are a real model, aren't you? Eva: Yes, but I haven't been doing it for very long.
Photoshoot 2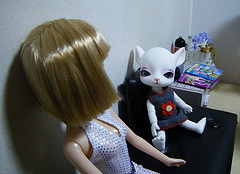 Bobo: I'm Bobo and my friend is Schizo. Eva: Nice to meet you. I'm Eva. So, how do you feel? Nervous? Bobo: A bit. I don't know what I'm supposed to do. Eva: All you need to do is to relax and follow the instructions. This is your very first photoshoot, so nobody expects you to know what to do. And everybody here is really nice and friendly, so there's no need to be scared of anything. Just have fun. Bobo: You make it sound so simple. Eva: It is. Trust me.
Photoshoot 3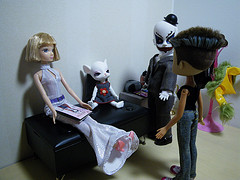 Dana: Are you Bobo? Come with me and we'll do your makeup. Bobo: Really? I get makeup done by a pro? Cool! Schizo: Are you doing the makeup today? Where's Francine? Dana: Jet thought that Bobo would probably feel more comfortable with a non-feline.
Photoshoot 4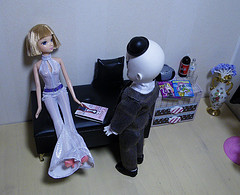 Schizo: Are you sure you're not a super model? Could have fooled me. Eva: I guess I could become a super model, but the competition is hard. Schizo: Just remember to stay as nice as you are now. I thought models are nasty to each other, but you were very nice to Bobo. Eva: I can be nice to her. We're never going to compete for the same jobs. - I hope she gets the job, she's very cute. How did she end up here? I'm sure there are non-feline fashion photographers.
Photoshoot 5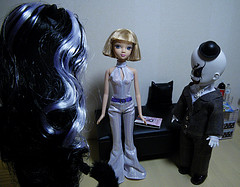 Schizo: Jet is my friend and Bobo's friend's mother. They met and she immediately thought of the ad campaign she'll be shooting soon. Now it's just a question of whether the company likes Bobo. Eva: Who wouldn't? They would be crazy not to use her. Jet: Eva, we're ready for you. Go in, I'll be with you in a minute. I'll just have a word with Schizo.
Photoshoot 6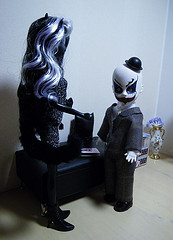 Jet: She's much too young for you. Keep your distance. Schizo: A woman can never be too young. Jet: Yes, she can. She's a minor. Schizo: What?! Can't be! With a body like that... Jet: I know. She's still 16. Remember to behave. Schizo: 16? Jet: You know girls start young in this business. Schizo: What's she doing here alone? Isn't she supposed to have someone with her? Jet: Her parents trust me. And I trust you won't spoil my good reputation.
Photoshoot 7
A little later: Jet: How's the dress? Bobo: It's perfect. Just the right size and so pretty. Jet: Good. Let's start then. Bobo: What should I do? I have no idea. Jet: Just get in the chair and make yourself comfortable. Bobo: Really? That's it? Jet: For starters, yes.
Photoshoot 8
Bobo: Like this? Jet: Yes. Now try even more relaxed. Imagine that you're going to take a little nap.
Photoshoot 9
Bobo: Is this good? Jet: Very good! Try turning around, on your stomach.
Photoshoot 10
Jet: Excellent! Bobo: You like it? Jet: Yes. Now keep that position, but turn towards me.
Photoshoot 11
Jet: Lift your head a bit. Great! You're really good at this. Bobo: Eva said all I need to do is to follow the instructions. Jet: And you're doing that very well. If only all models understood the instructions as well as you do. - A few more pictures. Hop on the handrest.
Photoshoot 12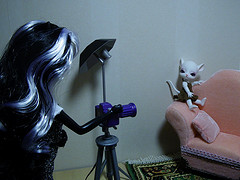 Bobo: Is this good? Jet: Very good! - All done now. You did very well. Bobo: Really? Jet: Yes. If it was up to me, I'd choose you right away, but we need to wait to hear what the company says about your photos. I'm sure they'll like them, but that's not always enough. Bobo: It's all right, even if I don't get the job. It was fun. Eva said it would be, but I wasn't sure, because I was so nervous at first.
Photoshoot 13
Eva: I was watching you. You were good. How do you feel? Bobo: I was afraid that I wouldn't do things right, but it wasn't at all hard like I thought it would be. Eva: The key is in listening what the photographer wants you to do. You may have your own ideas, in fact, when you've been doing the job for some time you're expected to have them, but the photographer is the one ultimately calling the shots.
Photoshoot 14
Schizo: So, Jet, I take it you're happy with her. Jet: Very happy. I was expecting a lot of problems, but she's natural. And she looks good from any angle. Schizo: It's hard not to look good when you're that cute. - Eva sounds like a pro. I thought she hasn't been doing this for a long time. Jet: She hasn't, but she's a fast learner. I guess I forgot to mention that she's also much too intelligent for you.
Photoshoot 15
Later: Annie: What are you doing? Jet: Testing the chair. It was supposed to be just a prop, but I think we'll keep it. - How are you feeling today? Annie: Great! Thanks, Jet. Jet: For what? Annie: Mom and dad had a talk, and mom is letting me move in with dad. Jet: And why are you thanking me for that? Annie: I know you did it. You talked with dad. Don't try to deny it. Jet: All right, I did. I hope you can appreciate the fact that they had a calm and rational conversation and made a decision they thought was best for you. Will you promise me that you will start treating your mother better? Annie: I'll have to. They said that if I don't start behaving, I'll have to move back to live with mom.
Photoshoot 16
Nikki: Mom? Why aren't you ready? Jet: Ready for what? Oh, sorry, I forgot. I'll go and get my things. Don't worry, there's plenty of time, we won't be late. Annie: Where are you going? Nikki: Uncle Harvey's party. Well, not really a party, it's sort of more official. He's getting a medal. He says he just did his duty, but the newspaper article used words like "exceptional bravery," so it must have been more than that. Annie: Must have, you don't get a medal just for doing your job.
Photoshoot 17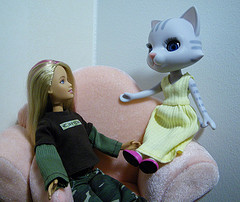 Annie: Nikki, who is uncle Harvey exactly? Nikki: He was dad's best friend. They were together in a war, and they drove a tank and blew up stuff. Harvey can drive anything with wheels. Although, I think a tank doesn't have wheels like a car. Anyway, he's really good with all technical stuff. Annie: Is he in love with your mom? Nikki: Of course not, he just promised dad he'd look after us. Mom and dad divorced long before dad went away, so there's really no need, but Harvey says a promise is a promise. He's really nice. And I think he couldn't be in love with mom... Can you keep a secret? Annie: Of course. Is it about him? Nikki: Yes. I heard something... somebody said he doesn't like girls. He likes us, so I think it means that he doesn't like girls the way your dad likes my mom. Shhh... mom's coming back. Remember, it's a secret. Annie: I won't say a word to anybody.