Harvey 1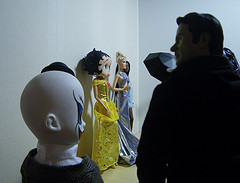 Schizo: I guess you think it's a secret. I can see it miles away. Harvey: See what? Schizo: Don't worry, I've got nothing against you guys. The more of you there are, the more girls there are for me. Harvey: You guys? What's that supposed to mean? Schizo: You know perfectly well. Is that why Nikki's father was your best friend? Because male felines are exclusively attracted to their own kind and don't freak out? Harvey: We had been friends since we were kids. Nothing that came afterwards could change that. Schizo: Have you ever wondered why they're like that? I have. Is it to prevent inter-breeding? So why are females often attracted to other species? Is it because males will always sleep around without thinking about consequences whereas females plan carefully when to have babies and with whom? Harvey: You seem to know a lot about felines. Schizo: I know a lot about people.
Harvey 2
Schizo: Ladies, would you be interested in a dinner or drinks or both? I got a lucky break at the races, so I'm buying. Betty: You shouldn't spend it all at once. Schizo: That's what I always do. It's either drinking it all or treating you to a fabulous dinner. Come on, you'd be doing my liver a huge favor. Daria: And it doesn't hurt that you'll be the envy of all the guys in the restaurant. Schizo: Of course not. You can actually see their brains getting into twists as they try to figure out how I do it. Claudia: All right, we'll come.
Harvey 3
Jet: Put the chair in the corner. Harvey: Jet, that man is strange. Jet: Schizo? He is unusual, but he's really a decent guy. He just likes women, all kinds of women, although he does prefer models. Harvey: Do women like him? And if they do, why? Jet: He's funny and he can behave very well when he wants to. Harvey: I find that hard to believe. Jet: Did he say something to you? Harvey: He said "I can see it miles away." Jet: Oh. As I said, "when he wants to."
Harvey 4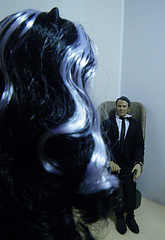 Harvey: I don't understand why you let Nikki spend time with a guy like that. Jet: Schizo knows perfectly well what you can tell children, and children need other adults in addition to their parents. You're a good substitute for her father, but it's not enough. Harvey: Why not Frank? Jet: They're not that close. At least, not yet, although I doubt they ever will be. Frank is so different from John. He's so serious and not at all into pranks and hair-raising stunts. Harvey: Maybe it's a good thing, you know, a calming effect. Jet: If it's calming she needs, maybe you should tone down a bit the stories you tell her about yours and John's adventures. Don't worry, I'm not blaming you, she needs to know what her father was like, and you know a side of him that I was never comfortable with. I'm just asking you not to encourage that side of her too much.
Cleo 1
Francine: Hello, girls! I take it you're not looking for me. Nikki: Mom said we could come, if you say it's okay. Cleo: Mom? Francine: Jet. This is Nikki and her little friend is... Bobo? Is that right? Bobo: Yes. - You're Cleo. I've seen you on TV. Cleo: That's right. Are you a fan? Nikki: We both are. Girls at school didn't believe me when I told them you'd be here, but mom said you would and I just wanted to see you. Cleo: No problem. Here I am.
Cleo 2
Cleo: So, now you've seen me. What do you think? Nikki: You look even better than in TV. Cleo: Thank you. Bobo: I love your shoes. They're so bright and shiny and I love the color. Cleo: And they also make me a lot taller. Bobo: Isn't it difficult to walk with them? Aren't you worried that you might fall? Cleo: All it takes is a little practice, although I wouldn't recommend you to try. Your legs are much too short.
Cleo 3
Cleo: Well, Nikki, how are you going to prove to your friends that you really met me? Nikki: I don't know. Could I get an autograph or something? Cleo: Anyone could have an autograph someone else got for them. Don't you think you need something more tangible? Tell you what, you go and wait for me outside, and before we start the photoshoot, your mom can take a picture of us three together. That should be proof enough. Nikki: Really? You'd really do that? Cleo: Of course. Run along now, I need to get ready.
Cleo 4
Francine: That's really nice of you. Cleo: Little girls are my biggest fans. One extra photo won't take long, but it's good publicity. They'll tell all of their friends how great I am. Francine: That sounds a bit cynical, but you're not fooling me, you are nice. Cleo: I guess you can see through me. Don't tell anyone. Adults are not supposed to think I'm nice. Francine: I see. It must be hard. Cleo: What? Francine: Causing just the right amount of resistance in parents. Enough to make kids like you, but not too much for parents to stop buying your records for them. Cleo: Who's cynical now?
Frankie 1
Jet: I'm going to be completely honest with you. It may sound harsh, but I don't want to lie to you. Frankie: I guess I already know, but go ahead, I can take it. Jet: You can never become a model. Not when there are so many girls with flawless skin or so close to it that the photos only need a little work afterwards. Frankie: Yeah, I knew it, but I had to ask. Jet: I understand. - I hope you also know that you look fine. It's just that beauty as a profession has special demands very few can fulfill. Frankie: Don't worry, I'm not going to try something stupid like plastic surgery. I've had enough of that sort for a lifetime.
Frankie 2
Jet: If you're interested in getting to know other jobs in the business, we do need a part-time assistant. The last one left in a hurry after realizing she can't cope with a room full of felines. Frankie: And what's the problem with that? Jet: That's the right attitude. The job isn't anything glamorous, mostly arranging clothes and props, running errands, cleaning up the place, and listening to models bitch and moan. Frankie: Sounds all right. Well, not the last part, but I guess you get used to it. Jet: You do. Believe me, you do.
Frankie 3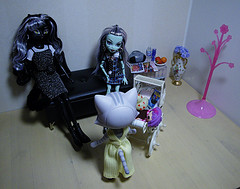 Nikki: Hi mom! Who's this? Jet: Nikki, try to be more polite. Frankie, this is my daughter Nikki. Nikki, this is Frankie, our new assistant. She'll be replacing Maggie. Nikki: The one who freaked out? Frankie: Freaked out? I thought you said... Jet: Nikki is exaggerating. Like I said, Maggie just couldn't cope with too many felines. Nikki: She got all hysterical when she met aunt Kate. I guess she didn't know that all felines are not cute. Frankie: Aunt Kate? Jet: My friend. She's... quite formidable, especially if you're not used to felines. Frankie: Really? I'd love to meet her.
Frankie 4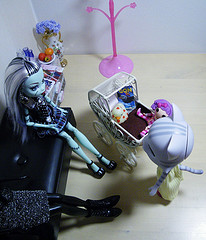 Jet: Nikki, what have I said about that pram? Nikki: It won't be in the way. I don't want to take it upstairs yet. We're going out later. Jet: We? Nikki: Lala and me. I promised I'd take her sightseeing. Jet: Nikki, she's just a doll... Oh, all right, but then it goes upstairs. Frankie: What's upstairs? Or shouldn't I ask? Nikki: We live there. Do you want to see? I can show you. Frankie: Sure, I'd love to, but... Jet? Jet: It's all right. There's nothing too secret there, just keep out of my bedroom. Nikki: We will. Come on, Frankie!
Frankie 5
A little later: Lala: Psst! Hey you, down there! Icebat: What? Who...? Lala: Up here! Icebat: Oh, hi! Lala: Who brought you here? Icebat: Nobody. I came by myself. You see, I perform with a friend and we need some promo shots... Lala: You're not a toy? Oops!
Frankie 6
Icebat: Hey! Talk to me! You're really rude, clamming up like that. You spoke to me first. Schizo: Talking to yourself? Icebat: Of course not. I'm talking to her. First she talked to me, and then she suddenly became mute. Schizo: Her? Icebat: In there. Schizo: Oh. I see. I guess you understand that you're talking about a doll. Toys don't speak, at least none I have seen so far.
Frankie 7
Icebat: But she was talking to me, and then she said "You're not a toy? Oops!" and clammed up. Schizo: Nice story. I'm sure Nikki will love it. Icebat: It's not a story, it's true! She was talking! Schizo: Whatever you say. Come on, Jet is waiting.
Frankie 8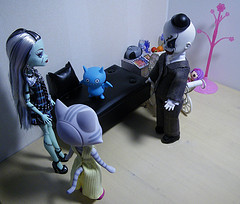 Later: Nikki: Did mom take photos of you? Icebat: Yes. She said I'm very photogenic. Schizo: Don't let it get into your head. She probably says it to anybody who's paying enough. Nikki: No, she doesn't. She may say "nice" or "very good" or stuff like that to make you feel better, but if she says anything more, she really means it. Schizo: Nikki, aren't you going to introduce your friend?
Frankie 9
Nikki: She's actually mom's new assistant. Frankie: I'm Frankie, and I haven't started yet. Nikki was showing me around, so I'll know where everything is. Schizo: I'm Schizo, and the small blue guy is Icebat. Icebat: You don't need to always mention that I'm small. I'm sure Frankie can see that. - It's nice to meet you, Frankie. I thought you might be a model. Frankie: No, not me.
Frankie 10
Schizo: Nikki, Icebat told me a funny story when I got here... Icebat: It wasn't a story! She did speak! Nikki: Who? Schizo: Apparently he thinks that doll of yours can speak. Nikki: Lala? Well of course she can. Why wouldn't she? Icebat: See? What did I say? Schizo: I give up.