May 1st - 1
Nikki: Uncle Schizo! Are you all right? Are you sick? Should I get mom? Schizo: Ow ow ow! Keep your voice down, will you? No, no need to get Jet. I'm fine. Nikki: You've been drinking again. Schizo: Sure. Haven't you heard that it's a bad sign to not drink on the eve of May 1st? "No hangover on May 1st means a dry summer." That's a really bad thing. Had to ensure it won't happen. Nikki: You're talking silly again. Schizo: Take it as you like. So, what's the problem this time? You were looking for me. Nikki: Lala and I found something. I thought you should take a look, but I'm not so sure anymore... Schizo: All right, let's go and have a look.
May 1st - 2
Nikki: I left Lala to keep an eye on it. Schizo: Hi Lala! Lala: Hello, uncle Schizo! Schizo: Oh, you can talk after all. Whoa! How did you get that big? Nikki: Never mind that now. That's what I was talking about. Schizo: What the...?! Oh dear, where did that come from? Ooh, I think I'm in love...
May 1st - 3
Schizo: Hey! What happened? Where did it go? Come back! Nikki: It did that once before. That's why I came to get you. Schizo: What's going on here? Lala: Ask Nikki, it's her dream.
Combining his favorites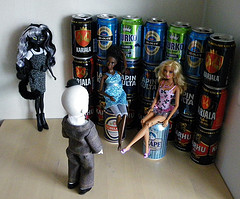 Schizo: If this is another dream, I'm going to cry. Jet: Schizo, I suppose I should have guessed. Who told you about this photo shoot? Was it Nikki? Schizo: Are you saying this isn't a dream? Jet: Dream? Of course not, whatever made you think so?
Sword Fight 1
Frankie: Girls! What are you doing?! Nikki: What does it look like? Sword fighting! We saw Kill Bill and it looked really cool, so we wanted to try. Emma: We're not really fighting, just playing. Frankie: Thank goodness for that. How did you manage to see the movie? You're much too young. Nikki: We borrowed the DVDs from uncle Schizo. He loves it. He says it's his favorite after something called "Faster Pussycat," but he didn't tell us what that was about. Cats, I suppose. Frankie: And he let you borrow the DVDs? I thought he had a bit more sense. Emma: Well, he didn't actually know we borrowed them...
Sword Fight 2
Frankie: All right, first things first. Give me the swords. Where did you "borrow" them? Nikki: Mom's prop storage. Frankie: You know you're not supposed to go there. Besides, they used samurai swords in the movie. A regular sword and a light sabre is stretching it a bit. Emma: There wasn't anything better in there. Anyway, it's just make believe. Frankie: Good, then you can make believe with broom sticks. Very carefully.
Sword Fight 3
Frankie: I'm glad to see there's at least one with a bit more sense. My name is Frankie. Who are you? Bobo: I'm Bobo. Nikki said I'm too small, so I should just sit here with Lala and watch. Frankie: And did you see the movie too? Bobo: No, I don't care about action movies. I like movies like "Ratatouille" and "Stuart Little." Frankie: Much more suitable for you. Bobo: And of course "The Seventh Seal," although it's not directly about us.
Too Hot 1
Ghoulia: What's going on here? Why aren't you wearing any clothes? Bobo: It's too hot! Besides, we're... ants? No, not ants. What was that word? Emma: Anthros. Bobo: That's right. And because we're ant... well, that thing she just said, it means that clothes are optional.
Too Hot 2
Bobo: Why are you called Ghoulia? It's a scary name. Ghoulia: Is it? It's my original name. Bobo: I was told that you can change it, if you want. I've always been Bobo, because I like the name, but you could call yourself something else. Emma: I changed mine. Ghoulia: I see. Any suggestions? Bobo: How about Gina? Giselle? Emma: Gabrielle? Gloria? Gwendolyn? Ghoulia: Hmmm, Gwendolyn sounds nice, but it's a bit too long. Maybe just Gwen. Bobo: Gwen is just perfect.
Albino Club 1
Schizo: Welcome to the Albino Club. Bunny: None you are albinos and neither am I. Schizo: I know, but for some reason people got terribly offended by the word "white" in the club name. After we adopted our new name, everybody praised us for fighting for the rights of a minority. Bunny: I see. So, what do you do? Eggzorcist: Have parties, mostly. We also raise money for charity, the charity being parties for those who never get invited to any other parties.
Albino Club 2
Bunny: Are you a member too? I mean, you're not... Gwen: White? Or albino as the club name says. I'm still a member, because I'm good at organizing parties. And of course the charity thing was my idea. Bunny: The parties? Are they popular? Max: Very popular. Schizo says we're responsible for so many weddings that we should start a dating service.
Albino Club 3
Bunny: You're not a real rabbit. I thought the wannabe stuff was just for fake felines. Eggzorcist: Oh, I don't want to be a rabbit, just dress as one. It's so funny how it confuses people. You should see what happens when I enter a canine bar.