Discussions 1
Harvey: You got it right, but it's not a secret anymore. Nikki: Why not? Harvey: Because I've got a different job now and nobody minds. I can be myself now. Nikki: Weren't you yourself before? Who were you then? Harvey: I wasn't another person, if that's what you mean. I just couldn't let people know what I'm really like. You see, people in my previous job wouldn't have liked me, if they had known about it. Nikki: That's silly. What do girlfriends and boyfriends have to do with if people like you or not? I'd like you even if you had both. Harvey: Hahaha! You know, your dad said the same thing to me a long time ago. Not with the same words, but the same sentiment. Nikki: Uncle Harvey, are you ever going to have children? Harvey: Probably not. It's a bit complicated. Nikki: You don't need to get married to have children. Lots of people have children without being married.
Discussions 2
Harvey: My situation is different. Like I said, it's complicated. You shouldn't worry about it. Besides... Oh, hi Annie! Annie: There are some ladies out there asking for Harvey. One of them is Topaz. Harvey: All right. As soon as Nikki and I have finished our discussion. Annie: You know, most of the guys I know, if told that Topaz wanted to see them, would already be on their way. Come to think of it, most girls too. Harvey: Topaz won't be standing around waiting for me. She just wanted me to know she's here, so I can go and find her when I have time. Annie: And chatting with Nikki in the kitchen is more important? You really have strange priorities. Harvey: Nikki, would you go and tell Topaz I'll be right there? I just want to have a word with Annie first.
Discussions 3
Annie: What did I say? Harvey: Talking with Nikki is very high on my list of priorities. Just because she's a child doesn't make her less important than the glamorous women out there. How would you feel to be dissed, because you don't even bother to dress properly for a party? Annie: I... I'm sorry. I didn't think... Harvey: It's not me you need to apologize to. Annie: What were you and Nikki talking about? Harvey: If I'm ever going to have children. Annie: Why would you talk about something like that with her? Harvey: She asked me.
Discussions 4
Harvey: I guess I better join the party or everyone will start wondering why I keep hiding in the kitchen. Annie: Could you take one of those bottles there? Jet asked me to get it. - Can I ask you something? Why are all the women asking for you? I thought you're... I mean, Nikki said you don't... Harvey: That I'm not interested in women? You don't need to in order to be good company. Besides, Topaz and I have known each other since we were children. Annie: Really? You must tell me what she was like before she became a big star! Harvey: Some other time. Or you could try asking her yourself.
Discussions 5
Later: Topaz: What are you doing all alone in the kitchen? Annie: I'm not properly dressed for a party. Topaz: So what? In your age and with a face like that, nobody cares what you're wearing. Stop sulking and join the party! That's an order, and when I give orders, people obey. Is that clear? Annie: I guess so. - Did you really know Harvey when you were both kids? Topaz: Of course. We went to school together. Then later he and John decided to play war games and joined the army, and we lost contact for a long time.
Discussions 6
Annie: John? Topaz: Nikki's father. - In the end, the war games became a bit too real and they were shipped off to some war where we had no business to be in the first place. Don't tell Harvey I said that. He knows how I feel, so we don't talk about it. It was such a waste. Annie: You don't like the army? Topaz: How could I? John never came back from that last assignment. Annie: It sounds like you knew him well. Topaz: Of course I did, he was my boyfriend for a while. Annie: Does Jet know? Topaz: Sure. When we first met, I was with John. Then I dumped him and started pursuing my career, and he started pursuing Jet.
Discussions 7
Annie: Why are you telling me all this? Topaz: Jet says you're practically part of the family, and you're old enough to understand. Nikki doesn't know everything yet, because it's too complicated, but we'll tell her some day. Besides, none of what I just told is exactly a secret. It's all been dug up and twisted horribly in articles published in trashy magazines. I'm surprised you haven't seen any of those. Anyway, I'd rather let you have the true version. And that includes the fact that Jet and I were always friends, we never fought over John, no matter what some idiot journalist has written. Annie: You're nice. I thought, you know, as you're a really big star... Topaz: That I'd be a total bitch? I can be when needed, because it gets things done, but today is my day off. - Come on, time to join the others!
Discussions 8
Frankie: Is that a designer dress? Eva: Yes, it is. Isn't it great? Of course it's not mine, I just have it on loan for the party. It's a bit much, but Felipe said that I must take it. I told him that it's just a party for Jet's friends, not a celebrity thing. You know what he said? "Darling, Jet's friends are celebrities." Frankie: He certainly got that right. The total salaries of the people here tonight probably exceed the budget of a small country. - I thought you're not allowed to go to parties like this. Eva: This is different, because it's Jet's party and Harvey has promised to take me and a couple of other girls home at midnight. And dad likes Harvey. Frankie: I didn't know they have met. Eva: It was when mom and dad were here, meeting Jet. It turns out that dad and Harvey were both deployed in the same place a long time ago, although not at the same time. Frankie: I didn't know your dad's been in the army. Eva: The judge told him it was either that or jail.
Discussions 9
Eva: ...and he says he got to his senses in the army and stopped doing all the stupid stuff... Lagoona: Oh, sorry, wrong door. I'm looking for the bathroom. Frankie: It's the second door on the left. Eva: Hey, aren't you... the perfume girl? Lagoona: The new face of the Mermaid perfume? That's right. Eva: You're lucky. Everybody will know you before long. Lagoona: Isn't it great? It's my first major contract. I think that's why I got it. They wanted a new face that hasn't been seen in every other advertisement already. - Isn't that one of Felipe's dresses? You're lucky too! Eva: It's not mine, it's just on loan. Lagoona: We must talk more later, but I really need to go now.
Discussions 10
Nikki: Frankie, mom's asking why you're taking so long. Frankie: Sorry, I was talking with Eva. I'll be right there. Nikki: Was that the perfume girl going into the bathroom? Eva: Yes, it was. Nikki: She's got those funny things on her arms and legs. Frankie: I hope you're not going to tell her you think they're funny. Nikki: Of course not! I'm not stupid! Eva: I think they wanted more than just a new face. Nikki: What do you mean? Frankie: Nothing. Let's go!
Discussions 11
Topaz: You were a bit harsh on Annie, you know. Harvey: She's tough, she can take it. Topaz: It's never a good idea to comment a teenager's looks negatively, no matter how tough the teenager appears to be. Besides, if those two are going to live in the same household, they'll need to learn to cope with each other. Even if it means a few unkind words here and there. Harvey: All right, all right! Topaz: Have you ever thought how insufferable Nikki could be, if she was the kind of child who knows how to exploit your weakness? Harvey: You think it's weakness, but I'm only looking after her. And what made you an expert on child rearing all of a sudden? The last time I checked, you didn't have any of your own. Topaz: No, but I was that kind of a child.
Discussions 12
Maria: ...and then I told him that if he puts that inanity in the movie, he must remove my name from the list of technical advisors or I'll sue him. I don't want to be connected to that sort of stupidity in any way. Jet: Was it that bad? Maria: Worse. There's this scene where they're going to put a rookie alone into a crime scene before a SWAT team has secured it, because "the SWAT team will ruin the evidence." A rookie! With no forensic training! Really! Jet: I'm no expert, but that does sound stupid to me. Maria: Of course it does. Sounds stupid to anyone except that director who wants to give the pretty actress playing the rookie maximum screen time to ensure that people will go and see that drivel.
Discussions 13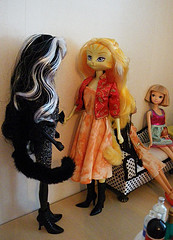 Jet: I don't see see the point. I mean, there must be at least some sort of explanation... Maria: Oh, there is. You see, this rookie helps an outside consultant who's brought in because the real cops are too stupid to handle a serial killer case. She acts as his eyes on the crime scene as he can't get there, because he's paralyzed. Jet: It's all a bit far fetched, isn't it? Maria: Of course it is, but writers have a tendency to romanticize serial killers and make them look like some evil geniouses when in fact most of them are pathetic losers, whose mommy didn't love them enough and now they are taking it out on total strangers instead of forgetting their stupid mothers and doing something constructive with their lives. And of course you always need to have some outside genius to catch them, because, after all, what do cops know about catching killers?
Discussions 14
Lagoona: Aren't you a bit young to be up this late? Nikki: Mom always lets me stay up late when she has a party. Lagoona: Jet's your mom? Nikki: Didn't you know? Everybody knows that. Lagoona: I guess I'm too new here. But now I know. So, are you going to be a model too some day? Nikki: Mom wouldn't let me. She says it's much better not to be a celebrity. You know, people leave you alone and you can do what you want. Besides, I don't think I'd want to be a model, because they are dieting all the time. Lagoona: You don't need to, if you make sure you don't gain the weight in the first place. Nikki: I guess so, but I want to eat properly. Lagoona: That is a good idea in your age. Although, I'm sure you know that the feline diet is one of the best ways to lose extra weight and keep it off.
Discussions 15
Lagoona: All feline women I've seen have had the perfect figure. Just look at Topaz and your mother and that lady she's talking to. By the way, do you know who that is? A movie star? Nikki: No, she's the Captain. Lagoona: Military? Nikki: A police captain. Lagoona: Really? With looks like that? Must be a tough one. Nikki: I heard she once caught a really bad guy all by herself without a gun. Of course, he wasn't a feline, so it's not that big deal. They say he needed a lot of stitches afterwards.