Discussions 16
Annie: Nikki, can we talk? Nikki: Sure. This is Lagoona, she's in those perfume ads. Lagoona, this is Annie. She's my almost sister. Lagoona: I've never heard that one before. What does it mean? Annie: That my dad and Nikki's mom are dating and probably will get married one day. Lagoona: Really? I thought felines don't... Nikki: Mom's not going to have a baby, so she can marry Frank, if she wants to. Annie: Too much information, Nikki. Lagoona: You can sit here. I'm going to get myself a drink and look around a bit.
Discussions 17
Nikki: What did you want to talk about? Annie: Nikki... about what I said earlier. You know, about Harvey talking with you. I didn't mean that it's not important. Nikki: I know. You meant that uncle Harvey can talk with me any time, but auntie Topaz isn't here that often. Annie: Is that what Harvey told you? Nikki: No. I figured it out all by myself. Annie: Very clever, that's exactly what I meant.
Discussions 18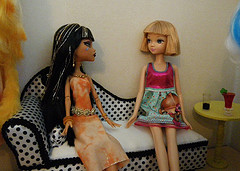 Cleo: Physics, huh? I could never figure that stuff out. I finally got a passing grade just so the teacher could get rid of me. Eva: It's mostly theory and I'm sure you'll never have any need of it. You already have a fabulous career. Cleo: That's true. I never wanted to do anything else than sing. Eva: I can believe that. With voice like yours... I love your latest single. Do you really write all your songs yourself? Cleo: Yes. The record company tried to make me sing other songs, but it just didn't work. I sing about things I know and it makes all the difference.
Discussions 19
Cleo: So, being a model and studying physics, how often do you hear bad jokes about the string theory? Eva: What? Oh... not very often. I'm too young for bikini and underwear shoots anyway. At least that's what Jet says. I've been asked, but I'm not comfortable with the idea. Cleo: I'm sure you've got lots of time for those later. Besides, if you really want that other career, it might be a good idea to retain credibility by not getting into that kind of photos. Eva: I hadn't thought of it that way. I need to think about it.
Discussions 20
Cleo: Photos like that have a tendency to pop up at the most unexpected times and it can be embarrassing, even with the relatively tame stuff, let alone some video recorded in the bedroom with your boyfriend. Eva: I don't understand why people do that. Cleo: Neither do I. All those dimwits who let their boyfriends record a sex tape and then get all hysterical when the boyfriend sells it to the highest bidder when the relationship is over. Men can't be trusted in that sort of things, especially if there's money involved. Eva: And even if it's not worth money, what if the boyfriend gets really mad and puts it in the internet just for revenge? Cleo: Exactly!
Discussions 21
Later: Frankie: I saw you talking with Lagoona. I hope you were nice. Nikki: Of course, why did you think I wasn't? Frankie: Just checking. Nikki: Mom says I can think what I want, she says it's called freedom of thought, but she says it doesn't mean you can hurt other people's feelings on purpose. Frankie: I see. So you understand freedom of speech as well? Nikki: Mom says that's about ideas, not about making nasty comments about other people. You know, like auntie Topaz doesn't like the army and war and stuff and she can say it and the army can't do anything about it, but she never says anything bad about dad or uncle Harvey and she's never mean to the soldiers who want to have their picture taken with her.
Discussions 22
Nikki: I asked her once how she can like them and not like the army, and she said: "They're just kids, they don't know better." - But she can be really nasty sometimes. Is being a general a big deal? Frankie: Certainly. Why do you ask? Nikki: Mom and auntie Topaz were introduced to a general at some party. When mom got home, she told uncle Harvey, "She was really rude." And uncle Harvey asked, "Regular rude or the iceberg mode?" Frankie: *snigger* Uh... Nikki, you shouldn't eavesdrop. It's not nice. Nikki: I wasn't eavesdropping. I sort of heard it accidentally, because I had to go to the bathroom.
Discussions 23
Topaz: And I wasn't eavesdropping either. After all, this is a party and you can't expect not to be overheard. Nikki: Oh, auntie Topaz... Topaz: Iceberg mode, huh? Nikki: I'm sure uncle Harvey didn't mean anything bad... Topaz: Relax, everything is fine. I just hadn't heard it described that way before. Frankie: Would it be inappropriate, if I asked what you said to the general? Topaz: Not at all, but I couldn't answer that with Nikki in the hearing range. Ask me later.
Discussions 24
Maria: You're right. It's never easy for a woman to rise this high in the rank. Lagoona: And being good looking is also a disadvantage? Maria: Certainly. The old notion that good looking women can't be smart hasn't gone anywhere. Lagoona: I suppose I have it easy as all I need to do is look good. Maria: That can't be too easy either. I hope you're being careful. There are some bad people out there, and you will probably need to work with some of them. Lagoona: Jet is nice. Maria: Yes, she's one of the best. If you're ever unsure of somebody or have a bad feeling about them, ask Jet. She knows most legit photographers working in this city.
Discussions 25
Officer: Captain, sorry to ruin your evening... Maria: What is it? Officer: We've got another... uh, I mean, you're needed on a crime scene. Maria: All right, I'm coming. - Lagoona, it was nice talking with you, but I need to go now. Lagoona: Another what? Or shouldn't I ask? Maria: You don't want to know. Or if you do, just watch the news. At least I'll look good on TV this time. Last time I came directly from hunting and wasn't very presentable, especially as the jeep got stuck in the mud. - Would you tell Jet that I had to leave? Lagoona: Of course. I suppose she's used to you leaving in a hurry. Maria: Yes, she is.
Discussions 26
Lagoona: Isn't she great? Topaz: The perfect role model for little girls. Nikki: I want to be like her when I grow up. Topaz: Before you do that, remember that she deals with dead bodies. Nikki: Ewww! Frankie: What do you think the officer meant with "we've got another?" She was going to say something more. Nikki: Let's go and check the news. Maybe they already know. Topaz: Nikki, I'm not sure that's a good idea. They don't bother the Captain on her free night with minor crimes. It's probably something quite nasty. Frankie: I'll go and check.
Discussions 27
Nikki: I want to see! Frankie: I'm not sure what your mom would think about that... Nikki: It's not a bad movie, it's news. I can watch news! Lagoona: Bad movie? Nikki: Mom won't let me watch movies where people do bad stuff, like shoot others and blow things up. Lagoona: You know, news are often very much like that, only it's all real, which makes it even worse.
Discussions 28
Nikki: Is that it? Frankie: Probably. Looks serious. Lagoona: Shhh, listen! Newsreader: ...sources say that the murder resembles the one that took place only last week. The police have not confirmed this, and we are waiting for more information as the investigation continues. Our reporter is on the scene...
Discussions 29
Reporter: Detective... Detective! I'm from Channel 3 news. Can you confirm... Wolf: No comment. Reporter: But this murder looks a lot like the one last week, doesn't it? Wolf: No comment. You will have to wait for the Captain, just like everyone else. Now, if you'll excuse me, I have work to do.
Discussions 30
Jet: What's going on? Lagoona: Oh, the Captain had to leave, and she said we should watch the news, if we want to know why. Jet: And what's Nikki doing here? Nikki: Mom, it's not a bad movie! It's news! Jet: Yes, Channel 3 news. Remember what I have said about that garbage? I think it's too long past your bedtime already. Nikki: But mom... Jet: No buts, you've been up long enough. Time for bed! Frankie: I'm sorry, I... Jet: It's not your fault. Nikki knows the rules. It's her choice, if she breaks them.