The Crime 1
Maria: Nice shoes! Where did you come from? Helen: I had a date. Why can't these things happen at decent hours? Mike's starting to get annoyed at interrupted dates. He says he doesn't like playing second fiddle to dead bodies. Maria: I guess he didn't imagine it would be like this when you told him you're a doctor. Helen: Yeah, he says a doctor should be healing living people, not poking dead ones. Maria: Sounds like he's not a keeper. Helen: Let's not talk about him. - I thought you were supposed to be at Jet's party tonight. Maria: I was. I changed clothes before coming here. A party dress doesn't really improve a captain's credibility on a murder scene. Helen: But last week... Maria: Showing up in hunting gear and covered in mud is an entirely different thing.
The Crime 2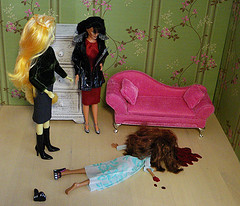 Maria: What can you tell about this? Helen: She's been dead a few hours. I can give a better estimate of the time of death after the post mortem. Maria: How did she die? Helen: Multiple stab wounds. And a hit in the head, but that probably wasn't hard enough to kill, just to stun. Maria: Okay, Wolf will take care of the details as soon as you have them. Helen: I'll do the post mortem first thing in the morning. Now I've got some damage control to do with Mike. Maria: Wouldn't it be easier to date someone who understands your job? Helen: You mean a cop? When I can have a banker? I don't think so.
The Crime 3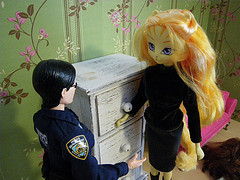 Maria: Who lives here? Officer: The victim, her name is Angela. Belle, a nurse who came from work at 10:30 PM and called us. Colleen, who went out with her boyfriend at 6:30 PM and came back when we were already here. She seems to be the last one to see the victim alive. The fourth occupant is Dana, who is out of town and has not returned yet. Maria: Where's Wolf? Officer: In the kitchen, talking with the FBI agent. Maria: The agent's here already? Officer: Their field office is on this side of the city. Maria: All right. Go get him. I'll talk with Wolf later.
The Crime 4
John: You wanted to see me. Maria: Yes. I don't like beating around the bushes, so I want a direct answer. Where exactly are we with this? Are you going to take over the investigation? John: Not at all. My part in this investigation is to keep our office up to date on what's happening. We want to be sure this is our guy. Maria: It's starting to look like it. The hands... John: Yes. We've been keeping that from the press to weed out any wannabes. Maria: You may want to be more precise with your vocabulary. John: Huh? Maria: That word has a very specific meaning in the feline community. We don't want anyone to start harrassing innocent people.
The Crime 5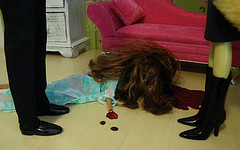 John: Well, maybe we can talk about copycats... I mean, um... Maria: You don't have much experience in dealing with felines, do you? You don't need to avoid all words with "cat" in them, just be careful with a few words with specific meanings. - So what's with the hands? John: Trophies. Relatively easy to detach, small enough to take with you without drawing attention. Maria: We're looking for a guy with a shelf full of jars containing pickled hands? John: He could also keep them in a freezer, but basically, yes. Maria: Great. As if we didn't have enough nutcases already.
The Crime 6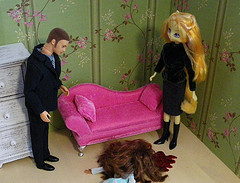 Maria: By the way, if this is your guy and he's as picky as you think, he's not a feline. John: What makes you think so? Maria: This one is not a feline. John: I know, but there was one half-feline before. Maria: I mean, this one is in no way feline. She's not a half-breed or even a wannabe. She's got the ears and claws, but she's definitely not a feline. John: What is she then? Maria: Half-canine. Any feline would see that a mile away, and that's why he's not a feline. He can't tell the difference. Just like you can't. - I guess I better go talk to the press. What should I say about your involvement? I don't want them to start writing about an FBI serial killer hunt and causing panic. John: Let's say I'm providing technical assistance with the forensics. And then make sure your people keep quiet about the serial killer aspect.
The Crime 7
Colleen: I can't believe it. She was fine when I left. Officer: Do you have a place to go? You cannot stay here. Ken: I'll take her to my mother's house. There's plenty of room there. Officer: I need the address. The detectives will want to interview both of you tomorrow. Colleen: I can't believe it. Ken: I know. Let me just give the officer the address and then we can go. Mother will give you something to make you feel better. Usually it's annoying as hell that she's a shrink, but maybe for once it'll be useful.
The Crime 8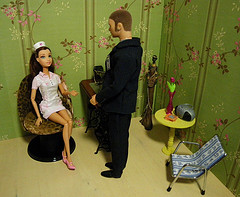 John: What did you do when you got home? Belle: I noticed the door was open. I looked in and saw the mess in the hall, so I ran next door to call the police. John: You didn't come in? Belle: I'm not crazy. At the hospital, I've seen people who have surprised a burglar when coming home. I couldn't know that Angela was... John: Of course not. And there was nothing you could have done for her. - Did you see anybody near the house or leaving the area when you came home? Belle: I don't think so. I wasn't really paying attention. We had a hard day at work. A tanker truck and five passenger vehicles... I'm sure you can imagine how that went.
The Crime 9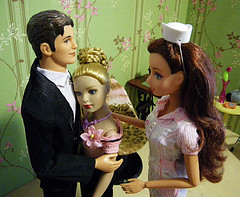 Belle: Colleen, are you all right? Colleen: I can't believe it. Ken: She's been saying that over and over again. I'm taking her to my mother's place. Belle: She's a psychiatrist, isn't she? Then I'll leave it to her. Ken: Do you have a place to go? Belle: I called a friend, and she said I can stay with her as long as I need to. Ken: And where's that one girl? Dana? Belle: She's on a work trip, but should be coming back tonight. I'll wait for her. You just take care of Colleen. Ken: You're taking this very well. Belle: I'm just pretending I'm an outsider to all this, like in my job. I can have a nervous breakdown later.
The Crime 10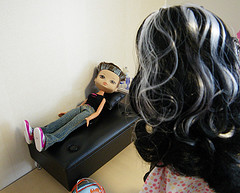 Next morning: Jet: Dana! You're early. I wasn't expecting you before the afternoon. Dana: I'm sorry. I don't want to be a bother, but could I just take a nap here? Jet: Sure. What's the matter? Why aren't you at home? Dana: I came back late last night and found the house full of cops. One of my roommates has been murdered. Jet: That's horrible! Dana: I never liked Angela. She was a troublemaker and brought her drugdealer boyfriends over all the time, but she didn't deserve this. Jet: Do they know who did it? Dana: Not yet. Probably it was one of her boyfriends. Isn't that how it usually goes?
The Crime 11
Dana: I didn't sleep at all last night. I can't go home, because it's a crime scene, and even if I could, I couldn't sleep there. You know, knowing what just happened. What if the guy comes back? So I need to find a place to stay for a few days, but first I need some sleep. Jet: You'll stay with us. Dana: You don't need to... Jet: No objections. You shouldn't be alone after something like that, and we've got plenty of room. Dana: Thanks. Jet: Just don't tell Nikki why you're here. Let's see... we'll tell her that your house is being fumigated and you can't go there for a few days. Dana: You really think she won't find out? It'll be all over the place.
The Crime 12
Nikki: I'm leaving now, mom! Oh, hi Dana, you're early. Jet: Dana will be staying with us for a couple days. Nikki: Because of the cops? Dana: What do you know about that? Nikki: I saw it in the news, and I know you live somewhere there. I'm sure you can't sleep with so much going on outside. Jet: That's right. Dana is here for some peace and quiet, so remember to behave. And you should go now or you'll be late. Nikki: It's all right. It's Mr. Wilkins first and he's always late. Jet: He's only been there for a month. You can't say "always." Nikki: He's been late every morning so far. We have a bet going on about it. Jet: Nikki! Nikki: Bye mom! Bye Dana! Dana: Maybe they should start taking bets for how long Mr. Wilkins' employment will last.
The Crime 13
In the afternoon: Frankie: Who's that guy? Jet: An FBI agent. He wanted to see Dana about something that happened at her house. Frankie: What happened? Jet? Why are you looking at him like that? Jet: Hmm, I wonder how he would look with a little less clothes on... Frankie: Jet! Jet: In front of a camera, I mean, and you know it. I bet you're curious too. Frankie: Maybe a little. So, what happened? Jet: Dana's roommate got murdered last night, and Dana's staying with us for now. Don't talk about the murder to Nikki. She doesn't know.
The Crime 14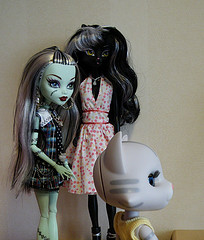 Nikki: Mom! I'm home! Hey, that's John! What's he doing here? Does he know Dana? Jet: Calm down! He's just here to ask Dana some questions. Nikki: About the murder? I know he works in the FBI. He said he's an agent, and I first thought he was a spy. Jet: What do you know about the murder? Nikki: It was Dana's roommate who got murdered, and Pauline said it was a serial killer who did it. Her mom said so, and she's a reporter. Frankie: Her mom told her that? Nikki: Not really. Pauline heard her mom calling somebody about it.
The Crime 15
John: That's all for now. Call us, if you remember anything that might help. Dana: I will, although as I wasn't there, I really don't... Nikki: Hi John! John: Have we met... oh yes, the little friend of the reckless driver. Nikki: You look much nicer in a suit. Laura thought you looked dorky. Frankie: Nikki, that wasn't polite. John: But honest and we in the FBI value honesty. I believe we haven't met before. Frankie: I'm Frankie, Jet's assistant. John: Nice to meet you, although the circumstances aren't very nice. Frankie: I just heard about it. I hope you'll get the guy. I mean, I assume it is a guy. John: Statistics say they usually are.
The Crime 16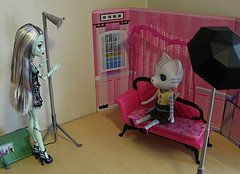 Frankie: So how did you meet John, and what was that spy thing? Nikki: Laura took me for a drive in her friend's car, and then she almost ran over John, because he was cycling in the wrong place. He said he was an agent, and I thought he was like James Bond, but then he said he works for the FBI. Frankie: Hehe, that must have been a disappointment. Nikki: James Bond would have been better, but an FBI agent is cool too. Does it mean that he's a better cop than Captain Maria? Frankie: Not necessarily, although you have to be good to get to the FBI. Still, the main difference is that Captain Maria works for the local police department and FBI investigates nation-wide cases. Nikki: So it really is a serial killer. Frankie: We don't know that.
The Crime 17
Next morning: Maria: ...and now it's all over the papers! Just the thing we didn't want to happen! Jet: You know, you can't keep something like this a secret. There's always somebody... Maria: And that somebody is going to be a badge short when I find out who he is! Jet: I may know how you can find out. Maria: What do you mean? Jet: Nikki's friend at school, Pauline, her mother is a reporter. Apparently Pauline had heard her talk about the case on the phone with somebody who gave her information about it. I don't understand the technical side of it or how legal it would be, but I think you should be able to find out who it was. Maria: I certainly will. Thanks for telling me. Jet: Just keep the girls out of it. It's not their problem.
The Crime 18
Maria: Good morning, Nikki. Nikki: Mom didn't tell me you're coming. Maria: I can't stay for long, I'm on my way to work. Nikki: Are you going to catch the serial killer? Is it true that he collects people's hands? That's really gross! Jet: Nikki... Maria: It's all right, Jet. Nikki: Pauline said it's a serial killer. Her mom had said so. And that he cuts off people's hands. Why would he do something like that? Maria: Jet, would you leave us alone for a moment? I think Nikki and I need to have a little private talk.
The Crime 19
Maria: You shouldn't think about those things. They've got nothing to do with you. Nikki: But Pauline says that guy kills felines. What if he comes to our house? Maria: He won't. He's a coward and only goes after people who are alone at home, and you're never alone here. And you've got the alarm system. Nobody's going to get here without making a lot of noise, and people like him don't want to attract attention. Nikki: Mom is alone at home sometimes when I'm at school. Maria: Nikki, I just said the guy is a coward. He wouldn't dare to come near your mom. You know what would happen. Nikki: Yeah, mom would tear him to shreds. Like that burglar when I was a baby. Maria: That's right. Gerry always said your mom should have joined the special forces.
The Crime 20
Jet: What did you and Maria talk about? Nikki: Mom, did that guy die? You know, the burglar... when I was a baby? Jet: Why are you...? Oh well, I guess you're old enough. Yes, he died. I didn't mean to... but he was in your room and I thought he was going to steal you. Nikki: And if that serial killer got here, you'd kill him too? Jet: If I had to. Nikki: And you wouldn't go to jail? Jet: Of course not. I'd probably get a medal or something for doing everyone a favor. But he's not going to come here. Nikki: I know. He's a coward and only goes after people weaker than him. It's not fair. Jet: No, killing innocent people is never fair. I'm sure the police will get him soon, and then he'll spend the rest of his life in jail where he cannot hurt anybody anymore.
The Crime 21
Nikki: That new teacher, Mr. Wilkins... Jet: What about him? Except that he's always late. Nikki: He says it's not fair that felines get away with murder. Did you get away with murder? Jet: It wasn't a murder. Anyone breaking into a feline home is fair game for anyone living in that house. - When did the teacher say something like that? Nikki: It wasn't in the class. I heard him talking with another teacher. Jet: He's not a feline... new in the city and says something like that... I think I need to make a phone call. It's probably nothing, but better safe than sorry. Nikki: What are you talking about? Jet: Oh, nothing. Just thinking out loud. - Eat your breakfast. Even if Mr. Wilkins is always late, it doesn't mean you can be.
The Crime 22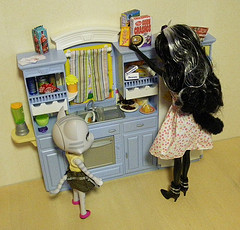 Nikki: Mom? What's special forces? Jet: It's the military version of supermen. Why do you ask? Nikki: Maria said that grandpa thought you should have joined the special forces. Jet: Oh, that. It was a joke. - Although, that night was the only time I ever saw him at a loss for words. Nikki: What night? When the burglar came to our house? Jet: Yes. Your dad was abroad, so grandpa came over. Nikki: Were there a lot of policemen? Jet: Several regular ones plus the military guys who came with grandpa. And then of course those lab guys, although they don't waste much time with cases like that. Nikki: Because it was his own fault? Jet: That's right. They just made sure it really was a break-in and that was it.