The Crime 23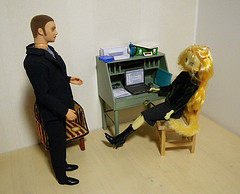 Later that day: John: ...and they were all single women, so he must have been watching them at least some time to find that out. Maria: I guess our nutcase knows something about felines, even if he can't tell the difference between the half-breeds. John: What do you mean? Maria: Breaking into a feline home with small children would require you to be seriously suicidal or totally ignorant. - I see you don't understand. You're not from around here, are you? John: No, and we don't have felines where I come from. Maria: Well then, let me show you something we use in training our officers. It is very educational.
The Crime 24
John: What's this? Maria: What's left of a burglar who entered a feline home through the wrong window. Any other window than the nursery and he could still be alive. John: Who did this? Maria: The mother. She was home alone with the baby when it happened. A neighbor saw the guy go in and called the police. They arrived in ten minutes and that's what they found. John: She did this... in ten minutes? Maria: I said you'd need to be seriously suicidal. John: So, who... I mean, what was this guy? Maria: Not a feline, that's for sure.
The Crime 25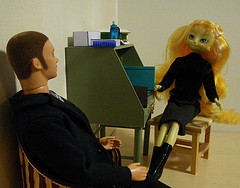 Maria: That lead I called you about, the teacher, did you find anything? John: We're still checking. Some places match, but we don't have the exact dates yet. Maria: I already put him under surveillance. I know the lead is a weak one, but it's the only one that makes any sense. The rest are just the usual crazy stuff. John: Where did this lead come from? You didn't tell me. Maria: From a little girl with big ears who likes to eavesdrop on teachers' private conversations. Normally we tell her it's not nice, but if this pans out, we'll throw her a party. John: If this pans out, she'll also get a nice little cheque. The parents of one of the victims have promised a reward for a lead that results in the capture of this guy. Maria: All the better.
The Crime 26
Claudia: Captain? Oh, I'm sorry... Maria: It's all right, come in. I'd like to introduce you to John, our friend in the FBI. This is Claudia Wolfe, a detective I'm assigning to this case. John: Wolf? Wasn't that other detective...? Claudia: I'm Wolfe with an "e" and not related. Nice to meet you. I'm looking forward to working with you. Maria: The other detective had a huge case load already and anyway, I thought this case needs someone with special knowledge of the communities in question. John: I thought so. I mean, Claudia, aren't you... like that last girl? Claudia: Half-canine? Yes, I am, and that's why I want to be in on this. We're a tightly-knit community and tend to take it personally when one of our own gets murdered.
The Crime 27
Next day: Jet: This is detective Claudia Wolfe. She's here to see Dana. Claudia, here is my assistant Frankie, and this is Nikki. Nikki: Is it about the murder? Are you a real detective? Is that a gun? Have you ever shot anybody? Jet: Nikki, the detective is at work, and usually she's the one who asks the questions. Nikki: I'm sorry. I haven't seen a girl detective before, just Captain Maria and officers in uniform. Claudia: Well, maybe we could have a little talk after I have spoken with Dana. Nikki: Cool! Will you show me the gun too? Claudia: It depends on what your mother thinks about that. Jet: You can show it, just don't let her touch it. Claudia: Of course not. Now, back to work. Where can I find Dana? Nikki: I'll show you!
The Crime 28
Claudia: Thanks for seeing me. I know it can be frustrating that we keep asking so many questions, but people may later remember things that they cannot recall right away. Dana: I understand, but I don't really know how I can help. I wasn't at home that day. Claudia: I know, but this is about something else. I want you to think about a week or two before the incident. Do you remember noticing any strangers near the house or seeing somebody who didn't seem right to you? Dana: You mean somebody may have been watching us? That's creepy. Claudia: Yes, it is. Think carefully. It is very important that you tell me anything you may remember. Anything at all that wasn't right.
The Crime 29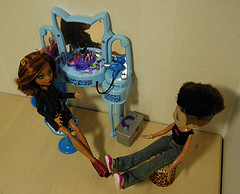 Dana: I don't think I saw anything out of the ordinary. But I think Angela mentioned something about how she felt like being watched, but we didn't pay any attention to that, because she was always so paranoid about cops, because of her drugdealer boyfriends... uh, I mean... Claudia: I'm not interested in whether you knew about her boyfriend's activities. You say she felt like being watched? Then she probably was. Dana: If that guy was, you know, watching us... Do you think he'll come back? Claudia: No, he won't. He has never done that. None of you saw him, so he's got no reason. I guess you have seen the papers, so you know he's after felines. Dana: Angela wasn't a feline. She was like you. Claudia: Yes, but not everybody can tell the difference. How did you do that? Dana: I work with models. I need to be careful about things like that. Quite enough bitching and moaning without sticking the foot in my mouth.
The Crime 30
Claudia: I guess I'll better see Nikki now. She had an awful lot of questions for me. By the way, I know you have been staying here. Will you be going home soon? The house has already been cleaned up. Dana: I know, but it's a bit... And besides, we were just talking about it, I mean me and Belle and Colleen... We need to find a new roommate, if we want to be able to afford living there. Claudia: Yes, Colleen said something about money. She has taken all this very hard. Dana: I think she was the one closest to Angela. And she has a tendency to get hysterical about stuff. But she's really nice otherwise. Claudia: Yes... You know, I have one more question and this may sound a bit unusual to you...
The Crime 31
Claudia: It's different from the regular issue, because I needed a smaller gun. Nikki: It's still big. Have you ever shot anybody? Claudia: I have shot at people, but I haven't killed anyone, if that's what you mean. We prefer catching the bad guys alive and bringing them to justice. Nikki: I'd like to be a police too. I want to be like Captain Maria when I grow up, but I guess I'd first have to be an officer or detective or something like that. Claudia: That's how it works. You start from the bottom and work your way up. Nikki: Are you going to be a captain one day? Claudia: No, too much paper work and public relations stuff. I want to solve crimes and catch the bad guys, not just tell other people to do it.
The Crime 32
Claudia: So, I heard you're into betting. That teacher of yours... Nikki: Mr. Wilkins? Mom says it's not nice to be betting on when he's going to come to work in time, but he doesn't know we're doing it and we're not hurting him. It's just for fun. Claudia: So he hasn't come to work in time yet? He has been late every morning? Nikki: That's right, and he's always tired. Once he almost fell asleep while we had a test. Then Johnny sneezed and Mr. Wilkins almost fell off his chair. That was funny. - I think the principal doesn't like him. Claudia: What do you think about Mr. Wilkins? Do you like him? Nikki: He's okay, but he doesn't like felines much. Claudia: Has he said something or does he treat you differently? Nikki: He tries to be nice to everybody, but he's... It's like when I don't like somebody and mom tells me I have to be nice to them anyway. You know, like he makes himself to be nice. Claudia: I know just what you mean.
The Crime 33
Claudia: Thank you for letting me talk with Nikki. Jet: Was it any help? Claudia: I don't know. Her teacher could be perfectly innocent, but we want to know all we can about him. Jet: I don't like it. If he's done those things... I don't want Nikki anywhere near him. Claudia: Please don't do or say anything. We've got the situation covered. He can't do anything without us knowing about it, and we can stop him at any time, if necessary. Jet: I guess it wouldn't be fair to ruin his life, if he's innocent. Do you believe he's innocent? Claudia: I honestly can't say. He doesn't seem to be a good teacher, but that's not a crime. Jet: Fortunately he's just a temp and not there permanently. Claudia: Really? I didn't know that. Jet: The regular teacher is on sick leave, and nobody knows how long that'll last. It's hard to fill that kind of a position in a mixed school, so they took the one guy they could find.
The Crime 34
Late that night: John: We finished the background checks for the last two victims. No criminal records, but Dana mentioned Angela's drugdealer boyfriends, and the one before her was involved in a burglary case where the burglar got killed. Naturally, she wasn't prosecuted. Maria: And the earlier cases? John: Most had a criminal record of some kind, and the rest were involved in burglary cases. The reason we didn't connect the dots earlier was that we didn't think that committing a crime and being a victim of one could be the same thing in somebody's opinion. Maria: I feared it might be something like that. John: What's wrong? Maria: Remember that educational case? I was the detective in charge, and it was when I first met Jet. She's the mother who did it. John: What!? But she's so... so... I mean, she's a lady. Maria: That night, she was a mother who thought somebody wanted to steal her baby.
The Crime 35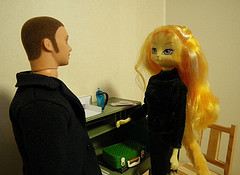 Maria: Nikki is worried. I assured her that nobody would dare to go close to her mom, but I'm not so sure I believe that myself. We don't know how crazy this guy is. John: He's only gone after single women so far. Maria: I know. Let's hope that's his MO and that we'll catch him before he gets another one. John: If it is that Wilkins guy, we'll get him. Maria: And you say he'll murder one more before moving on? John: Yes, it's always a series of three, then a pause for anything up to three months, and then another series in another city. Will you continue the 24-hour surveillance on Wilkins? Maria: Absolutely. Until we find out one way or the other. Even if he isn't our guy, people with a grudge against felines usually end up doing something stupid. We'll just see how stupid this one is.
The Crime 36
John: Ready to go home? Claudia: No, I'll be watching our suspect tonight. John: You need to sleep sometimes, you know. Claudia: I know, but not tonight. My parents are having a bunch of relatives for a visit, and after a few days it starts getting on my nerves. I took this shift just to get away for one night. John: What happened to the tightly-knit community? Claudia: Haha. They're my father's relatives. Nice, but only in limited doses. John: I see. Care for company? Claudia: Don't you need to sleep? John: I'm fine. I just want to get this guy. Claudia: Maria thinks that even if Wilkins is not our guy, we'll nail him for something. John: I know. One can always hope.
The Crime 37
John: I hadn't noticed you're a southpaw... Damn it, not again! Claudia: You're taking it much too seriously. We can hear when you're trying to be clever and when it's just a statement of a fact, like now. You don't need to watch every word you say. John: I can't help it. I'm not used to being around felines and canines. I grew up in the countryside where everybody was like me. Claudia: You'll get used to it. To get back to what you said, I'm actually ambidextrous, but I shoot better with left hand. John: I bet you've surprised more than one perp with that one. Claudia: It is very useful sometimes. People tend to focus on your right hand.
The Crime 38
Claudia: You know, if you want to know more about felines and canines, I can tell you. All you need to do is ask. I won't take offense, because I know you're not trying to be rude. John: Really? Maria has told me some things, but mostly related to the investigation and I need to know more, the general stuff. You know, how not to behave and what not to say. I don't want to look like a jerk. - How about over a dinner some night? Claudia: That would be nice. - Now, let's go and see what Mr. Wilkins is up to on this perfect moonlit night. With no clouds anywhere, we'll have a good view on his nocturnal habits.
The Crime 39
Next day: Officer: You wanted to see me. What's so important I need to come here on my day off? Maria: We need to talk. - Nice dress... and new shoes. Expensive. How much did the reporter pay you? Officer: What...? I don't know what you're talking about! I would never... Maria: Cut the crap! The reporter called you. Vital details of a criminal investigation leaked to the press. Details that were specifically kept under wraps! And now you're wearing clothes and shoes much too expensive for your salary. Officer: I... I... Maria: Think fast. You've got one minute to come up with a believable, verifiable explanation.
The Crime 40
Officer: I don't know how you found out. Maria: Remember the talk I gave when I became the Captain? I said I would always find out. Officer: So, what happens next? Maria: You can't be part of any homicide investigations anymore. You're on an unpaid leave until further notice. I will let you know where and when you will be transferred, unless, of course, you decide to resign. Officer: I guess you're going to put me in traffic control. Maria: Being a meter maid would probably suit your talents. It's a useful job with no possibility of jeopardizing homicide investigations with your blabbering mouth.
The Crime 41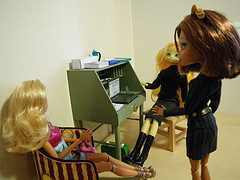 Claudia: Officer... Nice dress. I almost didn't recognize you. Maria: Yes, very nice dress. Why don't you tell the investigators all about it? Officer: I'm on a leave. You said so. So I can go now. Maria: Yes, your time is entirely your own. I will let you know once I have decided.
The Crime 42
Claudia: What's the matter with her? Maria: Later. You said you had important news. Claudia: We found out what Mr. Wilkins does on certain nights of the week. John: He's not our guy. Maria: Are you sure? Claudia: Yes. He spent last night at an S&M place. Spanking scantily-clad feline ladies who let you do it for a charge is not an offense. John: Although I'm sure the principal would find it very offensive. Maria: But what makes you so sure he's not our guy? Claudia: After the next shift took over the surveillance and Wilkins left, we visited the place. John: Wilkins was there when Angela was murdered. They remembered him well. He caused a bit of trouble. Claudia: And after last night, he's not welcome there anymore. There are limits to what you can do, and it seems that he's a bit too aggressive. The manager had a hissy fit just telling us about it. Nobody wanted to press charges, though.
The Crime 43
Maria: Back to square one. Claudia: But you were right about finding something. Maria: Yes, but as you said, it's not a crime. Those places are legitimate businesses or at least it's hard to prove otherwise. Still, call the vice and let them check it out. Claudia: Will you call Jet? I'm sure she would be relieved to hear that Nikki is not spending time close to a serial killer. Although I'm not sure what she would think about him being an aggressive pervert. Maria: I'll call Jet. As long as Wilkins' interest is in mature professional ladies, she won't get hysterical. I think I'll also have a word with the principal. There are a lot of feline students in that school, and Wilkins' dislike of felines together with aggressiveness doesn't sound good to me. Claudia: I bet the principal is just waiting for the first legitimate excuse to kick him out. Nikki said he doesn't like Wilkins. Maria: I would have thought that being late all the time is all the excuse you need. Claudia: Apparently it was so hard to find even Wilkins that the school board isn't letting him go that easily.
The Crime 44
A couple of days later: John: I hope this is all right. I mean, maybe you expected something fancier... Claudia: No, this is perfect. The service is fast, so maybe we'll even get to the end of the dinner before we need to run. John: Let's hope we won't need to. - So, tell me about the wannabes. Maria warned me about the specific meaning of the word, and I know a little, but not nearly enough. Claudia: There isn't much to tell. They're non-felines, who get plastic surgery to make themselves look like felines. I mean, the really hardcore ones do, the rest just play with makeup, costumes and accessories on weekends. John: And they go around like that? Wearing cat costumes? Claudia: It's not illegal. Makeup, costumes, fake cat ears... You might as well say Halloween is a crime. And plastic surgery isn't a crime either. John: I bet the real felines aren't very fond of all that. Claudia: No, they aren't.