Uncle Schizo 1
Venus: Uncle Schizo! Schizo: Yes, it's me. Nice to see you too. I heard you're back in town. Venus: It's been such a long time! Schizo: I can see that. You're all grown up. Venus: Yeah... I guess I shouldn't call you uncle anymore. Schizo: You can call me uncle as long as you like.
Uncle Schizo 2
Schizo: How's your mother? Venus: She's fine. She's actually married now. Schizo: Oh. How many tries after me did that take? Venus: Let me see. One, two, three.. no, that doesn't count... four, five! The fifth is now her husband. And the father of my little sister. Schizo: So, she got all she wanted. Venus: Is that why you left? Because you didn't want a baby? Schizo: No, your mother and I agreed that I wasn't exactly father material. I didn't want to stop her from getting what she wanted. Venus: I see. It still took a bit too long. Schizo: What do you mean? Venus: All the doctors said it was risky having a baby at her age. But Wendy is a wonderful kid. The best little sister you can have. - You know, it really has been awfully long. Tell me, how do you do it? Schizo: Do what? Venus: Stay the same. I was ten when you were with mom, but you haven't changed a bit. Schizo: Good genes. Also, I was never really young, so I guess I won't get old any time soon either.
Uncle Schizo 3
Schizo: Interesting plant. Venus: Don't put your fingers too close. He's a bit snappy. Schizo: What? Venus: He'll bite you. He doesn't like strangers getting too close. Schizo: Oh, okay. I wouldn't touch anyone who doesn't like it. Venus: Very sensible. - So, how do you like my looks? Schizo: The hair is certainly... interesting. Venus: You don't like it. That's OK, old people are not supposed to like it. Schizo: Who are you calling old?
Uncle Schizo 4
Francine: Hi, Schizo! I see you found the place. Schizo: With the directions you gave, it was impossible not to find it. Hello, Danny. Who's your friend? Danny: Wendy. Schizo: Oh! Venus, is this...? Venus: Yes, she's my sister. – So, did you have fun at the fair? Wendy: We ate a lot. Danny: And drank lots of soda. Schizo: Sounds like fun to me. Francine: Danny and I need to go now. It's getting late.
Uncle Schizo 5
Venus: Wendy's a bit short-sighted. Schizo: The lense sort of gave that away. Wendy: But I see you. You look funny. Venus: Wendy, don't be rude. This is uncle Schizo. Mom and I knew him when you weren't even born yet. Wendy: I seen you in a picture. In the album. Venus: Yes, I think we have one photo there. You know, I think I'll check that, just to make sure I'm not imagining that you haven't changed. Schizo: What's the big deal? I'm still the same guy, changed appearance or not. Venus: Of course, but it's just so hard to believe. – Would you like to come and see mom? Schizo: I think I better not. There wouldn't be much to talk about. Venus: May I tell her I met you? Schizo: Sure, if you want to. I doubt she'll be interested.
Prince 1
Jet: Frank, shouldn't you be at the theater? I thought you had a rehearsal. Frank: Not today. I gave everyone a day off. Jet: Why? What happened? Frank: Do you remember Joey? Jet: Prince Charming? Yes, he has modeled for me a few times. What about him? Frank: He's dead. Jet: Dead? What happened? Frank: Something in his brain. They say he had always had it, and it just killed him now. Jet: Poor boy, so young... And just when he was getting somewhere.
Prince 2
Jet: I guess everybody's upset right now. It was a good idea to cancel the rehearsal. What are you going to do now? Frank: Do? Jet: You'll need a new prince, and quite quickly. Frank: Oh, yes, you're right. I hadn't thought of that... Nothing like this has ever happened before. I mean, we've had to replace actors because of accidents, illness, and such, but nobody's ever died during a production. Jet: Yes, it is sad, but as they say, show must go on.
Prince 3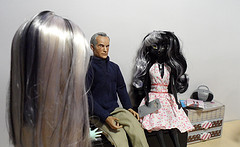 Frankie: Hi, Frank! I'm sorry, I didn't mean to interrupt. Jet: It's all right. Frankie, do you remember Joey? Frankie: The guy who worked in the hospital? Sure. Why? Jet: He was in Frank's new play. He has passed away. Frankie: Oh. I'm sorry to hear that. He still had so much work to do. Frank: Work? Frankie: Improving his character. Well, I guess he will be born as something else this time. Jet: What are you talking about? Frankie: I guess I shouldn't talk about it. Reincarnation, I mean. I know most people don't believe in it. Frank: Don't worry. It's actually a nice thought, although I find it hard to believe. - I should get back to work. After all, I need to find a new prince.
Prince 4
Clawdeen: Oh good, at least there's somebody here. It was starting to feel a bit spooky. Where is everybody? Laura: I guess you're the only one who doesn't know yet. I tried to call you. Clawdeen: The phone battery died. Know what? Laura: There's no rehearsal today. We got some bad news. It's about Joey. Clawdeen: Don't tell me he broke his leg or something and can't do it. Laura: No, it's much worse. He's gone. Clawdeen: Gone where? Why? He can't go now, he's the prince! Laura: I mean gone, passed away. Clawdeen: Dead?! He can't be dead! He's so healthy and fit that it's almost nauseating.
Prince 5
Clawdeen: Was it an accident? Or did somebody finally get enough and beat him to pulp? Laura: No, it seems that he had some sort of congenital defect and it was pure luck that he lived this long. Clawdeen: Oh dear. I hated him, but he was a good actor. I was quite surprised at his performance as the prince. I mean, if you don't count the kissing. I feel a bit bad about biting him now. Laura: That had nothing to do with what happened.
Prince 6
Clawdeen: So, who's gonna be Prince Charming? Laura: I don't know. Frank's not here today... Frank: Yes, I am. I need to find a new prince, and I might as well start looking. Would you mind? Laura: Oh, sorry. Do you need me or can I go? Now that everybody's been informed... Frank: You can go. We can talk tomorrow. Laura: Thanks, bye!
Prince 7
Frank: Aren't you going? Clawdeen: In a minute. I was just thinking, you need a new prince and... Frank: And? Do you have someone in mind? Clawdeen: Actually, I do. I know a guy... He's quite good, all right looking and has some experience, but hasn't got his break yet. Would you...? Frank: We need a new prince fast. Bring your friend here tomorrow, and he can show what he can do. Clawdeen: Great! Thanks! Frank: Now you should go too. I need to start looking for other candidates.
Creation Stories 1
Caroline: I wonder why Miss Kate didn't tell us the feline creation story. She told lots of other examples. I wanted to hear the feline version. Betsy: Nikki, do you know why she didn't tell it? Is it a secret? Nikki: It's not a secret, but you're not supposed to talk about it, unless someone asks. Caroline: So, if I had asked, she would have told it? Nikki: If we had all asked. It's not polite to try to tell someone who's not interested. Betsy: I see. Sounds like a good idea. You know the story, so you could tell us now. Caroline: Yeah, and it's okay, because we both want to know. Nikki: All right.
Creation Stories 2
Nikki: Everything started with the goddesses. One of them was playing with a ball of string and she started wondering how small she could squeeze it. So of course she had to try. She squeezed the ball real hard, and it became really tiny, and when she let it go, it blew up. It went into little pieces that flew in all directions. And that's how the first universe started. All the goddesses thought it looked really pretty, so they decided to let it be and see what would come of it. Caroline: So that's how the stars and stuff began, but what about people? Nikki: Like I said, they just let the universe expand and do what it wanted. It turned out that it wanted to create life. The goddesses liked that even better, so they created more universes, each a little different from the other ones, so they could see what else would develop.
Creation Stories 3
Betsy: So there are more than one universe? Nikki: Of course. Ours is one of those they created later. Caroline: But you can't prove any of that. Nikki: That's why it's called faith. Mom says that all the stuff you can prove came after the explosion. What was before it cannot be proven, so it's a question of faith. And we believe it was the goddesses. Caroline: At least it's a better story than that turtle thing. - I guess the goddesses are feline. Nikki: Not exactly. Carline: What does that mean? Either they are or they're not. They can't be both. Nikki: It's a bit complicated, but mom says you see the goddesses the way you want to see them. Nobody knows what they really look like. Betsy: Are you saying I would see them as humans? Nikki: Probably, if that's what you think they look like. I think they look something like auntie Topaz.
Creation Stories 4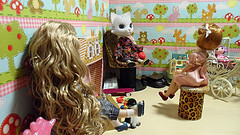 Betsy: It's a good story. I'd like to see the goddesses, but only if they're nice. Nikki: They don't do nice things for you, if you ask, if that's what you mean. Betsy: So praying doesn't work? Nikki: No. Mom says the goddesses think it would be unfair to help some, but not others, so they don't interfere at all. They just let us sort things out ourselves. Betsy: My dad says only pagans and feminists believe in female deities. He says there's only one god, and apparently he's a grumpy old guy, who created the world from a big egg, and you need to pray regularly, so he won't get mad. Mom says dad's off his rocker, and that's why we don't see him much anymore.
Creation Stories 5
Caroline: There are so many different stories that all of them can't be right. I'm not believing any of them until someone can show me some proof. Nikki: It's okay. At least we agree on the stuff that came after. Dinosaurs and all that. Caroline: Of course. That's totally different. There's tons of proof on what came after. Frankie: What about dinosaurs? Betsy: Hi Frankie! Nikki was telling us about the feline creation story. The teacher told us other stories, but not that one, so we asked Nikki. Frankie: It is a very interesting story, and I guess as good as any of the others. Of course, nobody knows for sure. Caroline: What do you think? How did everything begin?
Creation Stories 6
Caroline: What was there before the explosion? Frankie: Nobody knows. We, I mean my people, believe there is something, or maybe someone, that existed before the universe began, but as it is unknowable, we don't waste time trying to figure out what it is. Betsy: So what do you do? Frankie: Try our best to live a good life, so we'll be born as something better in the next life. Nikki: That's reincarnation, isn't it? We talked about that too at school today. Caroline: Who decides what you'll be in the next life? Frankie: It is determined by how you behaved in this life. Caroline: How do you know what the rules are? I mean, there must be something that is used to say how good or bad you were. Frankie: The rules are the result of much philosophical thinking. If you really are interested, you should talk with one of our elders, they would be much better at explaining these things. Nikki: Frankie, I just thought of something... If you get born again, when you die, doesn't that mean you never really die? Betsy: There must be some sort of ending, it can't go on forever. Frankie: It doesn't. Once you're good enough, you die for real and your soul becomes part of everything around us. Then you can go and explore the entire universe, if you wish. Caroline: Cool! I like that!
Creation Stories 7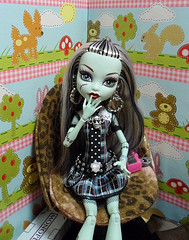 Frankie: Oh dear, how long have I been here? Jet is going to be mad. I was just supposed to come and tell you that there's a very special person coming here today for a photoshoot, and if you happen to see her, you should be on your best behavior. Caroline: What does that mean in practice? Nikki: No jumping and screaming. Betsy: No fangirl stuff. Who is it? Frankie: Nikki, remember Bigfoot? Nikki: Is it Operetta? Caroline: What about Bigfoot? Nikki: Nothing. Frankie: Yes, it's Operetta. I need to get back to work now. Remember, best behavior.