Rochelle 1
Schizo: You know, I've been meaning to ask... Can you still drink like before? I mean, do you actually get drunk? Robecca: Of course. I've still got my own central nervous system, although there are some improvements. Schizo: Like what? Robecca: When the blood alcohol level rises, the automated functions start taking over. I'm never going to fall over again just because I'm drunk. Isn't that fantastic? Schizo: Takes much of the fun away, I think. Robecca: I guess it is a subjective point. Anyway, I don't really drink that much, even with the improvements. I still get the hangover. Schizo: That was going to be my next question.
Rochelle 2
Robecca: So, what are you doing with this? Schizo: My tailor lent it to me. Robecca: You've got your own tailor? Schizo: Actually, her father was my tailor. He made this suit for me just before he retired. Rochelle works as the costumer at the theater, but she helps me occasionally with repairs and stage clothes. Robecca: This book isn't about stage clothes. Schizo: Well, Rochelle is going to continue where her father left off.
Rochelle 3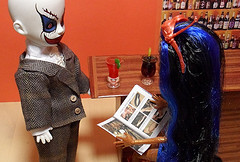 Robecca: You sure know a lot of people. Schizo: I've had a lot of time. And so will you, now that the normal aging of the body is behind you. Robecca: I hadn't thought of that. I'm not sure it's strictly true. I mean, the brain is the biggest problem. Even the greatest artificial body isn't of much use, if you lose grasp of what's happening around you. Schizo: I guess you're right. You just need to enjoy life before that happens. Quality is always more important than quantity, although I've been lucky to have both.
Rochelle 4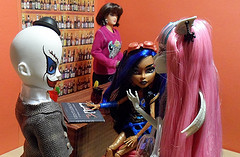 Rochelle: Hi Schizo, sorry I'm late. Schizo: Don't worry, I'm in no hurry today. I don't have anything scheduled. Well, except maybe a few more drinks. - This is Robecca. I was just telling her about you. Robecca: So you're Rochelle. Rochelle: Yes. Hey, aren't you... I mean, wasn't your picture in yesterday's newspaper? Robecca: Yes. Rochelle: Did I say something...? I didn't mean to offend. I just remember seeing the photo. I didn't actually read the article. Robecca: Oh! It's not worth reading. Just some idiot reporter spewing personal beliefs as facts. Rochelle: I saw who had written it, and that's really why I didn't read it. I wonder why he still has a job, after all the nasty things he's said about people. Schizo: People read that crap. That's why.
Rochelle 5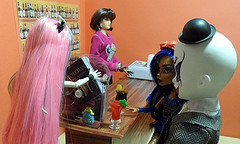 Schizo: You can have your book back. It was interesting, but there are way too many rules. I guess I'll never dress like a proper gentleman. Rochelle: Nobody follows those rules exactly anymore. Well, nobody with any sense. It's just something to get you started. - So, did you get any ideas? Schizo: Pinstripes. Rochelle: That's always a good choice. You can't go wrong with pinstripes. Robecca: Are you really going to make a suit for him? Rochelle: Sure. I just got my diploma, so I'm a real tailor now. Robecca: Congratulations! But I thought you have been a tailor for some time already. Rochelle: I have, but as my father taught me, I had no official qualifications. I had to pass all sorts of tests to prove that I really know and can do everything that is required.
Rochelle 6
Schizo: Are you going already? Don't you want to have a drink? Rochelle: I must go. I've got a lot of work to do. Schizo: You know, if you're busy, we can postpone this suit thing... Rochelle: No need for that. I'll call you and let you know when you can come for the measuring. Schizo: Surely your dad has all the information... Rochelle: It's all old. People do change, you know. Schizo: I haven't gained any weight. Rochelle: We'll see when I take your measurements.
Rochelle 7
Later: Rochelle: How do you like it? Piggy: I've never worn pinstripes before. I feel so business-like. Rochelle: You should. After all, you are the Queen's treasurer. Now, turn around, so I can see that it fits well on the back.
Rochelle 8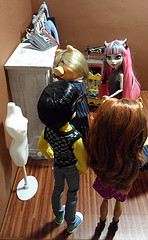 Clawdeen: Rochelle, you've got a new customer! Rochelle: Clawdeen, how many times have I told you to knock before coming in? Clawdeen: Oh, sorry. Sorry, Piggy. I didn't think... Rochelle: Just try to remember from now on. So, what's the commotion? Who's your friend? Clawdeen: This is Jackson. He's the new Prince. Jackson, this is Rochelle, she makes the costumes. And Piggy's in the play, she's the Queen's treasurer. Jackson: Nice to meet you both.
Rochelle 9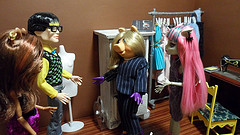 Piggy: That was fast. I thought Frank was still looking for the Prince. Clawdeen: I told him about Jackson. A couple of others auditioned too, but Frank said Jackson was clearly the best. Rochelle: I haven't seen you anywhere. In a play, I mean, and I go to see everything within a reasonable distance. Jackson: Yeah, well, I haven't been in a major production before, except as a stand-in. You know, when an actor got sick or something. Piggy: Well, it was certainly something this time. Jackson: Yes, I heard what happened. Piggy: Don't feel too sorry for him. He was a jerk, and now that he's gone, you got yourself a job. Rochelle: All right, you two can leave now. I might as well get started with Jackson. The Prince's costumes need to be fixed.
Rochelle 10
Jackson: This must be antique. Are you really using this? Rochelle: It's in perfect working condition and very reliable. Jackson: I meant no offense, I was just surprised. So, what do you want me to do? Rochelle: First, I need to take your measurements, and then I want you to try on the clothes I have already finished. Hopefully it will be only a question of taking in seams here and there. Jackson: So the other guy was bigger than me? Rochelle: Yes, broader shoulders and bigger muscles. I think your height is about the same, so that should help. Jackson: What Piggy said about him... was it true? Rochelle: What? That he was a jerk? Depends on your point of view, I guess. I wasn't his type, so I had no problems. Jackson: I see.
Rochelle 11
Rochelle: So, how do you know Clawdeen? Jackson: We were together in a high school play and then in a couple of amateur productions. She's the one who convinced me that I should move here and become a real actor. Rochelle: You're good friends then? Jackson: Yes, and before you ask, we're just friends. Rochelle: I wasn't going to ask.
Rochelle 12
Rochelle: You know, don't take this the wrong way, but you really need to do something about your clothes, if you want to get somewhere in this business. Jackson: What do you mean? What's wrong with my clothes? Rochelle: You look like a geek. There's nothing wrong about being a geek, but you want to be an actor and you need to look like one. Jackson: What do you think I should wear? How should an actor look like? Rochelle: I'd suggest something trendy combined with something classic, but nothing too formal. Something original and slightly unconventional. And you'll need to act like a trendsetter, even if you aren't one, so you don't want to copy somebody else's style too closely. Jackson: That sounds a bit complicated. Rochelle: Just go clothes shopping with Clawdeen and give her free hands. Jackson: That's what she's been saying. Rochelle: Just give it a go. Who knows, you might like the result. And even if you don't, remember that appearances are part of being in the business.
Rochelle 13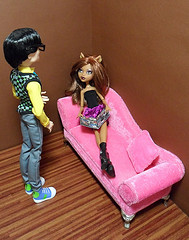 Clawdeen: How did it go? Jackson: She asked me to try on costumes to see what needs to be done. The other guy really was bigger than me. Rochelle said he had bigger muscles. Clawdeen: Don't be jealous. You have many other qualities Joey was missing. Jackson: You know, I asked Rochelle about him, and she said she had no problems, because she wasn't his type. Clawdeen: Yeah, what about that? Jackson: I was just wondering, how could she not be? I mean, any guy in his right mind... Clawdeen: Trust me, she really wasn't his type. Jackson: So what was "his type?" Clawdeen: Straight. - He may have been persistent, but even he could recognize "a lost cause." His words.
Rochelle 14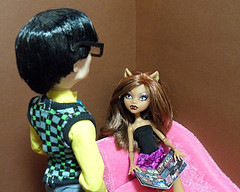 Jackson: You know, what you said... about helping me with clothes... Clawdeen: Yes? Are you thinking of accepting the offer at last? Jackson: Rochelle said I look like a geek. Clawdeen: That's because you do. Jackson: Why haven't you said so? Clawdeen: I've been trying, but you haven't been listening. I guess you needed to hear it from somebody else. – So, are we going shopping? Jackson: I suppose I don't have a choice.
Greg 1
Jet: Nice shirt. Not your usual style. Schizo: I had a show and didn't bother to change afterwards. Jet: Show? This time of the day? Schizo: It was a special one, at the old folks' home. The shows there are always in the afternoon. Doesn't really matter, because it's just residents and staff, so there's nobody too young in the audience. Jet: How did it go? Did they like it? Schizo: It was a one ambulance show, so it was just perfect. Jet: Ambulance? What did you do? Schizo: Me? I made them laugh. It's not my fault that some of them can't take the excitement.
Greg 2
Jet: You could tone it down a little. Schizo: That's what I do, but no ambulance means I wasn't funny enough. One ambulance is just right, more than that means it'll be some time before they ask me back. Jet: You are incorrigible. Schizo: Hey, it's my job to be funny! Besides, one of the old guys actually said, "I'd rather die laughing." Jet: I guess that's one way of looking at it. Schizo: It is. That guy told me that he was a fighter pilot and then a commercial airline pilot, and then he said, "I had no idea it would be like this. If somebody offered me a suicide mission right now, I'd sign in a heartbeat." I said it didn't look that bad, considering the ratio of women to men in that place and he replied, "Well, there is that. I wasn't this popular even in my flying days, but there's only so much you can do, once you get to my age."
Greg 3
Jet: You know, you're all dressed up, so how about taking those promo shots now? I've got time, and it wouldn't take long. Schizo: Why not? I've only been postponing it, because I don't like getting all dressed up more often than I have to. Jet: You've been postponing it, because you don't like being photographed. Schizo: Yeah, that too. I get quite enough Dorian Gray comments even without photographic evidence.
Greg 4
Frankie: You look different. Greg: Yeah, well... I came here to work, and these clothes are better for that. Also, last time I was informed that I look like a pimp. Frankie: But surely Jet wouldn't... Greg: Of course not, it was Nikki's friend, the blonde one. Frankie: Caroline. Jet said she's not an easy child. Greg: It's all right. Those clothes weren't really to my taste. I just wanted to make a good impression. Seems that I failed. Frankie: No, you didn't. Jet asked you back, didn't she? But this does suit you better, and it's much better for working. Greg: Harvey thought so too. I was actually surprised that he could give advice on proper clothing. All I've seen him wear is a black suit. Frankie: He drives a limo, so it's his work outfit. And he says you can go almost anywhere in the city wearing a suit. Greg: Are you saying he's got a closet full of white shirts and black suits? Frankie: I don't know. I've never seen him wear anything else. If you're curious, why not ask him? Or Jet? They've been friends for a very long time, so she must know.
Greg 5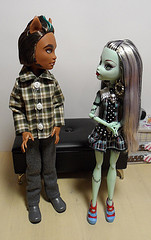 Frankie: Let's go to the studio. There are some props we need to get in place. - Greg, this is a bit... maybe a bit too personal question, but... Greg: Go ahead, you can ask me anything. Frankie: Are you and Harvey... you know... Greg: What? Frankie: Um... are you just friends? Greg: What are you talking about? Hey, wait a minute, are you saying he's...? Frankie: Didn't you know? Greg: No. I guess you now think I'm stupid or something, but I had no idea. Frankie: So, you are just friends then? Greg: Yes. Why did you want to know? Frankie: Just curious.
Greg 6
Frankie: Jet, Greg is here. Jet: Good! Schizo and I will get out of the way in a minute, so you can start arranging the set. Frankie: Hi Schizo! This is Greg, he's Harvey's friend and he's here to help us. Schizo: It's always... interesting to meet Harvey's friends. Greg: You know, I think I've seen you somewhere. Schizo: That is possible. I've performed in a lot of places. Greg: Performed? Hey, you're the magician! Schizo: That's right. Have you seen my show? Greg: You were at our camp. Some guys had put in a request to get you there. It's so boring in the desert that they wanted something really different. Schizo: You mean the gig in hell? I should have guessed you're military. Now, the show itself was great fun, but the heat was intolerable. I'm never getting near those latitudes again. So, how did you like the show? Greg: It was great, but the brass weren't too happy about the hand grenade trick. Schizo: There was never any danger. Did they really think I'd play with a live one?
Greg 7
Frankie: Push it close to the wall and then turn it. I'll just move this camera, so it won't fall down. Greg: All right. - Frankie, what did Schizo mean with his remark on Harvey's friends? Frankie: Oh, I guess he made the same assumption as I did. I hope you're still okay with Harvey, now that you know. Greg: Why wouldn't I be? He knows I date girls. I mean, I told him about my ex-girlfriend, who dumped me while I was abroad, so... Frankie: Dumped you? Greg: Yeah, she got tired waiting. She didn't even bother to tell me, I just found a note when I came back. Frankie: That wasn't nice. Greg: I guess not, but to tell you the truth, I think I was mostly relieved.
Greg 8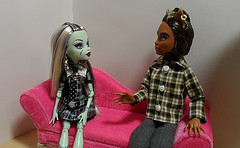 Greg: I was thinking... we're having a party for a friend of mine who's getting out of the hospital. Would you like to come? Frankie: Are you sure you want that? You don't mind people staring? Greg: Why would people stare? Frankie: At my scars. Greg: Frankie, many of the guys coming to the party have much worse than just scars. Nobody's going to stare. Frankie: I don't know... Greg: Stop worrying about it. It looks like you have all body parts and they're working, and that's a lot more than some of my friends have. If anybody at the party asks, they're only doing it, because we talk about that stuff. You know, what happened and where. You can just say that you don't want to talk about it and they won't ask any more. And nobody's going to get offended. Frankie: In that case, yes, I'd love to come.
Greg 9
Schizo: We could have checked the photos in there just as well. Jet: No, we couldn't. I assume even you have been young at some point in your life. Schizo: What? I thought he's Harvey's friend. Jet: Yes, a friend. Harvey does have friends. Schizo: So there's something going on between those two there? Jet: I'm not sure if there is or not, but I'm making sure I'm not in the way. Schizo: Not sure? Oh yes, I always forget how difficult it is for some people to just ask. Jet: Not everybody's as direct as you are. Schizo: I know. They simply haven't figured out that you just need to keep asking the girls you meet, and occasionally the answer will be "yes."