Nikki 1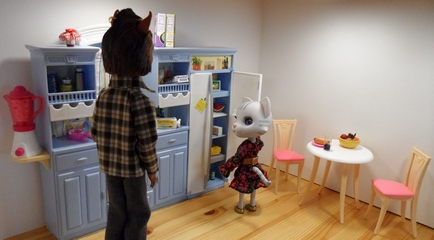 Greg: Hello Nikki! Nikki: Greg! Oh, you look so much better now. Greg: I'm glad you approve. Nikki: Do you want something from the fridge? We've got some soda. Greg: No thanks, I just want a glass of water. Frankie and I were moving some furniture into the studio. Nikki: Have you asked her out yet? I'm sure she'd like that. Greg: Nikki, that is none of your business. Nikki: Sorry. But I really think you should. - The glasses are in the left cupboard.
Nikki 2
Greg: I met a friend of Harvey's, and I think she's your friend too. Her name was Maria. Nikki: Captain Maria? She's the best! I want to be like her when I grow up. Greg: Yes, she really is something. But of course she has to be, she wouldn't be the Captain otherwise. Frankie: What about Captain Maria?
Nikki 3
Greg: We talked about law enforcement as a career. Frankie: Are you planning to become a police officer? Greg: Maybe. She said I shouldn't waste the special training I got in the army. Nikki: You mean she thinks you should be looking for bombs? Greg: Yes. If I managed to get into the police academy and graduated, there might be a job for me here. First as a regular officer and later maybe in the canine unit. Frankie: Are you going to do it? Bombs sound dangerous. Greg: I'm thinking about it. And it's actually not that dangerous when you know what you're doing.
Nikki 4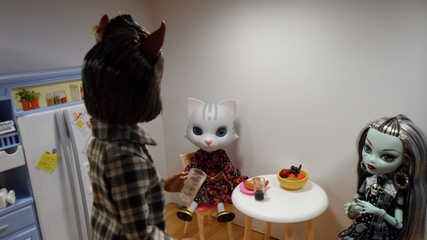 Nikki: I met a girl detective who's like you. Her name is Claudia. Greg: Claudia Wolfe? I've met her too. She used to date a friend of mine. Nikki: She's really cool! She caught that serial killer they wrote about in the papers. He killed Dana's roommate. Greg: I'm sorry. But at least they got him, so he can't hurt anybody else. Nikki: That's what everybody says, but I think they should have got him sooner. He killed a lot of people. People like my mom. Greg: Felines? Nikki: It wasn't just any felines, but those who had beaten up burglars. Greg: Oh yes, I remember reading about that. But surely Jet... Nikki: It was a long time ago, and I was just a baby. She thought the burglar tried to steal me. Greg: Did the burglar survive? Nikki: Mom says she didn't mean to...
Nikki 5
Frankie: Nikki, are you making this up? Nikki: No! It really was like that! Greg: Calm down, I believe you. I just hadn't realized... Frankie: Realized what? Greg: That Jet is a big cat. I mean, even regular felines can be black. Nikki: We can be any color too. But of course we're mostly black and grey and white. Frankie: We? Yes, of course, if Jet is a big cat then you must be too. Does that mean you're going to be really tall too some day? Nikki: I think so. Dad was even taller than mom.
Nikki 6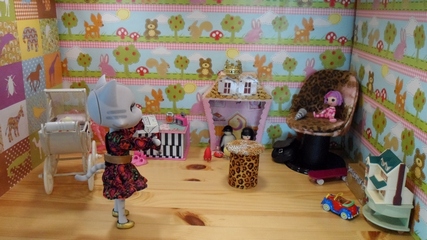 Nikki: Lala! Lala! You'll never guess who I just met! It was Greg! He was helping Frankie to set up the studio for a photoshoot. He looked so much better in his new clothes than he did the last time. I asked him if he had asked Frankie out yet, but he just said it's none of my business.
Nikki 7
Lala: It is none of your business. Nikki: Don't you be a spoilsport too! Frankie needs a boyfriend, and Greg is just perfect for her. Lala: You don't know that. Maybe Frankie doesn't need a boyfriend. Maybe Greg is a jerk. You can never know. Nikki: But I do! And it would be so romantic. Lala: You should stop watching soap operas. Life is not like that.
Nikki 8
Nikki: What's gotten into you? Lala: It was bad enough with your mom and Frank. I don't want you to start obsessing about another potential love story that's none of your business. You should let people take care of their love lives themselves. Nikki: That's boring. Besides, you can't say that mom and Frank dating is none of my business, because it is, especially if they're going to get married. Lala: All right, maybe it is your business too, but Frankie and Greg are not. - Maybe you should find a boyfriend, so you wouldn't have time for other people's affairs. Nikki: Eww!
Brian
Honey: Hello, Eddie! Who's your friend? Eddie: This is Brian. Honey: Nice to meet you, Brian. I'm Honey. I guess you guys already know I cannot serve any alcoholic drinks to you. Eddie is too young... Brian: But I'm not. Honey: Maybe, but I am not going to risk getting charged for assisting in a suicide. Brian: Rats! Always that same thing! We should have gone to that moonshine guy. Eddie: That stuff is revolting. - Honey, just give me a cola. Brian? Brian: Sigh. Same for me.
Catty 1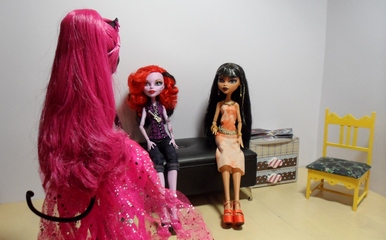 Cleo: Well, well, looks like somebody's a bit overdressed for the occasion. Operetta: Catty, I'm surprised to see you here. Catty: Not as surprised as I am to see you two. After all, this is a charity thing. I've never thought either one of you to be very charitable. Cleo: Are you kidding? It's the perfect PR. Operetta: I guess I now know why my manager didn't want to tell me who else was coming. Catty: Yours too? What do they think? That we'll start a fight and end up in headlines? Cleo: I bet they were counting on it.
Catty 2
Nikki: Wow! I can't believe this! This is so cool! Operetta: Hello, Nikki! Catty: Who's this? Cleo: Nikki is Jet's daughter, but I don't know the other one. Nikki: This is Pepper. She's my new friend. Catty: What's your mother going to say about that? Nikki: Mom? She's going to say "Nice to meet you, Pepper. You can call me Jet." What else?
Catty 3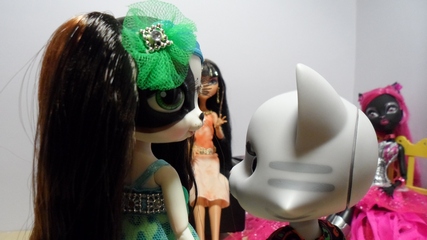 Pepper: Nikki, maybe we shouldn't be here... Nikki: Why not? It's my home, and you're my friend. Pepper: But I don't want to intrude. I mean, these ladies... Nikki: They're Operetta, Cleo and Catty. I never expected to see them all here at the same time. This is the coolest thing ever! Catty: What are you two whispering about? Nikki: Pepper's just worried that we're intruding. Operetta: Not at all. Sit down and relax. We're not going to eat you.
Catty 4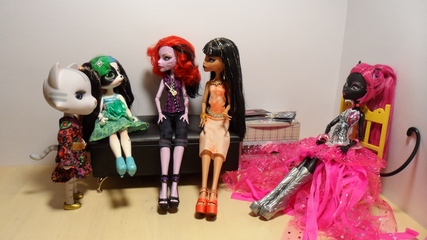 Operetta: So, whose music do you like best? Pepper: Um, my mom's got your record, and she loves it, but I listen to Cleo's music more. I don't really listen to Catty's music, because it's... um... Catty: Because it's feline music. No need to be embarrassed about that. I know canines aren't into it. Pepper: But I love your dress. Mom would love it too. She used to wear pretty dresses like that when she was Miss Canine. Of course that was a long time ago, but I've seen photos. Cleo: So that's it. I was wondering about high heels on someone as young as you. Have you participated in beauty pageants too? Pepper: I'm not pretty enough. Mom says it's because I look like my dad. Operetta: Probably better that way. It's not an easy life. Nikki: May I ask you something? Catty: Sure. What do you want to know?
Catty 5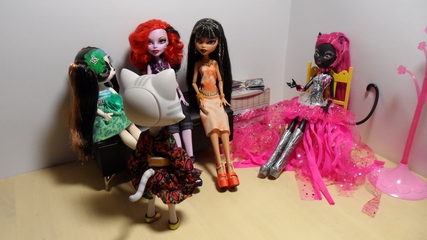 Nikki: Why are you all here at the same time? Are you doing some sort of a collaboration thing? Cleo: Kind of. We agreed to this charity project, and they need a photo of all of us together. Your mom is going to take it. Nikki: The girls at school won't believe this when I tell them. I mean, they know my mom takes photos of really cool people, but nobody's going to believe you were all here at the same time. Catty: They will once the ad gets into all the big magazines. Then you'll get to say "I told you so." Won't that be fun?
Catty 6
Jet: I'm sorry you had to wait... Nikki, have you been a nuisance? Catty: Oh no, she's behaved very well, and so has her friend. Operetta: And we had an interesting conversation. Jet: That's good then. Nikki, would you mind introducing your friend? I don't think we've met. Nikki: This is Pepper. She just moved across the street with her mom. Pepper: It's nice to meet you, ma'am. I didn't want to intrude... Jet: Nikki's friends are always welcome, and you can call me Jet. We're not that formal here. Nikki, I think you two should go upstairs now, the rest of us have work to do. And don't go to the kitchen. Annie's there with her friends and they have some school assignment, so they need peace and quiet. Nikki: Okay. Let's go, Pepper.
Catty 7
Holly: Why did we come here? Why couldn't we go to your house? Annie: It's stinking there, and I think it's actually dangerous right now. We had some guy come in and spray some nasty stuff everywhere to get rid of the cockroaches. Dad's staying at the theater, and I'm staying with my mom, but you wouldn't like going there. Fiona: Why not? I'd love to meet her. She's so fabulous and famous... Annie: And insufferable. - Okay, maybe we should start thinking about this assignment. Anyone got any good ideas?
Catty 8
Jet: I hope you weren't just polite, when you said Nikki didn't bother you. Operetta: Not at all, she's a nice kid. I know we had a bad start, but she apologized and that's all in the past now. Cleo: What do you mean? What did she do? Jet: Just said something without thinking first. Catty: Sounds like a lot of people I know.