Annie's friends 1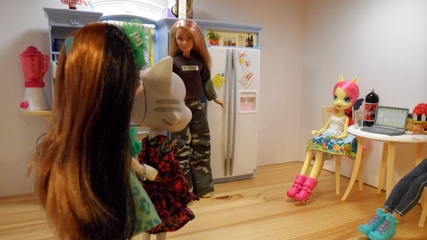 Nikki: ...and this is the kitchen. Oh, hi Annie! What are you doing here? Pepper: Nikki, your mom just said... Nikki: Hush! Annie: Nikki, you're not supposed to come here now. Jet said she would tell you that. Fiona: So, you're Nikki, and Jet is your mother? You don't look like her. Nikki: I look like my dad. Who are you? Fiona: I'm Fiona, and the one with pointy teeth is Holly. Annie: Sigh. So, who's the last one? Pepper: I'm Pepper. I just moved across the street.
Annie's friends 2
Pepper: You're not quite like me. Holly: Not quite. Half-breed. Got a problem with that? Pepper: I was just wondering... Nikki: What's your assignment about? Can we help? Fiona: Do you know something about local history? We're supposed to research some of that. Nikki: Why don't you ask uncle Harvey? He's into history, and I'm sure he could tell something interesting. He knows really good stories. Fiona: Who's uncle Harvey? Annie: Jet's friend. And actually, Nikki, that was a brilliant idea. But you two really should go now. Nikki: Okay. I didn't want to be a bother, I just wanted to see your friends. Annie: It's all right. By the way, do you know Harvey's phone number? Nikki: It's on the notice board in the hall. Below the photo of him and the limo.
Annie's friends 3
Pepper: Who's Annie? Nikki: Her dad is my mom's boyfriend. Pepper: Oh. So where's your dad? Or shouldn't I ask? Nikki: He's dead. Pepper: I'm sorry. And I thought I had it bad with dad being away half the time. Nikki: Why? Where does he go? Pepper: Antarctica. You know, South Pole. Nikki: Isn't it really cold there? And polar bears and stuff? Pepper: No bears. That's the North Pole. Antarctica has penguins.
Annie's friends 4
Pepper: Do you always meet really big stars? I still can't believe I really met them. Mom's not going to believe it either. Nikki: Most of the people mom works with are models. They're not actually stars, but they are all really pretty. Pepper: Mom was pretty when she was Miss Canine. She's still pretty, but of course she's older now. Nikki: If she was Miss Canine, she must have gone to the all species pageant too. Pepper: Yeah, she did, but she came fifth. Nikki: That's really good. Pepper: That's what dad says, but mom's always been upset about it. She wanted to win so badly.
Annie's friends 5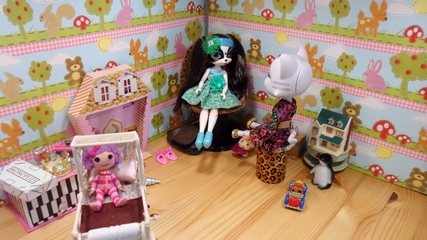 Nikki: What does your mom do? I mean, where does she work? Pepper: She doesn't, not the way you mean. She does a lot of charity stuff, you know, PR and arranging charity drives, but she doesn't get paid for it. Nikki: Really? Is your dad rich then? Pepper: Not dad. Mom inherited money from an aunt who had no children. Mom was always her favorite. Probably because the aunt was also a beauty queen when she was young. I've seen pictures of her, and she looked just like mom.
Annie's friends 6
Holly: What's this? Annie: A list of web sites Harvey thought we could check. He'll be here later when his shift is over, but he said we should start with those and decide what we want to research in more detail. Fiona: He's coming here? What's he like? Annie: He's okay, but I don't really know him that well. He's been Jet's friend for a really long time, because Nikki's dad was his best friend. They were in war together and that's where Nikki's dad died. Holly: I had no idea. - So Harvey's feline then? Annie: No, he's like me. Why would you think he's a feline? Holly: Nikki's dad must have been, and if they were best friends... Annie: I see. I guess it could seem odd. Jet and Nikki are so nice that I always forget what felines can be like.
Annie's friends 7
Later: Annie: Harvey, these are my friends Fiona and Holly. Harvey: Nice to meet you, ladies. Annie told me you want to hear about local history. Did you check the web sites? Fiona: We did. The ghost stories were cool, but I don't think the teacher would accept them as real history. Harvey: I thought you'd find them interesting, and you're right, ghost stories are not real history, but the actual events that led to those stories are. Holly: You mean the way they used to deal justice back then? Like what they did to that woman who was supposed to be a witch? Harvey: Yes, her. It was her bad luck that she looked different and had such a bad temper. Back in those days, it was important to blend in, be like everyone else. Annie: Because if people didn't like you, they made up stuff to make you look like a witch? Harvey: Quite right.
Annie's friends 8
Harvey: You know, there are still relatives of hers living in the area. Fiona: Really? Who? Harvey: Her descendant in direct line. I met her when I was helping a friend with his historical research. She works at the library. Holly: Cool! Do you think we could talk to her? This is going to be the best assignment ever! Harvey: Of course you can talk with her. It's her job to help people with historical research, which is exactly what you're doing. And she can find you the newspaper articles about the case. You can't find them with that computer, because they are currently available only on microfilm. Fiona: What's that? Harvey: You'll see.
Annie's friends 9
Jet: I see you decided to get some expert help. Annie: It was Nikki's idea. I didn't know Harvey knows so much about history. Harvey: There are a lot of things you don't know about me. Jet: So, have you decided what you're going to write about? Fiona: We're writing about this woman, who was charged of being a witch, because people didn't like her. Jet: Yes, a lot of that was going on in the past. Holly: And there's a relative of hers, who works in the library, so we're going there next. Annie: Thanks for letting us use your kitchen. Jet: I'm glad I could help. Although Harvey was probably much more useful.
Annie's friends 10
Jet: It was nice of you to help them. Harvey: It's always good to see young people interested in history. I know it's just a school assignment, but they seemed genuinely excited. Jet: They're going to meet a descendant of a witch, of course they're excited. Too bad she wasn't a witch, just a poor unpopular woman. Still, it should be interesting. Harvey: You know, that Fiona was really tiny. It's hard to believe she's Annie's age. Jet: She's not. Fiona skipped a grade when she and her father moved here a couple of years ago, so she's a year younger than Annie and Holly. Harvey: That explains it then. Can't be easy to be brainy and among older girls. Jet: Don't worry. Annie said everybody's nice to Fiona, because she's Holly's friend. Harvey: So Holly is popular? Jet: Holly's got big teeth. Would you want to be enemies with someone like that?
New job 1
Honey: Everything seems to be in order, but there's one more question I want to ask. Why did you leave your previous job? Venus: Oh, it was just a temporary one. The owner was sick and needed somebody to take care of things until he got better. He's back now and didn't need me anymore. Honey: All right. Schizo says you can be trusted, but I never trust anyone blindly, not even him. I'm willing to give you a chance, but it'll have to be on a trial basis at first. We'll see how it goes and discuss the future later. Venus: That's fine by me. I'm just happy you're giving me a chance. I won't let you down.
New job 2
Honey: We'll start by working a few shifts together. I want you to get familiar with how things are done here before I let you work alone. Venus: Okay. Is there anything I should know about the customers? Like, are there people not allowed in here? Honey: There's nobody like that at the moment. This is a fairly peaceful neighborhood, and we haven't had much trouble so far. Just remember to ask for an ID, if you have any doubts about the age. With some people, you just can't tell. And if a short, gray, round guy happens to come in, he's too young. Don't let him fool you. Venus: Round? Honey: As Schizo put it, "annoyingly cute ball of blubber with a bad temper." You'll understand, when you see him. His name is Eddie. Venus: All right. What about the outfit? Are there any special requirements? Honey: Clean and decent, otherwise it's up to you. What you're wearing now is just fine.
At the bar 1
Gustav: You're new. Where's Honey? Venus: She's in the backroom, sorting orders. I'm Venus, and yes, I just started. Gustav: Well, it's nice to meet you. I'm Gustav. Venus: You're the detective? Honey has told me about you. What can I get for you? Gustav: Beer. I hope she told you good things about me. Venus: Oh yes, she said you're really good at what you do. She said you caught that serial killer. Gustav: It was team work, but yes, we got him and he's never getting out again.
At the bar 2
Robecca: I noticed the bartender was very friendly. Something going on? Schizo: What? No! No, there isn't. I dated her mother when she was a child. Anything like that would be too weird even for me. Robecca: Oh, I hadn't realized you're a decent guy. Schizo: Just don't let anyone know. Bad for the reputation and all that. Robecca: My lips are sealed.
At the bar 3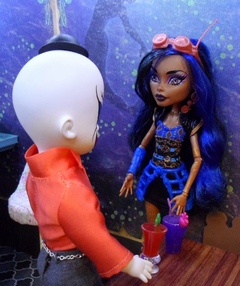 Schizo: So, how's the court case going? Robecca: It isn't. Mother started backtracking after some newspaper articles. Schizo: You mean the "Where does the soul reside" debate? It was most entertaining read. Robecca: Yeah. Even the religious nuts can't get past the fact that after a heart transplant you're still the same person. So they had to admit that the soul does not reside in the heart. Brain was the only answer left. And I've got my own brain. Otherwise I would be dead now. Schizo: Does that mean that there won't be a court case? Robecca: No. Vicky and I are pushing the issue no matter what. We need to set a precedent to help anybody facing the same problem later.