New Friends 1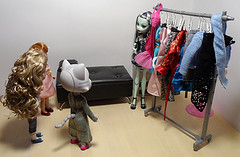 Nikki: Frankie! This is Caroline. She's new in our class. Betsy: The teacher said we should be nice to her, because she's new. Nikki: But of course we would be nice anyway. Frankie: Of course you would. Caroline, I'm Frankie, and I work for Nikki's mother. Caroline: Nikki said her mother's a photographer. Are you a photographer too? Frankie: No, I'm just an assistant. I keep things organized, so Jet can focus on her job. Caroline: Her name is Jet? That's cool! Nikki: And if she marries Frank, she'll be Jet Black. That's even better. Frankie: Nikki, how many times... Nikki: I know, I know, but Frank doesn't mind me making jokes about it. Caroline: Frank is your mother's boyfriend? Nikki: Yes. He works at the theater, directs plays and all that. Caroline: Wow! Really? Real plays? You know, the kind that people pay a lot of money to see? Not some amateur stuff? Frankie: Real plays. The next one will be absolutely amazing. Nikki: If you like plays, we could ask Frank if we can go and see a rehearsal. Usually he doesn't mind as long as we're quiet and don't bother anybody. Caroline: I'd love that! Frankie: I need to take these to the dressing room. It was nice meeting you, Caroline.
New Friends 2
Caroline: What's with all those scars? Nikki: Shhh! She'll hear you. Caroline: Sorry. So, what happened? Nikki: I don't know. I think she had an accident or something. Mom says it would not be proper to ask. You know, that it's none of our business, and if Frankie wants us to know, she'll tell us. Caroline: All right, I won't say another word. I think I like your mom already. Betsy: She's the best! Not at all like most felines. She's really nice to everybody. Nikki: Not everybody, but to everybody who knows how to behave. Caroline: I guess I'll have to try my best then.
New Friends 3
Annie: ...and then he said... oh, hi Nikki! Who are your friends? Wait, I think I have met the other one already. Betsy, isn't it? Betsy: Yes, and this is Caroline. She's new. Nikki: New in our class, that is. Annie: I see. I'm Annie and this is Eva. Caroline: Are you models? You look like it. Eva: I'm a model, Annie isn't. Nikki: Annie's my almost sister. Caroline: What's that? Annie: My dad and Nikki's mom... Caroline: Your dad's the one who directs plays? That's so cool! Annie: Is it? Caroline: Oh, yes! I love plays. Eva: I need to go now. Time to see what we're shooting today.
New Friends 4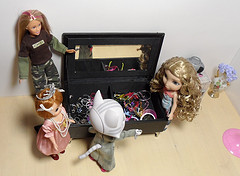 Nikki: This is actually a storage. Mom lets me play with this stuff as long as I don't break anything and put everything back afterwards. Annie: I'll keep this up. It's a bit heavy and you don't want it falling on your head or hands. Caroline: Are you sure this is all right? Betsy: We've played with these before. Annie: It's just cheap stuff anyway. You know, props for photoshoots. It only needs to look good. There's no expensive stuff here. Any expensive jewelry is only on loan for a few hours and sometimes even comes with a security guard who won't let the jewels out of sight. Caroline: A real guard with a uniform and all? Annie: Sorry, no uniform, just a dark suit and tie. Mostly they look like bankers or stock brokers. Nikki: Not that one guy with a crooked nose. Annie: Yeah, well, he was a former boxer. A few of them retire with brain more or less intact. Caroline: But not the nose.
New Friends 5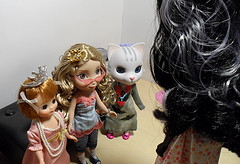 Jet: Frankie told me Nikki's got a new friend. You must be Caroline. Caroline: Yes, ma'am. Jet: You can call me Jet. So, you're new in Nikki's class. Caroline: That's right. My previous foster family lived on the other side of the city, so when I moved here to live with my new foster mom, I had to change school too. Jet: I see. Are Nikki and Betsy your first new friends here? Caroline: Sort of. I did meet this strange guy at the art gallery, and he said we could be friends, if my foster mom thinks it's all right. His name is Schizo. Nikki: You've met uncle Schizo already? Why didn't you tell us? He's great! Caroline: You know him? Jet: Yes, we all know him. He's an old friend, and all children like him. At least, all that I know of. If your foster mother has any doubts about him, you can tell her to call me. Caroline: Thanks. You're really nice. Betsy said you would be. Jet: I need to get back to work now. You can play here, but don't come into the studio while we're working. Annie, will you look after them? Annie: Sure, don't worry.
New Friends 6
Caroline: Your mom is really pretty. Nikki: She was a child actress a long time ago. She says it was just a cheap soap opera, but she was in it for a few years. Betsy: Who cares if it was cheap, she was a real actress. I'd give anything to get into a soap opera or a sitcom or even reality tv. Caroline: Reality tv is crap. They make you look like an idiot. Actually, I think most people who get into those shows really are idiots. Nikki: Mom says it's better not to be a celebrity. You can do anything you like and nobody cares. If you're a celebrity, everything you do gets to the papers and gets twisted to something totally different. Caroline: Yeah, like you go out to eat with somebody, and the next day he's your new boyfriend. I think the reporters may be idiots too. Nikki: That's what auntie Topaz always says. Caroline: Topaz? Do you mean... the one who was on the cover of last week's Feline Enquirer? You know her? Nikki: Do you read Feline Enquirer? Caroline: Of course not. I saw it in a store and noticed her picture. You can't help noticing someone like her. Do you know her? Nikki: She's mom's friend. She travels a lot, so we don't see her very often, but she comes for a visit every time she's in the city. Caroline: You know so many cool people.
New Friends 7
Nikki: This is my room. Like it? Caroline: Do you still play with toys? Nikki: Of course. Why wouldn't I? Caroline: It's childish. Nikki: No, it isn't. It's fun. Look! This is Lala. We often go out together to see different places, and we talk about everything. Caroline: She's just a doll. She can't talk. Nikki: Yes, she can, but she only talks to me. Well, she did once talk to Icebat, but that was because she thought he was a toy. Caroline: What's an icebat? Nikki: Icebat is his name. He's short and blue, and he likes snow and ice. He's uncle Schizo's friend. They sometimes perform together. Caroline: What do they do? Nikki: The trick where you pull a rabbit out of a hat, only it's not a rabbit, but Icebat. People love that one.
New Friends 8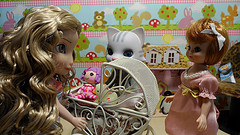 Caroline: Do you play with dolls too? Betsy: Of course. Are you really saying that you don't? Caroline: I'm too old for that, and so are you two. Nikki: You're never too old to play with dolls. And even if you were, you could still collect them and display them. Auntie Topaz has expensive dolls that I'm not allowed to play with, because they are just for looking. Caroline: Really? She's got dolls even though she's famous and everything? Betsy: What's that got to do with it? Except that she can afford better dolls than us.
New Friends 9
Betsy: Nikki, I need to go to the bathroom. Nikki: You know where it is. Betsy: But what if someone starts asking what I'm doing here? Nikki: Everybody knows who you are. Betsy: I know, but still... Nikki: Mom's models aren't really that scary, but all right, I'll come with you. Caroline, will you be all right, if we leave you alone for a few minutes? Caroline: Of course, I'm not a baby. Unlike some.
New Friends 10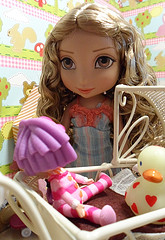 Lala: Hey! Psst! Caroline: What...? Who...? Lala: Me, here in the pram. Caroline: What...? Am I imagining this? Lala: No, you silly girl! Nikki told you I can talk. As a rule I don't talk to strangers, but I want to get something straight with you. I can talk, and other dolls can talk too. Do you believe it now? Caroline: I guess I have to. How come I've never heard a doll talk before? Lala: You said you're too old to play with dolls, so I'm not surprised nobody's talked to you. We are very picky and only talk to those who deserve it, with a few exceptions like right now. Caroline: What do you mean those who deserve it? Lala: If you want a talking doll, you'll need to get a doll and be very nice to her. Then maybe she'll talk to you, if she likes you. - Shhh, they're coming back. Not a word of what I just said. Caroline: All right... Thanks.
New Friends 11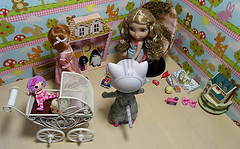 Caroline: Somebody said the teacher is new too. Betsy: She is. The previous one did something bad and had to go. We were lucky that Nikki's aunt was looking for a new job. Caroline: She's your aunt? Nikki: I call her aunt, but she's not really related to us. She was mom's guardian a long time ago, after mom moved away from grandma and grandpa. Mom says she wasn't old enough to sign any contracts, so a judge made aunt Kate her guardian. Caroline: How's that different from a foster mother? Nikki: I don't know. Maybe it's because mom lived alone, and aunt Kate just signed papers. Anyway, she's really nice, and she's been all over the world. The geography lessons are so much better now. Betsy: I think that story about eating snakes was gross. Do you think she really did it? Nikki: She said so, and she doesn't lie about stuff like that. Caroline: So what stuff does she lie about? Nikki: Her job, the previous one, I mean. Or she doesn't actually lie, she just doesn't tell what she did. Mom says it's because of business secrets. You know, because she has promised not to tell.
New Friends 12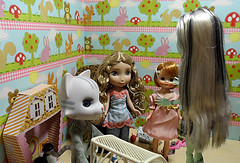 Frankie: I thought you'd be here. Time to head to the kitchen. Caroline: What's in there? Frankie: Cookies and snacks. Nikki: Did you finish working already? I thought mom said it was going to be a long day. Frankie: We didn't finish yet, but we're taking a little break. Even the most gorgeous models need to use the bathroom once in a while. Caroline: Why? They eat hardly anything. Nikki: Yeah, but they drink a lot of water. Eva says it's because it helps when you're feeling hungry. Betsy: Eating helps a lot more. Let's go to the kitchen! Frankie: And I've got news for you as well. We won't be seeing Naomi for some time. She had an accident and broke her leg. Nikki: What happened? Frankie: Platform shoes 1 - Naomi 0. She fell from the catwalk. And no smirking, it's serious business. She could have been badly hurt. Caroline: And breaking your leg isn't bad?
New Friends 13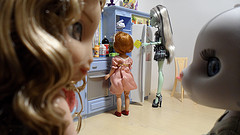 Caroline: Who's Naomi? Nikki: One of the feline models. She's got a bad temper, and she doesn't like non-felines. You know, that's why Betsy's afraid of getting around the house on her own. Caroline: What happened? Nikki: She once ran into Naomi. Actually ran into her. She didn't do it on purpose, but Naomi was really nasty. And now Betsy always wants me to go with her. None of the feline models dare to be nasty to me, no matter how bad tempered they are otherwise. After all, they're at our house, and we have rules about things like that. Caroline: I wouldn't let some clothes hanger with a bad temper scare me. Nikki: I guess you wouldn't, but Betsy's not like you. Well, of course she's like you, I mean, she's your kind, but... Caroline: But she's nice and doesn't know how to defend herself. You can see that a mile away, and that's part of the problem. It's never a good idea to be an easy target. Nikki: But it doesn't give anyone the right to hurt her. Caroline: Of course it doesn't, but people like that Naomi are always looking for weakness in others. Nikki: You too. You called her a baby. Caroline: I didn't know what it was all about. I won't do it again.
New Friends 14
Greg: Jet asked me to bring this here. Where do you want it? Nikki: Who are you? I've never seen you before. Frankie: This is Greg. He's Harvey's friend, and as Harvey's busy today, he sent Greg to help us. Greg, this is Nikki and her friends Betsy and Caroline. Greg: Nice to meet you, ladies. The chair...? Nikki: You can put it here. Are you really uncle Harvey's friend? Why haven't we seen you before? He hasn't even told us about you. Greg: I guess it's because we only met recently. I came back from my deployment a few weeks ago and met Harvey at the hospital where I was visiting a friend. Caroline: What's wrong with your friend? Greg: He drove into a mine. But don't worry, he'll be back on his feet in a few months. The doctor said so. Frankie: I'll need to get back to the studio. Greg, knowing Nikki, I'd say you won't be getting out of here any time soon, so you might as well help yourself to the snacks and soda. And I think there's something a bit stronger in the fridge, if you prefer that.
New Friends 15
Betsy: What's a deployment? Nikki: It means he was in a war. Betsy: That's scary. Do you have to go back? Greg: No, I'm not going back. Twice was enough for me. So, now I'm unemployed and looking for a job. Nikki: Is that why uncle Harvey sent you here? Greg: I guess so. Jet says she can't hire me permanently, but that she does need some help now and then. That's better than nothing. Nikki: When you were in a war... where were you and what did you do? Greg: I was very far away, in a desert, and my job was to find hidden bombs. Caroline: That's dangerous. Greg: Yes, it is, but somebody's got to do it, and we're the best guys for the job. Betsy: Who's we? Greg: The canine squad. But enough about that. Nice little girls like you shouldn't have to know anything about war. It's nasty business.
New Friends 16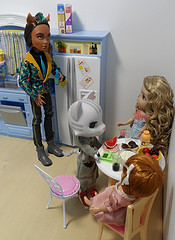 Greg: So, Nikki, have you known Frankie for a long time? Nikki: She hasn't been here for long. She wanted to be a model, but mom said she couldn't, and then mom hired her as an assistant. Greg: She looks just like a model to me. Nikki: You know, she doesn't have a boyfriend and if you dressed better... Greg: Hold on! What's wrong with my clothes? Caroline: Have you looked in the mirror? You look like a pimp. Greg: And how do you know what they look like? Betsy: I saw one in a movie. Caroline: And one of my second foster father's friends was a pimp. My then foster mom said so when she kicked him out of the house. Greg: All right, all right, you know what they look like. Do you know what a pimp is? Betsy: They're bad guys. In the movie, the guy took all the money from his lady friends. Caroline: I don't think they were ladies. Greg: Maybe we can leave it at that. Pimps are bad guys with bad taste in clothes. I certainly don't want to look like one. Any suggestions? Caroline: Get rid of the jacket.