Dysfunctional Families 1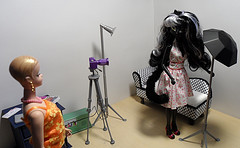 Ellen: Thanks for inviting me here. Jet: I thought it would be easier to talk here than on the phone. Ellen: You're probably right. First, I want to say, I'm really happy that Caroline has found friends, but I think I should warn you. Jet: Warn me? About what? Her? Ellen: Yes. She's been through a lot for someone so young, and that has left its mark. She's got a tendency to get into trouble. Nothing too bad so far, but I thought you should know. Jet: All right. Nikki is mostly sensible, but I'll keep an eye on any suspicious activities. And who knows, maybe the girls can help Caroline to behave better. Ellen: Maybe. After she was here with Nikki and Betsy, she actually asked me to buy her a doll. I had offered to do that before, but she said then that she was too old for that. Jet: So what's her story? Can you tell? Ellen: Her parents died when she was very young. There were no relatives, so Caroline was left alone and started her way through various foster families. Jet: Why many families? Ellen: Some turned out to be bad places and she had to be taken away, others couldn't deal with her and gave up. Jet: She seemed very nice to me, but of course I only saw her for a short time. Ellen: If she likes you and wants to make a good impression, she can be a little angel. That's what fooled the families who couldn't cope with her in the end. Jet: At least you seem to understand what she's like. That's a good start.
Dysfunctional Families 2
Ellen: About Schizo... Jet: He can behave really badly sometimes, but never around children. He's grumpy, but he likes his young friends. I guess it's because they don't tell him to behave like a grown-up. Ellen: So you think I can let them be friends? Jet: Yes, and I think you should tell him what you just told me. He may be able to help. Children love him, because he's a good listener and can keep a secret. And he's not easily shocked, no matter what they tell him. Ellen: That's good. Some things Caroline's been saying... I'm not sure if she makes them up or if she's telling the truth, but even if it's made up, she shouldn't be able to do that. Jet: Some children grow up faster than others, or they are forced to. All I can say is that I turned up just fine despite the bad start. Ellen: You were a foster child? Jet: Not exactly. I left my parents when I was 15. Ellen: Why... I'm sorry, I shouldn't be asking. Jet: Why did I leave? The tabloids had a field day with it, and I might as well save you the trouble of looking it up. The short version is that I was a child actress and first it was fun, but in the end I hated it. However, my parents were too fond of the money and wouldn't let me quit. It all ended with a judge assigning a guardian for me. He said I needed somebody who was thinking of my best interest. That was Kate, the new teacher at school. We've remained friends all these years. Ellen: I've met her. She's... um, quite formidable. Jet: Scary, you mean? She's scary even to most felines, but she's actually quite nice once you get to know her. And she has worked with problem children, so she'll know how to deal with Caroline.
Dysfunctional Families 3
Jet: May I ask something completely unrelated to what we've been talking about? Ellen: Sure, go ahead. Jet: Have you ever done any modeling? Ellen: Me? Never. Jet: You've got the perfect features for it. Interested? Ellen: Not really. I do serious research in sociology. I don't think the two would mix very well. Jet: Ah, the credibility issue. I understand. One of my models decided to pass any underwear and bikini shoots for the same reason. She's only modeling to finance her science studies. Ellen: Very sensible decision. Jet: It seems that a friend suggested that to her, and after considering it carefully, she decided her friend was right. Actually, I too think her friend was right. Ellen: It is a pity, though. You know, the whole idea that beautiful women can't be taken seriously, especially if they've used their beauty in some professional manner as actresses, models or beauty queens. Jet: It is, but unfortunately, there isn't much we can do about it. And that's why I'm actually quite happy that Nikki is just cute and will never be a striking beauty. Ellen: So you're not hoping that she wants to be a model or actress? Jet: Oh no. I want her to have a normal life.
Dysfunctional Families 4
Harvey: I'm sorry, did I interrupt something? Frankie didn't mention that you have a guest. Jet: It's quite all right. This is Ellen, Caroline's foster mother. Harvey: I'm Harvey. Nice to meet you. I haven't met Caroline, but my friend Greg has. Ellen: Caroline mentioned about meeting him. I hope she wasn't too rude. Harvey: Greg did mention something about the girls not liking his clothes, but don't worry, he can take it. Canines aren't easily offended. Ellen: Your friend's a canine? Caroline didn't mention anything about that. Harvey: Maybe she didn't think of it as a big deal. Do you? Ellen: Of course not, I just thought that because he's not like us, she would have mentioned it to me. Harvey: Maybe she wanted to have a secret. Ellen: Maybe. At least it was a harmless secret. It just makes me wonder what else she's not telling me. Jet: Don't take it so seriously. There are a lot of things Nikki doesn't tell me, but she always tells the important stuff. The rest she talks about with Harvey or Schizo. Harvey: And we tell Nikki to tell Jet, if we think it's something Jet needs to know. Ellen: That sounds like a sensible approach. I guess I'm just finding it hard to trust Caroline because of the things she's done in the past.
Dysfunctional Families 5
Later: Harvey: Ellen seems nice. Jet: Yes, she does. What did you mean with the remark about Greg's clothes? Harvey: Apparently, the girls thought he looked like a pimp. Now don't get mad, they were just honest. And it seems that they are not correctly informed about what a pimp is. Jet: I certainly hope not. Still, they shouldn't be saying something like that to Greg. Harvey: He thought it was funny. Jet: Why are you so interested in Greg? Or shouldn't I ask? Harvey: He's a nice guy, but a bit lost. No job, no plans... I thought he needed help. Jet: And you're sure he's OK? Harvey: Honorable discharge, no criminal record, not even juvenile stuff. I asked Maria to check. Jet: I should have known. Harvey: Yes, you should. I also called his commanding officer, who's a friend of a friend, and he confirmed what the paperwork says. Greg's OK. Jet: I'm happy to hear that. I'm sure Frankie will be happy to hear it too. Harvey: Frankie? You mean... Jet: Looked like that to me. I just hope he doesn't have a wife or girlfriend somewhere. Or a boyfriend. Harvey: He doesn't. He told me that his girlfriend dumped him when he was abroad. Apparently she got tired of waiting and found some surfer guy who took her to Bali. - Now, where do you want to take this? Jet: To the store room. And we need to bring in the one needed for tomorrow's shoot. I want to have everything ready for the morning.
Dysfunctional Families 6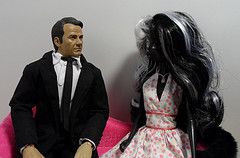 Jet: Harvey, I've been thinking... am I doing what's right for Nikki? I'm talking about my parents. Harvey: I'm not qualified to judge. I only know what you've told me. Is this because you don't like lying to Nikki? Jet: Yes. I mean, she does have a right to know, but then again... Harvey: Then again, it probably wouldn't be good for her to hear that her grandparents treated you as their money-making machine and cut off all contact once they couldn't make you continue anymore. Jet: No, I guess not. I've always thought that I'll tell her when she's an adult and can understand it better, but then they'll probably be dead already. Harvey: Jet, she had one set of perfect grandparents. She'd just be expecting your parents to be the same. You need to decide, which is better, the lie about dead and nice grandparents or the ugly truth. Jet: You're right about John's parents. You have no idea how many times I hoped that I had parents like that. Harvey: You know, if you want a more informed opinion, you should talk with Kate. She knows all about it and she knows about children. Jet: I don't need to ask her opinion. She has told it to me more than once. Harvey: And what is it? Jet: Forget they ever existed. - It's hard to believe she used to be a family friend. Harvey: I'm happy she chose your side, but wasn't she a bit young to be your guardian? Jet: Sure, but she had been a social worker for some time and that was enough for the judge. I wish she had remained a social worker and later a teacher, so she would have stayed home instead of traveling around the world. Although that only started after I was 18, and the first thing she always did after returning was to check on me. Harvey: But now that's all over, isn't it? She has decided to stay put. Jet: Not exactly. She's just taking a break while considering her options. The teaching job is just something to keep her busy.