Shoe Shopping 1
Nikki: I love shoes, but mom says I can't wear high heels yet. She says you need to let your feet grow up first. Frankie: Strange way of putting it, but true. It's bad for your feet to start using high heels too early. Actually, they're bad for your feet anyway. Nikki: So why is everyone using them? Frankie: Because they make you look fabulous. What else? Nikki: Is that why men don't wear high heels? Because they're bad for your feet? Frankie: Not really. There have been times in history when men's shoes also had fairly high heels, but nowadays high heels are not considered manly. Nikki: You mean that men don't wear high heels now, because it's what women do? Frankie: Yes, and because low heels are so much more practical and sensible. Nikki: And dull. - May I go and look around? I won't go far. Frankie: Sure. Try not to bother anybody.
Shoe Shopping 2
Operetta: Why don't you have these in my size? Saleslady: I'm sorry, all these shoes are only available in that size. Nikki: Don't you know the designer of those said he only makes shoes for ladies, not for Bigfoot? Operetta: What...?
Shoe Shopping 3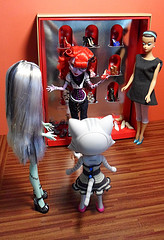 Operetta: I am not Bigfoot! Frankie: Nikki, what did you do? Nikki: Nothing. I just told her why those shoes are only available in a really small size. Frankie: You and your big mouth... - I'm sorry. Nikki didn't mean any harm, she just doesn't always think before saying stuff. Operetta: I noticed that! Are you her... no, of course not, you can't be related to her. I suppose you're a nanny or au pair or something. Frankie: I'm her mother's assistant. Operetta: And may I ask who her mother is? Is she with you? I'd like a word with her. Frankie: No, Jet is at work. Operetta: Jet? That photographer? Nikki: Yes, do you know her? I've never seen you before. And I'm sorry, I didn't mean to be rude, it's just that the designer really said so. Or maybe the magazine was lying. Operetta: No, you are quite right. The designer really said so. Still, you were rude, but as you understand it yourself, I think we can forget about it. And I guess I overreacted a little. Frankie: Thanks, that's nice of you. You know, those shoes aren't even that great. Did you see the ones over there? They're all in our size.
Shoe Shopping 4
Operetta: Your little friend is Nikki, but I don't know your name. I'm Operetta. Frankie: I'm Frankie. You look awfully familiar, but we haven't met before, I'm sure of that. Operetta: I'm a singer. You may have seen me on TV. I've been in a lot of talk shows lately as my first album just came out. Frankie: Oh yes, that's where I've seen you! You were on that talk show where that stupid bald guy was saying you got the record deal because of your looks. Operetta: That old jerk! His singing career is ancient history, and he never was that good, but he thinks he can judge others. Frankie: You handled it well on camera. I've never seen him so embarrassed. Operetta: Served him right. Frankie: I wonder why they didn't cut that part out. After all, it wasn't a live broadcast. Operetta: I'm sure he tried to make them, but I've heard that he doesn't really have that much control over the show.
Shoe Shopping 5
Frankie: What do you say, Nikki? Nikki: They're really pretty. I think you should buy them. Frankie: I think so too. Nikki: I'm sure he'll like them. Frankie: Who? Nikki: Greg, of course. Who did you think I meant? You like him. Frankie: Nikki... Nikki: What? He likes you too, so what's the problem? Isn't that how it's supposed to be? Frankie: Let's change the subject. - Operetta, it was nice talking with you, but I think Nikki and I need to go now. Operetta: I hope we'll meet again. By the way, she's right, they really look good on you.
BellaDonna 1
Nikki: I thought you said you're too old to have dolls. Caroline: My foster mom insisted on buying me one. I want her to like me, so I said I wanted one. Nikki: What's her name? Caroline: Dot. Frankie: Will you please wait here? I will go and tell Jet you have arrived. Would you like something to drink? Bella: No, thank you. Donna: We're fine. Nikki: Hey, I know you. You're in that new movie. Bella: That's right. Who are you? Nikki: I'm Nikki, and this is my friend Caroline. Donna: Nice to meet you. So, are you our fans? Have you seen the movie? Caroline: What movie are you talking about? And who are you? Bella: I guess you're not a fan.
BellaDonna 2
Nikki: Caroline, haven't you heard of them? They're BellaDonna, the famous actress twins. Caroline: Belladonna? You have just one name? Like a band or something? Bella: Of course not. I'm Bella and my sister is Donna. You won't get us mixed up, if you just remember that "Bella" and "blonde" both start with B. Caroline: That makes more sense. Twins or not, you're two different persons. Having just one name would be weird. Donna: Really? Most people think of us as a single unit, or maybe as interchangeable. Usually they don't even bother to remember which one is which. Caroline: That's stupid. And really rude. Donna: You think so? I think we like you.
BellaDonna 3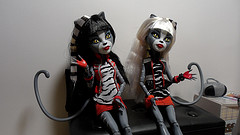 Caroline: So, what's the movie about? Bella: It's a story about feline twins who change into humans during full moon. Donna: And then they need to hide in their house until they change back, because it would be so embarrassing to be seen in an inferior form. Bella: But then it's full moon at prom night, and that leads to all sorts of complications. Nikki: Sounds like fun. I mean, it can't be really serious. Donna: Of course it's not serious. You should definitely go and see it. You're both old enough. Most of our fans are your age, so we only make movies you can go to see. No bad language or adult themes. Just nice, clean fun.
BellaDonna 4
Caroline: Why did you say "inferior form?" Bella: No offense, but just think about it - no claws, no fangs, and your kind are not that good at running either. Donna: Of course some can run, but it's so rare that those people are called athletes, and they're famous for something we do every day. Bella: Well, not every day, you get so hot and sweaty, but you know what we mean. Nikki: I've never thought about it that way. Donna: Of course you haven't. Very few people do, because it's not polite to point it out. Caroline: I guess you're right. At least partly, but even if we don't have fangs and claws, we've got knives and guns and bombs and all that stuff. Bella: Yes, but we're talking about purely physiological aspects. And given the same external weapons, a feline still has upper hand.
Violin 1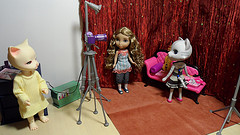 Emma: Are you sure it's all right to be here when there's nobody else around? Nikki: Mom won't mind as long as we don't touch anything. - We heard what you did. Why didn't you ask us to come with you? Emma: Nobody would ever call you two chubby. Caroline: I guess not, but that's not the point. Nikki: The point is, we're your friends, and we would have come to support you. You know, to say that we think the same way. Emma: I didn't think of that. I'm sorry. Nikki: It's okay, but next time you feel like making a statement, you need to tell us. Caroline: Unless it's something really silly. Nikki: We still need to know, so we can tell you, if we think it's silly and you can then think it over.
Violin 2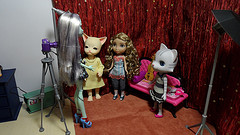 Frankie: Hello, girls. What are you doing? Emma: Nothing. Nikki: We were just looking. Is that violin a real one or just a prop? Frankie: Looks real to me. Let's check. Caroline: How? Frankie: If you can play it, it's a real one. Nikki: We can't play a violin. Frankie: But I can.
Violin 3
Emma: I think it's a real one. Nikki: Of course it is. Just listen. Caroline: Hush! Be quiet!
Violin 4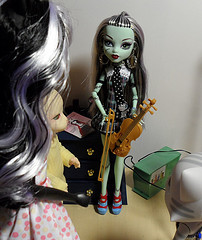 Jet: Frankie? Nikki: I wanted to know if the violin was a real one. Jet: It is, but I'm sure you already heard that. Frankie: I'm sorry, I couldn't resist testing it... Jet: No need to be sorry, I'm glad you did. That was beautiful. Frankie: Thank you.
Violin 5
Emma: May I try? Frankie: Have you ever played a violin? Emma: No, but it looks really easy. You just move that thing on it and you hear the sound. Frankie: It's not quite that simple. Maybe it's best to leave it. Jet: And we need to continue working anyway. Girls, would you mind...? Nikki: Okay. We'll go to my room.
Violin 6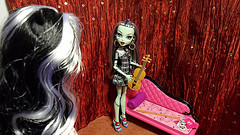 Jet: So, you dance ballet, play violin... Is there something else you can do that you haven't told me about? Frankie: No, not really... unless you count a brown belt in judo. Jet: I certainly do. What are you doing here, working as my assistant? Frankie: You hired me without knowing about my parents. This is the first job I got all by myself. And please don't ask me about my parents. Jet: All right, I won't. I'm happy to have you as my assistant, although I suspect that won't last long. The ones I'd like to keep usually are the ones destined for bigger and better things.
Adventure 1
Nikki: Who are you? What are you doing here? Nefera: I could ask you the same. Nikki: I'm Nikki, and these are my friends Danny and Icebat. We're here with uncle Schizo for an adventure. Nefera: I see. Who's uncle Schizo? And what in the world is that little blue guy? Icebat: I'm not little! I may be short, but I'm not little! Nefera: Okay, shorty, whatever you say. What are you? Icebat: I'm an Icebat, not "shorty," and you have no manners. Nefera: I've heard that one before.
Adventure 2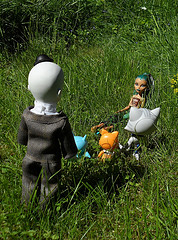 Schizo: What's all the commotion? Oh, hello! I didn't know there was someone else here. I'm Schizo, at your service. Nefera: I'm Nefera, and I'm at nobody's service. Are these your friends? And you're here for an adventure? Schizo: Yes. Nefera: I hope their parents know about this adventure of yours. Schizo: Of course. It wouldn't be proper to take them anywhere without asking their mothers first. Except in this case, the mothers asked me. They needed a babysitter for a few hours. Nefera: Mothers? What about fathers? Nikki: My dad is dead and Danny's dad is... Schizo: ...away.
Adventure 3
Danny: Daddy's in jail. Schizo: Danny, I don't think that's a good subject for small talk. Nefera: On the contrary, it's most interesting. So, Danny, what did daddy do to have to go to jail? Danny: Daddy didn't pay. Schizo: Taxes. Nefera: Aah, tax evasion. Don't worry, young man, I will not hold it against you, or your daddy. After all, tax evasion is more a sport than crime. Sometimes you win, sometimes you lose, and when you lose, you have to do time. I guess he was trying it in much too small scale. That's always the problem. You do it with understandable amounts, you go to jail. You do it with mind-boggling sums, you go to the senate.
Adventure 4
Icebat: Hey! I found a bug! A really big bug! Azura: Who are you calling a bug? Icebat: It talks too! Nefera: Of course he talks. He's my friend Azura. And he is most definitely not a bug, he's a scarab. Azura: And scarabs are beetles, not bugs. Schizo: Dung beetles. Danny: What's dung? Azura: Building material. I'd appreciate it, if you dropped the subject.
Adventure 5
Schizo: What's with all the artillery in your bag? Nefera: You mean this? You never know what may crawl out of the woods, so you need to be prepared. Nikki: Is that a real gun? Nefera: Of course it is. I wouldn't carry a toy gun. This will blow a hole through anyone who thinks I would be a tasty dinner. Danny: Dinner! Nefera: That's right. I guess you don't have that problem. Who'd think of eating a feline?