John Doe 21
Nikki: It's really bad then? Maria: It can be. It all depends on what you do to correct the situation. Look, I know it wasn't you, because you always show your finds to your mother to make sure you're allowed to keep them, so who was it? Nikki: What do you mean? Maria: Somebody wants to know how deep trouble they're in, and that's why you're asking me. Was it one of your friends? Nikki, I know it's a difficult situation, but we really need to get that skull. - All right, I'll tell you what we'll do. You call your friend and tell them to give that skull to you tomorrow along with anything else they might have taken from the same place. When you have it, call me and I'll come and get it. Then we'll forget all about who it was that took it. I'm sure they didn't understand how serious the situation is, so we can consider it a mistake, just like what you did. However, if I don't get the skull tomorrow, you will tell me who it is and they will be in big trouble. Do you understand? Nikki: Yes. Maria: And you know that I don't take "no" for an answer? Nikki: I know. Are you going to tell mom? Maria: You haven't done anything wrong, but I don't think there's any need to tell her right now. I'm not going to keep it a secret forever, though, so it would be better for you to tell her yourself. That way, you'll get to choose a suitable time.
John Doe 22
Jet: Did you get everything sorted? Maria: We're fine. Jet: May I ask what it was about? Nikki: Nothing. Maria: Nikki was just a bit worried, because of what the newspaper article said, so we discussed about what is a crime and what is not when it comes to collecting bones. Jet: Oh, that's good then. Maria: I heard you met Steve. Jet: Your new detective? He's a very nice young man. Maria: What's more important, he's very good. I'm not often impressed, but he is very promising. Of course, he's got big shoes to fill. Nikki: His shoes weren't that big. Maria: That's not what I meant. His father was a detective. Everybody says he was one of the best cold case detectives in recent decades, because he just kept on digging no matter how long it took. It's going to take Steve some time to become that good, but he's well on his way.
John Doe 23
Next day: Maria: We've got it. I just took the skull to the ME, and it's definitely a homicide. You don't need to be an ME to recognize a bullet hole in the back of the head. She'll let us know as soon as she knows more. Claudia: How did you get the skull? Where was it? Who took it? Maria: I don't know who took it. I got it through an intermediary, and I promised there would be no consequences, if we got the skull today. Steve: Why would you do that? Maria: Because it was a kid, and the intermediary was Nikki. I could have pressured her to give me the name, but this way, we can count on the others trusting her also in the future. That's more important than punishment for thinking that a real skull is a cool thing to have in your tree house or wherever it was kept.
John Doe 24
Claudia: Okay, Warren was murdered, so where's his gold? Steve: Probably Mr. Olsen took it. I wish we knew how much of it there was. Winona said her brother wasn't really wealthy, but that is subjective. Also, would he have told her the truth about it? Guys like that suspect everybody. Claudia: One thing that's sure is that it's not buried on the plot, at least, not anymore. The place resembled a plowed field after we quit digging. If there had been anything buried there, we would have found it. Steve: How about this theory? Let's assume he knew Warren had gold and realized that a man who distrusts government isn't going to take it to a bank. Warren surprised him snooping around, and he had to kill Warren before finding out where the gold is. Then he forged the contract of sale to get the ownership of the house and land. That would give him time and the right to dig as much as he wanted. Claudia: That's an awful lot of work. Steve: Maybe he thought there was enough gold for it to be worth it. Who knows, maybe he somehow found out how much of it there was. Claudia: Your theory is logical, except for one thing. A shot in the back of the head is a sneaky surprise attack or execution, not a panic response to being caught snooping around. Steve: You're right. Damn, this is screwy! If only we could find Mr. Olsen.
John Doe 25
Claudia: What did the document analysis say? Steve: It's definitely a forgery. Winona will be happy to hear that, because she and her mother will get the property. Claudia: At least we've managed to do some good, then. Although, I think it's more important to them that they know what happened to Warren. Steve: I guess so. Now we need to find out how it happened. Claudia: What about the search of the house? Steve: Lots of fingerprints and some DNA. We should get a list any time now. Then we'll start tracking them down. Claudia: Great, I'm already looking forward to interviewing drug addicts and bums in derelict houses and under bridges. Steve: Hey, if we're lucky, the composite sketch will help us narrow it down or at least start with the most likely ones. Claudia: About that, don't you think it's strange that nobody has recognized him from the sketch? Steve: It's fairly generic. You could look at it and think "it looks like so-and-so, but I'm sure it can't be him." People worry about being wrong or causing trouble to someone they know, so they don't call us.
John Doe 26
Claudia: If only somebody could tell me why forge this damn thing and then disappear and never be heard from again... Oh, hi Gustav! Gustav: I heard you're searching for gold. Any luck? Steve: Not yet. Maybe if we could find our prime suspect... Gustav: Yeah, about that... I'm sure you've considered the possibility that he's going under another name now. Claudia: Of course. Either that or he's dead. Gustav: There was a case a few years back. A guy was caught robbing a house and the situation got violent. When we searched his car, we found stuff we're certain wasn't his, but haven't been able to trace back to anybody. Claudia: And? Gustav: There were some small bars of gold. We never found the real owner. It's all confiscated now, but the guy's getting out in a couple of years and if we can't prove he stole the gold, he's going to get it back. Steve: You think he could be our guy? Gustav: Who knows? You're missing gold, we've got some that's missing an owner. What are the chances? Claudia: I bet those bars have been handled by a dozen people since then. Gustav: They were bagged as evidence. Do you have your victim's fingerprints? Steve: No. However violent he may have been, he was smart enough not to get arrested. Claudia: Let's try DNA then. We've got that. I doubt the burglar thought of washing the bars. Steve: Anything to save us from bums and drug addicts, huh? Claudia: You bet.
John Doe 27
After some more DNA testing: Claudia: Hello, Mr. Olsen, we've had a hard time tracking you down. Jonathan: Olsen? I'm not Olsen, my last name is Harris. Steve: Are you quite sure of that? Jonathan: Of course. What is this? Did you come here to see me or some guy called Olsen? Claudia: When you were arrested for a burglary a few years back, there were some gold bars in your car. Jonathan: So? That's not a crime. Claudia: Depends on where they came from. Jonathan: Don't you try to pin anything more on me! It's my gold! Claudia: That is exactly what I wanted to hear. Jonathan: What...? What's going on? Why are you guys really here?
John Doe 28
Claudia: We can link those gold bars back to a man who was murdered. Don't you think it's a fair assumption that the person who's got the gold is also the murderer? Jonathan: Hey! Hold on! I never murdered anybody! I'm a burglar, not a murderer. Steve: Really? How would you explain the situation? To me it looks very simple. Jonathan: Okay, I admit I stole the gold, but the guy was alive when I left. Passed out, but alive. Steve: Are you sure? Jonathan: Do dead guys snore? He was trying to bring the roof down. Actually, it was a lucky break, because I had heard there were guns. I knew that as long as I could hear him snoring, I would be safe. Claudia: All right. Let's hear it. All of it. Jonathan: There isn't much to tell. I broke into this house, you know, the one that's been on the news lately, where you guys found that skeleton. I had heard that the guy living there didn't trust banks, so I thought it was worth checking. There was a short, skinny guy passed out on the living room couch, so I searched the place and took what I could find. The gold was there on the table in front of him. Just like that, out in the open. Of course I took it. Claudia: Of course.
John Doe 29
Claudia: Then what happened? Jonathan: I took off, got caught in the next place, and here I am. Steve: Yes, here you are, and I'd say you'll be here a little longer than expected, once you get convicted for that earlier burglary. Jonathan: Hey! Not fair! I didn't have to tell you! You didn't caution me! I want a lawyer! Steve: Didn't anyone ever tell you that the outside rules don't apply here? We don't need to caution you. Anything you say to anybody, any time, in here can be used as evidence against you. Claudia: Think of the bright side. A year or two more for burglary is a hell of lot better than life for murder. Don't you think? - Assuming you were telling the truth, of course.
John Doe 30
Steve: Back to square one. Claudia: On the contrary. If that guy was telling the truth, we now know that Mr. Olsen had the gold. Steve: That's a big "if." Claudia: I think he wasn't lying. He's never had a gun with him when he's broken into somebody's house. He just sneaks in, takes the valuables and disappears quietly. Even when it got violent the last time, it was a fist fight, no weapons. Remember the gun shot wound? Sneak attack or execution. He's not up to that sort of thing. Besides, the guy snoring on the couch was short and skinny, so it must have been Mr. Olsen, which means Warren was already dead. Steve: All right, let's assume you're right. What then? Claudia: We don't need to worry about where the gold was hidden, we know Mr. Olsen got to it somehow. Maybe he was celebrating finding it when he passed out. Steve: I'd give a lot to see his face the next morning. All that trouble for nothing. Claudia: Serves him right. I'm glad neither of those lowlifes got to enjoy having the gold for long.
John Doe 31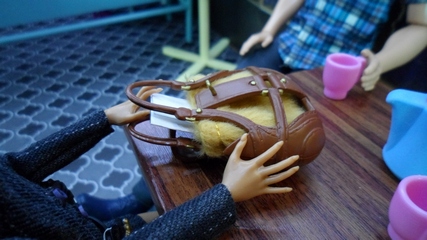 Steve: So, what's next? Claudia: Interviewing bums and drug addicts, what else? We need to eliminate as many people from our list as possible. I expect it's none of them, but one of the unknown prints. Still, we need to make sure. Steve: Great. Claudia: Here's the list. The Captain said we can use uniformed officers for this, so we'll split the list and we'll both take an officer for a backup. It'll go faster that way. Steve: Okay. Who's the fastest runner? Claudia: Why are you asking that? Steve: Are you serious? I suggest you change into something more suited to rigorous exercise. At least low heels. These guys aren't going to just say "yes, detective" and "no, detective," they're going to run. Claudia: I guess you're right. Don't worry, nobody's gotten away from me by running yet, and drug addicts and bums aren't exactly in peak physical condition. Steve: And you are, I suppose? Claudia: I ran the city marathon earlier this year. I was 10th. All 9 guys before me were canine. Steve: Any of them happen to be our officers?
John Doe 32
After some extensive legwork: Maria: I think this is a quite satisfactory result. Steve: We didn't find Mr. Olsen. Maria: We will, sooner or later. That third DNA profile in the gold bars must be his, as well as one set of the remaining unknown prints from the house. It's all in the register now, so he only needs to slip once and he's ours. Claudia: You know, about that third profile... I know you're supposed to get used to anything in this job, and for the most part I have, but it was just totally gross. I mean, you'd expect the guy to get excited about finding the gold, but I wasn't expecting quite that kind of excitement. Maria: To each his own, I guess, and it was actually our gain. The lab guys said it was as clear a sample as you could get from something that old. Steve: Do you think we should tell the burglar guy what he was handling? Hehe.
John Doe 33
Claudia: Do you really think we'll get him? Maria: We'll find him, dead or alive. But back to what I was going to say, you managed to solve a large part of the mystery. Warren's relatives now know what happened to him, they will be able to bury him, and the property and gold will go back to their rightful owners. Very good work, both of you. Steve: Are you saying that now we just wait? Claudia: Why not? The guy is not in any register, so he's probably not a public menace number one. Maria: I agree. You need to consider cost-effectiveness. We have no idea where he is or if he's even alive anymore. Basically, we've hit another dead end. We've got other work to do, so let's give this guy a little time to surface somewhere. - Steve, don't look so disappointed. I am only saying we won't be actively searching for him right now. What you do with your own time is none of my business, if you catch my drift.
John Doe 34
Jet: Time to go to bed. Nikki: I know, I was just putting Lala to bed first. - Mom, I need to tell you something. Jet: What is it? Nikki: It's about that skull. I know who took it, that's what we were talking about. Jet: You and Maria? I'm glad you told her, but why haven't you said anything to me? Nikki: I... it was bad that I took the bone and I thought... Jet: All right. Why don't you tell me all about it? Start from the beginning. How did you find out who took it? Nikki: Everybody at school knows that I know her, so this one guy asked me to find out how bad it was and what he should do. I promised him I would and then I punched him in the nose. Jet: Nikki! Why did you do that? Nikki: He's the one who told me to go there. He knew what it was and he told me to go there! Jet: Calm down. It's all over now. So, you told Maria. What did she say? Nikki: She said that she didn't need to know who it was, if she just got the skull and everything else he had taken from there. So I got it and gave it to her. Jet: You actually handled the skull? Nikki: It was wrapped in newspaper and inside a white plastic bag. I told him that if I had to touch it or look at it, I would ask Caroline to punch him.
John Doe 35
Nikki: Are you mad at me now? Jet: Of course not. You helped a friend, and you helped the police. You did the right thing. If Maria is happy with it, everything is fine. Well, except that punching in the nose, you really shouldn't have done that. I know you were mad at him, but you could have just yelled at him. And you shouldn't threat anybody with Caroline either or encourage Caroline to bully others. Nikki: I wasn't really going to say anything to Caroline. Anyway, he said he was sorry and that he didn't realize I would think it's gross. He thought it was really cool, but after reading about it in the newspaper, he got scared. It said you could go to jail for something like that. Jet: Yes, you could, if you're an adult and you do it on purpose. He just made a mistake. It was worse than what you did, because he should have understood how bad it was, but it was still a mistake, not a crime. Nikki: I feel much better now. Jet: That's good. Nikki, remember that whatever happens, whatever you do, you can always tell me. I may get a little mad sometimes, but it's only because I love you and I want you to be safe. No matter what happens, you can tell me and we'll figure out how to fix it. Right? Nikki: Right.