Theories 1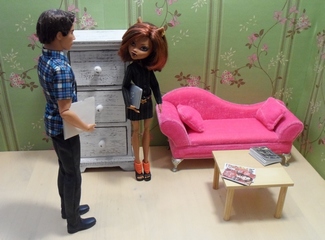 Steve: You mentioned the city marathon earlier... Claudia: What about it? Steve: You said you were tenth. Was that overall or a specific category? Claudia: Overall. That's all we care about. Felines usually compete in their own category. They can be such snobs, although I can't figure out why, because none of them has ever won the overall race. They're fantastic at short distances, but suck at marathon. I guess that's why they have their own category. Steve: Do you know if the Captain has ever competed? Claudia: She hasn't, but they say she was unbeatable at short distances when she was young. Steve: How do they know, if she never competed? Claudia: She was unbeatable where it counts. No criminal ever outran her. Steve: Not even canine? Claudia: Do you have any idea what kind of reaction times and acceleration we're talking about here? Steve: Yeah, I have a fairly good idea of the reaction time. I've been reminded of it several times. Claudia: Oh, that. Hehe! You might as well accept the fact that it's not going to go away any time soon. Cheer up, we've all done something like that. Steve: So what did you do? Claudia: I tried to arrest the bishop for a bank robbery. Steve: A bishop? Claudia: He wasn't in full regalia, if that's what you're thinking. He was jogging, and he matched the description. I had never seen him in normal clothes, you see. He was very nice about it. "Glad to see our city's finest hard at work, but I fear you've got the wrong man, my dear."
Theories 2
Steve: Thanks for helping me with this. Claudia: I'm just as eager as you are to find that guy, so we might as well go it all through once again to see what we've missed. Steve: You think we missed something? Claudia: Not really, it's more wishful thinking. One can always hope to find something, anything, to get the case going again. Belle: Hi Claudia! Who's your friend? Claudia: This is Steve, the new detective. Belle: Nice to meet you, Steve. I'm Belle. Don't let me disturb you, I'll just grab something to eat and go to bed. Claudia: Long shift? Belle: The usual, but I agreed to take an extra shift, so I need to be back in 6 hours and I really need some sleep before that. Claudia: We'll be quiet.
Theories 3
Belle: Am I allowed to ask what you're working on? Claudia: The skeleton case. Belle: I thought it was solved already. Steve: Not entirely, we're still trying to find a missing piece. Belle: What's that? Steve: The murderer. Belle: Oh, that is quite an important missing piece. You'd think that with fingerprints and DNA and all the other forensic evidence, it would be easy to find the right guy. Claudia: Too bad the forensic evidence doesn't always mean you get a photo and address of the suspect. Belle: A photo would certainly be better than that drawing I saw in the newspaper. It could be anybody. Are you sure your witness' eyesight and memory are quite normal? Steve: No idea. Why are you asking? Belle: They did a really lousy job describing the guy to you. Either that or the guy is so average looking it's almost abnormal. Always assuming your artist can do their job. - Oh well, I better go get some sleep now. Good luck!
Theories 4
Steve: You know, about what Belle said... I wonder... Claudia: Getting ideas again? Steve: I'd say Winona didn't look like she's half blind, and she seemed quite sharp as well. Claudia: Are you thinking she knows more than she's telling? Steve: What if she knows more about the guy than she said and for some strange reason doesn't want him to get caught? Claudia: The neighbors were just as vague. Maybe the guy just is very average looking. You know, the kind you can't remember that well after meeting him only once or twice. - What reason could she have to not want her brother's murderer caught? Steve: You never know. Maybe Mr. Olsen knows some dark family secret and is blackmailing her. Or maybe I'm just clutching at straws. In any case, there's something that just isn't right in this picture. That forged sales contract keeps bugging me. Claudia: Me too. It doesn't make any sense. Steve: What if it does? What if it's doing just what it's supposed to do? Claudia: A red herring? Hmm... you know, that actually makes more sense than anything else so far about that contract. Maybe we really have missed something.
Theories 5
Claudia: All right. Time to rethink this whole thing. Let's forget the sales contract for now and just start from the situation where we have two guys living in the house and one gets killed and the other one disappears without a trace. Apart from the obvious, who do we suspect? Steve: Family, friends, neighbors, coworkers, business associates, a random burglar... Claudia: Probably not a burglar. We already had one and what are the chances of one killing Warren and another coming by later to steal the gold? Steve: Not very good. It was probably someone close to Warren. Maybe they killed Warren first, didn't find the gold, then found out that Mr. Olsen had it, came to get it and killed him, either because he didn't have it after all or in the process of trying to get him reveal where he had hidden it. Claudia: What if the killer worked together with Mr. Olsen and killed him when he managed to lose the gold after finding it? Maybe they didn't believe the gold just disappeared, but thought that Mr. Olsen wanted to keep it all. That's a motive for murder. Steve: And the sales contract was just a way to divert all attention to Mr. Olsen. It would also explain why we haven't found the body. If it happened that way, the killer had a very good reason to hide the body well or even destroy it to make sure we think Mr. Olsen is still alive. Claudia: Great. You do realize what that theory means, don't you? It means we could be now missing two persons and one might be dead and the other one could be almost anybody.
Theories 6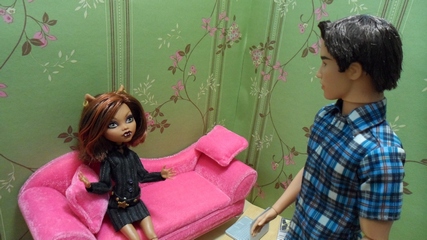 Claudia: What if it's Winona? Steve: Huh? Claudia: The other person with Mr. Olsen. As far as we know, she was closest to Warren. Maybe she and Mr. Olsen had an affair and conspired to get the gold. Then things went like we assume and she killed him, because she thought he had hidden the gold from her. Steve: I guess that's possible... Claudia: Of course it's possible. She said Warren was violent. Maybe she had had enough and killed him. Although, we only have her word that things were so bad between them. Their mother didn't seem to think it was that bad, but of course, mothers rarely want to see the faults in their sons and lie about abuse to protect them. Steve: What if Mr. Olsen killed Warren and is still alive? It could be that Winona doesn't want us to find him, because he'd let us know she was involved in some way. Claudia: So many theories, but do we have evidence to support any? What do we know about Winona? Steve: Not much, she wasn't a suspect before. We were much too focused on Mr. Olsen. I'd say the next step is to take a good look at her and maybe also the mother.