Dennis 1
Trinity: Claudia, there's a visitor for you. He says he wants to see someone investigating the skeleton case. Claudia: Really? Maybe we finally have some luck. Did he say his name? Trinity: Dennis. He claims he's the guy in that sketch. Looks fairly similar, but that sketch is so generic you can't say for sure. Claudia: Dennis? Oh my, this must be my lucky day. Take him to Interview 1, I'll be there as soon as I've checked where Steve is. Trinity: Okay.
Dennis 2
Claudia: Trinity, would you stay? Steve can't get here in time. Trinity: Sure. Claudia: So, you're Dennis. I'm Claudia, one of the detectives investigating Warren's death and events related to it. I'm glad to meet you at last. Maybe we'll now get some things sorted out. Dennis: Yeah, like my alleged death. Winona called me and said you think she killed me. As you can see, I'm very much alive, so you can leave her alone now. Claudia: Why didn't you come to us sooner? I'm sure you were aware that we found Warren, or what was left of him. Dennis: I guess I should have. It's just... I didn't want to get mixed up with all that. Claudia: I'd say you were mixed up with "all that" right from the get go. Dennis: What do you mean? I didn't know Warren was dead! All I knew was that he left while I was out of town for a couple of weeks and he left a note for me to send the rent money to his mom and that's what I did.
Dennis 3
Claudia: What about everything that happened after Warren had left? Dennis: What everything? Claudia: The forged sales contract, the gold, you know, all that. Dennis: You know about it? Damn! Claudia: Let's hear it. All of it. Dennis: Okay, it wasn't that big deal anyway. I admit I found the gold, but it disappeared. I don't have it, and I'm pretty sure Winona doesn't either, because she was mad as hell when she heard it was gone. Claudia: How did you know about the gold, and whose idea was it to steal it? Dennis: Winona asked me to find it. She said we could stage a burglary, so Warren wouldn't suspect us when he got back. Claudia: It was a burglary, a real one, while you were passed out on the couch. I'm sure you're glad to hear we got the gold back. Dennis: So that's what she meant. Winona, I mean. She said she now believes that I didn't take it. I was surprised to get the call, because she wasn't supposed to know where I am.
Dennis 4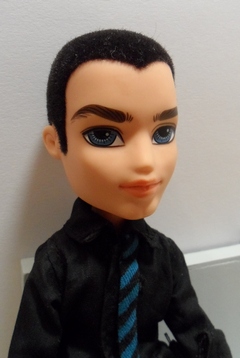 Claudia: What about the sales contract? Dennis: Um, that's got nothing to do with her, it was my own idea, or not quite, a friend told me how the scheme works, and I thought it was the perfect opportunity, with Warren being out of town and all. Claudia: What were you planning to do with it? Dennis: You see, I was using a fake name at the time, and I forged the sales contract to use the property as collateral for getting a big loan under that name. The idea was that I'd just disappear with the money and leave the bank and Warren to fight about who owns the property. But I didn't do it, so you can't charge me with anything. Claudia: Why didn't you do it? Dennis: Winona got so mad about the gold that I thought she was going to kill me. She actually had a gun pointed at me. It was one of Warren's guns, I think. It looked the same as the really big one he had. So I took off as soon as I got away from her, and last night was the first time I've heard from her since that. I don't know how she got my number. Unless it was Walter, he's never been too bright. I told him not to give it to anybody for any reason.
Dennis 5
Claudia: Are you really expecting me to believe that you had nothing to do with Warren's death? Dennis: I had nothing to do with it. I had no idea where he had gone or that he never came back. Look, I can prove where I was for those couple of weeks I was out of town. I couldn't have done it. Claudia: If only it was that simple. Determining the time of death is hard after so many years. Dennis: What are you saying? Claudia: You'd need an alibi for a month or so to be on the clear, I'm afraid. Dennis: Fuck! What you're saying is that I'm a suspect. But you need to prove I did it and you can't, because I didn't do it. Claudia: Would you take a polygraph test? Dennis: Lie detector? Would that clear me? Claudia: If you're innocent. Dennis: I guess I could. You know, I think I need to talk with a lawyer first, just to be sure. Claudia: You do that and let me know your answer. Dennis: Can I go now? Claudia: After you have given me your address, phone number and a promise to not be so hard to find in the future.
Dennis 6
Claudia: What do you think? Trinity: I don't think he did it. He's not a cold-blooded killer. Self-defense maybe, but not an execution. Claudia: Yeah, I thought so too, but we'll see when he takes the polygraph. If he takes it. Trinity: It's kind of ironic that Winona actually did him a favor, threatening him with the gun and scaring him away before he could try the loan fraud. Claudia: How so? Trinity: It would not have worked. There were too many similar cases at the time, so the banks were super diligent with background checks. They would have got him. - So, do you have any suspects left, if it's not him? Claudia: Winona, she's the victim's sister. Trinity: A family affair then. Why am I not surprised? Claudia: May I ask you something? Trinity: Sure. What is it? Claudia: Why aren't you a detective? You're so good at judging people's character that we could use you as a lie detector. Trinity: I have an attitude problem that prevents promotion. I think criminals belong behind bars, not out on the streets after making deals with the DA.
Dennis 7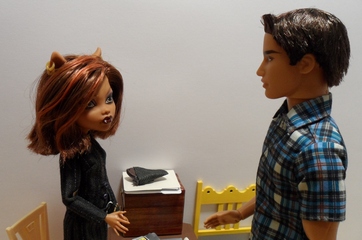 Steve: I wish I had been here to see him, but I guess that'll have to wait until a formal interview. Do you believe him? Claudia: It was a logical story with no inconsistencies. We need to ask Warren's mother about the rent money. What I think is that Dennis is a small time crook and if Warren had caught him doing something he shouldn't have, he would have simply run. Just like he ran from Winona. Steve: So it was Winona? She killed her own brother for money? Claudia: It's starting to look that way, but we don't know if it was just for money. Who knows what went on in that family. - The worst part is that there's no way to prove it. We don't even have the murder weapon. Where did Warren's guns go? Steve: If Winona wanted to make it look like Warren had left on his own, she probably took a lot of stuff out of the house, including the guns. They're probably at the bottom of some lake right now. Claudia: Wait a second! Dennis said Winona had a gun after Warren had left. Maybe one of the guns didn't end up at the bottom of a lake after all. Steve: But would she have kept it all this time? That would be beyond stupid. Claudia: You never know. Although, if she did, she's probably getting rid of it as we speak.
Dennis 8
Gustav: Good morning, my friends! Isn't it just a wonderful day today? Claudia: What's gotten into you? Gustav: I bring you good tidings. I'm sorry it took this long, but following your suspect was much too interesting. Actually, I just finished the task and came straight to you. Claudia: You've been following her all night? What on earth was she up to? Tell us all about it. What's the good tidings you mentioned? Gustav: So you want to skip the tedious parts and hear only the highlights? The first one is that your suspect was totally panicking and almost got hit by a car in a hurry to get away from here yesterday. Well, maybe that's not a highlight, but she didn't get hit, so that's okay. Anyway, she spent hours either on the phone or visiting various bars. Seemed to me she was looking for somebody. I guess she finally found that person, because she then went home and stayed in a couple of hours. After midnight, she got out, carrying a shovel - ladies carrying shovels in the middle of the night always make me curious - and went to the woods behind the house. After a while, she came back carrying something big and heavy wrapped in a blanket and got into her car. Then she drove to the bridge and threw something into the river. By the sound of the splash, I'd say it was the heavy package. After that, she got back home and stayed there until this morning when she went to work. That's when I decided to finish following her. Steve: Right. We need to get... Gustav: The divers to bring up the package, I know. I called the Captain on my way here. The divers should be on their way there any minute now.
Dennis 9
Claudia: Did she really bury the guns behind their house? Gustav: Isn't it great to deal with amateurs? I'm sure she thought it was the safest place. After all, it's probably their land, so there was no risk of strangers digging there and finding them. Claudia: But now she was thinking of search warrants and the possibility of some really unpleasant strangers coming to turn the place upside down. Good thing she didn't realize we haven't got nearly enough evidence to get a search warrant for their property. Gustav: As I said, an amateur. Claudia: Certainly, because now, if the guns are in the river, we'll have enough for a search warrant as well. I don't expect to find much at their property, but we need to make sure anyway. Maybe there's more of Warren's stuff somewhere. Gustav: I wonder why she didn't just spill the beans yesterday. Steve: Not panicky enough to forget the magic words "I want a lawyer." Gustav: I blame the TV. Well, don't worry, if the guns are there, you've got her.
Dennis 10
Trinity: Damn it, this is a police station! You'd think your sandwiches would be safe in the fridge, but no, somebody's taken them again. I swear one day I'm going to lace them with the hottest chili sauce I can find... Gustav: Wasn't me. - Don't worry, I won't tell anyone about your plan, it'll be too much fun to see the consequences. Trinity: Gustav, I didn't hear you coming... - I heard you were out all night, following Claudia's suspect. I guess you know she's much too young for you. Gustav: What are you talking about? Trinity: You know. You wouldn't have done it for Steve. Gustav: Maybe not, but you've still got it wrong. Claudia's a good detective and I like working with her, that's all. Besides, she's got her FBI agent. Trinity: FBI agent? When did that happen? Gustav: Are you saying you don't know? At last there's something I found out first. He's the one who was in that serial killer case. Trinity: Ah, that one. Very young and handsome. Well, at least he's not going to bitch and moan about her career and working hours.
Dennis 11
Gustav: Have you heard from Johnny? Or shouldn't I ask? Trinity: He called. The bimbo left him, and he wanted to come home. I asked him, what home? Gustav: Are you going to be all right? Trinity: Of course. The divorce is final, locks have been changed, and my housekeeper's up to date on what to do, if Johnny tries any of his BS on her. Gustav: Dolores? Don't tell me you left her with the shotgun. Trinity: She's a good skeet shooter. She won't shoot anyone accidentally. - So, how about you? Candy still giving you trouble? Gustav: Sticking her nose into my business every chance she gets. I've tried to remind her that the "ex" in "ex-wife" means she has no say in anything anymore, but you know how it is.
Dennis 12
Trinity: How are the kids? Gustav: Fed up. Mike's going to be 18 next month, and he asked if he could come live with me. His stepdad's trying to get him to join his business, but Mike's not interested in selling cars. Candy's giving him hard time about it. Can you imagine that my son wants to be a gardener? Trinity: Nothing wrong with that. You can't expect them to be younger replicas of you. Gustav: I know. At least he plans to do something constructive with his life. I wouldn't even mind him selling cars, if that's what he wanted. Trinity: It's good that he wants a normal job. Makes life easier. Gustav: You know, what you said about Claudia and John... about understanding the working hours... Have you reconsidered? This is the first time we're both officially single at the same time, so it's now or never, I think. Trinity: The answer is still no. We get along well, and I wouldn't want to ruin that by dating. Gustav: Okay, I won't ask again. I just had to, you know, so there won't be any "what ifs" later. - So, how about going to see what the divers have found? I heard it's a real arsenal.