Winona 1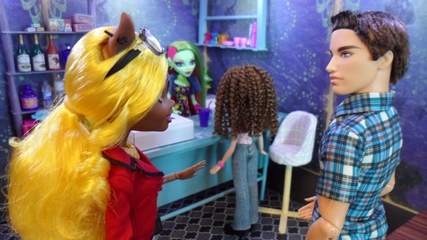 Virginia: Excuse me, aren't you Steve, the detective in charge of the skeleton case? Steve: I'm Steve, but I'm not exactly in charge, it's team work. May I ask who you are? Virginia: I'm Virginia. I'm a reporter for Channel 3 news... Steve: No. Virginia: You haven't even heard what I have to say. Steve: You're a reporter. I know what you want. Virginia: So? You gave an exclusive interview earlier to a newspaper reporter, so what's the problem? Is it because of what I am? Steve: Reporter? Yes. Virginia: Canine. I know she wasn't. Do you have something against canines? Steve: Of course not, my partner in the case is canine. I'm just not going to talk about the case with you.
Winona 2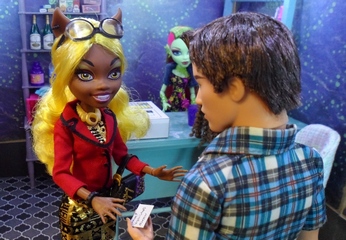 Virginia: What did she have that I don't? The newspaper reporter, I mean. Steve: She had information for me. Besides, Daily Report is a reputable news source, unlike Channel 3. Virginia: So that's it. You think I'm going to twist every word you say into something totally different. Steve: Something like that. Virginia: What if I promise we'll be extra careful in cutting your interview? Steve: You can't actually promise that. I know you've got a boss whose only worry is ratings, and they'll do anything to get more viewers. - Why aren't you asking Claudia? I assume you know her. Virginia: Yes, um... I'm not sure she has forgotten the... um... disagreement we had some time ago. Steve: What did you do? Virginia: It was nothing. - I have to go. Here's my card. Call me, if you change your mind. I can't give you anything in return right now, but I'd owe you a favor. Steve: Virginia Woolf? Is this a joke? Virginia: No, it's a very traditional canine last name and my mother studied literature.
Winona 3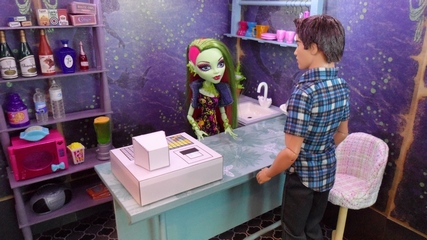 Venus: Wasn't that the Channel 3 reporter? Do you know her? Steve: I suppose I do now. Not sure that I want to. Venus: I guess she wanted you to tell her about the case. It's all over the news, but it's the same old stuff over and over again, and people want to hear about new developments. Steve: I know. It's her job to find new information, but she'll just have to wait like everyone else. Venus: Are there any new developments? I mean, I know you can't tell anything specific, but you are going to find out who did it, right? Steve: We'll do our best. Venus: May I ask...? Do you know what happened by the bridge? There was an awful lot of police cars there this morning. Did somebody fall into the river? Steve: No, not somebody. Something. We just had to check what it was, that's all. Nobody was hurt. Venus: Oh, that's good. I was so worried it was a jumper. Someone I knew jumped from there a long time ago... Steve: I'm sorry to hear that.
Winona 4
Steve: Guess who I met last night at the bar? A dead writer turned into a newshound. Claudia: What are you...? Oh, Virginia! So, she decided to try you this time. Steve: She mentioned some disagreement. Care to enlighten me? Claudia: It was nothing. I got mad over stuff she couldn't know. She published some information we wanted to keep secret, but I later found out it didn't come from inside the department. She found the witness all by herself, and of course he talked when he saw the money and a chance to get on TV. Steve: So you're not mad at her now? Claudia: No, but I wouldn't talk to her at this stage of the investigation. She can wait for the Captain's press conference, which will take place once we've confirmed that the guns are Warren's and arrest Winona.
Winona 5
Steve: Has Winona's lawyer called? Claudia: Yes, they will be here in a couple of hours. And the lab guys have been busy at work with the guns, so we should have some results by then. Probably just verification that the guns are Warren's, if they are all legal. Ballistic testing will take longer, but one of the guns is the right type. Steve: At least we have the bullet. Just think of it, what are the chances of it getting stuck inside the skull and not falling out during all the handling? Claudia: Not good, I'd say. We were extremely lucky.
Winona 6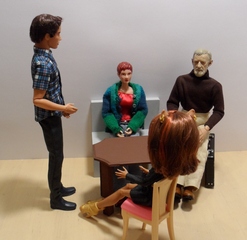 Claudia: Why don't we start with what you did after you were here the last time, when we interrupted the discussion, because you wanted a lawyer? Winona: I went to look for Dennis' friends. You said I should bring him to you, if I wanted you to believe I didn't kill him. All his friends said they had no idea where he is or how to contact him, but they were lying. I finally managed to persuade Walter to give me Dennis' phone number, and then I went home and called him. He promised to come and see you. Claudia: He did. So why didn't you want us to find him earlier? Winona: I was a bit embarrassed about the whole affair, and I didn't want to be mixed into anything he might have done... Claudia: All right. What did you do after calling Dennis? Winona: I went to bed, slept until 6 AM and then got to work. Claudia: Are you quite sure? - Steve, go get Gustav and the evidence.
Winona 7
Gustav: This is all they found. All registered to the same owner, except this rifle. The serial number has been removed, but it was found together with the other ones and hadn't been there any longer than them. Steve: Do you recognize any of these? Would you like to add anything to your story before we let Gustav fill in the holes? Gustav: I'll be happy to tell you who was handling these guns the night before last. George: Winona, don't say anything.
Winona 8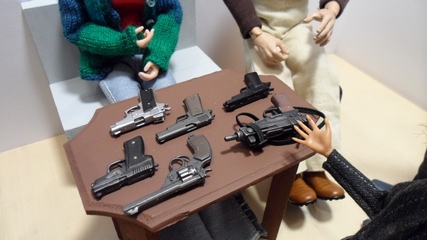 George: Detectives, would you explain what this is? Claudia: These are Warren's guns. Your client was seen when she threw them into the river from the bridge in the middle of the night. George: I would like to speak alone with my client. Claudia: I thought you would. We'll wait outside. And by the way, none of them are loaded.
Winona 9
Gustav: It ought to be a crime to bury a fine piece like this under ground, and throwing it in the river afterwards isn't much better. Steve: I'm not that familiar with rifles. What would you use that for? Gustav: It's a sniper rifle. Makes you wonder what Warren was up to. Steve: The ballistics... Gustav: I'm taking this back to them. It's next in line for testing. I'm hoping they'll find something interesting.
Winona 10
George: Are these Warren's guns? The rifle too? And you did what they said you did? Winona: Yes. George: You better tell me all about it. Winona: We've got a sort of stash, a big metal box with all sorts of emergency stuff, buried in the woods behind the house. It was Warren's idea. I had put the guns there, but after all the accusations about Dennis, I thought they would come to search our property and find them and it would look suspicious, so I thought I should get rid of them. I mean, Warren's dead and we don't need them... George: How did you end up putting them there in the first place? Winona: Warren once said that if something happened to him, I should wipe the guns clean and move them to the stash for safekeeping. I wasn't sure what he meant by something happening, but when he disappeared, I thought it safer to do what he had told me. George: You haven't been very wise, but it shouldn't be too much of a problem. Winona: You think so? I feel like an idiot. George: Just leave it to me.
Winona 11
Claudia: So you knew Warren had disappeared. Why didn't you report it? Winona: I thought maybe he had to go. That maybe that's what he meant with something happening. I mean, he said "safekeeping," and that meant he would come back for them. Steve: Maybe we should talk about the gold. When did you get the idea to steal it? Winona: I don't know what you're talking about. You said Dennis found it and then a burglar took it and then you got it back and the burglar's in prison. All that has nothing to do with me. Steve: That's not what Dennis said. Winona: He's a liar. He's always trying to find the next get rich quick scheme. Maybe he killed Warren for it. Claudia: You seem to have an explanation for everything.
Winona 12
George: Do you have any more questions for my client? If not, we will leave. She has given you a satisfactory explanation for everything, and I think you should really concentrate on Dennis instead of her. Claudia: Reasonable doubt, huh? Is that going to be your defense? George: If it comes to that, certainly, but it won't. You have no evidence against my client, and you've also got a much more probable suspect. And before you mention it, charging my client for hiding the guns would be futile as she did it on the request of the owner, and by the time she discarded them, they were legally her property. I admit her way of handling the matter shows poor judgment, but that's all it was.
Winona 13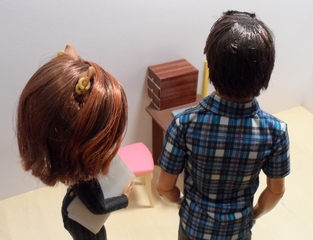 Next day: Steve: Okay, we've slept on it. So, what now? The lawyer was right. We have no evidence, and Winona's explanations sound plausible enough for a jury to take them seriously. Claudia: I'm afraid so. It's Dennis' word against Winona's. They're probably both going to walk. At least for now. Steve: There must be something we can do. Claudia: I'm sorry to tell you this, but this is how a case goes cold. No witnesses and no evidence to prove guilt beyond reasonable doubt. There isn't enough evidence for even a circumstantial case. Steve: The murder weapon was among the guns Winona dumped. Claudia: Unfortunately, Dennis had also access to the guns. He could have taken it to kill Warren and then put it back where he took it. Then Winona removed them all from the house. That's what the lawyer's going to say anyway, and it sounds plausible. No, there's no way we're getting anyone convicted with the evidence we've got.
Winona 14
Gustav: Why the long faces? Steve: This case isn't going anywhere. Gustav: On the contrary, my impatient friend. It's just beginning. Claudia: What do you mean? Did you find something? Gustav: Not me, but our friends at the ballistics lab. Steve: Just spill it out already! Gustav: Well, we weren't quite up to date on who or, more accurately, what our victim was. So, let me inform you that what we've got in our hands is a dead hitman. Claudia: What!? Gustav: The computers have been running all night and I just heard that the rifle was linked to a cluster of seven unsolved hits. Also, the serial number on the rifle has been destroyed so completely that it cannot be recovered even partially. That takes some expertise.
Winona 15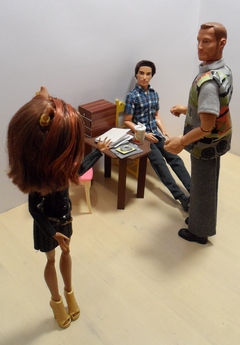 Claudia: I guess you know what you just did. Gustav: Sure. I most probably exonerated your two easy, relatively harmless suspects. You'll have to go after the big boys now. Thrilling, isn't it? Steve: Claudia, is he always like this? Claudia: Like what? At least we're getting somewhere. Steve: Finding out who killed the killer isn't going to be easy. Claudia: But now we know why he was executed. That's been bugging me all along. Gustav, those seven cases, were they all in our jurisdiction? Gustav: I'm sorry to tell you that your special agent or one of his friends may come and take over, or the organized crime guys. You better step up the pace as long as the case is still yours. Claudia: Better get moving then. What are you waiting for, Steve? Come on, let's go! Gustav: Steve, you better get used to her speed, if you want to stay as her partner.
Winona 16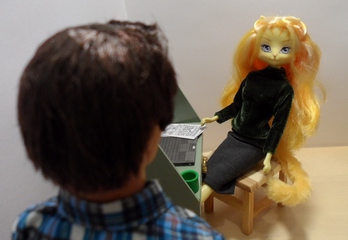 Maria: A hitman? Are you sure? Claudia: Seven unsolved cases, the same rifle, all cases have the characteristics of a hit, and it is Warren's rifle. Winona confirmed that he had had it for several years and nobody else could have used it without his permission. Also, he seems to have been very particular about that rifle, not letting anyone even touch it. Maria: Well, that was certainly unexpected. Steve, why are you looking so miserable? Steve: We just lost our only suspects. There was enough reasonable doubt even without this. Maria: You're looking at the matter from a totally wrong angle. You just solved seven cases at once. Do you know how wonderful that will look in the statistics? Of course there will be a lot more work to do, but finding the gunman is a great achievement. Steve: But we're back at the beginning. Maria: That's how it often goes. As for the suspects, excluding them is just as important, because now you know you don't need to waste any more time on them. - One thing you must remember in this job is that it'll never end. There will never be a day when you have solved each and every one of your cases to total satisfaction. So, enjoy the partial successes, big and small, as they come.
Winona 17
Maria: What are you planning to do next? Claudia: See the organized crime investigators. They're working on those hits. Maria: Good idea. They'll probably have some ideas on who may have hired Warren, and I'd say that's where you're most likely to find his murderer. Steve: Not very organized to kill the victim with his own gun. Maria: On the contrary. It can't be traced back to the killer. Claudia: Do you really think we should leave Dennis and Winona alone? They haven't been exactly honest, and the truth would include Dennis trying to steal the gold and forging the sales contract and Winona threatening him with a gun after he managed to misplace the gold. Maria: Minor stuff too old for the prosecutor to bother, except for the forgery. I'll ask the fraud investigators to take a look at Dennis. If he's got that sort of tendencies, they may already be acquainted with him. You just concentrate on the murder.
Winona 18
Dennis: What's the matter? You were so hysterical on the phone that I didn't understand half of it. What about Warren? Winona: I know now that you didn't do it. Dennis: Of course I didn't do it. I thought it was you... Hey, what do you mean you know it wasn't me? Winona: The police... they... they say Warren killed people. They say he was a hitman and that's probably why he got murdered. It's going to be all over the news soon. Dennis: Hitman? Warren? Are they sure? I mean, he was odd, but killing for money... I can't believe it. - Well, I guess they'll be leaving us alone now. Winona: All you think of is yourself! Dennis: I'm also thinking of you. We were both equally likely suspects, no matter what your lawyer said. - How did they find out? Winona: The rifle, the black one with the scope, they did some sort of testing, and now they say it was used to murder seven people. Not all at once, but at different times and places. Dennis: Well, that sounds like a hitman, or a serial killer. Do you think that's why he ditched the other rifle? Winona: Don't you go telling anyone about that! God knows how much more they could pin on him with that. Dennis: What does it matter now? He's dead. Winona: He's still my brother.
Winona 19
Winona: Dennis, I'm sorry about the gun incident... I really thought you had the gold. Dennis: Well, we both know now what happened. I told the police you threatened me. I'm sorry, but I thought you killed him. Winona: I only wanted the gold to hide it with the guns, like Warren had asked. Dennis: I don't get it. He treated you so badly and still you were doing what he wanted, even when he was no longer there. Winona: I thought he was going to come back one day. Dennis: So, you've got the gold now? Winona: Yes, and the property as well - land, house, everything in it. Not that the house is worth much nowadays. Dennis: I'd check land prices, if I were you. It's a large plot in a fairly good location. Winona: Why did you forge the sales contract? Dennis: Hey, Warren wasn't going to lose any money over it, the bank would have ended up being the loser. Although, now that I know how he earned his money, I'm glad it didn't come to that. - So, do you think we could still... you know... Winona: After suspecting each other of committing the murder? I don't think so.