6th Scale Stories
Clueless 1
Yasmin: You want me what?! Bernice: Open those and take the peas out. Yasmin: Who put the peas in there? Bernice: What do you mean? Mother nature, of course. Peas grow inside pods.
Clueless 2
Yasmin: And where did they come from? Bernice: The pods? I bought them from a farmer at the market. He grows them at his farm. You know Miss Lana wants her food fresh. Yasmin: You're winding me up. Everybody knows that peas come in cans. Bernice: Just open one and see for yourself.
Clueless 3
Yasmin: All right, so there are peas inside these... things. But surely you can't eat them. Bernice: Why not? Peas are very healthy. Yasmin: Who knows where they have been. They could be unhygienic. Bernice: You and your phobias. There's nothing unhygienic about fresh food directly from a farm. The manure goes to the ground before there even are any plants. Yasmin: Manure?! Bernice: Fertilizer. Don't you know anything about growing food?
Clueless 4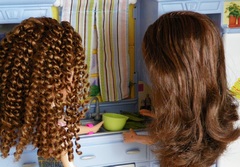 Bernice: Now, stop the hysterics. Here's a bowl for you. Put the peas in it. Yasmin: I'm not a kitchen maid. Why can't you do this? Bernice: I'm Miss Lana's personal assistant. I've got more important things to do. Yasmin: I'm an assistant too. Bernice: You are a very junior assistant and you do exactly what you're told to do.
Clueless 5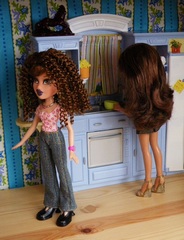 Bernice (thinking to herself): And she will remain a junior assistant with brain like that. Maybe I should have warned her about the little surprises that may lie inside those pods. Then again, why bother? She can find out herself.
Clueless 6
Yasmin: Miss Lana this and Miss Lana that. She could prepare her own food, if she's so particular about it. And Bernice is almost as bad as Miss Lana. Who does she think she is? Being a PA for Miss Lana doesn't make her the Queen of Sheba. - I guess I better get started, but when I get to be a PA for a really big star, I won't even look at Bernice.