6th Scale Stories
Who are you?
Who are you 1
Who are you 2
Who are you 3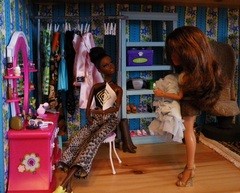 Yasmin: Excuse me... I was told to bring this dress here. Amy: Thanks. I'll try it on right away. Yasmin: Who...? How...? Amy: I'm Amy and I'll be sharing this dressing room with Lana. Yasmin: She won't like it. Amy: Whatever. There's no room elsewhere. She is the only one having a private dressing room, I mean, was.
Who are you 4
Amy: And who are you? Yasmin: I'm Yasmin. I'm an assistant. Amy: So, it's you. You just got promoted. Frank promised I could have you as my personal assistant. I hope you've got nothing against it. Yasmin: Oh no, not at all. I've been hoping for something like that. Amy: Good. Just remember that I hate constant questions. When I tell you to do or get something, it's your job to figure out how. Think you can manage it? Yasmin: I'll do my best. Amy: I guess that will have to do. Now, let's see that dress.
Who are you 5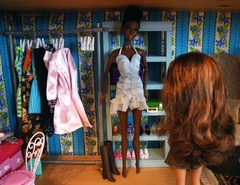 Amy: What do you think? Yasmin: It's perfect. Amy: Yes, I think so too. - Damn, this ceiling is low. What's up with that? Yasmin: This is the basement. It's either this or sharing with everybody else. Miss Lana prefers this. Amy: Miss Lana? Is that what she wants you to call her? How silly. No need for that with me, just call me Amy. - Would you get me my dressing gown? This dress may look great, but it's not very comfortable.
Who are you 6
Amy: Now, let's see what we have here... Yasmin: Those are Miss Lana's. She doesn't like anyone touching them. Amy: Frank said everything is paid by the company, so these aren't her private property. - You know, I haven't met her yet. Is she really as scary as you make her to be? Not that it matters, I don't scare easily.