Nikki and Clawdeen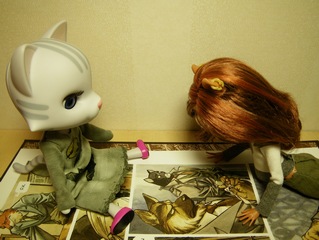 Nikki: Stop staring at that picture, so we can go to the next page. Clawdeen: He's so handsome. Nikki: The cop? I suppose so, although I'm not really that into canines. Clawdeen: Not him. Well, of course he's quite nice too, but I meant Blacksad. Nikki: But he's a feline! Clawdeen: So what? He's still handsome. Nikki: I forgot you canines go for anything as long as it's got big ears and big, pointy teeth.
Lala!!! What happened to you?
Lala: I don't know. I found a yummy cookie and it said "Eat me" and so I did... Nikki: You're not Alice and this is no Wonderland. Lala: But that's how it happened. If you don't like it, blame yourself. This is your dream.
What's going on here?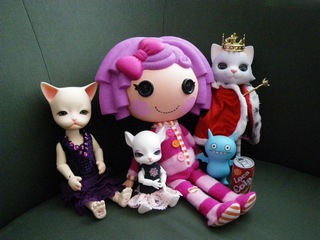 - We're waiting for that royal wedding thingy to be on TV. - It won't be on for 4 hours. Get out of my chair, so I can start working.
You're blue and you like snow. You're okay.
So much snow. I think I'll like it here, but where are the mountains?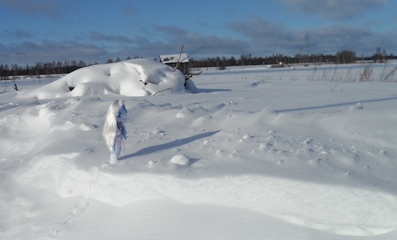 Goodbye
Schizo: So, he's leaving? Caroline: Yes, he got a new home. Nikki: Why is it always the plushies that have to go? Schizo: They're happier with little kids. Emma: I just had a horrible thought... Caroline: What? Emma: What if, one day, she decides that one of us needs to go? I'd miss you all. Nikki: Who decides? Emma: You know, the one who decides what happens to us all. Schizo: You shouldn't worry about things like that. I'm sure we're not going anywhere. People like us and wouldn't want us to disappear from the story line.
--------------------------
This was in part inspired by Ray Bradbury's short story "The Exiles." In it, it's the year 2120 and dead authors and their fictional characters reside in Mars, as their books were banned and destroyed in the Earth a century before. In the story, Poe says to Dickens: "I am a god, Mr. Dickens, even as you are a god. Even as we all are gods."
Fashion disaster
Emma: You know that thing when you go to a party and somebody else is wearing the same dress? Caroline: What about that? Emma: This is worse.
Party (December 2012)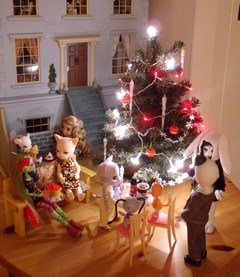 Schizo: The end of the world didn't come after all! Eggzorcist: Of course it didn't, don't be silly. The world isn't ending in a billion years or so. Schizo: Are you sure? Anyway, we started the party, because the end was nigh. Now we're partying, because it isn't, and it's also the winter solstice. Eggzorcist: Okay. Winter solstice is a valid reason for a party. Hand me the booze. Schizo: No booze in this party. Too many minors. Eggzorcist: Oh. Schizo: Don't worry, we can raid my stash later.
The mouse is dead
Emma: I didn't do it. Bobo: Oh, that kind of a mouse! You got me worried there for a moment.
New limited edition Logitech mouse
Bobo: Where's the picture of a mouse? There are pictures of all sorts of other creatures, but no mouse.
Getting the plot mixed
Bunny: Aren't you supposed to be in the tree? Cheshire Cat: Aren't you supposed to be the White Rabbit?
The correct role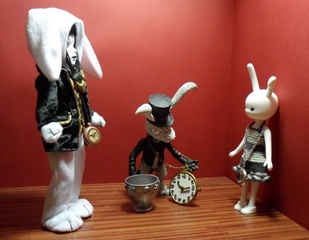 White Rabbit: Now, listen up, guys... Bunny: Girls. White Rabbit: All right, girls then... Are you wearing a dress? Bunny: Are you blind? Of course it's a dress. White Rabbit: You can't be a White Rabbit, if you're wearing a dress. Bunny: Why not? I'm white and I'm definitely a rabbit. Unlike some. Eggzorcist: Are you talking about me? At least I'm properly attired. White Rabbit: Be quiet, both of you! - Now, where was I? Oh yes, we need to synchronize our watches. Bunny: Why do your watches have 13 hours? Mine has only 12. Eggzorcist: I think it is mathematically impossible to synchronize watches that have different numbers of hours. White Rabbit: I give up.