The House 41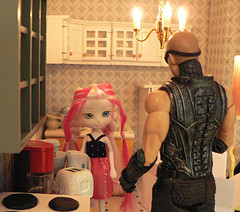 Kitty: About Veronika... How did she manage to get so many extra pieces of furniture? You could start a shop with a storage like that. Riddick: If I remember correctly, she had a couple of houses she has now sold, but the buyers didn't want the furniture. I guess that's where it all came from. Kitty: She really is a remarkable woman. Have you thought about how much more difficult everything would be without her and Hagrid?
The House 42
Kitty: I'm starting to feel a bit guilty about accepting all the help they are offering. Riddick: There's no need for that. Besides, declining Veronika's offer would have offended her very much. Kitty: Yes, I understand that. I guess I'm just not used to people giving something away without wanting anything in return. Grandma would never do that, which is exactly why we couldn't take any money from her, even if it was called an inheritance advance.
The House 43
Kitty: You know, we'll have to have a party after we have settled in. The others would never forgive us, if we didn't. Riddick: Yes, I guess it's inevitable. It's all right. I'm not that keen on having parties, but I'm not the only one who has something to say about that. So, as long as you're not going to have parties too often, I won't start complaining.
The House 44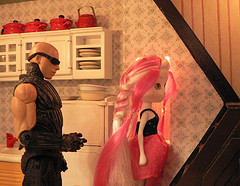 Riddick: There is one party I would rather skip... Kitty: What's that? Riddick: The wedding. Kitty: What do you mean? What wedding? Riddick: Kitty, I've been meaning to ask this for a long time... Will you marry me?
The House 45
Kitty: Yes. Oh yes. I thought you'd never ask. Riddick: I was thinking about all the complications. You see, as long as it isn't official... Kitty: Forget my kind. We don't need their acceptance. We'll manage and we'll do just as we please.
The House 46
Kitty: Now, about this skipping the wedding thing... Riddick: I don't want any fuss, you know that. I don't know how you have imagined it would be, so I hope it won't be too big disappointment, but I just can't stand the idea of it all. Kitty: We don't need any fuss, just a couple of witnesses. Then we'll have the housewarming party and tell everybody the news. How does that sound? Riddick: Sounds great.
The House 47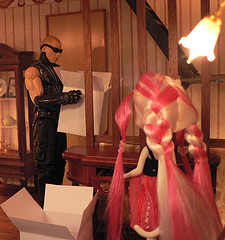 Kitty: You know, there is someone we need to tell. She'll never forgive us, if we don't. Riddick: You mean Ruby. She can be one of the witnesses. I'm sure she'd like that. Kitty: That's a good idea. We won't tell her anything in advance. We'll just grab her and tell her on the way. That way, she won't have a chance to tell anyone else. Riddick: You really are devious.
The House 48
Kitty: I'll take care of telling grandma and mother afterwards, but who's going to tell Chase? And when? Riddick: Chase... Yes, that is a bit difficult... I guess we need to go together. Either of us going alone would be a bit cowardly, I think. And so would be any other way of telling than going there to see her. Kitty: She's going to have a fit anyway, you know that, don't you? Riddick: Yes, I know. It can't be helped, we must tell her, but only afterwards.
The House 49
Kitty: This may not be the best time, but we haven't really talked about her for a long time. How do you feel about her now? Riddick: I don't love her, if that's what you're asking. I'm starting to wonder if I ever did. Kitty: I don't care if you did or not, all that matters is that it's over. Riddick: Yes, it is all over. I love you. I want to marry you and spend the rest of my life with you.
The House 50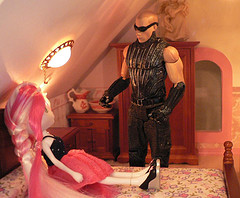 Kitty: There's going to be a lot of fighting over this, when the family finds out. Riddick: We can worry about that when it happens. First, we are going to get married and have a party for all of our friends. Then we'll do the fighting, if it comes to that. Kitty: Sounds like a good plan. Riddick: Hmm... it looks like I forgot something in the kitchen. I'll be right back.
The House 51
Kitty: Champagne? You are spoiling me. Riddick: Don't you think there's a reason to celebrate? Two reasons, actually. Kitty: Riddick? I've been thinking about children and whether we should have them or not... I think we shouldn't, at least not for some time. I want things to be like they are now, just you and me. Riddick: If that's what you want. I think that decision is more up to you than me.
The House 52
Next day: Riddick: Ruby? What's wrong? Ruby: I feel sick... Riddick: Is that yours? In that case, maybe I shouldn't ask "what," but "why?" Ruby: I just wanted to know... you know... what's the big deal... Riddick: Well, are you any wiser now? Ruby: Yes... never again...
The House 53
Riddick: How much did you drink? Tell me you didn't empty an entire bottle. Ruby: No, not quite... too much... my head hurts... Riddick: You're not going to die of that, although it may feel like it now. I'm sorry, but you will have to suffer the consequences just like anyone else. - I'll go and get you something for the headache.
The House 54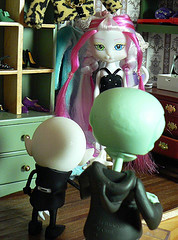 Orlock: Kitty, a visitor for you. Kitty: Thank you, Max. - Hello, Kevin. I haven't seen you in a long time. Is it about Chase or did grandma send you? Kevin: It's not about Chase.
The House 55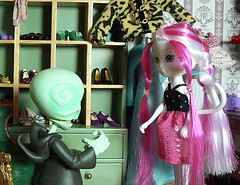 Kitty: What does she want? We don't need her money, so I don't care even if she's threatening to cut me off the will, but let's hear it, anyway. Kevin: Ah, yes, the will. She couldn't do it, even if she wanted to. It's all in your grandfather's will. All she can do is to stop you from having anything as long as she's alive. Kitty: She has succeeded very admirably in that one so far. So, if it's not that, what is it? Kevin: She's worried that Riddick might be after your inheritance. Kitty: What?! That old...
The House 56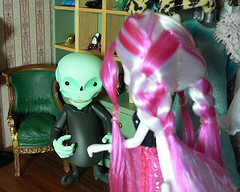 Kevin: Calm down. I assume you know as well as I do that it isn't the case. Believe me, he could have married money, if he had wanted to. Kitty: Really? Interesting. Kevin: What your grandmother is suggesting is that she will give you part of your inheritance now, if you promise that you won't marry Riddick or start a family with him. She isn't opposed to you two living together as long as it isn't official and there are no children. Kitty: That meddling old cow. You go back and tell her...
The House 57
Kevin: I think I will rephrase that. Maybe you could say it directly to her, but I certainly cannot. Kitty: All right, say it however you want, but make sure the message is clear. We'll manage without her. And you can also tell her that I know she has been arranging things behind my back. I'm never going to marry some dimwit who cannot even find a wife for himself and will settle for an arranged marriage. Kevin: I didn't know about that. Kitty: Oh yes, she had plans for both of us, but Chase ruined her "chances" for good.
The House 58
After Kevin has left: Kitty: I saw Ruby earlier. She was a bit pale. Is she sick? Riddick: No. Hangover. Kitty: What?! I didn't know... Riddick: First time for everything. She was feeling really sick and I'm not surprised, considering what and how much she drank. - What was Kevin doing here? Kitty: I guess you need to know, but you're not going to like this...
The House 59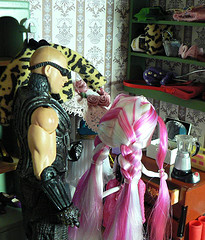 Kitty: ...so grandma is her usual self. Sticking her nose into other people's affairs. It's a pity Kevin declined to deliver the message verbatim. Riddick: It would put him in a very difficult position. Although, I do agree with you on the content of the message. - What I'm wondering is, why was the will done that way? Kitty: Grandfather was a mean old bastard. He probably had fun imagining what we would do to try to get money from grandma. Well, I refuse to play that game, Chase is in jail, and mother has money of her own. Grandma can go and...
The House 60
Riddick: Are you feeling any better? Ruby: Yes. I guess you have a lot of experience on curing that sort of problems. And I guess I was stupid to do something like that in the first place... Riddick: Don't worry about that. You'll be fine. However, I would suggest moderation. There's no point getting too drunk, you'll only get yourself into trouble. Ruby: So you're not saying I should avoid it altogether? Riddick: You know my habits. I would be a hypocrite, if I said something like that.