The House 21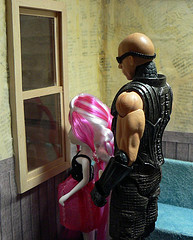 Kitty: They are my people. I can say whatever I want about them. You can be respectful, if you wish, but I'm sick of it! - Sorry, I'm all right now. How about Ruby? Riddick: I managed to make her understand that I'm not leaving her. She needs to learn to take care of herself, so this should be a good start. Hagrid thought so, when we talked about it.
The House 22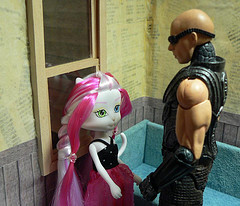 Kitty: Riddick? Do you feel you need some distance between you and Ruby? Riddick: I can't hide anything from you, can I? Kitty: No, you can't. I know you care about her. Maybe a bit too much? Riddick: No, it's the other way round. She shouldn't be so dependent on me. Nothing good is going to come out of that.
The House 23
Wendy: I heard you're moving out. Kitty: That's right. Riddick found us a house. Things have been arranging quickly after he talked with Hagrid, so we should be able to move soon. Wendy: I never thought he was that type. Kitty: That's what Val said. If you happen to see her, feel free to pass on the news. Wendy: You two really don't get along, do you?
The House 24
Wendy: If I may be a bit indiscrete... Are you quite sure you know what you're doing? Kitty: What do you mean? We love each other and intend to stay together. Wendy: I mean what he has been like. Kitty: I know enough about that. The rest doesn't matter. He has changed, he isn't the same man anymore. Wendy: I hope you're right. Well, I shouldn't be so pessimistic. I'm sure you two will be very happy together.
The House 25
Orlock: Kitty, are you really moving out? Kitty: Yes. I'm sure you knew it was only a matter of time. Orlock: Ruby has been a bit depressed about that. I guess she thinks Riddick is leaving her. Kitty: Well, he isn't. He told her so. She'll be fine once she gets used to the idea. Orlock: I don't understand why she likes him so much, but not me. Kitty: Max, you're feeling sorry for yourself again. Stop it. It won't help.
The House 26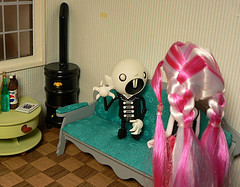 Orlock: I just want to know why. Kitty: Riddick has helped her through a lot. I have no right to tell you about those things, but it was really bad. Still is, it doesn't go away just like that. Orlock: That's what Riddick said. Why am I the only one who never gets told anything? Kitty: If Ruby wanted you to know, she would tell you herself. You'll just need to accept that.
The House 27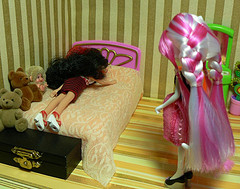 Kitty: Ruby, the house deal is all finished and Riddick and I now own the house. Would you like to come with us and see it? Ruby: Why would you want me there? Kitty: Ruby, I've already dealt with one case of self-pity. I don't need another. Are you coming or not? Ruby: I'm sorry. Yes, I'm coming.
The House 28
Kitty: Our house. I like the sound of that. How about you? Riddick: Sounds very nice. - Ruby, what do you think of the house? Ruby: It certainly is an improvement compared to your room. A bit empty, though. Where's all the furniture? Kitty: Yes, well, there isn't any yet. That's the next problem. Neither of us owns much, so we'll have to go shopping, I guess.
The House 29
Riddick: Veronika promised we could go and see her storage. She said she has a lot of extra furniture and we can have some of those, if we find anything we need. Kitty: Really? That's very nice of her. You must have been a very good employee. Riddick: I don't know about that. She just said that as I have finally decided to start living like normal people, she'll help any way she can.
The House 30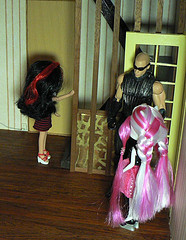 Ruby: Can I go and have a look upstairs? Kitty: Sure, go ahead. But there's no furniture there either.
The House 31
Kitty: You do know that mother and grandma will get here to check every corner as soon as I tell them the address, don't you? Riddick: Sure. I won't mind, if you won't. I can always say that I need to get back to work and get out, if they start to irritate me too much. Kitty: Lucky you. - Don't worry, you just do that, if you feel like it. Better that way than getting into an argument with them. I'll take care of the arguing.
The House 32
Ruby: The ceiling's a bit low up there. Riddick, you better watch your head. Riddick: What's the use of having a high ceiling in a room where you're spending most of your time in horizontal position? Kitty: I'll remind you of that when you hit your head to the ceiling the first time. Riddick: You know as well as I do that this is the best house we can afford. I'm willing to take the risk of getting a few bumps.
The House 33
Orlock: I heard you went with them to see the house. What was it like? Ruby: Very nice. Not big, but it's much nicer than either of their rooms here. Orlock: When are they going to move? Ruby: I didn't ask, but they'll need to get some furniture first.
The House 34
Orlock: Don't you wish you had a home of your own? Ruby: I don't know. I wouldn't want to live alone. It's going to be scary enough without Riddick here. Orlock: I'm still here. I can keep you company. You don't need to be alone, if you don't want to. Ruby: Thank you, Max. That's very kind of you.
The House 35
Kermit: So, Hagrid helped you with financing the house purchase. I hope you know what you're doing, getting into financial dealings with him. Riddick: Don't worry, we understand each other very well. There won't be any problems. Besides, you have yourself quite a lot of financial dealings with him. Kermit: Yes, that's why I warned you. I know what he's like. Although, you are a special case, because of Ruby.
The House 36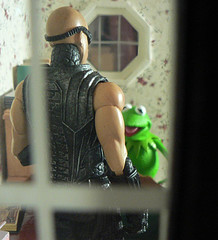 Kermit: You know, it seems to me that Hagrid would be interested in hiring you. I hope you're not considering leaving us. Riddick: No, I like it here. People here are much nicer than in my previous jobs, excluding Veronika who is in a class of her own, and the problems are so much easier to solve when people don't get brutal as soon as they get a bit upset. Kermit: Excluding Miss Piggy, who also is in a class of her own...
The House 37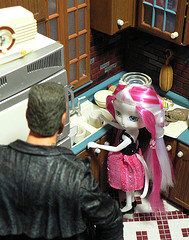 Marv: Kitty, I've been looking for you. Kitty: I guess you have heard the news? Marv: Yes. I knew you would be able to get him to settle down, if you wanted to. Kitty: You say that like it's some sort of a miracle. Marv: With a guy like him, it is. It takes a very special person.
The House 38
Kitty: Marv, I know it's none of my business, but have you and Piggy talked about having a family some day? I spoke with a doctor whose specialized in those things... Marv: You know, it's different with your kind, with all that genetic purity crap. Others aren't that hard on mixed species. Kitty: I see. The more I hear about it, the more clearly I see the bigotry of my kind. Marv: You don't need to feel too bad about it, it's not your fault. And you are not like that and have never been.
The House 39
Later: Orlock: Where's Riddick? And Kitty is gone too. Ruby: They are moving into their new house. Kermit gave them an extra day off. They need to get their stuff from here and then there's something Veronika is giving them. Orlock: Veronika? Riddick's ex-boss? What's she got to do with it? Ruby: She's a very nice lady who wants to help Riddick and Kitty to set up their own home. And they need help, because they don't have that much money. Although, I heard someone say that one day Kitty will be rich, but I guess it's just another rumor.
The House 40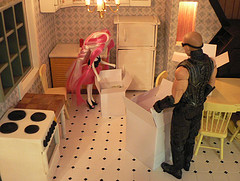 Kitty: It was really good of Hagrid to send those guys to help us with the furniture. The wardrobe looked really heavy. And I still can't believe they managed to get the bed upstairs, even in pieces. That staircase is so narrow. Riddick: They were professional movers, not just some handymen. It seems that Hagrid is involved in lot more than I had realized.