The Party 1
Kitty: I'm sorry, but the stairs are much too steep for you, so you'll have to stay down here. I hope you don't mind. Penguin 1: As long as there's enough food and drink... Penguin 2: ...we'll be fine. Kitty: I thought so. I just wanted to make sure.
The Party 2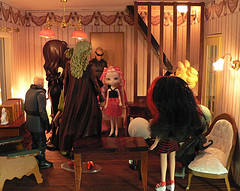 Kitty: May I have your attention for a moment, please! First, I want to thank you all for coming here today. It really means a lot to both of us. And now, Riddick would like to make an announcement. Riddick: Me? All right. - I suppose this won't be a big surprise to anyone... Kitty and I got married this afternoon. Kitty: I'm sorry we didn't tell anyone anything in advance... No, I'm not, not really. There's a party anyway, so you're not missing anything.
The Party 3
Piggy: So, you actually did it. I didn't think you were the type. Riddick: You should know about atypical behavior. You and Marv aren't exactly a standard couple. Piggy: I have a feeling I should be offended, but I'm having too much fun to bother. Riddick: I didn't mean to offend. I just stated a fact. - By the way, where is he? Piggy: He said to tell you that he's sorry, but he doesn't like crowds. Riddick: I know the feeling.
The Party 4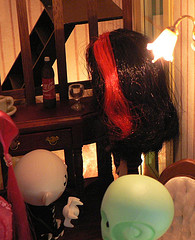 Orlock: Once again I wasn't told anything. I suppose you knew all about it. Ruby: I was there. They wanted me to be a witness. Orlock: Why didn't they ask me? I could have been a witness too. Ruby: Max, have you looked in the mirror lately? It was a chapel and there was a minister. What do you think he would have said, if they had brought you there? No offense, but your kind and religious institutions don't mix well. Orlock: I guess you do have a point there.
The Party 5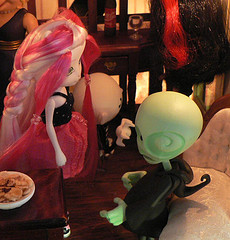 Kevin: Well, that was certainly news. Congratulations. Does your grandmother know? Kitty: Not yet. We want to celebrate first and fight later. Kevin: You know, the other day, after I gave her your answer... She was saying that you should at least have a prenup, if you insist on marrying Riddick. Kitty: Too late. The only document we have is the marriage certificate.
The Party 6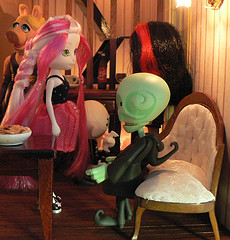 Kitty: I bet she will go ballistic when she hears about that. Don't tell her, I want to do it myself just to see the results. It'll be hilarious. Kevin: All right, if that's what you want, but you certainly have strange ideas of fun. However, I hope you won't delay it too much. She'll be mad at me, if I pretend I know nothing about this when we meet next week. Kitty: Don't worry, I'll tell her before that.
The Party 7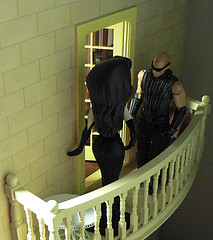 Veronika: Very nice house. How did you find this? Riddick: A friend told me about it. Veronika: Some ex-girlfriend? You have a lot of those, but I don't really remember any other friends. Riddick: Yes, well... you know, I haven't really had time to get other sort of friends until lately.
The Party 8
Veronika: Speaking of friends, there's one of mine who remembers you well. Catherine was asking about you when we last met. I told her about you and Kitty. Riddick: And...? Veronika: She said that she's happy to hear you managed to find what you were looking for. I know it's none of my business, but did she make you the usual offer? Riddick: An offer. I don't know if it was usual or not.
The Party 9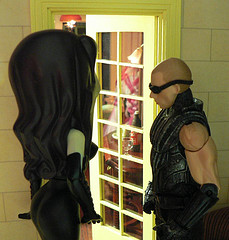 Veronika: It probably was. She once said that it is a pity that the best ones are much too decent to consider something like that and then she has to make do with the second best. Riddick: She didn't understand what she was asking for. I could never have done it. Veronika: I know. And now you've got a pretty young wife and the money. Riddick: I didn't... How...? Veronika: I know you didn't marry her for her inheritance. And how? Of course I know about the family, who doesn't? I mean, everybody who is anybody knows them. Their own kind may snub them, but others certainly don't.
The Party 10
Ruby: Hello, I don't think we have met before. I'm Ruby. Sneezy: I'm Sneezy, Veronika's husband. And please don't say "really." Ruby: I wasn't going to. Is that what people usually say? Sneezy: More or less. There are variations, but that's the general idea. Ruby: That's a bit stupid. I was going to say that it is nice to meet you. Veronika has helped Kitty and Riddick so much. She's really nice.
The Party 11
Sneezy: Well, I'm pleased to meet you too. Do you work with Kitty and Riddick? Ruby: Yes, I'm Kermit's assistant. My uncle has business dealings with him and that's how I got the job. Sneezy: It is always easier, if you've got connections. Who is your uncle? Ruby: Hagrid, but I guess you wouldn't know him. Sneezy: Actually, I do. I mean, I don't know him personally, but I know about him. I knew he had a sister, but no one has ever mentioned you.
The Party 12
Watson: Your life has certainly improved since we last met. Riddick: Yes, I'm still a bit surprised about it all myself. I didn't really believe... Watson: Well, it all comes down to finding the right person. Then the pieces just fall into place without much effort. Riddick: Not in this case. There have been quite enough obstacles, but I hope it'll be easier from now on.
The Party 13
Orlock: Hi, I didn't know Kitty invited you too. Schizo: She called and I thought I'd come over. She really knows how to have fun, so I didn't want to miss this. Orlock: I'm not sure she's up to the sort of fun you arranged the last time. I think she felt guilty about causing trouble for Ruby. Schizo: Oh yes, Ruby... Is she here too? Orlock: Of course, why?
The Party 14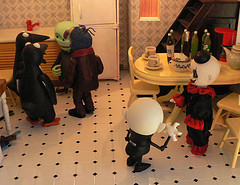 Schizo: No reason, just curious. - Max, those two penguins... Are they a couple? Orlock: Funny, I've never thought about it. I kind of assumed they are guys, but you can't really tell, can you? Schizo: Maybe I should ask them? Orlock: Don't. You're always asking things like that and causing havoc. Try to be civilized just this once, will you?
The Party 15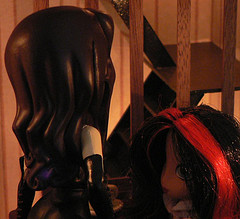 Veronika: You're Ruby, aren't you? Sneezy told me about you. Ruby: Yes, I'm Ruby. I talked with Sneezy earlier. Why would he tell you about that? Veronika: I know your uncle. Well, used to know. Ruby: You do? How? Veronika: It was a long time ago. I worked for him before my career got started. I haven't seen him since, but I've read and heard a little about him here and there. I knew your mother too.
The Party 16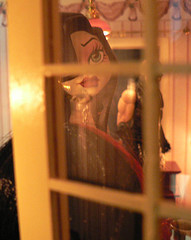 Ruby: Oh. Do you also know what happened? Veronika: I read what was in the newspapers. There wasn't much. I guess Hagrid did that. There weren't many editors who would have dared to defy him. Still aren't. Ruby: How well did you know my mother? Veronika: We went shopping and sometimes had lunch together. I guess I was really spying, because Hagrid always wanted to know, if she had told me about any problems. Ruby: Always taking care of her... and still, even he couldn't stop her.
The Party 17
Wendy: So, you decided to settle down. I didn't think... Riddick: ...that I was the type. I know. I've heard a lot of that. Wendy: Sorry, I didn't mean it that way. Anyway, I think you'll make it work. You can do it with Kitty. She is, well, unique. Riddick: She certainly is. And I think you're right. At least, if I'm ever going to make it work, it will be with her.
The Party 18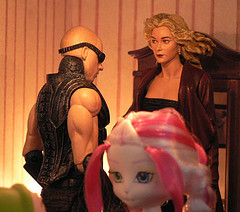 Wendy: How much have you told her about your past? Riddick: The worst part. She accepted it and she understands that I have changed. How much do you know? Wendy: A bit more than what is comfortable, given my position. However, I'm ready to ignore that. After all, there has never been any evidence. Just make sure you stay in the straight and narrow from now on. For her sake, if not your own.
The Party 19
Riddick: So, anyway, where did you leave Kermit? Wendy: He had some important business dinner. I should have gone as well, but we could not pass your party altogether, so I came here and he went to attend the business matters. - To tell you the truth, those business dinners are dead boring. This is much better.
The Party 20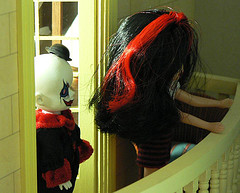 Schizo: Hi Ruby, what are you doing here all by yourself? The party is inside. Ruby: I know. I just needed to be alone for a moment. Schizo: Are you all right? Is something wrong? Ruby: I'll be fine. I just met someone who brought back bad memories. Schizo: You shouldn't think about the past on a day like this. Come on, let's go and have a drink. Ruby: I better not. The last time didn't end very well.